St Lucia has a bit of a reputation for being a super expensive, luxurious vacation destination.
The good news? It doesn't have to be! 
I recently visited St Lucia and I definitely didn't have an unlimited budget so I spent a while researching where I could save some money.
Luckily, I found plenty of ways to cut costs (don't worry, I'll show you exactly how).
This ultimate guide includes where to stay in St Lucia on a budget, how to get around cheaply, how to find super cheap flights, where to eat and more.
Can You Do St Lucia on a Budget?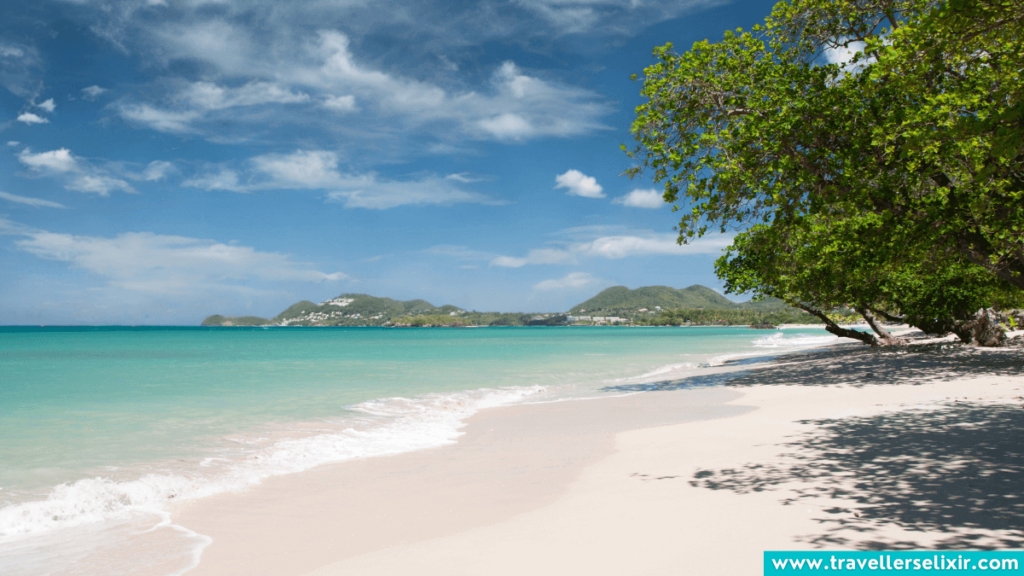 It is definitely possible to visit St Lucia on a tight budget. You don't have to spend thousands of dollars on a fancy Sandals resort or dine in high end restaurants.
Although St Lucia is known for its fancy all-inclusive resorts, there are also plenty of budget options and ways you can save money.
Whether you're looking for an affordable St Lucia honeymoon or you just want to see what this beautiful island has to offer, it doesn't have to cost an arm and a leg.
Here's some of my best tips for doing St Lucia on the cheap:
Use a flight comparison website like kayak.com and check various dates to find the best flight deals.
Eat in local restaurants away from the main tourist areas as they tend to be cheaper.
Cook your own meals (this is easy if you book an apartment or villa rental as they come with a kitchen).
Use the minibus public transportation system instead of taxis to get around the island.
In the rest of this post, I will go into more detail on exactly how you can visit St Lucia on a budget including exactly what I did.
I've included several cheap accommodation options, budget-friendly activities, cheap flight deals and so many more handy budget travel tips that you won't have heard before (I promise!).
Budget Accommodation
One of the biggest ways you can save some money in St Lucia is booking a budget-friendly place to stay.
I'm not gonna lie, I did splurge a little and booked myself a couple of nights at the Sandals Grande St Lucian but it's not exactly budget friendly.
You definitely don't have to pay $500+ per night to stay at a Sandals resort to have a good time. 
When exploring other parts of the island, I opted for way cheaper accommodation to make up for it.
I found that villa rentals always tended to be the cheapest option.
In fact, you could probably spend the same amount that you'd pay per night at Sandals on your entire stay at a budget accommodation in St Lucia!
Here are my favorite St Lucia budget hotels:
This is the overall best option as it is a reasonably priced 4-star hotel in Marigot Bay. You can get rooms at around $200 per night (which is amazing for what you get).
The hotel itself is super modern and chic and overlooks Marigot Bay which features a stunning white sandy beach. There's also 2 pools and a spa on-site as well as a dive center!
I stayed here for one night when I was exploring Marigot Bay and loved it! I couldn't believe how cheap it was given the standard of the property.
Here's an example price for one night that I found on booking.com during high season!

Another great budget option is the Bay Gardens Hotel. This 4-star hotel in Rodney Bay has 2 pools and offers a free shuttle bus to Reduit Beach (one of St Lucia's best beaches).
You can easily get rooms under $200 per night here even during the peak season.
Whilst the rooms here aren't quite as modern as the above hotels (still great though), the incredible views make up for it.
This hotel is in a quiet area along the East Coast away from the main tourist spots so it offers a quiet, private escape. You can easily walk to the nearby beach or get a taxi to Vieux Fort.
You can easily get a room here for under $150 per night, even during peak season.
Sunset Lane is the cheapest accommodation on this list. It is located on the beachfront in Laborie (a small, quaint St Lucian town) and has amazing views.
The rooms here are a little bit older (not super modern) and it's more basic compared to some other hotels but it has everything you need and is very clean and comfortable.
Rooms here are super affordable as you can get a room for $110 per night, even during high season.
Villa Rentals
The cheapest accommodation option by far is renting a villa or apartment rather than booking a hotel.
There's actually tons of these on booking.com with plenty under $100 per night.
You won't get some of the facilities that you'd normally get with a hotel but a villa rental certainly has everything you need.
I spent a couple of nights in Serenity Seaview Suite and generally loved the experience.
Of course, it wasn't as fancy as staying in a resort and nobody left a swan-shaped towel on my bed but it had everything I needed and helped me save some money after my Sandals splurge!
I also really loved the balcony views here and it was super peaceful.
Here's a few affordable villa and apartment rentals I found on booking.com (all under $100 a night):
Here's an example price I found for Serenity Seaview Suite for one night:
A bonus is that most of them actually also come with a kitchen so you can save money further by cooking your own meals from time to time!
For example, a lunch meal costs around $20 per person at a decent restaurant in St Lucia. If you cook your own meal, you'll save most of that amount.
I did this myself several times, particularly for breakfast or lunch and it was actually really easy.
I just bought some basic groceries like bread and eggs from the local grocery store and cooked myself some scrambled eggs on toast.
A loaf of bread and a pack of eggs from the grocery store literally only cost me a few dollars and fed me for several days.
I probably saved a good $60-$80 by skipping lunch at a restaurant and doing this instead!!
It is by far one of the best ways to visit St Lucia on a budget.
If you don't want to cook for yourself then I have some more handy tips on how to save money on food later in the post.
Cheap Flights
One cost that's hard to get around is flights. Unfortunately there's no other way to get to St Lucia unless you fancy rowing there yourself (which I'm guessing you don't).
Flights to St Lucia are expensive and cost, on average, between $400 and $800 for a return flight.
Of course, this varies depending on where you're flying from.
In the list below, I've given a quick overview of flight prices from various major cities:
Los Angeles – $420 to $620
These flight prices are for the peak tourist season (may be slightly cheaper during off season) and are for a return flight.
If your city isn't listed here, you can check current flight prices on kayak.com. I always use this website for booking flights as it searches the entire internet for the best possible flight deals.
From my own experience, I've found that the best way to save money on flights is to vary your dates (if you can).
Kayak has a handy monthly view where you can see the prices for each day of any given month.
Surprisingly, just moving your trip by one day could save you hundreds of dollars!
Take a look at the image below:
This photo shows the monthly prices for return flights from Chicago to St Lucia.
As you can see, if I booked my departure flight for January 10th, I'd pay $537 but if I moved it one day later to the 11th, I'd pay $668. That's $131 more!
To use this tool, head over to kayak.com and input your local airport and St Lucia's UVF airport (the most common for international flights).
In the dates box, input the earliest date you are willing to travel to St Lucia and then select the 'month' tab.
You also need to input the duration of your trip. You can put a range like '6 – 8 nights'.
This will then bring up a view of the 4 weeks following your earliest departure date so you can see which dates are the cheapest to fly on.
As you can see from the above image, it looks like June 8th is the best date to fly on as it's significantly cheaper than other dates.
Next you need to select your chosen departure date (in this case June 8th) and Kayak will generate some return dates for you based on the duration of stay you put in at the start.
As you can see from the image above, the best date to fly home is June 15th to snag that juicy $388 return flight!
Using this trick alone has genuinely saved me thousand of dollars over the years.
Best Time To Visit
You can save the most money by visiting during St Lucia's rainy season, which runs from June to November, as this is actually the cheapest time to visit St Lucia.
You should be aware though that it rains often and this is also St Lucia's hurricane season (the risk is small and hurricanes are extremely rare).
I really didn't want the rain to dampen my trip (pun intended) so I decided to spend a bit extra and visit during February when the weather is generally really dry.
To get the best of both worlds i.e affordable prices and good weather, then the shoulder season which runs from May to June is best.
I already had another trip booked during these months so for me it wasn't an option but if I visited St Lucia again, I'd definitely try to visit during May or June.
Room rates are super affordable, the island is fairly quiet (no fighting the other tourists for a sun lounger) and the weather is ideal.
Expect temperatures in the mid-80sºF (high 20sºC) and no rain most days.
Here's an overview of the weather in St Lucia by month:
Cheap Airport Transfers
In most countries, airport transfers are pretty expensive and they can be in St Lucia too but not always.
There's no Uber in St Lucia and airport taxis are notoriously expensive. You'll often be quoted hundreds of dollars by taxi drivers in the arrivals area of the airport.
After spending hours researching the cheapest airport transfers in St Lucia, I found a super affordable and comfortable option which I ended up using.
The cheapest option is to pre-book this shared round-trip airport transfer via minibus as it's ridiculously cheap at just $22 for some hotels!
The price does vary depending on how far your hotel is from the airport but this package is for round-trip transportation so it includes airport transportation both ways in the price.
It's significantly cheaper than other options and, although it's shared, many people reported either being alone or only sharing with one other family.
For me, I only had to share with one other person so it was pretty sweet!
Here's what one traveler had to say about it:
Best Budget-Friendly Tours
If you're looking for a cheap vacation to St Lucia then you definitely don't want to be spending too much money on tours and activities.
Tours are often one of the most memorable parts of a vacation (at least for me!) so it's worth booking onto one or two so you can make the most of your trip.
I've also included a few free activities later on to fill up the rest of your time.
Here's a few of my favorite budget-friendly activities in St Lucia:
This private tour of St Lucia is actually cheaper than some of the shared tours so you're really getting a fantastic deal here.
This tour is fully customizable and gives you the chance to see all of St Lucia's main attractions in one day. I personally did it when I visited and can't say enough great things about it!
It provided a luxurious experience for a budget price.
You'll get your own private tour guide who will take you wherever you want to go including the drive-in volcano, the Piton mountains, Castries, Marigot Bay, Toraille Waterfall or whatever else you desire.
Additionally the tour is super highly rated (check here for yourself) with pretty much everyone saying how great it was!
Here's what a recent traveler had to say about it:
This impressive full-day cruise takes you all over the island. Along the way, you'll get the chance to see some of St Lucia's most famous attractions like the Toraille Waterfall and the Sulphur Springs.
You're also provided with snorkeling equipment so you can go snorkeling at two different locations.
Snorkeling in St Lucia is really great and you can actually even swim with turtles in St Lucia.
If you're looking for adventure then this activity will be right up your street.
Head out into the rainforest and zoom through the forest on various different ziplines.
You don't need any previous experience so this activity is perfect for everyone and all equipment will be provided for you.
They will even provide round-trip transportation from your hotel (if it's in the north) if necessary.
Free Things to Do in St Lucia
It's also worth mentioning that there are tons of free things to do in St Lucia.
Here's some fun free ideas of things to do in St Lucia which will keep costs low:
Go for a hike. There's various hikes available across the island ranging from easy to hard. Hike up Gros Piton for a challenge or take a gentle stroll from Anse Chastanet to Anse Mamin Beach.
Watch the sunset. There's many great sunset spots in St Lucia but Gros Islet Beach is my favorite.
Explore one of St Lucia's vibrant towns. Soufriere is safe to visit for tourists and you could easily spend the whole day exploring colonial buildings and the harbor area which is usually filled with boats.
Getting Around St Lucia Cheaply
The most budget-friendly way to get around the island is by using their minibus system.
There's not really much of an official public transport system in St Lucia and their minibuses are the closest thing.
Luckily they will get you where you need to go and for a very cheap price.
I used them several times whilst on the island and thought they were pretty decent. It can be a bit of a squeeze at times as they try to fit in as many people as they can.
I also found that they don't really run on a set schedule so sometimes we'd be waiting a while before we set off.
As the whole island is relatively small, it only takes a few hours to drive around St Lucia.
By using the minibuses, you could explore the whole thing for less than $10 per person!
Here's what you need to know:
The minibuses are more van-style rides (not large buses). You can recognize them by the 'M' on their green license plate.
There are no set schedules or timetables for the minibuses. They usually just leave when the driver thinks they are full enough.
The whole thing is very casual. You can just wave one down if you see it passing and the driver will usually stop to pick you up.
Alternatively you can wait at one of the designated bus stops.
Prices are very cheap and range from $0.60 to $4.10 depending on the distance traveled.
$4.10 would get you from one side of the island to the other (1.5 hours!) so it's fair to say they are pretty affordable.
You can view the pricing and routes here.
If you'd prefer, you can also get a car rental for around $50 per day. I did this for a couple days of the trip and it did make getting around pretty easy. The only issue was the roads.
I noticed that the roads in St Lucia are pretty poor quality and often have sharp turns and windy roads. You'll only want to hire a car if you're a pretty confident driver.
For this reason, you'd likely have a more relaxing time if you ride in the minibus or taxi.
Cheap Food
The final thing to consider when doing St Lucia on the cheap is where you're going to eat.
As I mentioned, if you book an apartment or villa rental then you can use the kitchen facilities to cook some meals yourself.
This is definitely the best way to save money. Even if you just cook yourself breakfast or lunch and still eat dinner at a restaurant, you'll save a significant amount of money.
I did this a lot and saved a ton of money but I know cooking on vacation isn't for everyone.
St Lucia restaurant prices are fairly reasonable but if you eat out for every meal, it can easily add up to hundreds of dollars.
An average restaurant meal will cost around $20 to $30 per person in St Lucia.
Here's how that can quickly add up:
If you eat 3 meals out a day, that's $20 x 3 = $60.
If you're traveling as a couple then per day you'll spend $60 x 2 = $120.
If you stay in St Lucia for a week then $120 x 7 = $840.
As you can see, those meal costs can really creep up on you!
By having lunch at your rental, you can easily save $280 overall and if you do the same with breakfast that's over $500 saved!
I found that groceries were very reasonably priced in St Lucia so you'll probably spend a similar amount as you would in the US.
For just a few dollars, I bought some bread, butter, eggs and salt and whipped myself up a tasty breakfast each morning in just a few minutes.
However, if you really want to eat out for every meal then there's still several ways that you can save some money.
Here's my top tips on saving money on food in St Lucia:
Dine at local restaurants
Avoid the fancy, expensive ones and look for the authentic, 'off-the-beaten-track' style restaurants as these tend to be the best value.
I got some delicious meals for as little as $6 at these kinds of restaurants. You can get a burger and fries for around $8.
Additionally you should try to avoid restaurants which are located near to cruise ports or resorts as prices tend to be higher due to the huge amount of tourists in the area.
Check Google Maps beforehand
This is the best way to select a restaurant as you can view the menu and prices before you go.
I always choose restaurants from Google Maps as you can read people's reviews and look at their photos (including the menu).
Just head over to Google Maps and either explore the map or type in something like 'restaurants Rodney Bay' to see a list of options in that area.
I have downloaded the app onto my phone as it's easier to use on the go and you can save restaurants that you like.
Eat street food
You'll often see street food stalls in various places across St Lucia. They're a great place to get a quick (and cheap) bite to eat.
As they tend to be stalls (usually with a bit of seating), it's much cheaper than a proper restaurant. I managed to get delicious meals for just a few dollars here.
Avoid alcohol at restaurants
Alcohol is always the most expensive thing on the menu.
Order a soft drink at restaurants to save money.
If you want to have alcohol later then buy some for a much cheaper price from the grocery store and drink it on your balcony.
Look out for happy hours
If you do want to drink at a bar, you should look out for happy hours to get half price drinks.
Most bars have signs outside to promote happy hours so keep an eye out for these.
Alternatively you can check the reviews on Google Maps to see if anyone has mentioned it.
---
And that's it!
I hope that these tips will come in useful and help you save a bit of money on your vacation!
To ensure you don't go over budget, it's also useful to know how much spending money you need for St Lucia.
Need more help planning your St Lucia vacation?
Related Posts: