The island of St Lucia is a traveler's dream. With its beautiful waterfalls, white sand beaches and one-of-a-kind twin Piton peaks. 
When I began planning my first trip to St Lucia, the first thing I noticed was that the flights were so pricey and I couldn't understand why.
I decided to do a bit of digging to try and figure out why and if there was any way I could save a bit of money.
In this guide, I'd love to share my findings with you. I also cover ticket prices from popular departure cities and I give you the lowdown on how to get the cheapest tickets possible.
Why Are Flights To St Lucia So Expensive?
Travel to St Lucia is relatively expensive compared to other popular Caribbean destinations like Jamaica and the Bahamas. But why is this?
After spending countless hours researching this topic, I've come to realized that there are several factors that contribute to the prices being so high.
As an overview, flights to St Lucia are expensive due to its remote location, low demand for tickets and high airport taxes.
Let's take a look in more detail…
The first reason why flights to St Lucia are so expensive is St Lucia's location.
Unlike some of the other popular Caribbean destinations, it is located in the Windward Islands.
The Windward Islands are located in the southeastern end of the Caribbean.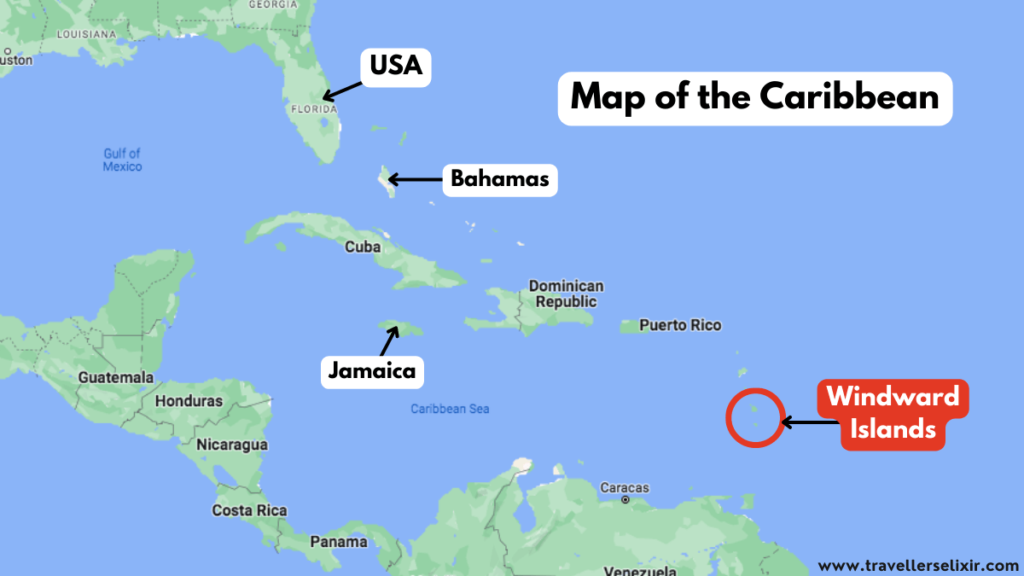 St Lucia is roughly 2,012 miles away from New York.
This is a much greater distance to travel than say Jamaica, the Bahamas or the Dominican Republic which are relatively close to the US mainland, being 1,100, 1,315 and 1,535 miles away from New York respectively.
As you would expect, longer distances mean higher flight costs.
Next is the demand for tickets going to St Lucia versus more popular tourist destinations in the Caribbean.
St Lucia receives only 168 direct flights monthly in total from around the world.
Whereas the Montego Bay Airport on the island of Jamaica receives almost 900 direct flights monthly from the USA alone. Greater demand leads to lower prices.
Finally, St. Lucia has the third highest airfare taxes of all the countries in the Caribbean.
Departure and airport development taxes are tacked on to already high flight costs which means a higher ticket cost overall.
Flight Costs
On average, a high season roundtrip ticket to St Lucia from the USA cost would between $1,000 and $1,600. While low season tickets average between $500 and $900.
To give you a better idea of the costs, let's take a look at the cost of a one-week round trip economy ticket during both high and low seasons.
Flights mentioned will depart from major cities in North America and Europe and will travel to Hewanorra International Airport in St Lucia.
The table below illustrates both the range and the average cost according to Expedia.com.
The periods used are December 24th – December 31st (high season) and November 14th – 21st (low season). The amounts quoted are in US Dollars.
| | | | | |
| --- | --- | --- | --- | --- |
| Departure City | Price Range (High Season) | Average High Season Ticket | Price Range (Low Season) | Average Low Season Ticket |
| Atlanta (ATL) | $769 – $1,522 | $1,267 | $350 – $915 | $884 |
| Los Angeles (LAX) | $1,119 – $2,485 | $1,564 | $645 – $1,111 | $805 |
| Miami (MIA) | $781 – $1,081 | $966 | $510 – $989 | $770 |
| New York (JFK) | $598 – $1,570 | $1,084 | $392 – $891 | $534 |
| London (LHR) | $1,224 – $2,043 | $1,659 | $801 – $1,111 | $956 |
| Toronto (YYZ) | $1,277 – $1,695 | $1,528 | $547 – $631 | $567 |
| Paris (CDG) | $1,468 – $2,243 | $1,904 | $696 – $1,076 | $924 |
Table showing average flight prices to St Lucia from various starting points.
Cheap Flights To St Lucia
You might be wondering why there is such a big variation in ticket costs to St Lucia.
Like other tropical destinations, ticket prices to St Lucia are based on seasonality. 
St Lucia has two seasons, a wet and a dry season. Not surprisingly, the wet season is the low season and the dry season is the high season.
The wet season falls during the Caribbean's hurricane season which lasts from June to November each year.
During this period, there is a high possibility of rain and adverse weather conditions occurring and a small risk of hurricanes.
Due to the bad weather, it is actually the cheapest time to visit St Lucia.
The dry, sunny season falls between the months of December and April.
As you can imagine, people tend to travel less in the rainy months, which leads to more affordable tickets.
So, if you're looking for cheap tickets and don't mind the rain, then booking tickets during the rainy season is your best bet.
You may have noticed that the month of May isn't accounted for in either the low or high season.
The period between May and June is known as the shoulder season. It's also a great time to get good deals on tickets.
It's not in the high season so there isn't as much of a high demand for tickets and rooms which means discounted tickets and deals.
It's also not in the rainy season so you'll get hot weather and the island's hotspots will also be less crowded. Traveling during this period could be a win-win situation.
For more money-saving tips, check out my guide to doing St Lucia on a budget.
Here are some other ways that you can get cheap flights to St Lucia:
Booking Way Ahead of Time
The more advanced your booking, the cheaper the price will be.
Anywhere from 2 weeks in advance onwards leads to better rates. 
I personally used this technique when booking my flights to St Lucia as I did want to visit during the high season for the good weather.
Some people told me to wait right until the last minute to book but I personally found that the prices were better if you booked well in advance.
If you're trying to get the best discounts, try to book your ticket months ahead of time. I booked mine 4 months ahead and got a pretty sweet deal.
Shop Around with Comparison Websites
Websites like Skyscanner, Momondo and Kayak are search engines designed to find the most affordable airfares.
They scour the net daily to find you the best possible deals. I've definitely saved hundreds of dollars over the years by using them.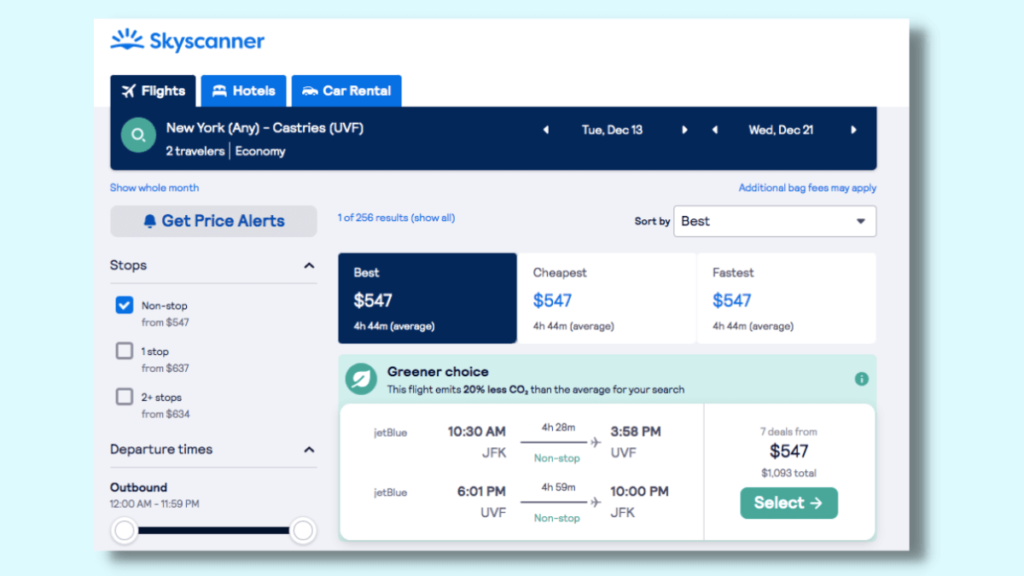 I literally never book a ticket without checking one of these websites first and I can honestly say that they've saved me thousands over the years.
Sign up for a Travel Rewards Card
Another very effective way of getting cheap flights is by signing up for a credit card that offers travel rewards.
Not only can you get discounted tickets, but you can also get bonuses and other rewards. In some cases, you can even end up getting your ticket completely free.
Some great options are the Capital One Venture Rewards Card and the Chase Sapphire Preferred Card.
These are great if you're from the US and I've seen other travelers get some epic free trips by using their points.
Unfortunately, if you're located elsewhere, you might not be able to get deals like these. I'm from the UK and these kinds of credit cards are non existent!
Search for Airline Error and Sale Fares
Unknown to many, airlines sometimes make errors when posting their fares.
These errors can occur due to human error, bad currency conversions and other mishaps. Whatever the reason, these errors can lead to you getting hugely discounted tickets.
One way to be in the know about these errors is to frequent discussion forums. Forums such as Mileage Run Discussion (USA), or Travel Discussions (UK) are great places to stay informed.
You never know, you may be one of the lucky ones who ends up getting a $1,500 ticket for $150!
Sign Up to Cheap Flight Newsletters
Avoid the hassle of having to manually do searches for affordable flights.
You can have cheap flight alerts sent directly to your inbox.
Sign up to cheap flight newsletters like Scott's Cheap Flights and Thrifty Traveler in the USA, or Jack's Flight Club for people in Europe.  
I'm UK based and I've been signed up to Jack's Flight Club for several years now. I regulary see insane flight deals pop up in my inbox every single week and it's completely free!
---
And that's it!
Although the tickets can be pricey hopefully this post gave you some ideas on how you can cut down the cost.
I definitely saved some money on my tickets to St Lucia by utilizing some of the handy tips in this post.
Need more help planning your St Lucia vacation?
Related Posts: