Anse Mamin Beach in St Lucia is a real hidden gem that few people visiting St Lucia know about.
This ultimate guide to Anse Mamin Beach covers everything you need to know including what to expect, how to get there, parking, snorkeling, restaurants and more.
Anse Mamin Beach
Anse Mamin Beach is a beautiful beach located on St Lucia's western coast just a 10-minute drive from Soufriere.
It's most known for being a fantastic snorkeling spot, a tranquil haven and for the Jungle Beach Bar & Grill which is located on its sand.
Here's a map showing where Anse Mamin Beach is located: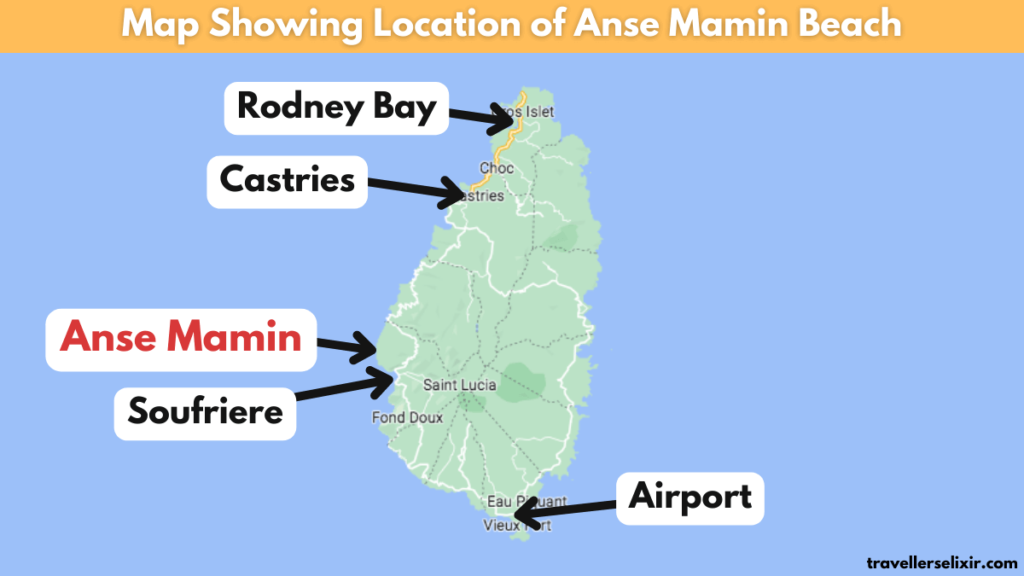 The beach itself is relatively short in length at just 0.4 km long. Although it is small, it's well worth a visit.
Anse Mamin is usually a really quiet and peaceful beach that rarely gets busy at all.
You'll easily be able to find a spot on the beach, go snorkeling or rent a sun lounger and never have to battle the crowds.
As this beach is tucked away, hidden behind the Anse Chastanet Resort, few people know about it which is why it's always so empty.
One of my favorite things about Anse Mamin Beach is that you'll find zero hawkers trying to sell you stuff.
Unfortunately, this is a bit of a problem in St Lucia as a whole but Anse Mamin has managed to stay hawker free.
This is likely due to the effort involved in getting to the beach and the fact that it's so quiet.
The beach itself is really clean and well-kept. The waters are also super calm and it's safe to swim in the water which is always warm.
Expect swaying palm trees and crystal clear waters however you should be aware that the sand isn't super white.
The sand is a little darker than what you would normally be used to in the Caribbean.
Take a look in the photo below: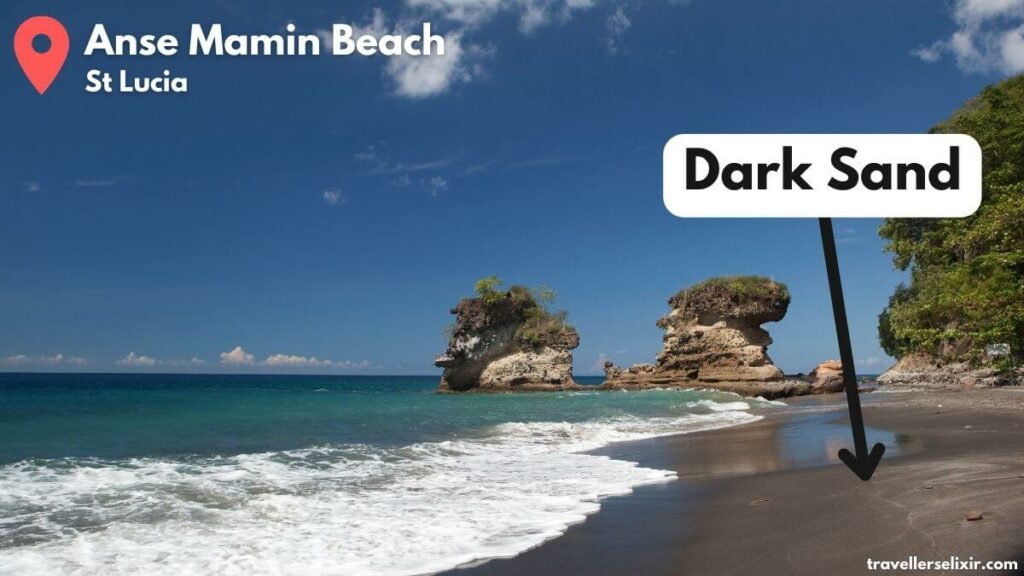 💡Fact: The sand is dark in St Lucia due to the fact it is a volcanic island. St Lucia has an active volcano still today that is actually the world's only drive-in volcano.
Although the sand isn't super white, you will be treated to stunning scenery surrounding you. Expect lush green mountains and forest scenery from all angles.
The beach has a real secluded, paradise island feel to it. At times it can feel like your own private beach.
On the far end of the beach, you'll find some large rock formations protruding out from the sea. As well as being super impressive, these are a great snorkeling spot (more on that later).
It's also great to know that there are outdoor showers located by the beach to wash the sand off you.
Here's what a recent visitor had to say about it:
Guests regularly describe Anse Mamin beach as tranquil, scenic, calm and quiet.
Sun Loungers
The beach features a thin stretch of sand with sun loungers and umbrellas running along it.
You can rent a sun lounger and umbrella at Anse Mamin Beach which costs approximately $33 per lounger for the day.
The sun loungers and restaurant are owned by the Anse Chastanet Resort which is located by the beach.
There are no other facilities in the area so if you want a snack, drink or a sun lounger then this resort is your only option. They also have a bathroom too which you can use if you need it.
Their services are very pricey so if you're doing St Lucia on a budget then you can just bring along a towel and some snacks instead.
If you need some shade then you can put your towel down under the trees which line the beach.
There are plenty of trees which provide natural shade so you don't even need an umbrella.
Anse Mamin Beach Parking
You can park for free at the Anse Chastanet Resort which is a 10 to 15 minutes walk away from Anse Mamin Beach.
This is the closest car park to Anse Mamin. You can park there and then you need to walk through the resort and along a footpath.
I list the exact directions on how to get to Anse Mamin Beach later in the post.
Things To Do at Anse Mamin Beach
As well as sunbathing, swimming and relaxing, there are actually several other ways to enjoy Anse Mamin Beach.
Here are a few of my favorite activities:
You'll find bike trails running along the beach which you can use if you have a bicycle.
There are also plenty of hiking trails in the area if you enjoy walking which overlook the beach. These are super scenic and also popular with bird watchers.
Go snorkeling and see interesting marine life (more on this later).
If you don't mind sticking around all day, the sunsets at Anse Mamin Beach are fantastic. It's well worth visiting in the late afternoon and staying until sunset if you can.
Explore the Anse Mamin sugar plantation located nearby.
Anse Mamin Plantation
Located close to Anse Mamin Beach, you'll find some old sugar plantation ruins which are open to the public to explore.
There is a guided tour that you can take where you can learn about the history of the ruins and the slaves that used to work there.
All of the old buildings which formed part of the plantation still remain today however they're no longer in use. These include a small church and a cemetery.
The old Anse Mamin plantation lies in the forest just off the beach and dates back to the 1700s. It's about a 5 to 10 minute walk from the beach.
Is Anse Mamin Beach Public?
Yes, Anse Mamin Beach is a public beach. Under St Lucian law, all beaches in St Lucia are public.
Although many resorts in St Lucia are beachfront and claim to have a 'private' beach, all beaches in St Lucia are public.
This means that even though the Anse Chastanet Resort have set themselves up along Anse Mamin Beach, you don't have to be a guest at the resort to use the beach.
Can You Snorkel at Anse Mamin?
Yes, you can snorkel at Anse Mamin beach. In fact, the snorkeling here is some of the best in the whole of St Lucia.
Fish can be spotted at Anse Mamin beach right up to the shore itself and as the water is super clear here, it's easy to see them.
The waters at Anse Mamin are teeming with marine life including tropical fish, turtles and colorful corals.
The best spot at Anse Mamin for snorkeling is at the far end near the large rock formations.
Here's exactly what it looks like:
Anse Mamin snorkeling is some of the best on the whole island so make sure you bring your snorkeling gear with you!
Is Anse Mamin Beach Good for Swimming?
Yes, Anse Mamin Beach is good for swimming.
As this beach is located on St Lucia's western coast, it faces the calm Caribbean Sea so the ocean here is never rough and always calm.
The eastern side of St Lucia is much more rough as it faces the Atlantic Ocean. This is the best place for surfing in St Lucia but not ideal for swimmers.
Are There Restaurants at Anse Mamin?
Yes, there is one restaurant on Anse Mamin Beach in St Lucia called the Jungle Beach Bar & Grill which is owned by the Anse Chastanet Resort. This is an ideal place to grab yourself something to eat for lunch or dinner.
The Anse Mamin restaurant is actually famous for the 'Anse Mamin burger' which is something you should definitely try if you happen to visit.
Most people say that it is super delicious. In fact, some people visit Anse Mamin just to eat this burger!
Prices at this restaurant are high due to the secluded location so expect to pay standard resort prices for your food and drinks.
Lunch/dinner will cost anywhere between $40 to $50 per person at this restaurant. The delicious Anse Mamin burger costs $28 (it comes with fries too).
If you're not a guest at the Anse Chastanet Resort then you can still eat at this restaurant however there is a separate part of the restaurant that you have to sit in.
Some guests have reported being asked to move by staff if they sat in the wrong part of the restaurant.
How To Get To Anse Mamin Beach
You can get to Anse Mamin Beach either by car or by boat.
Some boat tours stop off at this beach as part of their itinerary. This is a great way to see lots of different beaches including Anse Mamin.
You can also get to Anse Mamin Beach by car. Whether you take a taxi or hire a rental car, you'll arrive via the main road. The main road is super bumpy so you might need to drive slow.
Directions for Anse Mamin Beach
Head down the main road towards Anse Chastanet Resort. Once you get there, you can park your car outside the resort gate in their car park.
You then need to go through the resort gate, past the security guards and then you can walk down to Anse Chastanet Beach.
Remember the beaches are open to the public so the guards won't stop you from entering.
When you reach this beach, turn right and keep walking all the way down to the north end of the beach.
At some point you'll come across a set of stairs which go upwards. Take these stairs and follow the footpath to Anse Mamin Beach. From here the walk is around 1 km.
Here's an overview of what that looks like:
If you're staying at the nearby Anse Chastanet Resort then there is a free water taxi which will drop you off at Anse Mamin.
Alternatively you can also walk along the footpath as it's only 10 minutes on foot.
Anse Mamin Beach is also within walking distance from the Jade Mountain Resort if you happen to be staying there.
---
And that's it!
Thanks for reading my ultimate guide to Anse Mamin Beach, St Lucia.
Need more help planning your St Lucia vacation?
Related Posts: