Welcome to St Lucia, a paradise of surf and sun. This guide is your key to unlocking the secrets of surfing in this Caribbean gem!
Discover the best surf spots (including a map), how much rentals and surfing lessons cost and local tips for an unforgettable experience.
Can You Surf In St Lucia?
St Lucia isn't the best place in the Caribbean for surfing but surfing it is still a possible and you'll find a few rental shops on the island.
When I visited St Lucia recently, I noticed tons of people on the beaches with surfboards and, on certain beaches, it was a really popular activity.
In particular, the eastern side of the island is the best for surfing as it faces the Atlantic Ocean which provides wilder waters which are ideal for surfing of all types.
There are also a few spots around the northern areas of the island which receive winds from the Atlantic (exact locations discussed below) that are also great for surfing.
Who Can Surf In St Lucia?
The waves in St Lucia are mostly suited to beginners and intermediate surfers.
Advanced surfers may find St Lucia a little limiting but will still have a good time.
Surfboard Rental
There are not many places that are able to rent out surf boards in St Lucia (there are some, just not many) so it's worth bringing your own board with you if you can.
'Kitesurfing St Lucia' and 'The Reef Kite & Surf' both offer rentals (including kitesurfing and regular board surfing equipment).
The cost of surfboard rentals in St Lucia starts at around $20 for an hour, $30 for a half day, $40 for a full day and $150 for a week.
All prices are in USD.
Beginner surfing lessons are also available so it is also possible to learn how to surf in St Lucia too (I discuss this more later in the post).
Is St Lucia Good For Surfing?
St Lucia is decent for surfing but it's definitely not the best place in the Caribbean so if you're planning a trip specifically for surfing then I'd probably look elsewhere.
Beginners and intermediate surfers will have a good time but there aren't a ton of surf shops on the island so you may find it difficult to rent a board.
St Lucia is popular for board surfing as well as windsurfing and kitesurfing. There are even several surf schools located on the eastern side of the island.
The waves are somewhat large in St Lucia if you know the right spots. (Hint: I discuss the exact surfing spots you should try later in the post).
Here's what you can expect from surfing in St Lucia:
Is the Ocean Rough in St Lucia?
It is safe to swim in St Lucia as the waves are not super rough however it largely depends on which side of the island you are on.
On the western side of the island, the waves are much calmer making the ocean much better for swimming.
There are still some good surfing spots on this side of the ocean, especially in the north, but they are suited more to beginners.
On the eastern side, which faces the Atlantic Ocean, the ocean is much rougher which makes swimming less possible but it does provide good surfing opportunities.
Hint: Although it's safe to swim, there are jellyfish in St Lucia. Stings are very rare but can happen.
Best St Lucia Surf Spots
Here are my absolute favorite surf spots in St Lucia including a handy map.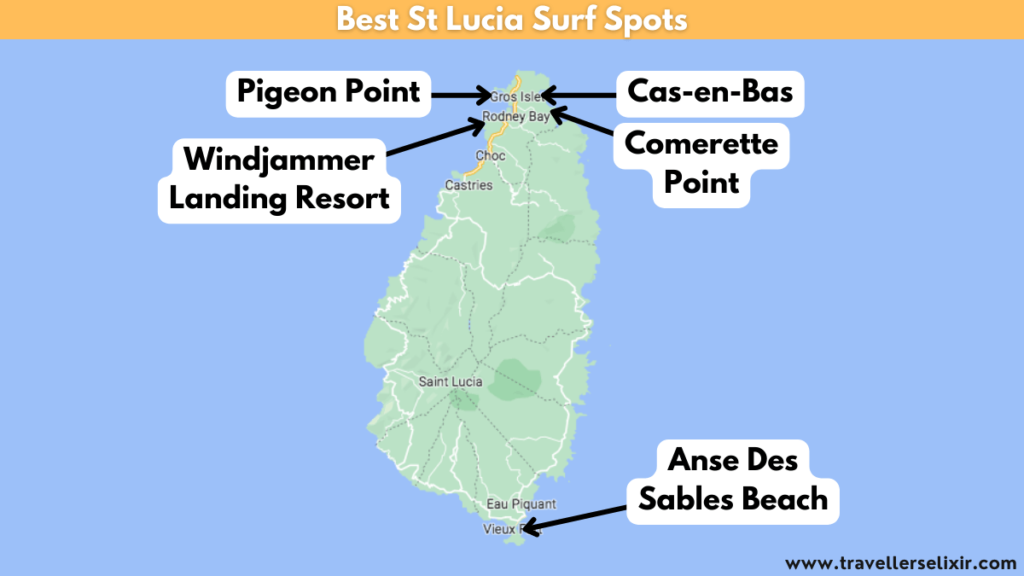 Anse Des Sables Beach
One of the best surf spots in St Lucia is Anse Des Sables Beach in Vieux Fort.
Not only is this one of St Lucia's longest beaches (almost 2km), it's also one of the most beautiful.
Due to its isolated location on the southern shore, this beach is largely untouched and is usually pretty quiet.
This beach is particularly popular with windsurfers and kitesurfers but is also suitable for board surfing.
If you want to try out kitesurfing or windsurfing then check out 'The Reef Kite & Surf' which is a surf school located by the beach.
They offer some of the best surfing lessons in St Lucia and have been doing it since the 90s.
You can also rent kitesurfing equipment from them too if you're more advanced.
Cas-en-Bas
Another great surfing spot towards the northern side of the island is Cas-en-Bas.
This deep bay has virtually constant onshore winds and waves so there's no bad time to visit.
This beach is favored by windsurfers and kitesurfers but board surfing is also great here too.
'Kitesurfing St Lucia' operates from this beach and you're able to rent equipment (both kitesurfing and regular surfing) or sign up for a surfing lesson.
Beth, who operates this company, is able to provide lessons for complete beginners or advanced surfers.
Pigeon Point
Another great surfing spot in St Lucia is Pigeon Point which is located just a short walk from the Sandals Grande St Lucian in the north of the island.
Winds come in from the southeast and provide reliable waves most of the year.
The best time to surf here is during summer, May is the best month overall.
Be aware that the seafloor here features sharp rocks, coral reef and sea urchins so be careful in this area. You should definitely wear water shoes if surfing here.
If you're arriving by car then it's also great to know there is a car park located nearby which you can use.
Comerette Point
Comerette Point, also known locally as Rabbit Beach, is another popular surfing location in St Lucia.
This cape is located along the northeastern side of the island which features near constant winds making it perfect for surfing.
This spot is much lesser known than the others on this list meaning it's often much quieter.
The water here can get rough so it's better for intermediate to advanced surfers. It may not be suitable for beginners.
This beach has better and more consistent waves in the autumn time with September being the best month to surf here.
Be wary that the bottom of the ocean is rocky so you should wear water shoes.
For some reason, Comerette Point doesn't currently show up on Google Maps. This is likely due to the fact it's a more unknown location.
Here's a map showing the exact location: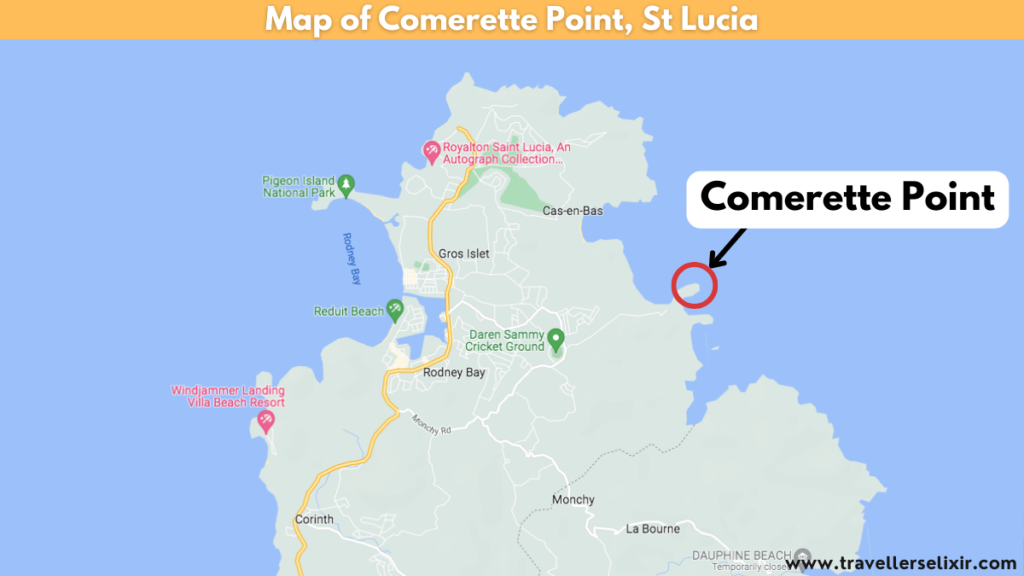 Windjammer Landing Villa Beach Resort
Windjammer Landing Villa Beach Resort, which features a beach, is another great spot for surfing.
This 4-star resort sits on a hillside overlooking a beautiful bay which provides surfers with some impressive waves from the Caribbean Sea.
All the beaches in St Lucia are public so even if you're not staying at the resort, you are still able to access and use the beach.
The resort itself offers complimentary access to equipment for windsurfing if you're staying at the resort but if not you can bring your own.
The seafloor does feature some sharp rocks and some coral reefs so be sure to protect your feet if you go surfing here.
The surfing at this beach is definitely not as consistent as other beaches on this list but it can be good at certain times of year.
How To Get There
Most of St Lucia's best surfing beaches are located on the more isolated eastern side of the island.
Unfortunately there isn't much of a public transportation system on the island so to get there you'll either need to rent a car or take a taxi.
You can also use a rideshare app like Allez or PayCab as St Lucia doesn't have Uber.
I'd only recommend renting a car in St Lucia if you're a fairly confident driver as driving in St Lucia isn't easy.
The roads are quite rocky and there's lots of sharp turns which can be difficult to navigate.
St Lucia Surfing Lessons
It is definitely possible to book a surfing lesson in St Lucia however you generally need to book in person when you get there.
There are a couple of surf schools like 'Kitesurfing St Lucia' and 'The Reef Kite & Surf' but these focus specifically on kitesurfing.
A few hotels including Villa Makambu also offer regular surfing lessons however if it's your first time surfing they only offer a 1.5 hour lesson with just 15 minutes of actual surfing (the rest is theory).
If you have the time to book several lessons it will be much more worth it as you can get a few hours of actual surfing in.
Note: At the time of writing Villa Makambu is closed. You can check if they have reopened on their booking.com profile.
The cost of St Lucia surfing lessons varies a lot. Regular surfing lessons cost between $55 and $100 per person for a 1.5 hour session.
Kitesurfing prices also vary and it wildly depends on the type of lesson you book but it generally costs between $60 and $100 per hour.
Best Time to Surf in St Lucia
If you're coming to St Lucia to surf then consider booking your trip between November and May as this is the best time of year for surfing.
During these months, the eastern side of St Lucia receives strong trade winds from the Atlantic Ocean which provides some fantastic waves for surfing.
You can still surf at other times of the year but the waves won't be as good.
---
And that's it!
Thanks for reading this post all about if you can surf in St Lucia.
If you love getting out into the ocean then did you know that you can actually swim with turtles in St Lucia too?
Need more help planning your St Lucia vacation?
Related Posts: