If you're visiting St Lucia soon then you might be wondering if Castries is worth visiting.
This capital city isn't super well known around the world but that doesn't mean that it has nothing to offer.
In this post I will explain if Castries is worth visiting, the top things to do in the city and if it's safe for tourists.
Is Castries Worth Visiting?
Yes, Castries is worth visiting as it's filled with interesting things to do, historical sites and delicious food.
As the capital city of St Lucia, Castries is an important city as it's the home of the government and major businesses but it's so much more than just that.
Throughout history, St Lucia was ruled by both the French and the British (they kept fighting over the island and it constantly passed between the two).
Castries was actually the site of several bloody battles between the French and British in the 18th century and today you can explore the historical landmarks that still remain.
You'll also find that the city itself has an interesting mix of French and British architecture which also reflects its colonial past.
As Castries is located on St Lucia's northwestern coast, it's close to several stunning beaches which are ideal for sunbathing, snorkeling and swimming.
The area surrounding Castries is very mountainous and hilly which provides several fantastic lookout points where you can get amazing birds-eye-views of the city from above.
You only need to spend between 1 and 2 days in Castries to see everything that it has to offer as it's a very small city.
I'd recommend booking onto a Castries walking tour to make the most of your visit.
Your local guide will show you all of the best spots and locations in the city and educate you on the city's history (hint: it's super interesting!).
Here's what you can expect from this exact walking tour:
What is Castries St Lucia Known For?
Castries is known for its interesting mix of French and British architecture, its famous central market, busy sea port and for being the commercial capital of St Lucia.
Prior to 1785, Castries was actually known as 'Carenage' but it was renamed in 1785 to Castries after a French Minister named Charles Eugène Gabriel de La Croix who was the Marquis de Castries.
(I'm glad my name's not that long, can you imagine filling out a form?!)
Over one-third of St Lucia's population actually lives in and around Castries. The city has a population of around 70,000 people if you include the greater surrounding areas.
💡Fact: St Lucia's total population is just 184,000!
It turns out that around 80% of the city was actually burned to the ground in the Great Fire of Castries which occurred in 1948 so the city that exists today is largely very new.
The fire started in a tailor's shop where a coal iron was left unattended causing the whole building to catch fire. The fire then spread across the city, destroying the majority of it.
Eventually the fire was put out by firefighters from the United States Air Force Base which is located on the south side of the island.
The fire itself was immortalized in the poem 'A City's Death by Fire' by Derek Walcott who was just 18-years old at the time but went on to be a hugely successful poet and playwright who won the 1992 Nobel Prize in Literature.
In fact, the Derek Walcott Square in central Castries is named after him.
This square is a great place to find some peace and quiet and marvel at the 400-year old tree in the center which provides some much needed shade from the hot sun.
Things To Do in Castries, St Lucia
There are plenty of wonderful things to do in Castries which range from exploring historical sites, getting breathtaking views of the city from above and even relaxing on a tranquil beach.
Below I've listed a few of my favorite things to do in Castries, St Lucia.
Castries Central Market
The Castries Central Market is the largest market in the whole of St Lucia and has been running almost daily since 1894.
On sale in this open-air market, you'll find a wide variety of fresh fruit, vegetables and other produce as well as local handmade goods that would make an ideal souvenir.
Things like handwoven baskets, wooden carvings and other locally made trinkets are all on sale.
This market is also a great place to grab yourself something to eat for breakfast or lunch. If you want to try some authentic St Lucian cuisine then the central market is the place to be.
Castries Central Market is super easy to find as it's got a bright orange roof and sits right in the heart of the city – you can't miss it.
The market is open Monday – Saturday from 7 AM until 1 PM.
Learn more about Castries Central Market in the video below which includes a tour:
Vigie Beach
Vigie Beach is a stunning white sandy beach with calm waters located just a 5-minute drive from the city center.
From the beach itself, you get glorious views of Pigeon Island in the distance which is actually a national park.
This beach is super relaxed and quiet as there aren't many resorts present along the beach. It's rarely busy meaning you won't have to fight the crowds for space.
Just plonk your beach towel down and relax!
If you happen to get hungry then there are several bars and restaurants lining the beach where you can grab a snack.
You can either hit the beach during the day or you can come in the evening to watch the sunset.
Vigie Beach offers one of St Lucia's best sunset views.
Morne Fortune
For a panoramic view of the city, head to one of the lookout spots on Morne Fortune.
Morne Fortune is actually an old military outpost that's no longer in use. It sits on top of a hill that overlooks the Castries Harbor which it was originally built to protect.
Today you can hike around the ruins and take in the impressive views. You can explore the old ammunition room, burial grounds, the guard cells and more.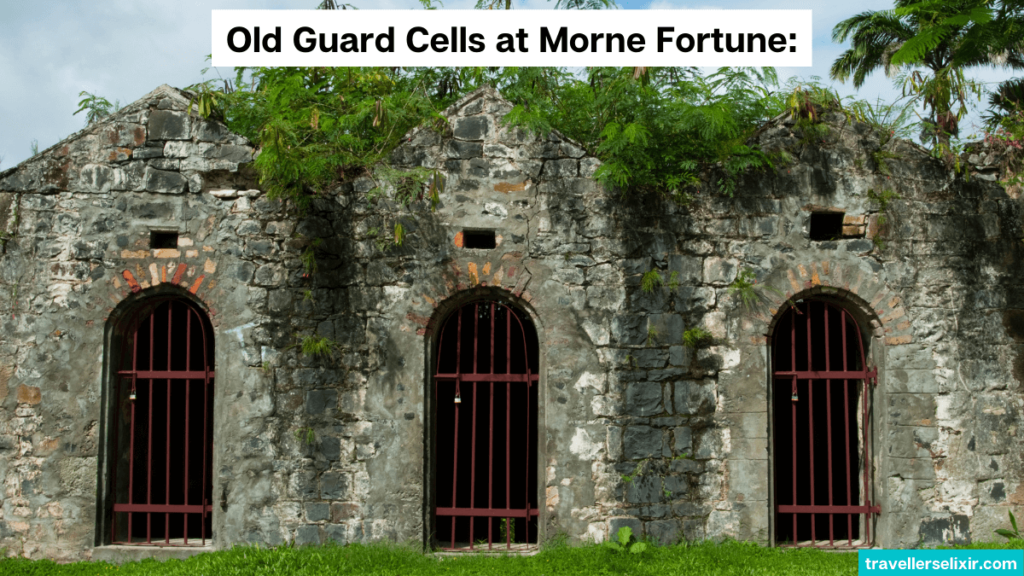 Although in English its name means 'good luck hill', throughout history Morne Fortune was far from lucky.
It was actually the location of several battles between the French and British who constantly fought over who should be in charge of St Lucia.
Take a peek at the historical sites which form part of Morne Fortune in the video below:
Is Castries Safe For Tourists?
Yes, Castries is safe for tourists.
I actually wrote an entire guide on how safe Castries is for more information.
As a quick summary, Castries is safe to walk around on your own but crime does occur from time to time.
The most common form of crime against tourists is pickpocketing and occasionally mugging.
If you're worried about crime at all then it's a good idea to book onto a St Lucia walking tour as your local guide will show you around and keep you safe.
---
And that's it!
Thanks for reading this post all about if Castries is worth visiting.
St Lucia is also known for being a super popular honeymoon destination meaning it's got a luxurious and exclusive reputation.
This doesn't mean it has to be expensive though. I actually wrote an entire guide on how to do St Lucia on a budget for tons of money-saving tips.
Need more help planning your St Lucia vacation?
Related Posts: