If you're visiting St Lucia soon then you might have heard that Sugar Beach is a great place for snorkeling.
It's true! I visited Sugar Beach recently and was blown away with it's beauty. I got the chance to see so many interesting marine creatures whilst I was there.
Sugar Beach is truly a snorkeler's paradise and I want to help you make the most out of your visit.
This snorkeling guide will tell you everything you need to know about snorkeling at Sugar Beach including how to get there, what to expect and other key information.
Is Sugar Beach Good For Snorkeling?
Due to the abundance of marine life, Sugar Beach is a great place to go snorkeling. In fact, Sugar Beach is one of the best snorkeling spots in the whole of St Lucia.
My Experience at Sugar Beach
On my recent trip to St Lucia, I spent a lot of time in the ocean and I traveled around the island looking for the best snorkeling spots.
I can honestly say that Sugar Beach was by far my favorite. Not only does the beach have an epic backdrop with the Piton mountains standing tall, it's also filled to the brim with marine life.
Whilst snorkeling at Sugar Beach, I met several turtles, eels, so many tropical fish and even a seahorse.
Where is Sugar Beach?
Sugar Beach, which also goes by the name of Jalousie Beach, sits at the base of the Petit Piton mountain on the southwestern coast of St Lucia.
It features a series of sandy beaches, rocky shores and seagrass beds which are home to a variety of marine life.
Check out the location of Sugar Beach in the map below: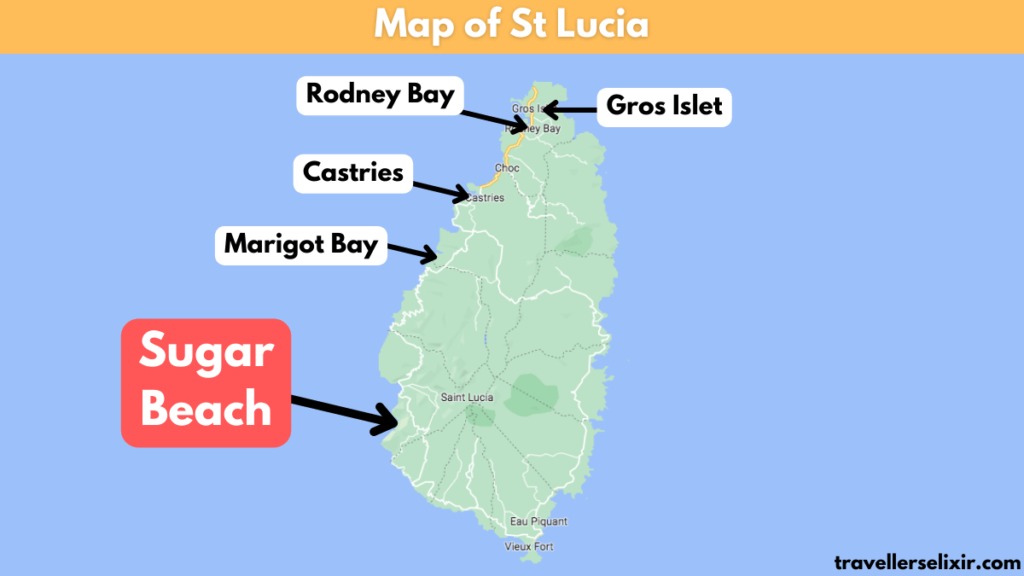 Sugar Beach is easily accessible as it ​​is located just a couple of kilometers from the nearby town of Soufriere. Soufriere is easily accessed from all over the island.
If you have a rental car, find out more about driving in St Lucia.
As part of Sugar Beach sits within a marine reserve, it is a fantastic location for snorkeling. In fact, almost 220 different species have been recorded here!
You'll easily be able to get up close and personal with a range of tropical fish and other aquatic animals.
Here's some of the species you may encounter whilst snorkeling at Sugar Beach, St Lucia: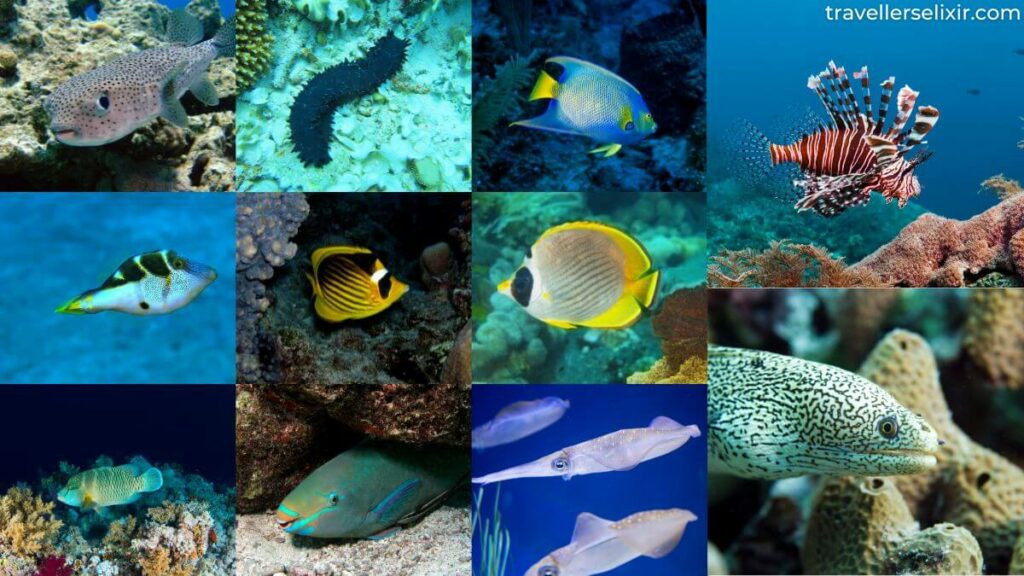 | | | |
| --- | --- | --- |
| Butterflyfish | Urchins | Octopus |
| Moray eels | Wrasse | Scorpionfish |
| Boxfish | Parrotfish | Groupers |
| Barracudas | Snappers | Lionfish |
| Surgeonfish | Sea cucumbers | Cowfish |
| Filefish | Lionfish | Porcupinefish |
| Angelfish | Squid | Trunkfish |
You'll also see a ton of vibrant sponges, corals and algae. The occasional turtle is also spotted at Sugar Beach so keep your eyes peeled.
❗️Tip: You may occasionally come across a jellyfish at Sugar Beach so watch out to prevent any stings.
In addition to being a great snorkeling spot, this area of St Lucia is absolutely stunning.
I was truly blown away when I first arrived as it's such a unique beach with one of the most beautiful views I've ever seen.
The beach itself is situated in between the two iconic Piton mountains so you'll get spectacular views in every direction.
I found that the best area for snorkeling is towards the northern area of the resort, right at the base of the Petit Piton mountain.
If you're on the beach, this area sits on the right-hand side just past the boat landing dock. No boats are allowed beyond the dock so it's pretty safe.
The snorkeling area is super easy to access as you can simply walk into the water from the beach and start snorkeling!
Here's the location of Sugar Beach's best snorkeling spot on the map:
The red lines indicate where you can go snorkeling at Sugar Beach however the arrow indicates the best snorkeling spot.
This area is part of a marine reserve which is why it's such a great spot for seeing marine life.
You'll easily be able to recognise it as it's marked off by ropes and buoys.
The center of the bay is another good location for snorkeling, however it doesn't have quite as much fish as the other snorkeling spot.
The bay starts off pretty shallow but does descend rapidly when you reach the seagrass bed so keep an eye on your footing if you choose to snorkel here.
I almost tripped several times here so be careful!
You'll also find a really rocky area at Sugar Point which sits to the left-hand side of the beach (see map below).
Fish gather here in large groups however you won't see as much diversity in the sponges and corals. It's still worth checking out though.
To actually enter the water itself, you can either just walk straight into the water from the beach or enter via the handy steps that are located just next to Sugar Point.
Here's a map showing the location of Sugar Point: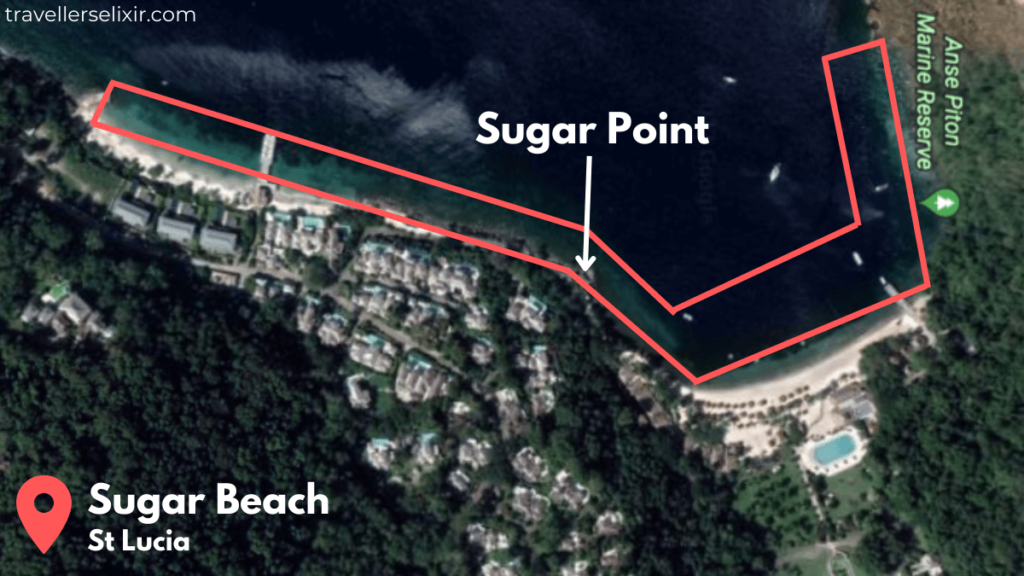 Here's what you can expect from snorkeling at Sugar Beach:
Snorkeling at Sugar Beach, St Lucia – What To Expect
The first thing to know is that the water at Sugar Beach is super clear so you'll easily be able to see all the marine life. You'll find no murky water here at all!
The water is also really calm as it sits on the Caribbean side of the island (rather than the Atlantic side) so there's no large waves to knock you off course.
This makes it a great spot for families with children!
There's also several different depths making it ideal for both beginners and more advanced snorkelers.
You can easily stick at depths you're more comfortable with or venture off to deeper depths if you prefer.
Snorkeling Gear
If you're staying at the Sugar Beach Viceroy Resort then you can make use of the free snorkeling fins, masks and snorkels which are provided at their water sports cabana near the beach.
It's still a good idea to bring your own snorkeling gear with you as the resort's supply is limited and many guests have reported that there was no snorkeling gear left when they got there.
💡Tip: You can also rent snorkeling gear from several different vendors on the beach itself if you don't have your own.
If you're not staying at the resort then you will need to bring your own snorkeling gear or you can rent some from one of the local vendors on the beach.
It costs $10 per person to rent the snorkel gear for 1 hour and $20 per person for more than an hour.
I wasn't staying at the resort so I ended up renting some from one of the vendors on the beach. It was a pretty simple process and they had lots of availability.
The Beach
Sugar Beach is a white sand beach and one of St Lucia's most beautiful beaches.
💡Hint: As St Lucia is a volcanic island, the beaches naturally have dark sand. White sand was actually imported from Guyana and mixed with the sand at Sugar Beach to make it appear white!
There are plenty of amenities located on the beach including:
Free toilet for non-hotel guests.
Access to the restaurants at Sugar Beach Resort.
Some free sun loungers/umbrellas (some are for hotel guests only).
Local vendors on the beach selling drinks, food and hand-crafted items etc.
Snorkel gear rentals.
One area of the beach is only accessible to hotel guests. This area features premium looking sun loungers.
The rest of the beach is accessible to anyone and has the more basic looking sun loungers which you can use for free.
The beach itself is fairly small and can get busy but it's still really beautiful and worth the visit.
Lockers
The next thing you need to know is that there are no lockers at Sugar Beach so if you're not staying at the resort, you won't have anywhere to leave your valuables.
I recommend purchasing one of these small waterproof bags to keep your belongings safe and dry. You can place your phone, keys and wallet in here and take it into the water with you.
It comes with a waist strap so you don't even have to hold it and it will protect your belongings with ease up to 10 meters submerged! This is what I did when I visited.
Even though Sugar Beach is pretty safe and it's unlikely that anyone will steal your belongings if you leave them on the beach, I'd still recommend getting a waterproof bag just in case.
Car Parking
There is a free car park located nearby for day visitors. This car park is operated by the resort.
Once you've parked up, you'll need to walk down a fairly steep road to the resort itself and the beach area.
It only takes around 5 minutes to walk down to the beach from the car park.
As the road is pretty steep, it can be difficult walking back up to the car park at the end. It'll probably take you around 10 minutes to walk back up.
One of the resort cart drivers will be happy to drive you back up if it's too steep for you but you will need to pay a small fee.
💡Tip: If you eat or buy a drink at one of the resort restaurants, keep your receipt and you'll be able to use it to get a free shuttle back up to the car park.
The video below gives an overview of Sugar Beach showing the steep road which leads down to the beach:
Best Sugar Beach St Lucia Snorkeling Tours
There are many snorkeling tours available in St Lucia that will take you to Sugar Beach via the water so you can avoid the steep road down to the beach.
This land and sea tour is one of my favorites because you get a whole tour of the island where you'll visit a bat cave, a waterfall, the drive-in volcano and they'll take you to Sugar Beach for snorkeling.
It's a full day tour lasting around 7 hours and everything is taken care of so you can just sit back and enjoy the island.
It's also great to know that they provide all the snorkeling gear so you don't need to bring your own.
This is one of the easiest ways to get to Sugar Beach.
How to Get to Sugar Beach Snorkeling Spot
Sugar Beach is managed by the Sugar Beach Viceroy Resort, however you don't have to be staying at this resort to access the beach.
The beach itself is a public beach however the Sugar Beach Resort owns the road which leads down to the beach so they can control who can access it from the land.
They have changed their policy several times over the years on if you have to pay or not to access the beach. When I visited, it was free to access.
If you are staying at this resort, then great! The resort is set just in front of the beach so you have free and easy access to the beach and all of its best snorkeling spots.
If you're not staying at the resort then you can still access the beach. Either park your rental car in the car park or get your taxi to drop you off at the resort.
You can also access the beach by boat if you're not staying at the resort.
By Boat
One way to get to the beach is to join a boat tour which will take you right to the snorkeling spot.
Alternatively you can get on a water taxi which will drop you off on the beach itself.
Catch the water taxi from the waterfront in Soufriere. It costs $30 each way (per boat, not per person).
The ride over to the beach only takes 10 minutes and is a really scenic route as you'll get fantastic views of the beach and the iconic Piton mountains.
Here's Sugar Beach's official address:
📍Address: ​​Sugar Beach, Val des Pitons, Soufriere, St Lucia
Please note that Sugar Beach is also known as Jalousie Beach.
Scuba Diving at Sugar Beach St Lucia
As well as being a top snorkeling spot, Sugar Beach in St Lucia is also fantastic for scuba diving.
According to the Sugar Beach Resort, Sugar Beach is one of the top diving sites in the whole world.
The Sugar Beach reef is easily accessed by walking into the water from the beach.
Sugar Beach is an ideal scuba diving spot for beginners and newly certified divers. Advanced divers may find it a bit limiting.
Just a little further north, at the base of Petit Piton, you'll find another dive site known as Superman's Flight as part of the movie 'Superman II' was filmed here.
This site is much more varied and you can see soft coral gardens, hard corals, sponges, squid and tons of tropical fish.
This is a perfect spot for drift diving and would suit intermediate level divers.
Did you know that you can also surf in St Lucia?
---
And that's it!
Thanks for reading this post all about snorkeling at Sugar Beach in St Lucia.
You should now have everything you need to get out there and see some fish!
Need more help planning your St Lucia vacation?
Related posts: