If you're visiting St Lucia soon then you might have heard that St Lucia has a volcano. It's true!
In fact, I actually visited this impressive volcano for myself recently when I went on vacation to St Lucia.
It was pretty cool which is why I'd love to share with you my experience of visiting the world's only drive in volcano.
Does St Lucia Have A Volcano?
St Lucia has just one volcano which is known locally as the Soufriere Drive-In Volcano.
It's located inside the Soufriere Volcanic Centre which is near to the town of Soufriere in southwest St Lucia.
Here's what the Soufriere Drive-In Volcano looks like: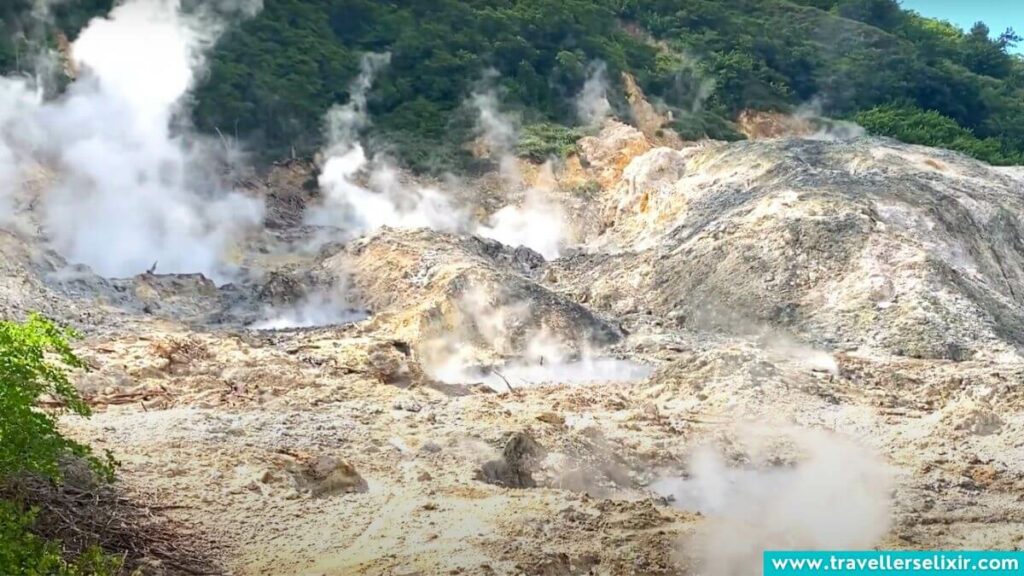 As you can see, this type of volcano doesn't have a peak and that's because it's actually a 'caldera' which is essentially a large volcanic crater.
It was formed between 32,000 and 39,000 years ago and he crater is 3.5 x 5km wide.
These tend to be formed when a major eruption causes the mouth of the volcano to collapse.
Here's the location of the volcano on the map: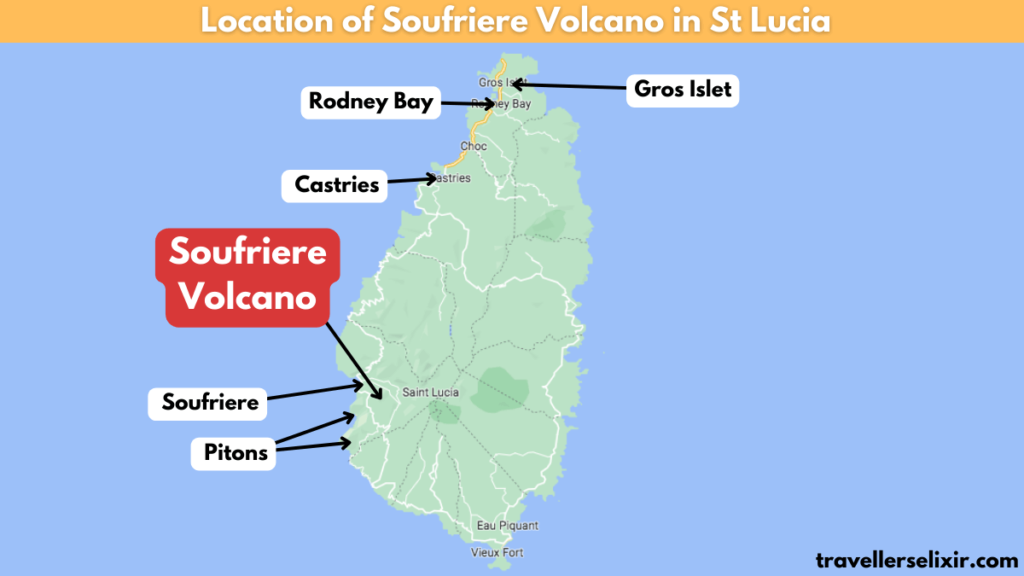 St Lucia Volcano Tour
St Lucia's volcano is pretty impressive but it can be a hassle figuring out transport if you don't have a rental car.
That's why I recommend booking a volcano tour where transport is included to and from your hotel. This is the one I did and I absolutely loved it.
I personally recommend this St Lucia volcano tour as it includes three of St Lucia's best activities.
You'll get to explore the Soufriere Drive-In Volcano and take a dip in the mud bath (if you want).
Following this, you'll also get to see St Lucia's famous Toraille Waterfall up close and personal as well as see the iconic Piton mountains up high from the Tet Paul Nature Trail.
Everything is sorted for you so you can just sit back, relax and enjoy your day!
Soufriere Drive-In Volcano St Lucia
The Soufriere volcano in St Lucia has become a popular tourist attraction in recent years and I was luckily enough to visit it for myself recently.
It is known locally as the Soufriere Drive-In Volcano because you can actually drive through the crater itself in your car. Cool, right!?
In fact, this volcano is the only drive-through volcano in the whole world so it's pretty unique.
The volcanic site also features the hugely popular Sulfur Springs and a natural mud bath.
St Lucia Sulfur Springs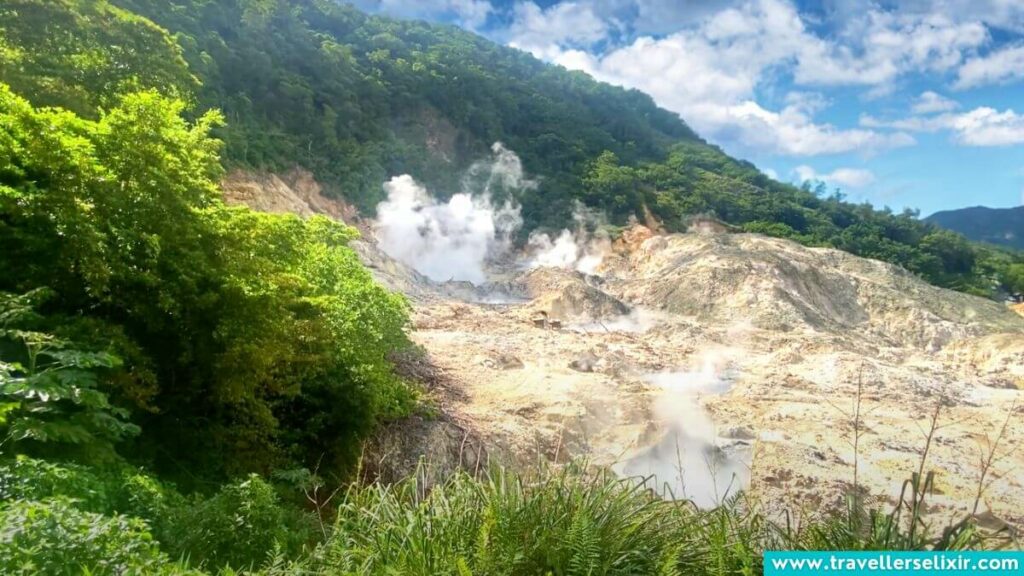 The Sulfur Springs is an active geothermal area located within Soufriere's volcanic crater.
In this area, you'll be able to see hot steam rising up from the ground with puddles of bubbling mud.
It looked pretty cool, I must say. Just watching steam rising out of the rocks was kinda therapeutic actually.
Here's what you can expect:
One thing I noticed though is that there is a strong smell of rotten eggs in the area! According to my tour guide, this is due to the presence of sulfur!
St Lucia Volcano Mud Bath
A couple of hundred yards down from the Sulfur Springs, you'll find the mud bath.
The water here is really hot but it is cool enough to enter and have a bath. Before getting into the water I covered myself in mud then washed it off in the water.
The staff have buckets full of mud available which they'll hand over to you when you need it. I saw many people literally covering every inch of themselves in the mud including their face!
There are 2 different colors of mud – a light gray and a darker gray. You can use them to create some fun designs on your body. I tried (and failed) to draw a star on my stomach.
When I got into the water, the mud washed away pretty quickly and I was left feeling clean again. They also have showers on site too to wash yourself down.
The water reaches 113ºF (45ºC) so it's pretty hot but there are several different pools with different temperatures. I went for one of the cooler pools but it was still pretty hot.
Some people in St Lucia claim that the mud has medicinal properties.
Allegedly the mud detoxifies the body and can heal things like sunburn, eczema, arthritis and sore joints. I can't testify to any of these but it did feel very soothing that's for sure.
The gray color of the mud is caused by high concentrations of sulfur, iron and copper in the water.
Check out what you can expect from the St Lucia mud bath in the video below:
Related Post: Is There Uber In St Lucia?
Is the Volcano in St Lucia Active?
I know you don't wanna get caught up in the next Pompeii incident so here's the tea…
The Soufriere Drive-In Volcano is still an active volcano however it is currently set to alert level green which basically means that the volcano is quiet and there's no unusual activity.
It is technically possible that an eruption could occur in the future but there have been no recent eruptions (and by recent I mean in the last 250 years).
The volcano itself has also become a tourist attraction due to the presence of hot springs and a natural mud bath nearby.
You can actually get into the mud bath (which allegedly has restorative properties) and relax. I did this when I visited and really enjoyed it. I'll talk more about that later!
St Lucia's Last Volcano Eruption
The volcano in St Lucia hasn't erupted since 1766 however, although it was technically an eruption, this event was described at the time as 'a minor explosion which spread a thin layer of cinders far and wide'.
So basically during the 1766 eruption, only ash and rocks erupted from the volcano, no lava came out and nobody was hurt so it wasn't serious at all.
In recorded history, there has never been a magmatic eruption where lava erupts from the volcano. Data suggest the last magmatic eruption took place around 20,000 years ago.
Although it is possible that the Soufriere volcano could erupt in the future, volcanoes don't just erupt suddenly without warning.
There are normally several clear signals that indicate an eruption may occur.
If these are observed then the area surrounding the volcano will be immediately evacuated and there is plenty of time to get everyone to safety.
It's also worth knowing that the main tourist areas in St Lucia, including Rodney Bay, Gros Islet and Castries, are not anywhere near the volcano.
This means that even if there was an eruption, these parts of St Lucia wouldn't be affected.
Are the Pitons in St Lucia Volcanoes?
The Piton mountains are actually not volcanoes but they are the remnant of heavy volcanic activity that occurred hundreds of thousands of years ago.
It's thought that the Pitons were formed between 200,000 and 300,000 years ago.
Technically, the Pitons are volcanic plugs which means that they were formed from lava that blocked the neck of the volcano and solidified.
The Pitons are actually one of the world's largest volcanic plugs.
The Pitons have become an icon of St Lucia and you can't leave without seeing them at least once.
There are several fantastic locations that have a view of the Pitons including viewpoints, beaches, hiking trails and hotels.
---
And that's it!
Seeing the Soufriere drive-in volcano certainly is one of the best things to do in St Lucia as is snorkeling. Did you know that Sugar Beach is a great snorkeling spot?
Need more help planning your St Lucia vacation?
Related Posts: