When me and my boyfriend planned our trip to St Lucia, the only activity on my mind was swimming with turtles!
I mean, can you think of anything better? I can't.
In fact, I ended up making it my mission to find all of the best snorkeling spots on the whole island (and I succeeded!).
In this guide, I'll be sharing with you exactly where you can see turtles in St Lucia + some handy turtle spotting tips.
Where To Swim With Turtles In St Lucia
St Lucia has sandy shores, beautiful coral and exhilarating diving spots all around, but you cannot see the turtles on every single beach.
Below I've listed all the best spots…let's get to it!
If you're a certified diver then you might like this scuba diving tour which takes you to St Lucia's best diving spots.
1. Anse Cochon (North)
Anse Cochon which is located on St Lucia's western shore sits at the edge of Anse La Raye. It's a beautiful stretch stretch of beach that just seems to go on forever.
Although a large part of this strip is under the control of the nearby resort, visitors can still access it.
Here you will find warm waters with small waves and plenty of fish to join you in your underwater explorations.
While many snorkeling spots advertise large stretches of coral reef, this one offers a ton of variety.
Not only is the coral reef full of tropical fish and sea turtles, but you also have stretches of sand and rock where you can find other varieties of sea life enjoying the warm waters.
I spent about an hour snorkeling around the reef here and saw around 5 sea turtles! It was pretty magical to say the least.
One of the best ways to explore this reef and ensure you get to meet turtles is by going with a guide.
I'd recommend booking a snorkeling tour like this one as it includes tons of extra activities like a visit to St Lucia's famous Sulphur Springs and the Toraille Waterfall.
It additionally includes that all important snorkeling activity at Anse Cochon so you can swim alongside turtles and other marine life.
Alternatively, you could book a beginner's scuba diving tour! This is ideal for anyone that's new to scuba diving.
You'll get the care and attention you need from your guide whilst exploring the best that St Lucia has to offer.
Check out what you can expect from snorkeling at Anse Cochon in the video below:
2. Anse Chastanet Beach
Anse Chastanet Beach is located on St Lucia's western shore right next to the Jade Mountain Resort.
Anse Chastanet boasts the darkest black sand on the island and is the place to be if you want to enjoy some of the island's most spectacular scuba diving and snorkeling spots.
The crystal-clear bays of this area are part of a designated marine reserve. This reserve protects miles of colorful coral reefs that are teeming with tropical fish and sea turtles.
I was super excited to visit this beach as I'd heard amazing things and I wasn't disappointed. I snorkeling around the coral reefs for around an hour and came across several sea turtles and so many tropical fishies!
For the best chance of seeing sea turtles at Anse Chastanet Beach, book onto a snorkeling tour!
Your knowledgeable guide will know where to find turtles without fail and can explain all of the awesome marine life to you.
For somewhere a bit quieter where you can still see turtles, you can head down a footpath to Anse Mamin which is just a 10-minute walk away from Anse Chastanet.
Check out what you can expect from snorkeling at Anse Chastanet Beach in the video below:
3. Grande Anse Beach
Also known as the Des Barras Beach, the Grande Anse Beach in the north of St Lucia is a great place to get up close and personal with the large leatherback turtles.
In fact, after I entered the water a spotted one almost instantly munching on some seagrass!
You can get super close to the turtles here and watch them as they pull themselves across the deep soft sand of the coast.
Alternatively, hire a snorkel or bring your diving equipment to enjoy a swim in the Caribbean waters beside these large sea turtles.
Grande Anse is the perfect beach to enjoy some peace and quiet away from the popular tourist spots.
It is not as easy to reach compared to other beaches due to rough roads and accessibility issues which has led to the beach being dubbed St Lucia's 'Forgotten Beach'.
If you are willing to put in the effort to reach it, you will be rewarded with spectacular views and breathtaking turtle-watching opportunities.
4. Coconut Bay
White sand, swaying palms, the Atlantic breeze and the option for water sports are all to be found at Coconut Bay.
Right on the doorstep of the Coconut Bay Beach Resort & Spa, you'll find a mile-long stretch of beach where the turtles seasonally come to nest.
This one was recommended to me by a friend who stayed at the Coconut Bay Resort and said she saw turtles in the ocean almost every single day!
You don't have to be staying at the resort to use the beach so feel free to stop by either way.
5. Fairyland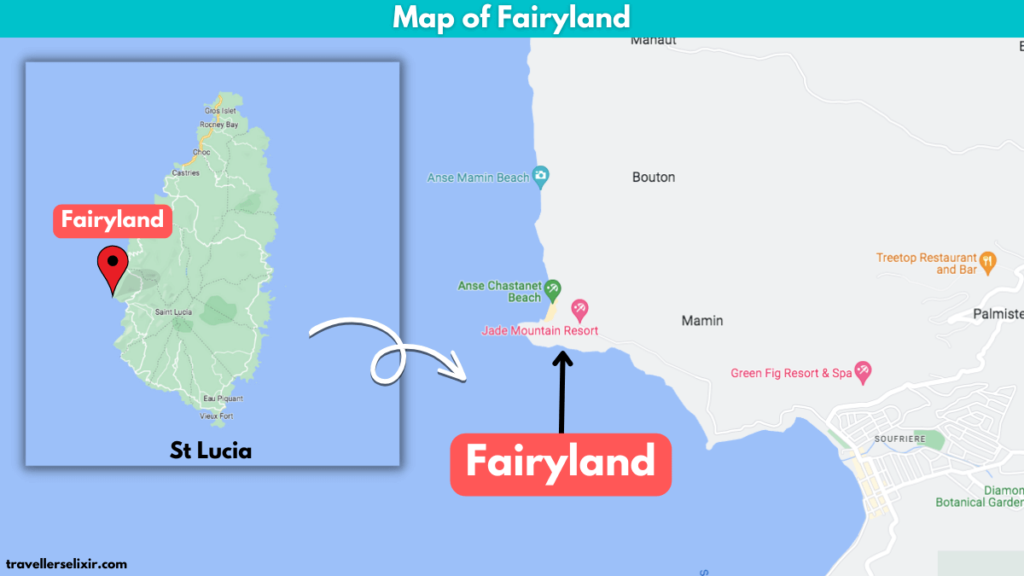 Near the beaches of Soufriere is a popular sea turtle diving spot known as Fairyland.
Fairyland is located just off the cliff face known as West Pointe which is just south of Anse Chastanet Beach.
It's approximately a mile north of Soufriere Bay and provides an incredible view of the Piton mountains.
Named for the large variety of corals and sponges that create a unique underwater backdrop, Fairyland has some of the most vibrant corals in the whole of the Caribbean.
Among this wall of color, you can expect to find large shoals of fish, octopus which use this area as a breeding ground, and sea turtles which regularly visit the site.
Veteran divers rank this place high on spots to visit in the Caribbean.
With 25 to 50 ft dives for amateur and regular divers, to over the wall and into the canyons for veterans, Fairyland has something for every diver.
This is a place where you do not want to forget your underwater camera.
Check out what you can expect to see at Fairyland in the video below:
6. Rosemond's Trench
Rosemond's Trench is a captivating natural wonder where divers and snorkelers can explore vibrant coral reefs, diverse marine life and the thrill of swimming in an underwater trench.
For new to intermediate divers, Rosemond's Trench has everything you need to enjoy a day on the reef and spot some turtles.
Rosemond's Trench is the newest addition to popular sea turtle spots in St Lucia. It was discovered by veteran diver Rosemond Clery who decided to continue past Anse Cochon and explore.
This sheltered trench is full of coral, schools of barracuda and spotted eagle rays. It's super vibrant with so much to see at every turn.
Sea horses camouflage themselves in the coral while the sea turtles lounge on top of the giant sea sponges.
Check out what you can expect from Rosemond's Trench in the video below:
7. Turtle Reef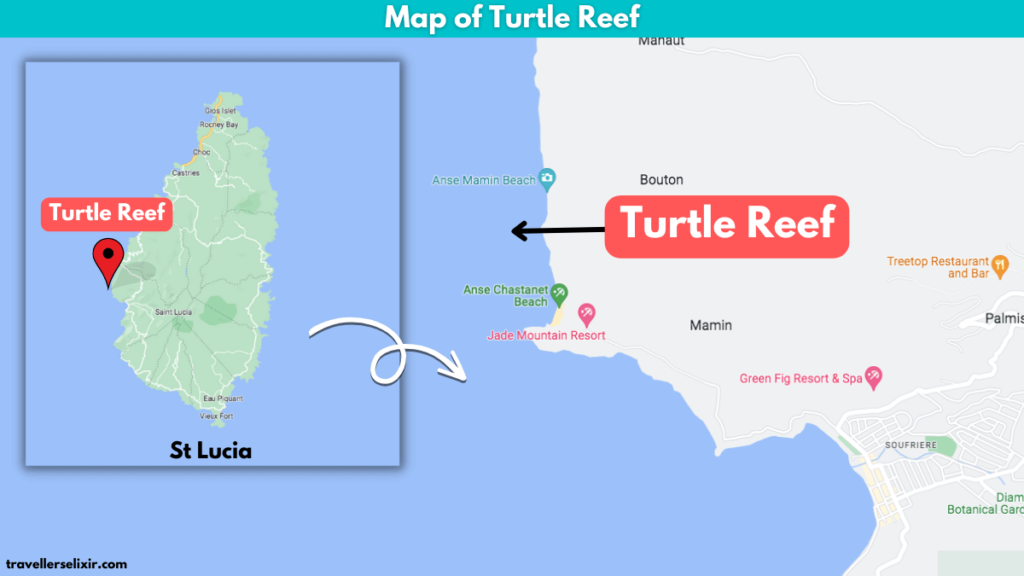 My absolute favorite place to swim with turtles in St Lucia is at Turtle Reef in Soufriere.
You can't get much closer to the turtles than when you swim side by side with them through the crystal clear waters of Turtle Reef.
I was lucky enough to spot a few turtles when snorkeling here but I heard from a local on the beach that they don't show up that often which is why I haven't placed it higher on the list.
Both hawksbill and green turtles thrive in this crescent-shaped reef as it is located near several seagrass beds.
It is important to note that, despite its name, turtles cannot always be found at the Turtle Reef.
Turtle Reef was named for the shape of the reef itself, although during the turtle season they can often be found in this reef.
Turtle Reef has a rich ecosystem where you can find much more than just turtles.
Pillar corals and barrel sponges can be found throughout this reef along with trumpet fish, eel and many smaller coral critters.
The depth of the reef offers options for both snorkelers and divers of all levels.
Snorkelers and newbie divers have tons to explore. The depth does go down to 140 ft which provides much more for the intermediate and veteran divers to explore.
Check out the beautiful sea turtles spotted at Turtle Reef in the video below:
Tips For Swimming With Turtles
First time swimming with turtles?
To ensure the turtles remain safe, there's a few key things to bear in mind when swimming with them in St Lucia.
Remember that all of the different turtle species are endangered so it's important that we do all we can to help their chances.
Don't be too loud. Try to be as quiet as possible when swimming up to a turtle as loud noises will scare them away.
Do not touch the turtle. Turtles are wild animals and should be respected.
Do not get too close. This might scare the turtle and they could bite you if they get really scared (don't worry this is super rare!).
Do not feed the turtles. They don't need help finding food.
Always approach a turtle from the side. This gives them a clear view of you and a clear path ahead of them if they want to swim onwards.
Don't disrupt the turtle's natural behavior. You can enjoy the turtles by watching them do their thing but try not to disturb them.
These key tips protect both you and the turtles.
---
And that's it!
You should now have everything you need to get out there and swim with some turtles!
Until next time,
Meg
Need more help planning your St Lucia vacation?
Related Posts: