As hurricanes can be common in the Caribbean, many visitors are concerned about the risk of hurricanes in St Lucia.
This post tells you everything you need to know about hurricanes in St Lucia including which time of year hurricanes are most likely to happen and the history of hurricanes in St Lucia.
Additionally, I'll give some information on what to expect if a hurricane hits whilst you're in St Lucia.
Does St Lucia Get Hurricanes?
Historically, St Lucia has experienced hurricanes however they are not common and are generally not a concern for tourists or locals.
When Is Hurricane Season In St Lucia?
Hurricane season in St Lucia lasts from June 1st until November 30th however the frequency of hurricanes varies considerably each year.
The highest chance of hurricanes in St Lucia falls between September and October.
Hurricanes don't hit St Lucia every year. In fact, they are actually pretty rare so if you are visiting during hurricane season, don't worry.
You'll likely experience some heavy rainfall but it usually comes in quick, heavy bursts and there's still plenty of sunshine.
It's highly unlikely that you'll be affected by a hurricane in St Lucia even if you visit during the hurricane season.
And here's why…
Is St Lucia in the Hurricane Belt?
St Lucia is in the hurricane belt however it is south of the active core meaning it doesn't often experience hurricanes.
💡Fact: The Hurricane Belt is an area of water within the Atlantic Ocean that frequently gets hurricanes during the hurricane season.
Here's what the hurricane belt looks like: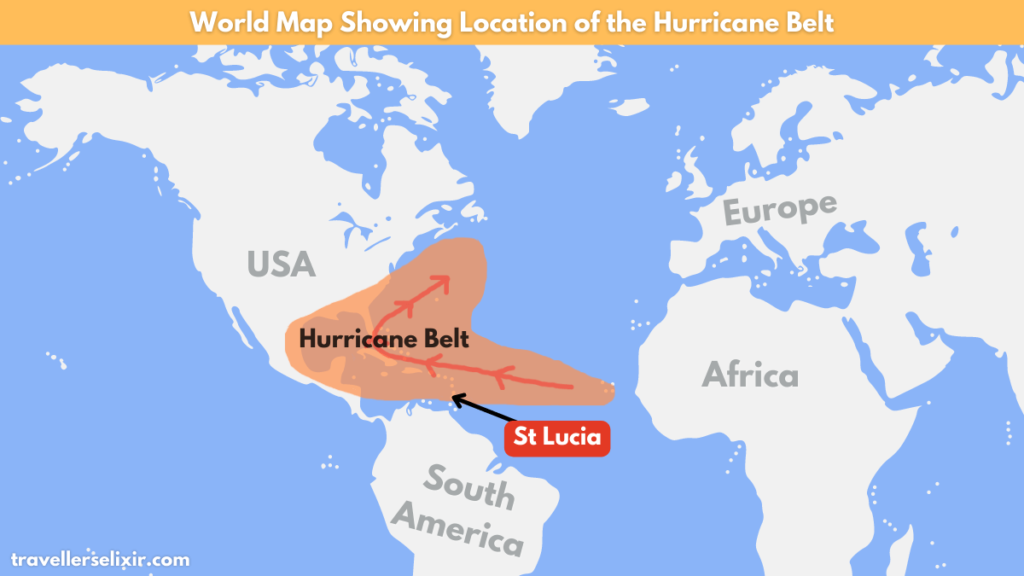 As St Lucia sits at the edge of the hurricane belt, this means that it does get hurricanes from time to time however they aren't super strong and feel more like heavy rainstorms.
Almost all hurricanes that have ever passed through St Lucia are either Category 1 or Category 2. Hurricanes higher than Category 2 are extremely rare.
Here's an overview of the hurricane categories:
St Lucia sits towards the beginning of the hurricane belt meaning that often when a hurricane passes through it is still in its early, weaker stages.
Hurricanes tend to gain strength as they hit the northern areas of the Caribbean and the US, this means that St Lucia only experiences weaker hurricanes which don't do any damage at all.
In fact, the risk of a hurricane hitting St Lucia is the same as the risk in New York.
St Lucia Hurricane History: How Often Do Hurricanes Hit St Lucia?
In the past 20 years, only two hurricanes have directly affected St Lucia. These occurred in 2007 and 2010.
In fact, since records began in 1850 only 14 hurricanes have ever been within 60 miles of St Lucia.
To put this into perspective, on average 6 hurricanes occur each year in the Caribbean however only 14 have ever come anywhere close to St Lucia.
There have been very few major hurricanes in St Lucia.
Here's a timeline of St Lucia's hurricane history:
It's worth remembering that the Caribbean spans 2.7 million km² so if there's a storm in the Caribbean, it's still extremely unlikely that it will hit St Lucia directly.
Between the years of 1980 and 2007, not a single hurricane hit St Lucia so you can see how infrequent and rare they are.
Based on these statistics, anyone visiting St Lucia during the hurricane season shouldn't be too concerned.
What Was the Worst Hurricane in St. Lucia?
The worst hurricane to ever hit St Lucia was Hurricane Allen which occurred in August 1980. In fact, Hurricane Allen was one of the strongest Atlantic hurricanes on record.
During Hurricane Allen, speeds of up to 170 miles per hour were recorded. There were 6 deaths, severe damage to over 1,500 homes and minor damage to over 10,000 homes.
9,600 people were left homeless and the damage is estimated to have cost the St Lucian government around $235 million at the time ($844 million today).
In 2010, 14 lives were lost due to Hurricane Tomas which was actually considered a weak hurricane but it initiated landslides and caused damage to roads and bridges.
What Happens if There is a Hurricane?
Although hurricanes are super rare in St Lucia, it's still worth considering what you should do if a hurricane happens to hit during your visit.
As there is a risk of hurricanes developing in St Lucia, all resorts and hotels as well as the St Lucian government have a hurricane policy which sets out what they will do if a hurricane is on its way.
Here's what will happen:
Forecast predicts that a hurricane will come within 50 miles of St Lucia.
The St Lucian government will release a formal hurricane warning 36 hours before the hurricane is due to come close to St Lucia.
If you're not in St Lucia yet then your resort will likely allow you to get a refund or change the dates of your trip.
If you are already in St Lucia then your hotel or resort will evacuate you to a safe place.
St Lucia Weather by Month
St Lucia experiences a dry season and a wet season each year however the temperatures remain hot all year.
Here's an overview of St Lucia's weather by month:
Best Time to Go to St Lucia
The best time to visit St Lucia is between March and May.
During these months, the weather is a bit cooler and there's little rain. This is also outside of the hurricane season which runs from June 1st to November 30th.
These months also fall outside of the high season so you'll benefit from less crowds and lower rates.
Another great time to visit St Lucia is between December and March which is the high season and driest part of the year.
During these months the weather is hot, dry and more predictable. It's unlikely that you'll experience any rain at all.
As this is the high season though the island will be busy and things may be more expensive.
Weatherwise, January is the absolute best month to visit St Lucia as the weather is slightly cooler making it more comfortable. In January, expect highs of 84ºF (29ºC).
Related Post: When Is The Cheapest Time To Go To St Lucia
Worst Time to Visit St Lucia
The worst time to visit St Lucia is between June and November. Not only is there a small risk of hurricanes during these months, this also coincides with St Lucia's rainy season.
September and October are the rainiest months in St Lucia with up to 10.2 inches of rainfall!
Many tourists still choose to visit St Lucia during this time as the risk of hurricanes is low and it doesn't rain all day everyday.
The weather is still super hot with temperatures averaging around 87ºF (30ºC) each day.
Whilst heavy rain showers do occur, they tend to be short and they dry up fast due to the heat. Don't worry, you'll still get tons of sunshine!
When the rain starts, I usually head inside a cafe for a drink and by the time I'm done, the rain has disappeared.
A bonus of visiting during the rainy season is that flights and accommodation tend to be cheaper. The island also looks super lush and green due to the frequent rain.
You can get a really attractive rate on an all inclusive resort that just wouldn't be possible during high season.
For example, one of St Lucia's most popular resorts is the Royalton St Lucia.
During high season, a week in their luxury junior suite would cost around $5,000. For the same room in low season, it only costs $4,100. That's almost a $1,000 saving!
---
And that's it!
Thanks for reading this post all about hurricane season in St Lucia.
If you're visiting St Lucia during hurricane season then you have little to worry about.
Although St Lucia does experience hurricanes from time to time, they are rare and are of little concern to tourists.
Need more help planning your St Lucia vacation?
Related Posts: