When I started planning my trip to St Lucia, one of the main things I had right at the top of my list was the Gros Piton hike.
I mean, the Piton mountains are literally the symbol of the whole island so it seemed only right that I climbed one of them!
Hiking Gros Piton is definitely one of the best things to do in St Lucia but it definitely isn't a walk in the park.
In this post I cover everything you need to know about the Gros Piton hike including what to expect, how difficult it is, how much it costs, how long it takes and more.
Gros Piton Hike – What To Expect
I climbed Gros Piton when I visited St Lucia and I'm so glad I did! It was super tiring and I got so hot and sweaty but it was worth it in the end. The views from the summit are out of this world.
Gros Piton is the larger of the two iconic Piton mountains which sit on St Lucia's western coast near to the town of Soufriere.
This impressive mountain sits at 2,619 ft (798m) tall and it is actually possible to climb it and reach the summit if you're up for it.
It's safe to say at 2,619 ft, you'll get a pretty incredible view of the island from up here.
The hike itself is broken up into 4 sections. Each section ends with a resting point with the final resting point being the summit of the mountain.
The Views
The resting points leading up the mountain provide amazing views of St Lucia and offer a nice stopping point for you to catch your breath and have some water.
The resting points are so welcomed! The hike is pretty tiring so I found myself spending at least 10 to 15 minutes at each resting spot.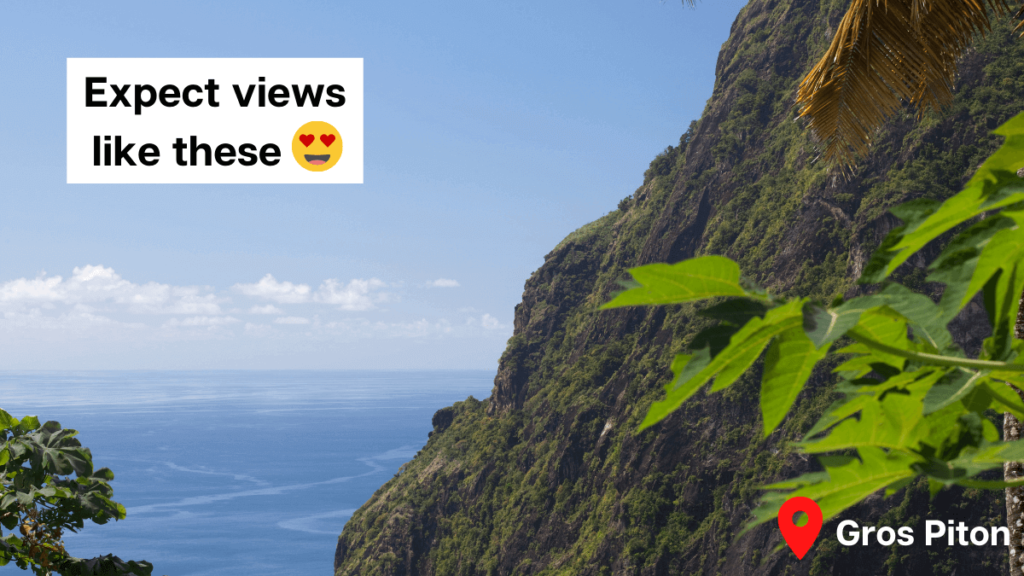 When you finally reach the top, you'll be rewarded with even better views.
From the summit of Gros Piton you can see the entire south side of the island, the Caribbean Sea and even the Atlantic Ocean to the east and Martinique to the north. It's pretty magical!
There are actually two different viewpoints at the summit. Once you get there, ask your guide to show you the second one for a different angle. I personally preferred the second one as it was less busy.
You can also purchase water (or the local Piton beer if you prefer) and fruit at the top of the mountain if you want to hydrate yourself before heading back down.
The Hike
The majority of the Gros Piton climb is actually underneath trees which means it's shaded most of the way.
Due to the heat in St Lucia, it will still be very hot and humid but the shade helps a lot. I was so thankful for the trees as I can't even imagine how hot and sweaty I would have been without them!
You should try to do the hike as early as possible in the day as the heat won't be as bad. Most people start at 7am or 8am. I started mine just before 8am.
If you do the hike during low season (June to November), then the trail will be very quiet and you might even have the entire summit to yourself.
During the high season (December to April), it's a bit busier along the trail but it's never crowded. My visit was during February but I didn't think the trail was too busy.
To be honest, for most of the hike, there were only one or two other people in sight!
Amenities
Prior to starting the hike, you'll find several amenities at the base of the mountain. There's a restroom, snacks, drinks and a walking stick rental stall.
Many hikers choose to rent a walking stick here as they can be useful for the hike. The hike itself is pretty strenuous and the sticks can ease the pressure on your legs.
Hiking sticks cost $5 each from this stall.
You'll also find an ice cream stall and some other food and drinks at the base of the mountain. Most people grab something to eat here after the hike. I grabbed one of the ice creams and it felt like the perfect treat after a long hike.
The trail itself is well-maintained throughout but does sometimes get a bit slippery if it's been raining so make sure you wear appropriate shoes.
Gros Piton Hike Difficulty
The hike is moderate to strenuous in terms of difficulty. I would say that it is physically challenging and you'll spend a lot of time climbing rocks rather than walking.
Just for reference, I am a 25 year old fairly fit female that doesn't regularly go to the gym. I did find the hike to be tough but doable.
Overall the hike is suitable for most people as long as you're in decent physical shape.
I spent hours reading through Tripadvisor reviews beforehand and there were many reports of people well into their 60's completing this hike.
I even saw a couple who were in their late 50s/early 60s doing the hike when I was there and they didn't seem phased by it.
It does get fairly strenuous at certain points, particularly near the end but it's nothing that most people can't handle.
Physically, you do need to be able to take big steps up and down rocks at several points along the hike. You may also need to use your hands to pull yourself up in places.
There actually aren't that many flat points along the hike, most of it is uphill and you'll spend a lot of time scrambling up rocks or climbing up steps which can be tiring.
The hike gets progressively harder the higher up you go as the trail gets steeper and steeper. It starts off fairly easy but towards the end, you will be mostly climbing up rocks and huge steps.
It helps that wooden rails have been installed for a large portion of the trail so you can grab onto these at any difficult points to pull yourself up.
Overall, the Gros Piton hike is pretty intense so be prepared to be sore and achy the next day.
It could be worth watching the below video which gives you an idea of what to expect when hiking Gros Piton.
In the video, you can see exactly how the trail looks including the steep rocks to see if it's something you're comfortable with.
Halfway Point
Something to bear in mind is that the views from halfway up are still spectacular so if you don't think you can handle the entire hike then you can just aim for halfway.
At the halfway point, you get a great view of Petit Piton which is the second, slightly smaller, Piton mountain. On a clear day, you'll also be able to see St Vincent in the distance.
The first half of the hike is easier and less strenuous than the second half so is ideal for those that can't handle the whole thing.
In fact, a lot of people who do this hike don't finish so it's perfectly fine if you do this. You can even let your guide know at the start that you only want to do half.
Gros Piton Hike Distance
The entire Gros Piton hike is around 7 km (4 miles) long. This includes going up and coming back down.
Over the course of the hike, you'll ascend around 700 meters (2,400ft).
How Long Does it Take to Climb Gros Piton?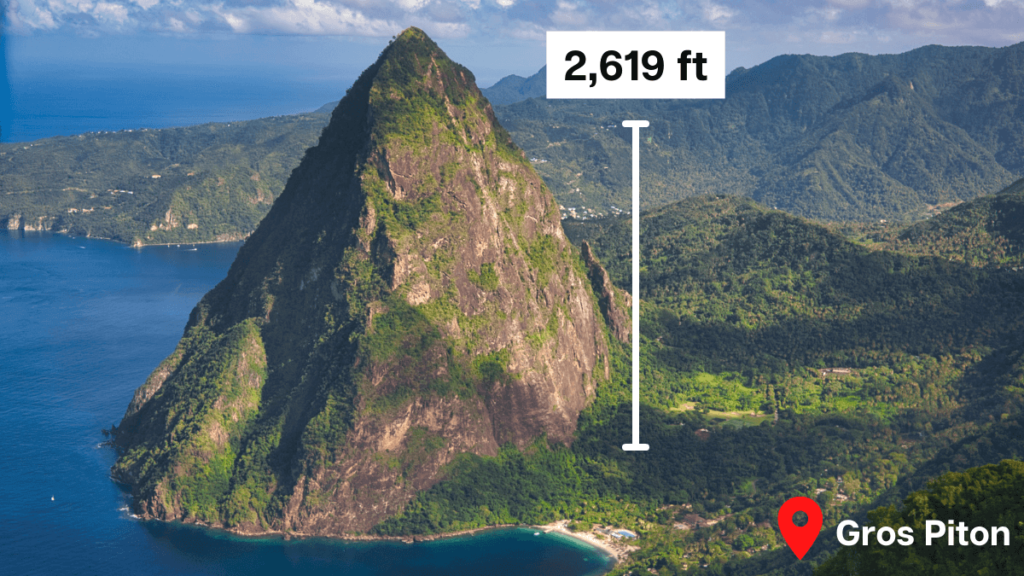 It takes between 1.5 to 2.5 hours to climb Gros Piton. It then takes a similar amount of time to come back down so the total hike time is between 3 and 5 hours.
It takes a similar amount of time to come back down due to the trail being really steep so you have to climb down very slowly.
If you try to come down too fast, you might slip on a rock and hurt yourself.
The time it takes to climb Gros Piton varies depending on how fit you are. If you're super fit and an avid hiker, then you can probably do it in 3 hours total.
Less fit people will take a bit longer and can take up to 5 hours total.
Can You Hike Gros Piton Without a Guide?
Unfortunately you're not able to do the Gros Piton hike alone, it is actually mandatory to go with a guide.
A guide is included in the entrance fee that you pay when you enter so you don't need to find your own guide.
The guides are very informative and will usually tell you lots of interesting facts as you do the hike.
My guide, Francis, told me so many interesting things about the island that I'd have never known without him. He was also great at matching his pace to mine so I was never left behind.
Your guide will also educate you on the views, the Piton mountains, the plants and what they're used for and St Lucia as a whole.
Francis told me all about St Lucia's national plant and the local wildlife of the area.
An insider's tip is to ask one of the guides to show you the holes in the trees which sometimes contain tarantulas!
Francis showed me one of these and I was both in awe and horrified at the same time!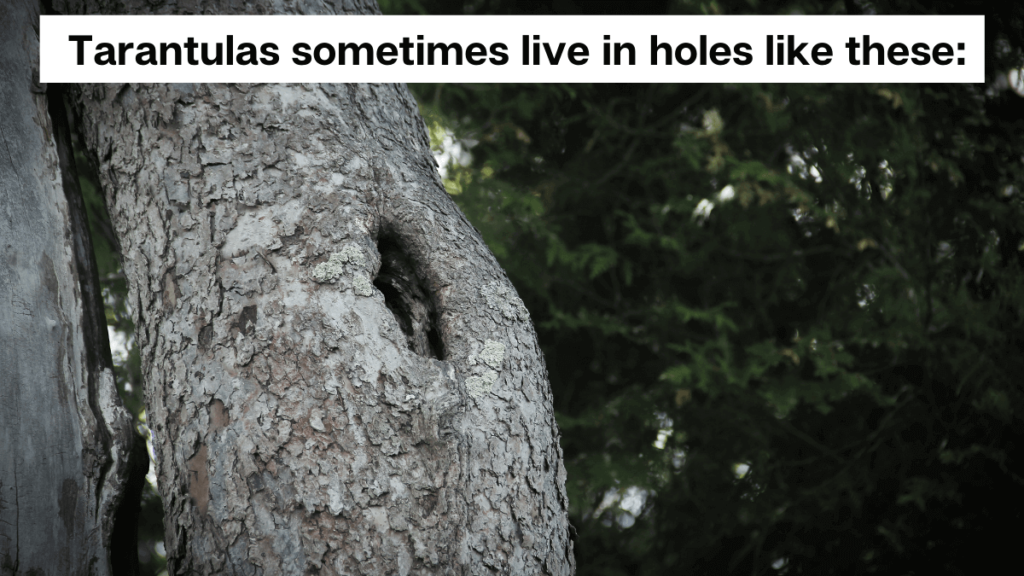 💡Tip: Tarantulas in St Lucia are rare and not dangerous. It's unlikely that you'll see one as they tend to hide from humans in tree holes.
As you don't get to choose your guide (you're just assigned one), occasionally you may get one that isn't as chatty or doesn't make as much of an effort.
If you get Francis then lucky you – he's great!
Based on the reviews on Tripadvisor (which I spent hours reading before doing the hike myself), most people found the guides to be super attentive and interesting.
Only a few people said that their guides were a bit distant and not as informative. I guess it's just luck of the draw.
Gros Piton Hike Entrance Fee
It costs $50 in total to do the Gros Piton hike – this entrance fee includes access to the trail and a guide who will accompany you.
If you're under 12 years old then the fee is just $25.
You can pay the entrance fee with either cash or card. I paid by card and it wasn't a problem.
Although it's pricey, the hiking trail is part of a national park which is itself a non-profit.
This means that all the money goes towards maintaining the trail and improving the local community which is great to know.
You also don't need to make a reservation or anything like that. I just showed up on the day, paid the fee and was provided with a guide straight away.
Related Post: Does St Lucia Take US Dollars?
Gros Piton Opening Times
You can only access the hiking trail at certain times during the day. It's open from 7am until 2pm.
As the hike generally takes between 3 and 5 hours, you shouldn't arrive much later than 10am or you won't be able to finish it.
The earliest you can start your hike is 7am and ideally you should be done by 2pm.
Most people start their hike as early in the morning as possible (around 7am or 8am) as this gives them plenty of time to complete the hike and it avoids the midday heat.
I started the hike just before 8am and it was around 12pm when I finished so that's around 4 hours.
How To Get To Gros Piton
The main way to get to Gros Piton is by car. This can be either by taxi or rental car.
Gros Piton sits a 20-minute drive south of Soufriere, 1.5 hours south of Castries and 2 hours south of Rodney Bay.
To get to Gros Piton, make your way to the small town of Fond Gens Libre which sits at its base.
This town doesn't show up on Google Maps for some reason so if you're using it for GPS then select the 'Gros Piton Nature Trail' for directions.
As you get closer, there are lots of signs that point towards the start of the trail so just follow these and you should be fine.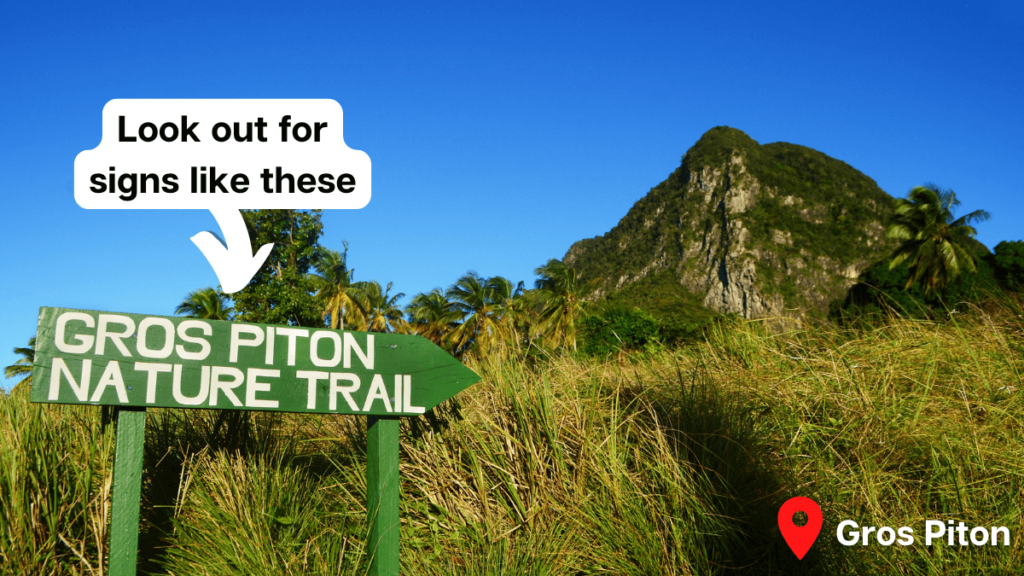 If you hire a taxi then they should know where it is so you shouldn't have any issues.
This will lead you to the base of the mountain where you can pay the entrance fee and get a guide.
Alternatively, you can pre-book transport to Gros Piton using a tour company like Viator.
Things To Take
Here's a list of the things you should bring for your hike:
Hiking boots – Although the hike isn't too difficult, it'll be much easier with the correct footwear.
Bug spray – There are mosquitos in St Lucia so bring along your bug spray to prevent any unwanted bites. Mosquitos are particularly prevalent on the mountain.
Sunscreen – It's hot, there's sun – it's a no-brainer really.
Water bottle – This is probably the most important thing. You really don't want to get too dehydrated when climbing a mountain so bring plenty of water. I'd recommend around 2 liters of water each and if you need more you can purchase it at the summit or the base.
Cash – You can buy drinks and snacks at the bottom of the mountain so you'll want some cash on hand. You may also want to tip your guide.
Other than that you don't really need much else. You don't want to bring too much with you or it'll be too heavy and make the hike even more difficult.
Gros Piton Hike Tips
There's no denying that climbing Gros Piton is tough. It's certainly no walk in the park but there are a few things you can do to make it a little easier.
Here are my top tips for hiking Gros Piton in St Lucia:
Don't do the hike on a rainy day. Not only will the rain clouds block some of the epic views from the summit of the mountain, but it can also be dangerous.

After it's rained, the rocks become slippery and muddy and it's more likely that you'll fall.
Stop at every resting point. There are 3 resting points leading up the mountain and one at the top (the summit).

It's worth stopping at every single one to catch your breath and sit down for a while.
Drink lots of water. You will become dehydrated if you don't drink enough water and this will make the hike more difficult (and in extreme circumstances, you could collapse).
Go at your own pace. Usually, your guide will match your pace but if you find that they're going too fast then just ask them to slow down.

At the end of the day, it doesn't matter how fast or how slow you do the hike as long as you're having a good time.

Whether you reach the summit or not, even just attempting this hike is an achievement in itself.
---
And that's it!
If hiking the Pitons isn't on your St Lucia bucket list then why not enjoy views of the Pitons from elsewhere on the island?
Until next time,
Meg
Need more help planning your St Lucia vacation?
Related Posts: