From the stunning beaches to the bustling cities, Mexico has it all. But how do you capture the essence of this incredible country in just one caption?
Don't worry, I've got you covered! I've rounded up the best Mexico Instagram captions that will make your followers say "¡Ay caramba!" and leave them craving a trip south of the border.
P.S. Don't forget to follow me on Instagram (@travellerselixir) and tag me in your photo for a share!
Best Mexico Instagram Captions
These captions work for any place you're visiting in Mexico including Mexico City, Tulum, Cabo San Lucas, Cancun, Tijuana, Oaxaca and more.
Cute Mexico Captions For Instagram
Fiesta, Siesta, Tequila, Repeat
This señorita needs a margarita
Mexico: the perfect place to go for a little bit of sunshine and a whole lot of tequila
Once upon a time in Mexico…
Fiesta like there's no mañana
The sun, the sand and a drink in my hand
Happiness is chips and guacamole
The best memories are made in flip flops
Mexico, where the beaches are sandy and the margaritas are always on the rocks
When life gives you lemons…slice them up and find some tequila
Thinking about that summer body but also thinking about tacos
Just another day in Mexico, soaking up the sun and pretending I know how to salsa
Today's good mood is sponsored by Mexico
I'm in a good place right now. Not emotionally, I'm just in Mexico
If you haven't experienced a Mexican street taco, you haven't lived!
When in Mexico, do as the Mexicans do…eat all the tacos!
I could get used to this non-stop fiesta
Beachside margaritas with my señoritas
I thought I knew what spicy was until I tried Mexican food
All good stories start in Mexico
All a girl needs in life is a little tequila
Mexico: where the music is loud, the tequila is strong and the memories are unforgettable
Mexico is where my heart and stomach are happiest
It's a 'I want to move to Mexico and live off tacos and tequila' kinda day
Mexico City is always a good idea
Enjoying life one taco at a time
Money can't buy happiness but it can buy a ticket to Mexico and that's kind of the same thing
Calories don't count in Mexico
A balanced diet is a taco in each hand
Say hola to my little friend, the burrito!
Life is short, take the trip to Tulum
Where the tacos are always fresh, the cerveza is always cold and the tequila is always flowing
Up Next: Cancun Instagram Captions
Funny Mexico Instagram Captions
Yesterday I really wanted tacos. Today, I'm eating tacos. Follow your dreams
In Mexico, we don't take life too seriously, we just take our tacos seriously
It's Taco Tuesday every day in Mexico
I tried to learn Spanish in Mexico but all I can say now is 'cerveza, por favor'
Tequila, because it's Mexico somewhere
In Mexico, the tequila is stronger than the WiFi signal
I left my heart in Mexico but at least I have guacamole
Mexico: Where even the cacti have a little bit of sass!
Let's get this margarita started!
A margarita a day keeps the doctor away
Mexico, where the heat is intense and the A/C is non-existent
The only thing hotter than the salsa in Mexico is the weather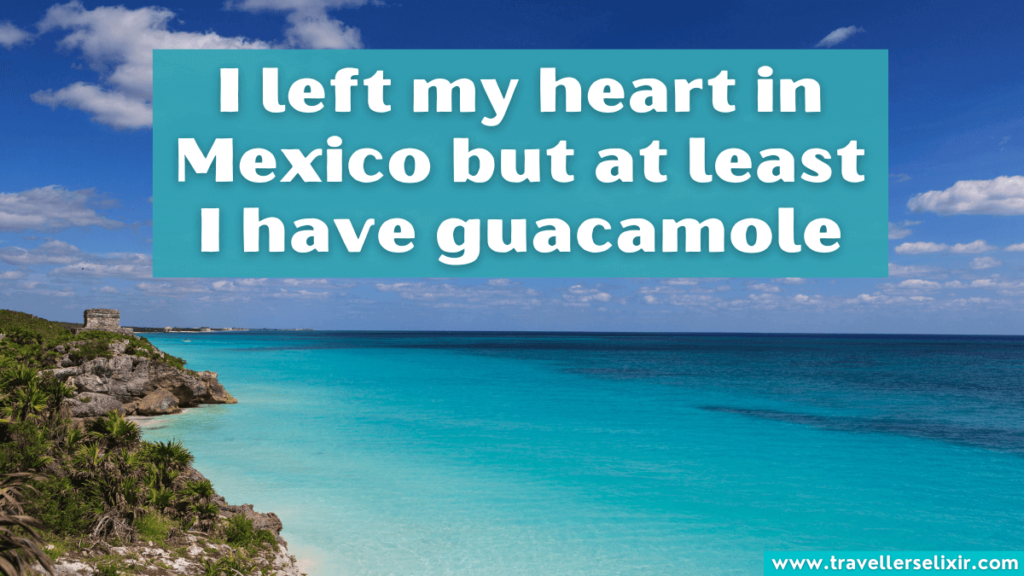 I went to Mexico and all I got was a great tan and a mild case of tequila-induced amnesia
My diet in Mexico consists of 90% guacamole and 10% regret
Mexican sunsets are like a work of art except they're free and you can drink tequila while admiring them
Mexico: where the only thing hotter than the weather is the salsa
When life gives you limes, make margaritas and head to Mexico!
Mexico: the only place where you can have a mariachi band follow you around all day
You May Also Like: Puerto Vallarta Instagram Captions
Funny Mexico Puns
I need some vitamin C-abo
Mex-cellent adventures in Mexico
I hate tacos said no Juan ever!
Guac on!
Beach please, I'm in Mexico
I hate tequila said no Juan ever!
I'm guac'n'rollin' my way through Mexico
I'm taco-ing a lot of pictures in Mexico
Let's taco 'bout going to Mexico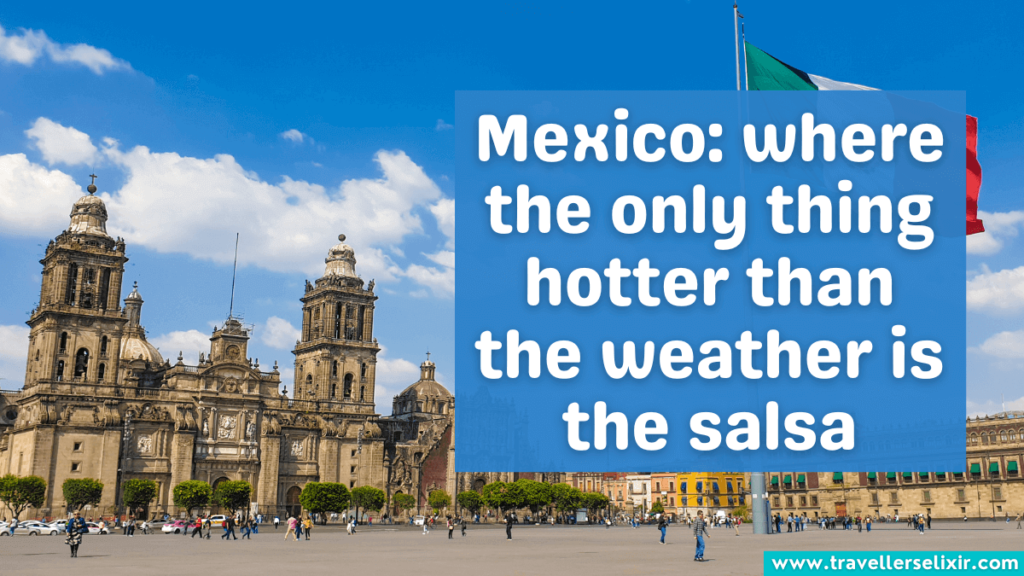 Wow, this place is Mex-cellent!
I am moving to Mexico! Tijuana know why?
My wife won't come to Mexico with me. She thinks I will try tequila
I'm nacho average tourist!
This is nacho average vacation
Churr' up and have a churro
Lost at sea? I'm not shore
Taco 'bout a view!
Alcohol you later!
Don't worry. Beach happy
Long time, no sea!
Mexico is spec-taco-lar
Mexico, you guac my world!
Churr' all I need
Tequila may not be the answer…but it's worth a shot
Wow, Mexico really is burrito-full
Holy guacamole, Mexico is awesome
Just another Juan of dos days
If you ask me to go, I'll say Mexi-NO
Mexico is the Juan for me
Up Next: Guadalajara Instagram Captions
Short Mexico Captions
You, me and tacos
Te amo Mexico
Sunsets and cervezas
¡Viva México!
Good times and tan lines
Mexican vibes only
Soup of the day: Tequila
Bring on the tacos, baby!
Livin' la vida loca in Mexico City!
Tacos are my love language
Mexican dreamin'
Sipping margaritas in paradise
Mexico has my heart
Gone to Mexico. Back never.
Tequila made me do it
Find me under the palms
Tacos and sunshine
Paradise found
Postcard from Mexico
You had me at hola
There's no place like Mexico
Vacation mode: ON
The land of tacos and tequila
Up Next: Caribbean Instagram Captions
Inspirational & Beautiful Mexico Captions
I know exactly where my heart is: Mexico
Mexico is a reminder that life is meant to be lived in color and with passion
Catching feels for this beautiful place
I want to make memories in Mexico
From the colorful streets to the beautiful beaches, Mexico has my heart
In Mexico, I found a piece of myself that I never knew was missing
Sky above, sand below, peace within
Every time I visit Mexico, my heart and soul are filled with joy and wonder
I want someone to look at me the way I look at Mexico
I left a piece of my heart in Mexico but I know I'll be back for it soon
Vacation in Mexico. Hair gets lighter. Skin gets darker. Water gets warmer. Drinks get colder. Music gets louder. Nights get longer. Life gets better
Brb…busy making memories in Mexico
Sunsets in Mexico are like a hug from Mother Nature herself
Take me to Mexico and I'll never look back
Life is short but my love for Mexico is forever
The beauty of Mexico goes beyond its stunning beaches and colorful streets, it lies within its warm and welcoming people
Mexico, that's not a place it's a dream!
Mexico, the land of color, culture and cervezas!
Mexico is more than just a place, it's a feeling
Mexico is a country that will capture your heart and soul and leave you longing for more
Watching the sunset over the Mexican horizon is something I'll never forget
There's nothing quite like a Mexican beach day to recharge the soul
Mexico is a place where the air is filled with the sound of mariachi music, the aroma of delicious food and the warmth of its people
I never knew how much I needed a siesta until I came to Mexico
Mexico, where every corner is a surprise and every moment is a blessing
You May Also Like: Snorkeling Instagram Captions
Mexico Quotes For Instagram Captions
"Mexico is a symphony of color, culture and history that leaves an indelible mark on your heart and soul." – Traveller's Elixir
"Mexico is a mosaic of different realities and beauties." – Enrique Pena Nieto
"Visiting Mexico is a transformative experience, where the beauty of its people and places will leave you forever changed." – Traveller's Elixir
"I took a trip down to Mexico. It kind of changed my perspective on life a little bit." – Derrick Favors
"Visiting Mexico is a journey of the senses, where the taste of its cuisine, the sounds of its music and the sights of its art will leave an imprint on your heart forever." – Traveller's Elixir
"And no one drank just one shot of tequila." – Kristin Hannah
"In Mexico, the sun sets on a world that's steeped in beauty, mystery and magic." – Traveller's Elixir
"Taking it as a whole, Mexico is a grand city, and, as Cortes truly said, it's situation is marvelous." – Edward Burnett Tylor
"Visiting Mexico is like stepping into a dream where the colors are brighter, the food is tastier and the people are warmer." – Traveller's Elixir
"Mexico extends beyond its borders." – Vicente Fox
"Mexico is a land of natural wonders, from the crystal-clear waters of Cozumel to the majestic peaks of Popocatepetl." – Traveller's Elixir
"Take life with a pinch of salt, a shot of tequila and a wedge of lime. Do nothing at all, but take your time." – John Walter Bratton
"Mexico is a tapestry of life, woven from the threads of its rich culture and traditions." – Traveller's Elixir
"My attitude when I'm in Mexico is I wake up in the morning with nothing to do and I go to bed half done. I don't wear a watch. When I live down there, I do nothing according to time. I eat when I'm hungry and go to sleep when I'm tired." – Jesse Ventura 
"Visiting Mexico is like opening a treasure chest, full of gems waiting to be discovered, from the turquoise waters of the Caribbean to the golden deserts of the north." – Traveller's Elixir
"Everything goes better with tacos." – Rachel Caine
"Mexico is a place where the warmth of the sun meets the warmth of its people and both will leave an everlasting impression on your heart." – Traveller's Elixir
"Mexican food is one of the best culinary experiences that people can have." – Karla Souza
"Mexico is a country of contrasts, where the golden beaches of Puerto Vallarta meet the rugged cliffs of the Baja Peninsula." – Traveller's Elixir
"I went to Mexico City to visit and fell in love with the city. I went to my house to pick up my stuff. It was the craziest, most impulsive move I've ever done. I just felt like I had to stay there." – Julieta Venegas
"Mexico is a place where the spirit of adventure meets the soul of the traveler, and together they create memories that last a lifetime." – Traveller's Elixir
"All good stories start in cantinas." – Rodolfo Anaya
"Mexico is a land of infinite possibility, where the dreams of its people are as wide and vast as the desert sky." – Traveller's Elixir
"I've always thought Mexico City was incredibly dynamic." – Greg Kinnear
"Mexico is a country where the beauty of its landscapes is matched only by the richness of its culture and traditions." – Traveller's Elixir
"Mexico is a country which has experienced thousands of years of art and culture." – Carlos Slim
"Mexico is a country where the beauty of its history is on full display, from the grandeur of Chichen Itza to the elegance of the Palacio Nacional." – Traveller's Elixir
Up Next: Punta Cana Instagram Captions
Mexico Hashtags For Instagram Likes
#mexico
#mexicomagico
#mexicolindo
#mexicotravel
#mexicomaravilloso
#mexicotrip
#mexicolove
#vivamexico
#travelmexico
#mexico_greatshots
#mexico_amazing
#mexicolife
#mexicocolors
#mexicovacation
#mexicocity
#visitmexico
#instamexico
You May Also Like: Cuba Instagram Captions
---
And there you have it! The best Mexico Instagram captions to take your social media game to the next level!
Whether you're exploring ancient ruins in the Yucatan Peninsula or sipping margaritas on a beach in Los Cabos, these captions will help you showcase the beauty and diversity of Mexico to your followers.
So next time you're posting a photo from your Mexican adventures, don't forget to use one of these captions to give your post that extra pop! Until next time, ¡adiós amigos!
Related Posts: