Nestled along the stunning shores of the Yucatan Peninsula in Mexico, this tropical paradise is a dream destination for beach lovers.
Whether you're lounging on the powdery white sands or exploring ancient Mayan ruins, Cancun offers a captivating backdrop for your Instagram-worthy moments.
I've come up with the best Cancun Instagram captions that will have your followers longing for their own slice of paradise.
Best Cancun Instagram Captions
I could get used to this non-stop fiesta
Once upon a time in Cancun
Some call it Cancun, I call it heaven
What happens in Cancun, stays in Cancun
I miss being in Cancun and never knowing what day of the week it is
Sun, sea, the sand and me
Cancun: where the only thing hotter than the sun is the salsa
Cancun? That's not a place, it's a dream
The grass is always greener underneath a coconut tree
Nothing but blue eyes and heart eyes
Cancun: the land of sun, fun and tequila shots
I'm officially in a long-term relationship with Cancun
You had me at hola
I'm in a good place right now. Not emotionally, I'm just in Cancun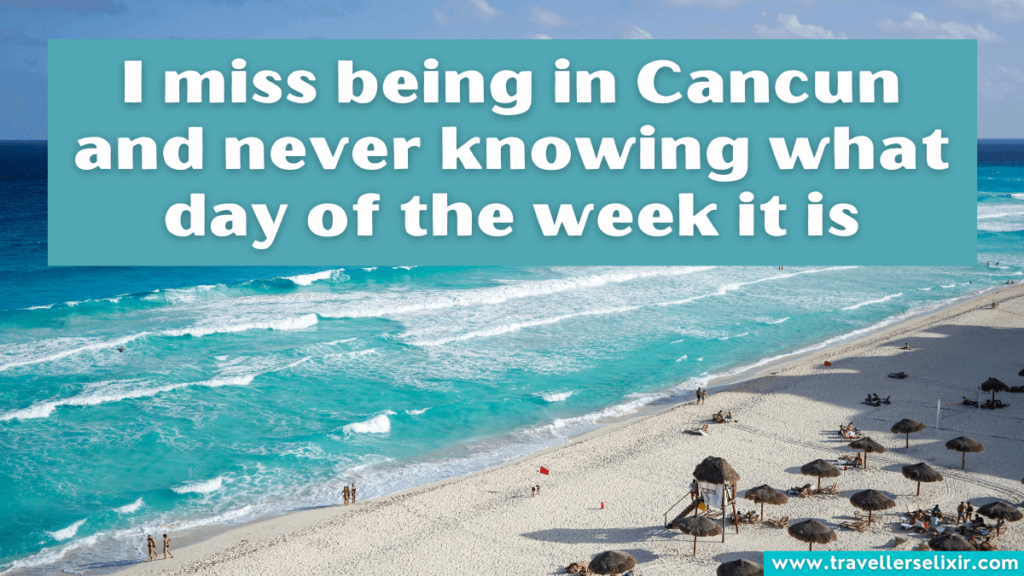 Things to do today: 1. Drink margaritas. 2. Drink more margaritas.
Another margarita, por favor
Cancun called and I answered with a one-way ticket to paradise. Now, where's my hammock?
A photo dump featuring hot dog legs, margaritas and sandy toes
Dear Cancun, I miss you every day
Somewhere between living and dreaming, there's Cancun
I want someone to look at me the way I look at Cancun
Livin' la vida loca in Cancun
Paradise found in Cancun: where palm trees sway and worries melt away
All I need are palm trees and this little slice of paradise
Cancun, where the biggest decision I have to make is whether to swim or nap. It's a tough life
When I see Cancun, my eyes turn into little hearts
I've got paradise in the palm of my hand
Cancun: where my daily workout consists of lifting tacos and sipping margaritas
Home is where the heart is, and the heart is in Cancun
Is it just me or are sunsets just better in Cancun?
Cancun: where the salsa is hot but the sun is hotter
Cancun got me hooked with its crystal-clear waters and a margarita in hand
Cancun, where the sun, sand and salsa collide
Cancun got me feeling like a mermaid on vacation. Can someone pass the seashell bra, please?
Up Next: Mexico Captions For Instagram
Funny Cancun Captions & Cancun Puns
It's just Juan of dos days in Cancun
Let's taco 'bout going to Cancun
Marg my words
Sea-ing is believing
Tropical state of lime
Having a spec-taco-lur time in Cancun
I'm nacho average beach bum, I'm in Cancun
I hate Cancun – said no Juan ever
No longer lacking Vitamin Sea
Taco 'bout a beachy paradise
Yes we Can–cun!
Alright, stop…it's hammock time
Off in paradise, I'll sea you real soon
Shell-ebrating the good life
Cancun holds a spe-shell place in my heart
Wow Cancun beaches have blue-n me away!
I've got paradise in the palm of my hand
Don't worry, beach happy
Shake your palm palms
The tans will fade, but the memories Can-cun last forever
Be shore of yourself
Seas the day
Happy as a clam
I'm in Cancun eating like there's no mañana
Save water, drink margaritas
You May Also Like: Puerto Vallarta Captions For Instagram
Short Cancun Instagram Captions
Cancun has my heart
Te amo Cancun
Glowing
Sandy kisses and salty hair
Tropical state of mind
Saltwater therapy
Deck, docks & flip flops
Fiesta, siesta, tequila, repeat
Take me to Cancun
Stay salty
Sun, sand, paradise
Lost in paradise
Don't worry. Get sandy
Just living a bikini kind of life
Cancun love affair
Hola from Cancun
Find me under the palms
Deep shades and blue waves
Some might call it paradise
Making waves in Cancun
Postcard from Cancun
Less worries, more sunshine
Dress code: barefoot
If lost, return to Cancun
Blue, blue and more blue
Daydreaming in Cancun
Tropical bliss
Up Next: Palm Tree Captions For Instagram
Inspirational & Beautiful Cancun Captions
Cancun is the perfect place to find yourself and lose yourself at the same time
A vacation is having nothing to do and all day to do it in
Another day NOT at the office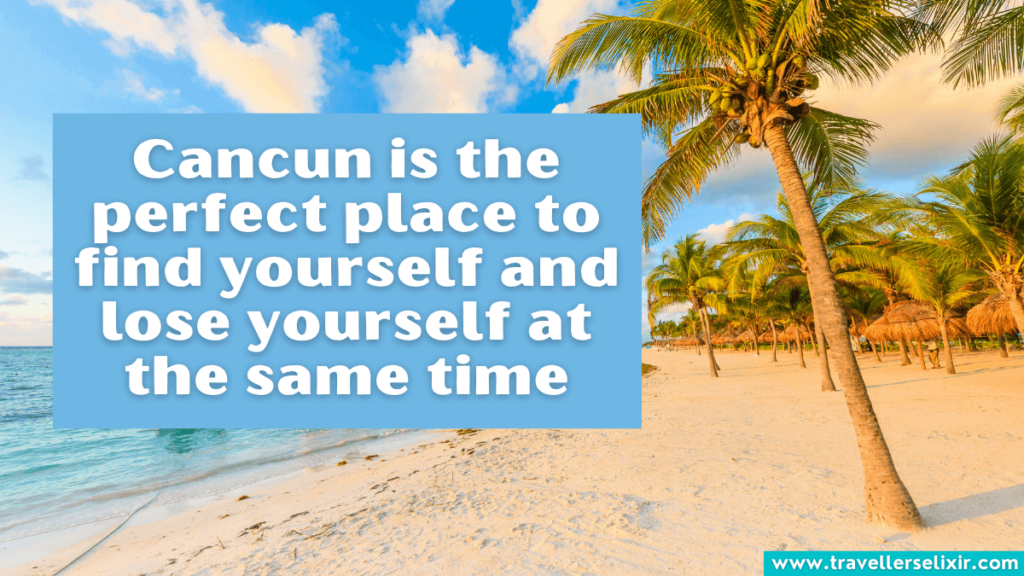 From Cancun with love
If it requires bare feet in the sand, my answer is yes!
The tans will fade, but the memories will last forever
I just can't help loving you, Cancun
Cancun is proof that heaven exists on earth
In the embrace of Cancun's beauty, I found a piece of myself I never knew was missing
Leave footprints of love and kindness everywhere you go
Cancun: where every sunset reminds me that there's still so much beauty left to explore in this world
You can't cross the sea merely by standing and staring at the water
I think Cancun looks pretty good on me
The best memories are made in flip-flops
Sometimes the most meaningful journeys are the ones that lead us to turquoise waters and golden sunsets
The one where I go to Cancun
Cancun reminded me to slow down, to appreciate the beauty in every moment and to let go of worries
Cancun: where the ocean breeze whispers sweet nothings in your ear and the waves serenade your soul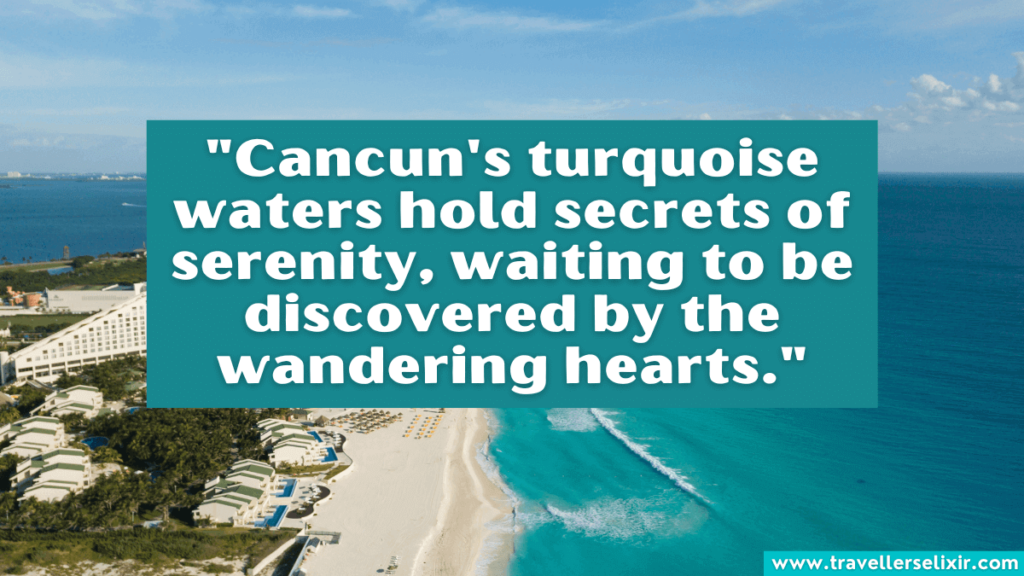 Found a way to cure my blues
Somewhere over the rainbow, you will find Cancun
Cancun whispered secrets to my soul and I listened
In the dance between the sun and the sea, I discovered the purest form of serenity
You May Also Like: Guadalajara Captions For Instagram
Cancun Quotes For Instagram Captions
"Cancun's turquoise waters hold secrets of serenity, waiting to be discovered by the wandering hearts." – Traveller's Elixir
"Cancun is the only place I've ever visited outside America." – Jason Behr
"Let the rhythm of the waves in Cancun be the soundtrack that awakens your spirit and sets your soul free." – Traveller's Elixir
"I was in Cancun, Mexico, sitting in a disappearing-edge swimming pool, on a bar stool that was actually under the water, watching palm trees sway in a sultry breeze against the unmistakable aqua splendor of the Caribbean Sea; drinking coconut, lime, and tequila from a scooped-out pineapple, with salt spray of breaking surf and sun kissing my skin. Translation: I'd died and gone to heaven." – Karen Marie Moning
"Cancun, where the sunsets paint the sky with hues of dreams and the ocean whispers stories of eternal wanderlust." – Traveller's Elixir
"Sunshine is the best medicine." – Roshni
"In Cancun's golden sands, I found the magic that rekindles the childlike wonder within me." – Traveller's Elixir
"At the beach, life is different. Time doesn't move hour to hour but mood to moment. We live by the currents, plan by the tides, and follow the sun." – Sandy Gingras
"Cancun, where the sands hold the footprints of dreamers and the waves carry the whispers of wanderers." – Traveller's Elixir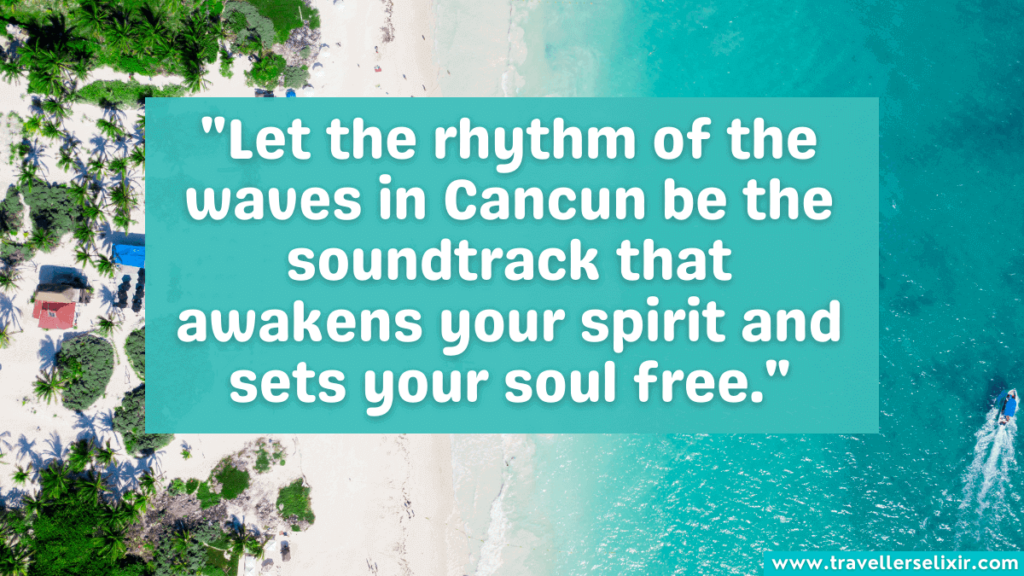 "May you always have a shell in your pocket and sand in your shoes." – Dena Haines
"Cancun's beauty is a brushstroke of nature's artistry, painting a masterpiece that captivates the soul." – Traveller's Elixir
"I wish that Beach Therapy was covered by my Health Insurance." – Vanessa Rodriguez
"Cancun, where the sun dances on the water, creating a symphony of shimmering moments that will forever linger in my heart." – Traveller's Elixir
"Palm trees, ocean breeze, salty air, sun-kissed hair, the endless summer take me there." – Vanessa Rodriguez
"In the heart of Cancun's paradise, I found a sanctuary that heals, inspires and ignites the flames of exploration." – Traveller's Elixir
"Dance with the waves, move with the sea. Let the rhythm of the water set your soul free." – Christy Ann Martine
"Because there's nothing more beautiful than the way the ocean refuses to stop kissing the shoreline, no matter how many times it's sent away." – Sarah Kay
"May Cancun's gentle breeze carry away worries, leaving only a sense of pure bliss and gratitude in its wake." – Traveller's Elixir
Up Next: Aruba Captions For Instagram
Cancun Hashtags For Instagram Likes
#cancun
#cancunmexico
#cancunbeach
#cancun🌴
#cancun🇲🇽
#cancunlife
#cancunspringbreak
#cancunmexico🇲🇽
#cancunvacation
#cancunresort
#cancunquintanaroo
#cancuntrip
#cancunfood
#cancuntravel
#cancunadventures
#cancunphotography
#cancunvibes
#cancunnights
You May Also Like: Punta Cana Captions For Instagram
---
Hopefully this list gave you plenty of ideas for cute Cancun Instagram captions.
There's a caption here for any photo, from puns to beautiful quotes.
Feel free to copy and paste these Instagram captions for your Cancun photos.
Related Posts: