Whether you're strolling through the colorful streets of Tlaquepaque or savoring the flavors of Mexican cuisine, Guadalajara offers a never-ending supply of picture-perfect moments.
But hold on, what's missing? The perfect caption to elevate your Instagram game, of course!
Don't worry, I've got you covered. I've come up with the best Guadalajara Instagram captions that will leave your followers itching to explore this incredible city for themselves.
Best Guadalajara Instagram Captions
Cute Guadalajara Captions For Instagram
Guadalajara officially has my heart
Soup of the day: Tequila
I think Guadalajara looks pretty good on me
All you need is love and tequila
I left a piece of my heart (and a trail of churro crumbs) in Guadalajara!
Thinking about that summer body but also thinking about tacos
The one where I go to Guadalajara
It's a Guadalajara thing, you wouldn't understand
I'm all about tacos and tequila
Might move to Guadalajara and join a mariachi band, what do you think?
I want a little bit of Guadalajara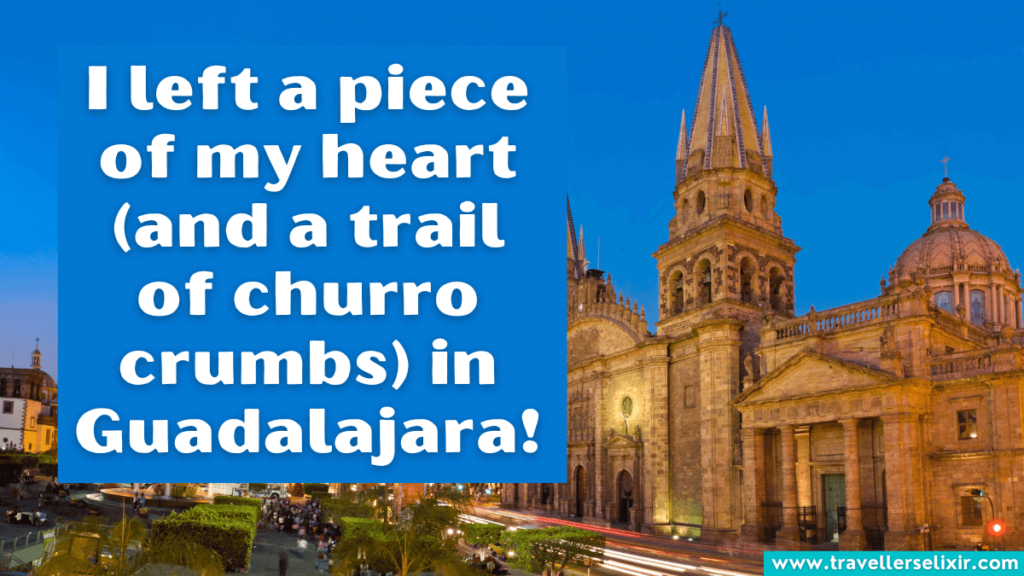 Never coming home, staying in Guadalajara
Chasing tacos and dreams in Guadalajara!
Up Next: Best Mexico Instagram Captions
Funny Guadalajara Captions & Guadalajara Puns
I hate Guadalajara – said no Juan ever!
Tequila might not be the answer but it's worth a shot
Making pour decisions in Guadalajara
Holy guacamole!
What do you call a mariachi band with one member? A Juan man band
Tequiling me softly
Guadala-having a great time!
Tequila Mockingbird
You May Also Like: Cancun Captions For Instagram
Short Guadalajara Captions
Hola from Guadalajara
Te amo Guadalajara
But first, tequila
Taco heaven
I really, really like Guadalajara
Te Amo? No, Tequila!
Mariachi magic in Guadalajara
Mariachi, tequila and tacos
Olay!
Daydreaming in Guadalajara
Sunsets & tequila
Up Next: Puerto Vallarta Captions For Instagram
Guadalajara Quotes For Instagram Captions
"Mexico is a mosaic of different realities and beauties." – Enrique Pena Nieto
"Lost in the rhythm of Guadalajara's lively plazas, I found myself immersed in a world where happiness is contagious and laughter fills the air." – Traveller's Elixir
"I was taken in by the bravado and the sounds of Mexico… not so much the music, but the spirit." – Herb Alpert
"Guadalajara, where the cobblestone streets whisper tales of the past and the mariachi melodies ignite the soul." – Traveller's Elixir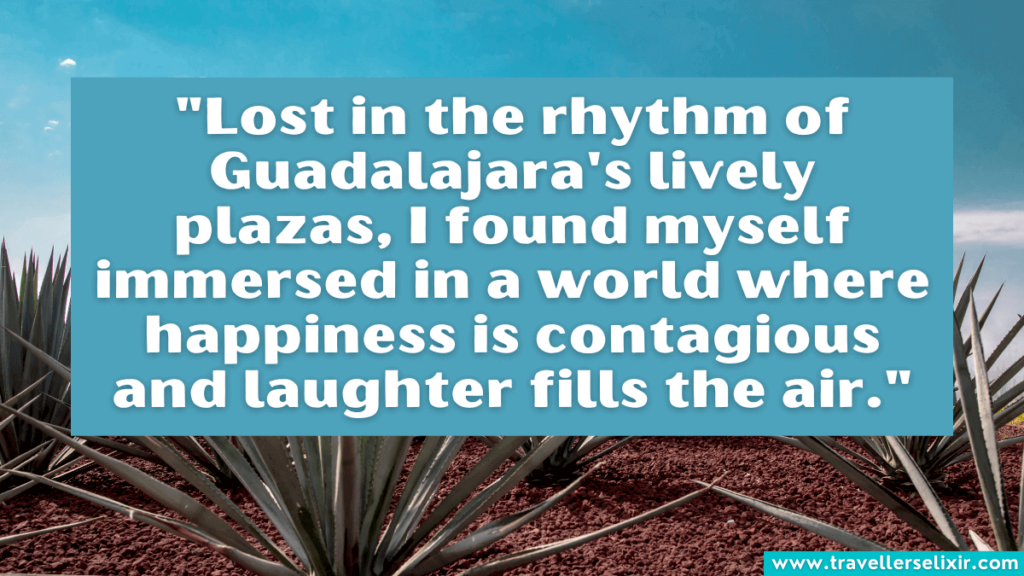 "If you want to make some memories, add some tequila." –  Jimmy Buffett
"Guadalajara, where time slows down and the spirit of Mexico embraces you with open arms, leaving a lasting imprint on your heart." – Traveller's Elixir
"Mexican food is one of the best culinary experiences that people can have." – Karla Souza
"Travel…the best way to be lost and found at the same time." – Brenna Smith
"We wander for distraction, but we travel for fulfillment." – Hilaire Belloc
"When I taste Tequila, baby I still see ya." – Dan & Shay
"Guadalajara, a kaleidoscope of culture, where art, music and flavors intertwine to create an unforgettable journey." – Traveller's Elixir
You May Also Like: Puerto Rico Captions For Instagram
---
I hope you've found the perfect words to complement your stunning photos and share the essence of this remarkable city.
From the vibrant street art to the breathtaking natural landscapes, this city is a treasure trove of visual delights just waiting to be shared with the world.
Related Posts: