Whether you're lounging by the pool or exploring the vibrant local culture, Punta Cana is a treasure trove of experiences just waiting to be captured and shared with the world.
But finding the right words to accompany those stunning photos can sometimes leave you stumped.
Fret not! In this blog post, I've come up with the best Punta Cana Instagram captions that will effortlessly elevate your posts from ordinary to extraordinary.
Best Punta Cana Instagram Captions
Cute Punta Cana Captions For Instagram
I followed my heart and it led me to Punta Cana
Leaving a little saltwater wherever I go
Sorry for what I said when I wasn't sipping a coconut on a beach in Punta Cana
Good luck trying to get me to leave this paradise
I'm in a good place right now. Not emotionally, I'm just in Punta Cana
First, we'll lay in the sun. Then, we'll go swimming
I know exactly where my heart is: Punta Cana
My daydreams are made of sun and sand
I don't need therapy, I just need a beach in Punta CanaCheers to tropical vibes and endless smiles in Punta Cana
Coconut? You mean my drink holder…
Punta Cana: where flip flops are considered formal attire
Dear Dominican Republic, I miss you every day
Punta Cana: where the WiFi is weak but the piña coladas are strong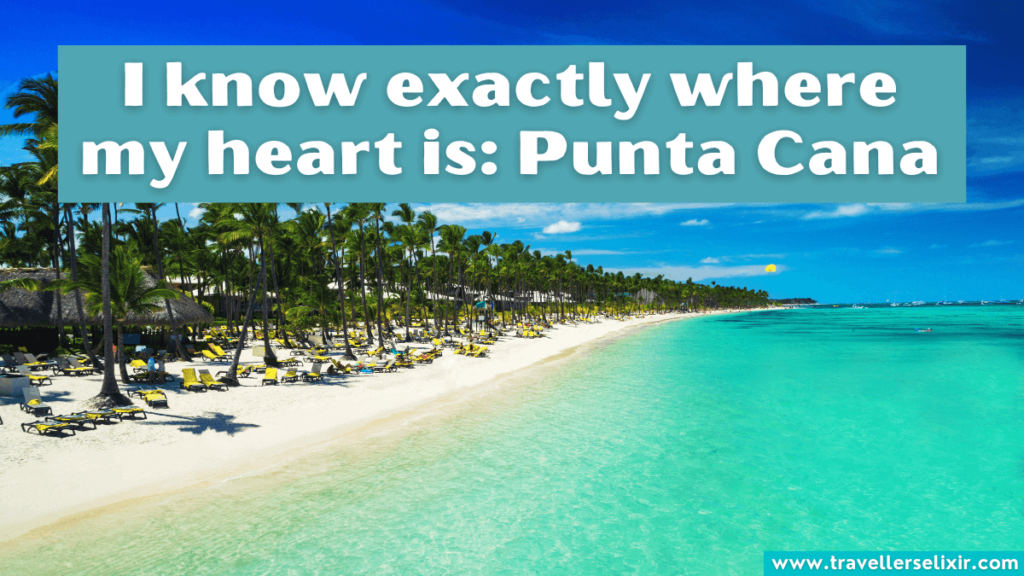 I call dibs on this lounge chair
Lost in the beauty of Punta Cana and I never want to be found
Long story short, it was a tropical time
Home is where the heart is and the heart is in Punta Cana
Living that Dominican dream in Punta Cana
Up Next: Caribbean Captions For Instagram
Funny Punta Cana Captions & Punta Cana Puns
I'm coconuts for the Coconut Coast
Nobody likes shady beaches
Punta Cana buy you a drink?
I have a resting beach face
I'm on a rum-antic getaway in Punta Cana
Go coconuts!
I Punta Can-not believe how pretty this place is!
It's beginning to look a lot like cocktails
And she lived pineappley ever after in Punta Cana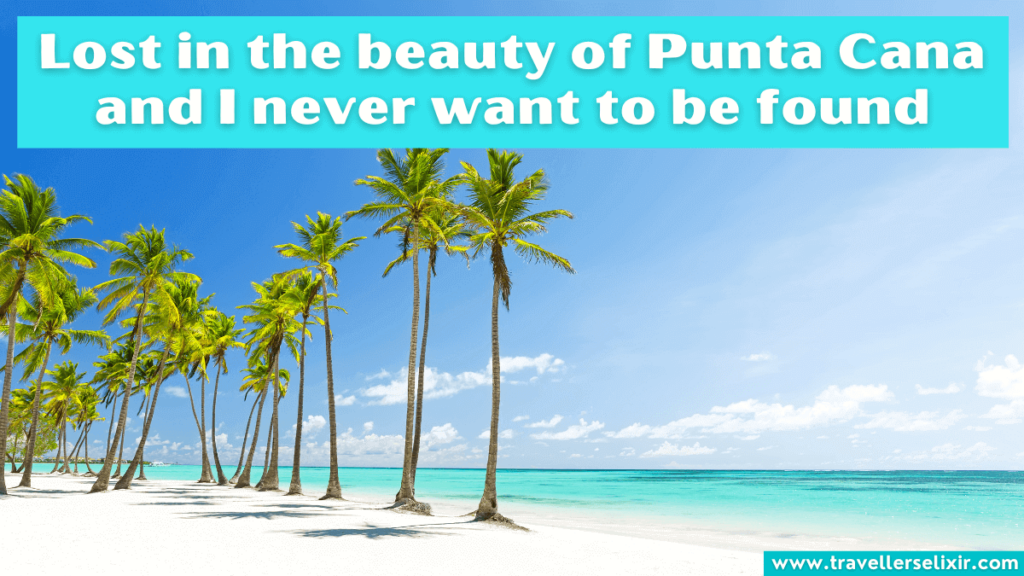 Sea you soon Punta Cana
Punta Cana stole a beach of my heart
I'm shore having a great time in Punta Cana!
You May Also Like: Cancun Captions For Instagram
Short Punta Cana Captions
Good times & tan lines
Dominican Republic dreamin'
Pineapple wishes & tropical dreams
Girls just wanna have sun
Take me to the Dominican Republic
In my tropical element
Living the coconut life
Island bliss
Palm trees & ocean breeze
Punta Cana gives me butterflies
Caribbean daydreams
Sunkissed, xoxo
Ocean love affair
Endless summer
Tropical getaway
Beach therapy
Vitamin sea overdose
Heart full, soul refreshed
Up Next: Aruba Captions For Instagram
Inspirational & Beautiful Punta Cana Captions
If I can't go to heaven, let me go to Punta Cana
Exploring Punta Cana, one sandy step at a time
Discovering the beauty of Punta Cana, both inside and out
The ocean is everything I want to be. Beautiful, mysterious, wild and free
Somewhere between living and dreaming, there's Punta Cana
May you always have a shell in your pocket and sand between your toes
Making memories in paradise: Punta Cana edition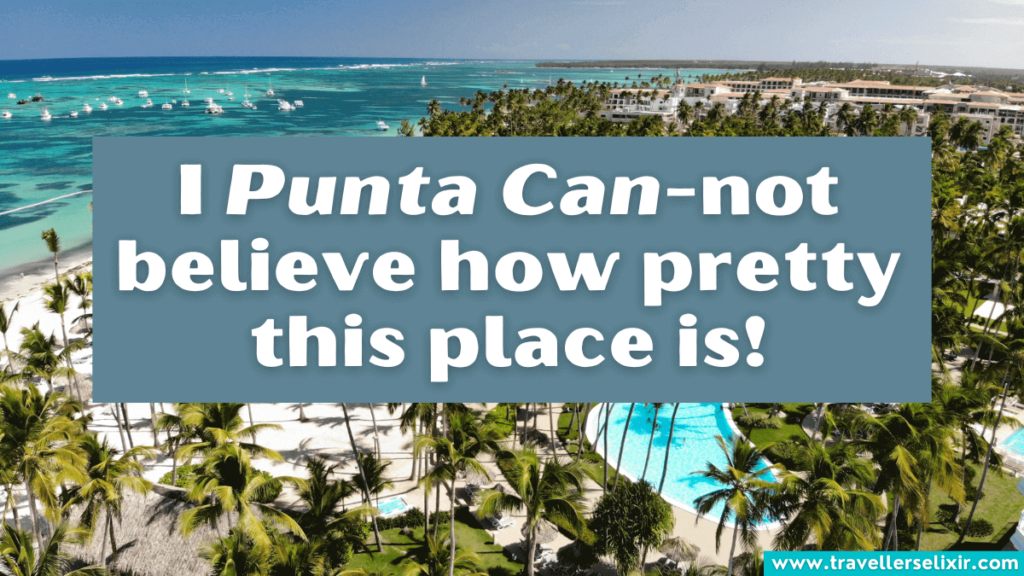 Punta Cana's magic painted a smile on my heart
Found my slice of heaven in Punta Cana
The tans will fade but the memories will last forever
Found my Punta Cana paradise
In the embrace of nature, Punta Cana whispered its secrets to me
Punta Cana: where dreams and reality intertwine
You May Also Like: Key West Captions For Instagram
Punta Cana Quotes For Instagram Captions
"Punta Cana, where the ocean dances to the rhythm of our souls, and the sun paints dreams upon the horizon." – Traveller's Elixir
"Summer lovin'." – Grease
"In Punta Cana's embrace, I discovered that true luxury lies not in material possessions but in the freedom to be fully present in the beauty of nature." – Traveller's Elixir
"The Dominican Republic is my holy land, my Mecca." – Raquel Cepeda
"In the embrace of Punta Cana's turquoise waters, I found serenity and in its warm sands, I discovered pure bliss." – Traveller's Elixir
"Cherish sunsets, wild creatures, and wild places. Have a love affair with the wonder and beauty of the Earth." – Stewart Udall
"In Punta Cana, time stood still, allowing me to savor each precious moment and find harmony in the simplicity of life's wonders." – Traveller's Elixir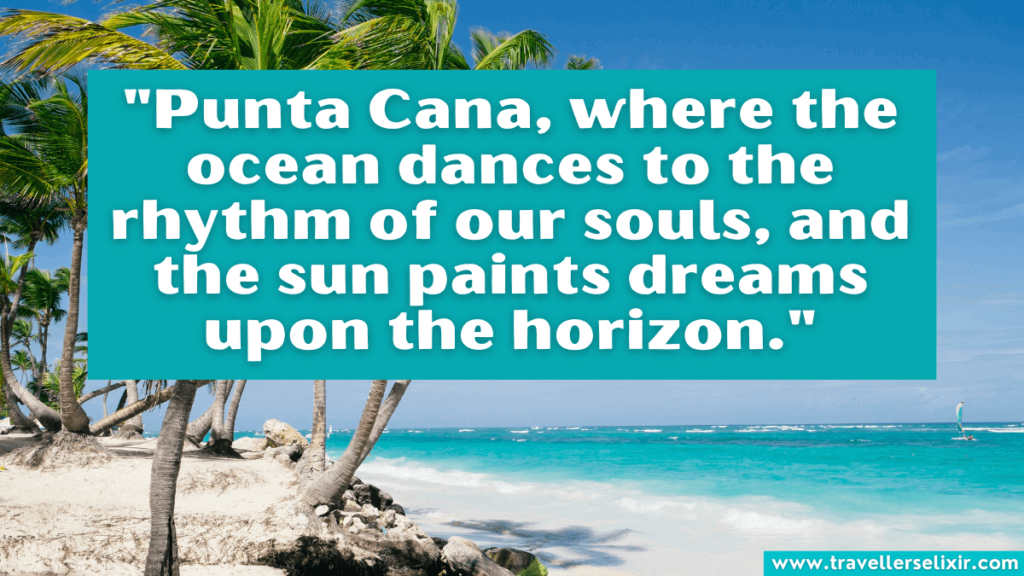 "I love the Dominican Republic. I go back all the time." – Junot Diaz
"Punta Cana, where time slows down and nature's symphony whispers secrets of tranquility to those who seek its shores." – Traveller's Elixir
"The culture of the Dominican Republic definitely influenced me. We enjoy music in this crazy way; we celebrate absolutely everything." – Natti Natasha
"With each step on Punta Cana's beaches, my worries were washed away, replaced by a sense of awe for the beauty that surrounded me." – Traveller's Elixir
"My parents are Dominican. I would always go to the Dominican Republic, and I fell in love with Bachata, which comes from the Dominican Republic." – Prince Royce
"In Punta Cana, I found a sanctuary where the vibrant colors of nature and the gentle caress of the ocean embraced my soul." – Traveller's Elixir
You May Also Like: The Bahamas Instagram Captions
Punta Cana Hashtags For Instagram Likes
#puntacana
#puntacanabeach
#puntacanaresort
#puntacanavillage
#puntacanaadventures
#puntacanalife
#puntacanaphotography
#puntacanalifestyle
#puntacanaparty
#puntacanavacation
#dominicanrepublic
#dominicanrepublic🇩🇴
#dominicanrepublichasitall
#dominicanrepublictravel
#domrep
Up Next: Cuba Captions For Instagram
---
I hope these Punta Cana Instagram captions have inspired your creativity and added an extra dash of magic to your social media posts.
Let your captions capture the essence of this tropical paradise and transport your followers to the sandy shores and crystal-clear waters of Punta Cana.
Related Posts: