Are you planning a trip to the vibrant and colorful country of Cuba? Well, I've got some good news for you – your Instagram feed is about to get a serious upgrade!
As you journey through this breathtaking country, you'll be capturing countless photos that are just begging to be shared with the world.
To help you out, I've rounded up the best Cuba Instagram captions that are sure to make your friends and followers double-tap.
P.S. Follow me on Instagram (@travellerselixir) and tag me in your photo for a share (or don't).
Best Cuba Instagram Captions
Funny Cuba Captions & Cuba Puns
Havana good time in Cuba
Cuba, I'm Havana hard time leaving you
Having a Chevy good time in Cuba!
Cuba really is rum-arkable
Wow, it's Chevy hot here!
Tropic like it's hot
Girls just wanna have sun
Sorry, gotta rum
Beach you to it
Time flies when you're having rum
Don't worry, beach happy
Keep palm and carry on
Born to rum
Up Next: Puerto Rico Instagram Captions
Short Cuba Captions
Havana ooh na na
Meanwhile, in Cuba…
Good times and tan lines
Salsa in the streets
Rum and relaxation
You had me at hola
Sun, music and vintage cars
Havana dreamin'
Chasing the sunset in Cuba
Lost in Cuba
Island living
Palm trees and ocean breeze
Vintage vibes
Endless summer in Cuba
Take me to Cuba
Colorful Cuba
You May Also Like: Caribbean Instagram Captions
Cute Cuba Captions For Instagram
My heart is in Havana
Half of my heart is in Havana…and the other half is in the daiquiri I'm holding
Cuba is calling and I must go
All you need is love and a vintage Mustang
Salsa dancing in Cuba is like cardio but with way more rhythm
All I need are palm trees and this little slice of paradise
Once upon a time in Havana
The best stories are found between the pages of your passport
Me and Cuba: Love at first sight
Just got back from Cuba and my only regret is not bringing home a lifetime supply of cigars
The ocean breeze sets my mind at ease
Life is too short to not take a picture in front of every colorful building in Cuba
The only thing hotter than the Cuban sun is the salsa dancing at night
I want a little bit of Cuba
Take me for a ride in your Chevy
Cuba, where even the walls are more colorful than my wardrobe
I thought I was fluent in Spanish until I tried to order coffee in Cuba
I came to Cuba for the architecture but I stayed for the mojitos
Up Next: Mexico Instagram Captions
Cuba Quotes For Instagram Captions
"Visiting Cuba is like stepping into a time capsule, a journey back to a bygone era where old-world charm and vibrant culture intertwine." – Traveller's Elixir
"Yes, the future is here. But the past too is everywhere. The buildings, the cars, the gears of the whole system are still largely stuck in time." – Anthony Bourdain
"Cuba is a country where time stands still and beauty shines bright, a place where every corner tells a story and every moment is a memory to cherish." – Traveller's Elixir
"Cuba may be the only place in the world where you can be yourself and more than yourself at the same time." – Pedro Juan Gutierrez
"Visiting Cuba is like falling in love, it's an intoxicating mix of passion, excitement and adventure that leaves an imprint on the heart forever." – Traveller's Elixir
"Cuba is such a beautiful country and everywhere you go there's music and people dancing – especially in Havana." – Julia Sawalha
"Cuba is a land of contrasts, where the past and present merge to create a unique tapestry of culture and history, a place that ignites the senses and captivates the heart." – Traveller's Elixir
"Havana, for all its smells, sweat, crumbling walls, isolation and difficult history, is the most romantic city in the world." – Mark Kurlansky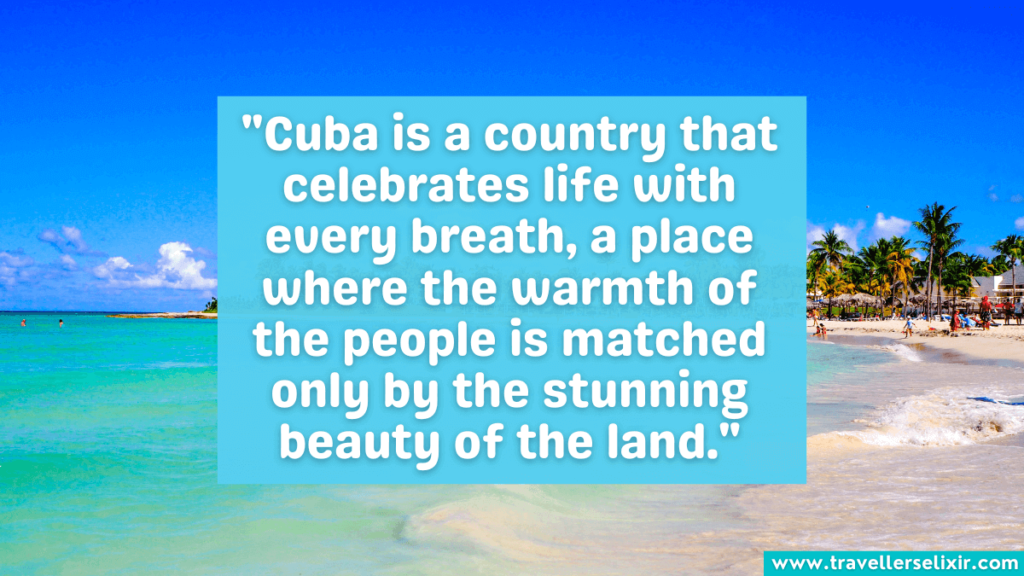 "Cuba is a country that celebrates life with every breath, a place where the warmth of the people is matched only by the stunning beauty of the land." – Traveller's Elixir
"In Cuba and specifically in Havana there's a sort of energy that turns every situation into something unexpected." – Fernando Perez
"Cuba is a land of infinite possibilities, where every moment is a new adventure waiting to unfold, a destination that leaves visitors forever changed and forever in love." – Traveller's Elixir
"Literally, when you wake up at 9 o'clock in the morning in Havana, you don't know where you'll be at noon. But it's a safe guess that you'll be either married, arrested, or in the midst of some incredible transaction where somebody is stealing your passport or paying you in Dominican pesos for it or whatever. It's a wild place." – Pico Iyer
"Havana is one of the great cities of the world, sublimely tawdry yet stubbornly graceful, like tarnished chrome – a city, as a young Winston Churchill once wrote, where 'anything might happen'." – Jonathan Miles
"Visiting Cuba is like discovering a secret paradise, a place where beauty and wonder abound and where the heart and soul are forever transformed by the magic of this remarkable country." – Traveller's Elixir
"Havana is a uniquely complicated city and contains a great many histories." – Laura van den Berg 
Up Next: The Bahamas Instagram Captions
Cuba Hashtags For Instagram Likes
#cuba
#cubatravel
#cubatrip
#cubaphoto
#cubalove
#cuba🇨🇺
#cuba_gallery
#lovecuba
#visitcuba
#cubalife
#cubaphotography
#havanacuba
#havananights
#oldhavana
#havanastreets
You May Also Like: Palm Tree Instagram Captions
---
And there you have it folks – a list of the best Cuba Instagram captions that are guaranteed to elevate your travel photos to the next level.
With these clever and creative captions, you can capture the essence of Cuba and share it with the world in a fun and engaging way.
And don't forget to follow me on Instagram (@travellerselixir) and tag me in your photos!
Related Posts: