Welcome to the sun-kissed paradise of Cabo San Lucas where the crystal-clear waters are home to some of the most captivating and ancient creatures on earth – turtles!
When I began planning my Mexico adventure, one thing that was really high on my list was seeing turtles in Cabo. Now that I've done it, I'd love to share it with you!
From my experience, I found that the best place to see turtles in Cabo San Lucas was at Chileno Bay which has a large population of sea turtles.
I'd recommend joining this snorkeling tour from Chileno Bay as the expert guides will show your where to find turtles without fail.
In the rest of this article, I'll be revealing all of the exact locations where you can see turtles in Cabo San Lucas for yourself.
Best Places To See Turtles In Cabo San Lucas
Mexico, which is conveniently also known as 'the land of turtles', is one of the best places in the world to see sea turtles.
This is because Mexico is actually home to 7 out of the 8 species of sea turtles found in the world!
Cabo San Lucas, in particular, is one of the most popular places in Mexico to see sea turtles.
Here's exactly where you can find turtles in Cabo…
Chileno Bay
Chileno Bay, also known as Playa Chileno or Chileno Beach, is a stunning sandy beach in Cabo that is well-known for being a top snorkeling location.
Chileno Bay is one of the best places to see turtles in Cabo San Lucas. Snorkelers can often see sea turtles, manta rays, tropical fish and more in these waters.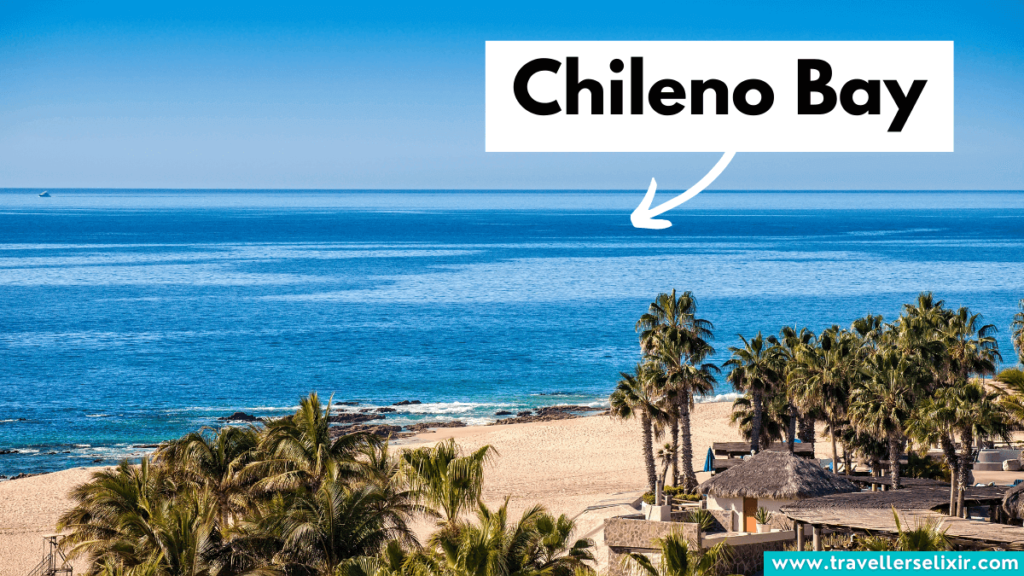 You can even sometimes spot dolphins and humpback whales if you're super lucky!
When I visited Chileno Bay, I was lucky enough to see around 6 turtles, a dolphin, a ray and a huge variety of tropical fish. It was super magical and I had the best time.
For the best possible chance of seeing sea turtles, I'd recommend joining a snorkeling tour in Chileno Bay like I did.
The knowledgeable guides know exactly where to find the turtles without fail.
If snorkeling isn't your thing then you could book onto a kayaking tour and spot turtles from the comfort of your kayak instead.
There are plenty of other fun activities to try out on Chileno Beach including heading out on a sailing cruise, horseback riding along the beach or just sunbathing on the beach itself.
Check out the video below to see the sort of sights you can expect whilst snorkeling in Chileno Bay:
Cabo Pulmo National Park
Cabo Pulmo National Park is a national marine park located on the east coast of Mexico's Baja California region.
It's great if you're looking to take a day trip from Cabo as it's just 100km from Cabo San Lucas and takes around 2 hours to get there.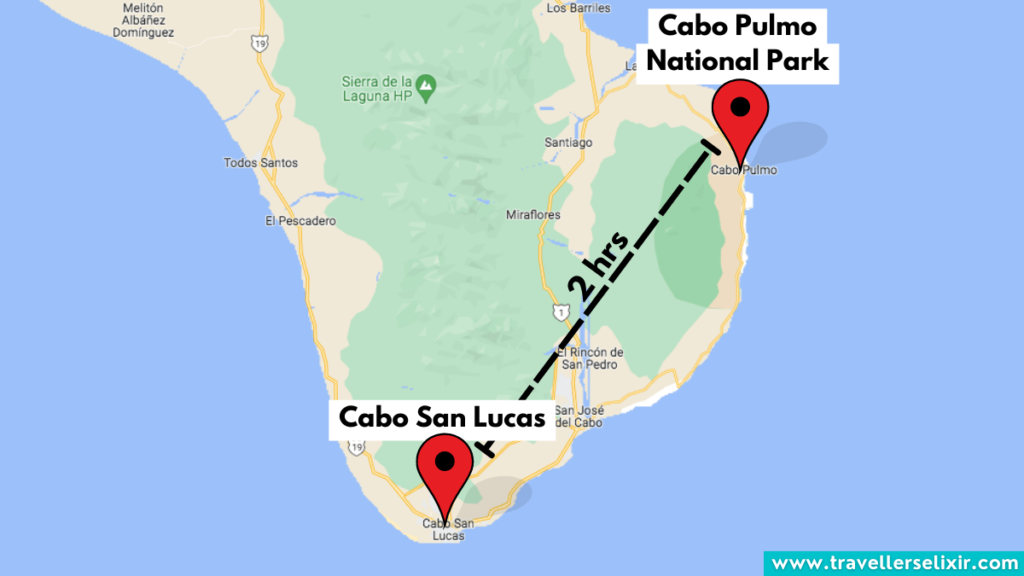 You won't be disappointed if you do decide to make the journey as this sanctuary features the only remaining living coral reef on the western side of the continent. 
I really enjoyed my day here and can wholeheartedly recommend it to you. I saw a ton of turtles and loads of other marine life whilst snorkeling around the reef.
To make it super easy, you can book onto a snorkeling tour in Cabo Pulmo which includes transport from Cabo San Lucas itself. Super easy right?
I did this tour and we got to head out snorkeling amongst the corals. I spotted not only sea turtles but also moray eels, clown fish, parrot fish, jack fish, lobster and more.
If you're super lucky you might even spot a humpback whale!
This national park is known to be one of the best snorkeling spots in the region so you won't be disappointed.
As there are several different snorkeling spots within Cabo Pulmo National Park, I'd recommend booking onto a snorkeling tour so the experienced tour guides can take you to the best spots to see turtles.
Check out the video below to see a sea turtle spotted whilst snorkeling at Cabo Pulmo National Park:
Find out where to see turtles in Tulum and where to find turtles in Cancun.
Where To See Baby Turtles In Cabo San Lucas
One of the main reasons people come to Cabo to see turtles is to see the baby turtles hatching from their eggs and making their first ever run towards the ocean.
Seeing this phenomenon for yourself is a magical experience and it's something you'll never forget.
Imagine the tiny turtles poking their way out of their eggs and imagine being part of it yourself.
Now being an endangered species, the babies face more challenges than ever including:
Eggs are often crushed by beach activities.
Birds take the eggs whilst looking for a meal.
Development on the beaches damages breeding grounds.
Ocean pollution.
Some of these baby turtles struggle to make it to the ocean because of this and need extra help from volunteers.
Help The Hatchlings
Luckily for you, there are several baby turtle release programs available in Cabo San Lucas where your guide will take you to the exact beaches where the turtles lay their eggs.
You can help the baby turtles' chances of survival by taking care of their nest, protecting them until birth and then helping them reach the ocean after hatching.
These baby turtle release tours allow you to make an environmental impact whilst on vacation, learn about the baby turtles and is also a super fulfilling experience and something you can tell all your friends about.
This release tour runs from mid-September until mid-February when the majority of baby turtles hatch.
Check out one of these release tours in action in the video below:
Hilton Los Cabos
Since a lot of the turtle's breeding grounds are now populated by hotel resorts, many of these hotels have joined the efforts to help the baby turtles.
For the ultimate luxury experience, book yourself a room at the 5-star Hilton Los Cabos Beach & Golf Resort which runs a turtle release program.
They patrol a 10-mile stretch of beachfront close to their hotel where they monitor the eggs, move the eggs if necessary and help coordinate safe release of the baby turtles.
From late July until November, Hilton Los Cabos allows you to watch the baby turtles make their first journey to the sea and allow you to help them with conservation efforts.
It's a truly magical experience that you'll love.
Best Time Of Year To See Turtles
The best time of year to see turtles in Cabo San Lucas is between July and December as this is when the turtles return to Cabo to lay their eggs. 
The most common sea turtles that you'll find in Cabo San Lucas are the Leatherbacks, Ridleys and Hawksbills turtles. These are all endangered species.
One interesting feature of these turtles is that they always return to the same breeding grounds at the same time every year to lay their eggs.
Baby sea turtles tend to hatch around 45 days after their egg has been laid and then they make their way into the ocean to begin their life.
This means that from July to December you will actually be able to see the turtles nesting.
The baby turtles start hatching from late August until mid-February so if you're lucky you might even spot a baby sea turtle hatching from an egg!
If you happen to see a sea turtle walking along one of the many stunning beaches of Cabo San Lucas, be careful and keep your distance.
You don't want to scare the turtle back into the ocean as this is likely a mother turtle looking for an ideal spot to lay her eggs.
---
And that's it!
Thanks for reading this post on where to see sea turtles in Cabo San Lucas.
Wherever you are in Cabo, there's plenty of options here to see turtles in their natural habitat.
Whether you're wanting to snorkel alongside the turtles in the water or help the baby turtles make their first journey to the ocean, these are all unforgettable experiences that will make your trip even more special.
Related Posts: