If you're looking for somewhere to see turtles in Cancun then you're in the right place.
Nothing can beat that amazing feeling of seeing a turtle up close and personal in their natural habitat! Why not try it for yourself?
This post will tell you all of the best places to see turtles in Cancun, Mexico including all of the exact spots and locations.
Where To Swim With Turtles In Cancun
You can easily swim with turtles in Cancun if you know where to find the turtles.
They tend to hang out around specific beaches in the area so if you know which beaches to go to, you have a pretty high chance of spotting a turtle or two (I list the exact beaches below).
Swimming with turtles in Cancun is one of the best things to do in Mexico and I strongly recommend you do it if you can.
I personally think that the whole experience is pretty magical (not to sound too cringey).
Best Turtle Tour In Cancun
You can join a snorkeling with turtles tour in Cancun which basically guarantees that you'll be able to see these creatures up close and personal.
The tour includes hotel pick-up and drop-off, snacks, all snorkeling equipment and a knowledgeable guide.
Booking a tour is an easy and hassle-free way to see turtles.
In Cancun, you'll be able to spot green turtles, hawksbill turtles and loggerhead turtles in the ocean.
Additionally, at certain times of year, sea turtles come to Cancun's shores to lay their eggs.
Various hotels in the area work hard to protect the eggs and help the baby turtles hatch and make their first run towards the ocean.
I talk about how you can take part in one of these turtle release programs later in the post.
Anyway, without further ado, here's exactly where to see turtles in Cancun:
Akumal
Akumal is a resort town close to Cancun that is well-known for its rich marine life. It features gorgeous sandy beaches, swimmable lagoons and extensive coral reefs.
In fact, Akumal is actually one of the best places in Mexico to see sea turtles as well as other marine life including tropical fish, stingrays and barracudas.
The only catch is that Akumal isn't actually in Cancun, it's 105 km away (but the journey is worth it, trust me!).
To reach Akumal, you will need to drive around 1 hour 30 minutes south of Cancun. The easiest way to do this is by joining an Akumal turtle tour from Cancun.
Once you reach Akumal, you'll get the chance to snorkel with turtles, seeing them up close and personal in their natural environment.
This tour includes hotel pick-up and drop-off, snacks, a knowledgeable guide and all of the snorkeling equipment.
I'd strongly recommend booking onto a tour like the one above as Akumal Bay (where you'll find the turtles) now has limits on how many people can swim with the turtles each day.
I can't think of anything worse than traveling all the way to Akumal and then not being able to swim with the turtles so book ahead to ensure you get a spot.
Additionally, you do have to swim out a bit to see the turtles and it's much safer to do it with a tour guide than on your own (I personally wouldn't do it alone).
Here's what you can expect when snorkeling with turtles in Akumal:
It's actually incredible how many turtles you can see in Akumal. In fact, you'll have a hard time not seeing them.
Given that Akumal features one of the world's largest coral reefs, it's no surprise that you'll find rich marine life there. It's the perfect habitat due to its thick seagrass beds (aka turtles' favorite food).
💡Helpful Tip: Wear biodegradable sunscreen or a rash vest to keep the turtles safe. Regular sunscreens contain ingredients that damage coral reefs which can have a detrimental effect on turtles.
The name 'Akumal' literally means 'place of the turtles' in the ancient Mayan language as turtles have resided in this area for centuries.
If you're wanting to actually swim with turtles in Cancun, then Akumal is your best bet. You can easily do a day trip from Cancun.
Unfortunately Cancun itself just doesn't have anything that comes anywhere close to Akumal when it comes to swimming with turtles.
Isla Mujeres
Another great place where you can see sea turtles near Cancun is on the nearby island of Isla Mujeres.
The island lies just 8 miles off the coast of Cancun which takes just 15 minutes by ferry.
Here's a map: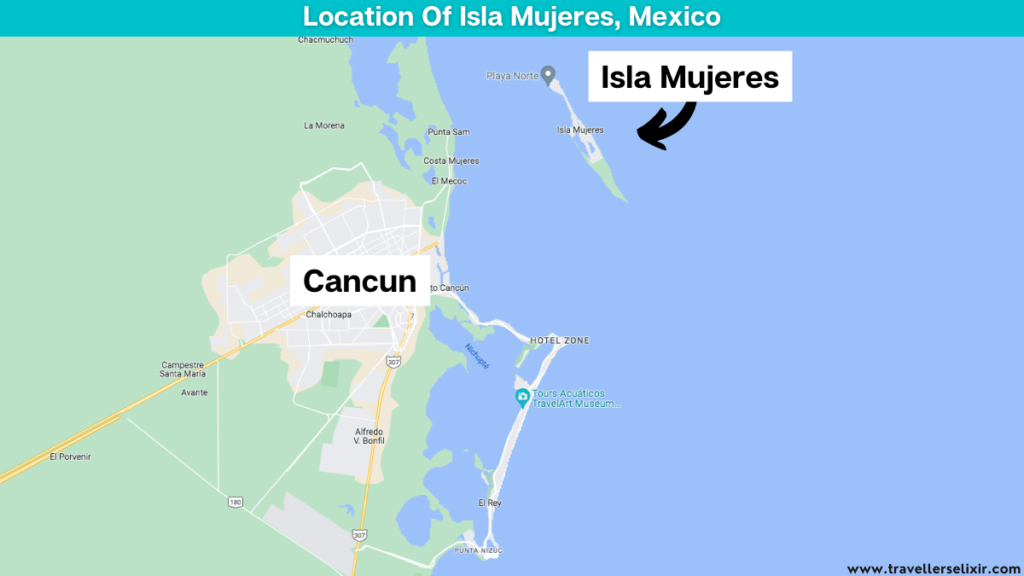 Isla Mujeres is actually home to a large population of turtles which attracts tourists to the island to see them up close.
There used to be a turtle sanctuary on Isla Mujeres called the Isla Mujeres Tortugranja sanctuary.
When I started researching where to see turtles in Cancun, this sanctuary kept coming up so I thought I'd look into it.
It turns out that it was closed down in 2021 by the government due to mismanagement and potential corruption.
Unfortunately, many blog posts are still promoting this sanctuary so please be wary!
Although the turtle sanctuary no longer exists, Isla Mujeres does have several amazing snorkeling spots, including Playa Norte, which are some of the best places to go snorkeling with turtles near Cancun.
The island is surrounded by a pristine coral reef which is the ideal home for turtles year round meaning it's pretty easy to spot turtles in this area.
If you want to visit Isla Mujeres from Cancun then join this catamaran adventure tour.
It includes transport to and from Isla Mujeres, several snorkeling activities, a beach club visit and an open bar on your return to Cancun.
You'll stop at various reefs along the way to swim and snorkel with turtles. One stop is at the Punta Sam Reef which is home to various species of fish, turtles and other marine creatures.
It's definitely the easiest way to reach Isla Mujeres from Cancun and will be a super memorable day out.
Playa Delfines
Playa Delfines is one of Cancun's most popular beaches as it features sweeping views of Cancun's coastline, crystal clear waters and soft white sand.
Sea turtles often use this beach to lay their eggs during the turtle nesting season in Cancun. In fact, hundreds of turtles come to Playa Delfines each year to lay their eggs.
Adult turtles only lay their eggs on the beach at night time, usually from 11PM onwards. This means that you're unlikely to actually see the turtles laying their eggs if you're on the beach during the day.
You'll still sometimes see turtles in the ocean though, meaning Playa Delfines is a great place to snorkel with turtles in Cancun.
In addition to turtles, dolphins are also commonly spotted from this beach. In fact, in English 'Playa Delfines' literally translates to Dolphin Beach.
The beach was actually named after the dolphin population that call this beach home year round.
If you are on the beach after dark and you see a turtle coming ashore to lay their eggs, be super careful.
Avoid bright lights and flash photography as you could scare the turtle away which could be disastrous.
This could force the turtle to lay their eggs somewhere else where they probably won't survive.
Here's where you'll find Playa Delfines: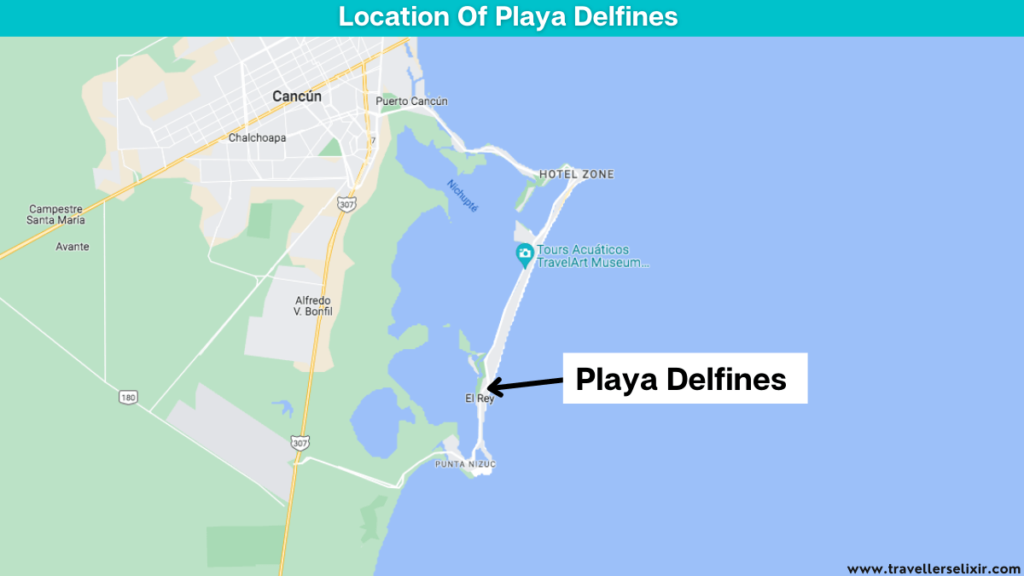 Did You Know? As well as turtles, you can actually also see monkeys in Cancun.
Playa Marlín
Another beach in Cancun where turtles lay their eggs during turtle season is on Playa Marlín.
This white-sand beach is absolutely stunning and is one of those beaches where you can just plonk down your towel, listen to the waves and relax.
Just like Playa Delfines, turtles return to this beach every single year to lay their eggs. This only occurs at nighttime though and not during the day.
Occasionally you'll see the odd turtle or two swimming around close to the shore during the day but this is fairly rare.
Various turtle release programs also take place on this beach at certain times of year where the baby hatchlings are released into the ocean to start their lives at sea.
Playa Chacmool
Playa Chacmool is another one of the best places to see turtles in Cancun.
It's another turtle nesting spot where mother turtles lay their eggs at nighttime during turtle nesting season.
This beach has pristine white sand, clear waters and lots of bars and restaurants.
Here's where you'll find Playa Marlín and Playa Chacmool: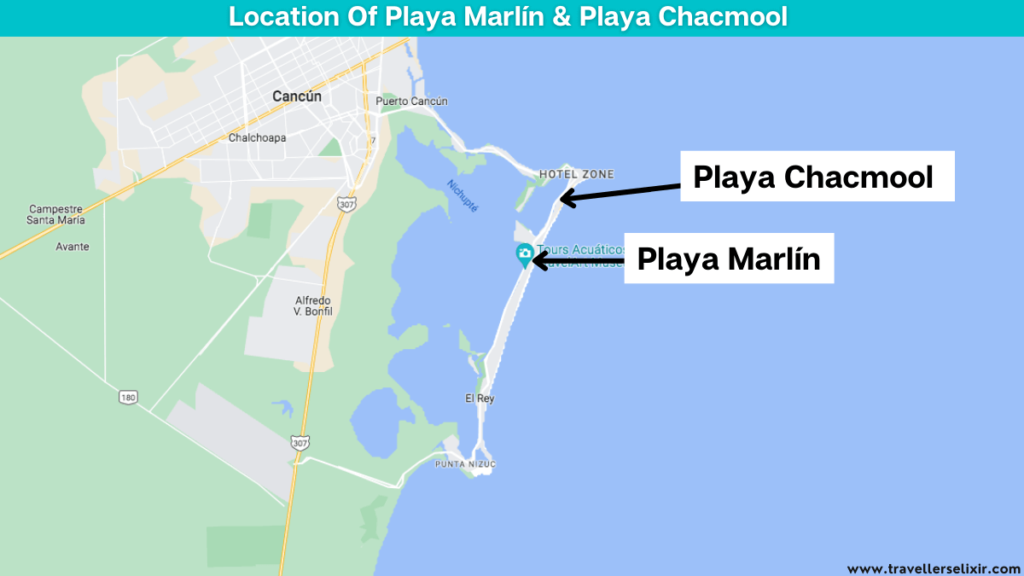 Cancun Turtle Sanctuary
It turns out that there isn't a dedicated turtle sanctuary in Cancun itself. That doesn't mean that you can't take part in turtle conservation activities though.
Many hotels in Cancun's hotel zone have joined forces to watch over the turtles that nest on their beaches (exact hotels listed below).
This is called the 'Sea Turtle Protection & Management Program' and it was developed because the government's budget couldn't stretch far enough to protect the turtles in the area.
Instead they needed support from the local hotels and luckily they were all happy to oblige.
Did you know that only 1 out of 1,000 baby turtles survive to become an adult? That is exactly why these kinds of programs need to exist.
Turtle Hatching In Cancun
Baby turtles hatch on the shores of Cancun at certain times of year so if you are very lucky, you may be able to see this happening for yourself.
You do need to be super careful though as the turtles are a protected species and turtle conservation programs work really hard to protect them and ensure their survival.
It is possible to take part in turtle release programs in Cancun where you can head out with the volunteers to safely watch the baby turtles hatching and help them run towards the ocean for the first time.
The first thing to know is that baby turtles hatch at nighttime. If you're taking part in a release program, it's really important that you don't shine any bright lights on them as this may disorientate them.
You may also notice marked off areas on many of Cancun's beaches during the day time.
Volunteers often mark turtle nests out in the sand using a sign or metal cover so if you happen to see one of these on any of Cancun's beaches then don't disturb it.
Many of Cancun's hotels that line the beaches have turtle protection programs. It's worth asking at the reception of your hotel if they have one you can take part in.
These programs help the turtles to survive by protecting the eggs from poachers, other animals, beach activities, pollution and more.
The hotel staff will also often arrange events where the baby hatchlings are released back into the ocean and guests can usually participate.
Check out what one of these events look like in the video below:
This is the best and safest way to see baby sea turtles in Cancun. I definitely wouldn't recommend trying to do this without a local guide as you could end up harming the turtles by accident.
Here's a list of hotels that currently run a turtle release program in Cancun:
When Is Cancun Turtle Season?
Cancun turtle season runs between the months of May and September however you can easily see turtles in Cancun year round.
Between these months, turtles come ashore to lay their eggs so the numbers are higher than at other times of the year.
If you want to swim with turtles in Akumal then you can do it at any time of year.
What Time Of Year Do Sea Turtles Hatch In Cancun?
Sea turtles hatch in Cancun between July and November with October being the peak month.
If you visit during these months then you may get the chance to see baby turtles hatching from their eggs and making their first ever run towards the ocean.
Tips For Swimming With Turtles In Cancun
If you're going to be swimming with turtles in Cancun then there's a few things you should know.
Remember that all of the different turtle species present in the waters around Cancun are endangered so it's really important that we do all we can to protect them.
Here's a few tips:
Don't be too loud. Try to be as quiet as possible when swimming up to a turtle as loud noises will scare them away.
Do not touch the turtle. Turtles are wild animals and should be respected.
Do not get too close. This might scare the turtle and they could bite you if they get really scared (don't worry this is super rare!).
Do not feed the turtles. They don't need help finding food.
Always approach a turtle from the side. This gives them a clear view of you and a clear path ahead of them if they want to swim onwards.
Don't disrupt the turtle's natural behavior. You can enjoy the turtles by watching them do their thing but try not to disturb them.
These key tips aim to protect both you and the turtles.
---
Thanks for reading this post on where to see turtles in Cancun.
You can actually swim with turtles in several other places in Mexico including Tulum and Cabo San Lucas.
Related Posts: