Welcome to Tulum where the crystal clear waters are home to some of the most captivating creatures on earth – sea turtles!
I visited Tulum for the first time last year and one of the main things I really wanted to do on this trip was swim with sea turtles! Now that I've done it, I'd love to share it with you.
I found that by far the best place to see turtles in Tulum was at Akumal Bay. In fact, you'll have trouble not seeing turtles here.
Akumal Bay is a 25-minute drive from Tulum so I'd recommend booking onto this swim with turtles tour that includes pick-up/drop-off in Tulum.
The tour also include a visit to Tulum's famous coastal ruins on the way!
In the rest of this post, I'll be revealing all of the exact locations where you can see turtles in Tulum including where to swim with turtles and where to see baby turtles hatching!
Best Places To See Turtles In Tulum
Mexico, which is conveniently also known as 'the land of turtles', is one of the best places in the world to see turtles.
This is because Mexico is actually home to 7 out of the 8 species of sea turtles found in the world.
Tulum is one of the best places in Mexico to see turtles so here is exactly where you can find the turtles…
Akumal Bay
By far, Akumal Bay is the best place to see sea turtles in Tulum and the best part is…you can swim alongside them! 
This small bay, also commonly referred to as Turtle Beach, is protected by a reef so it's the perfect place for snorkeling as big waves can't enter the bay so it's super calm.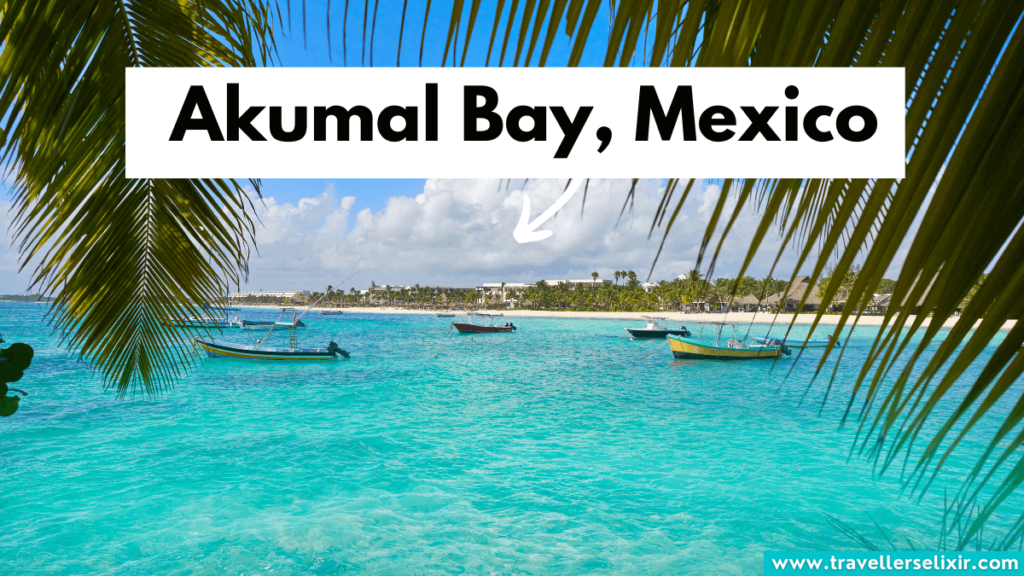 As Akumal Bay is 25-minutes outside of Tulum, I'd recommend you join this swim with turtles tour that includes pick-up/drop-off from your Tulum hotel.
This is the tour that I personally did in Tulum and I can only say great things about it! The entire day was super smooth and I had the best time.
This also gives you the best possible chance of being able to swim with turtles as the expert guides will show you the exact spots where you can find the turtles.
The best part is that the tour also includes all of the following:
A visit to the famous Tulum coastal ruins
Chance to swim in a cenote
Swim with turtles in Akumal Bay
Hotel pick-up/drop-off
Delicious buffet lunch
If you do want to do a tour to Akumal Bay, I'd strongly advice you to book online in advance.
You will often end up spending a lot more if you book in person when you get there as this area is well known for scams and tourist traps.
As well as turtles, you can often also see manta rays, barracudas, cat sharks and tropical fish in Akumal. You could literally spend hours snorkeling and enjoying the wildlife here!
I really enjoyed the snorkeling activity and saw at least 10 sea turtles whilst I was in the water. I also saw a ton of other tropical fish and a ray.
The name 'akumal' actually means 'place of turtles' in the ancient Mayan language and the name doesn't lie.
Sea turtles can regularly be seen at Akumal's Turtle Beach all year round however the best time to see them is nesting season which runs from May to November.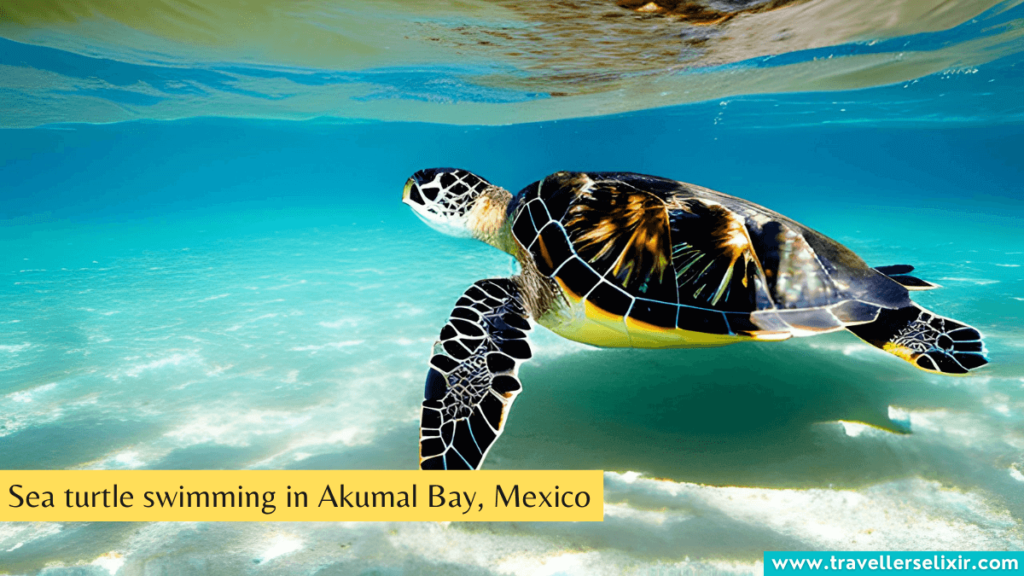 Tours run all year round so don't worry if you've already booked your trip, you can still see the turtles!
This paradise beach is truly a dream as it has white sandy beaches, towering palm trees and crystal clear waters. I was absolutely blown away when I saw it for the first time in person.
If you're looking for somewhere where you're basically guaranteed to see turtles then Akumal Bay is a top choice.
There are also several hotels in the area if you want to stay near the action. The best hotels in the area are Secrets Akumal and Bahia Principe Luxury Akumal.
Check out the incredible sights you can see in Akumal Bay in the video below:
Did you know you can also see turtles in Cabo San Lucas?
Swimming With Turtles In Tulum Tips & Advice
As the species of turtles in Tulum are endangered, it's vital that you do everything you can to not disturb the turtles. This ensures their safety and survival.
Whilst it is absolutely fine to get in the water and swim with the turtles, make sure you follow these tips:
Never touch the turtles. These are wild animals and so you should be respectful and not touch them.
Make sure to give them some space. Don't get too close as you could frighten them. Try to stay 10ft away at a minimum.
Keep the beaches clean. Don't leave any rubbish in the ocean or on the beach as this pollutes the ocean and could seriously injure a turtle if they try to eat it or get caught in it.
Where To See Baby Turtles Hatching In Tulum
As well as swimming with turtles, one of the main reasons people come to Tulum is to see the baby turtles hatching from their eggs and making their first ever run towards the ocean.
Seeing this phenomenon for yourself is a magical experience and it's something you'll never forget, that's for sure.
Imagine the tiny turtles poking their way out of their eggs and imagine being part of it yourself.
Today, the baby hatchlings face more challenges than ever including:
Eggs are often crushed by beach activities.
Birds take the eggs whilst looking for a meal.
Development on the beaches damage breeding grounds.
Ocean pollution.
Some of these baby turtles struggle to make it to the ocean because of this and need extra help from volunteers.
Luckily for you, there are several hotels which run baby turtle release programs in Tulum where the staff will take you to the exact beaches where the turtles lay their eggs.
You can help the baby turtles' chances of survival by taking care of their nest, protecting them until birth and then helping them reach the ocean after hatching.
These baby turtle release programs allow you to make an environmental impact whilst on vacation, learn about the baby turtles and it's also a super fulfilling experience!
The Beach Tulum Hotel
Since a lot of the turtle's breeding grounds are populated by hotel resorts, many of these hotels have joined the efforts to help the baby turtles.
For the ultimate luxury experience, book yourself a room at 5-star The Beach Tulum Hotel where you can often find turtles nesting on the beach right in front of the hotel.
The Beach Tulum Hotel has trained staff who know how to protect both the turtles and their nests.
They patrol the beachfront close to their hotel where they monitor the eggs, move the eggs if necessary and help coordinate safe release of the baby turtles.
When it is time to release the baby sea turtles, The Beach Tulum Hotel allows you to watch the baby turtles make their first journey to the sea and you can help them with conservation efforts.
It's a truly magical experience that you'll never forget making this Tulum's best turtle beach.
Other hotels which have tons of turtle activity nearby are:
Check out the video below of baby sea turtles running to the ocean in Tulum to see what you could experience too:
Best Time Of Year To See Turtles
Below I've summarised the best times of year to see these creatures depending on if you're wanting to swim with turtles or see baby turtles hatching.
Swim With Turtles
If you want to swim with turtles in Tulum then you can do this at any time of year as there are several spots in Tulum where the turtles persist all year.
Having said that, there are certain times of year when there are more turtles.
The summer months from May to October is turtle nesting season so there will be more turtles in the area during this time.
See Baby Turtles Hatching
The best time of year to see baby turtles hatching in Tulum is between May and October as this is when the turtles return to Tulum to lay their eggs. 
One interesting feature of these turtles is that they always return to the exact same beach that they were born on to lay their own eggs each year.
Baby sea turtles tend to hatch around 45 days after their egg has been laid and then they make their way into the ocean to begin their life.
This means that from May to October you will actually be able to see the turtles nesting.
The baby turtles start hatching from late May until mid-November so if you're lucky you might even spot a baby sea turtle hatching from an egg!
Did you know that you can also see baby turtles hatching in Cancun? Yep, turtles actually nest on beaches all over Mexico.
If you happen to see a sea turtle walking along one of the many stunning beaches of Tulum, be careful and keep your distance.
You don't want to scare the turtle back into the ocean as this is likely a mother turtle looking for an ideal spot to lay her eggs.
---
And that's it!
Thanks for reading this post on where to see sea turtles in Tulum, Mexico which includes a list of turtle beaches in Tulum (and nearby).
Whether you're looking to snorkel with turtles in Tulum or you want to see baby turtles hatching, all of this is available in the luxury paradise of Tulum.
Related Posts: