If you're on the hunt for some monkey business in Cancun then you've come to the right place.
When I went to Cancun recently, I made it my mission to seek out all the top monkey hiding spots.
I found that there weren't many places in Cancun itself where you can see monkeys as they've been driven away by the tourists.
You can easily see monkeys at Xcaret Park in Playa del Carmen which is just an hour's drive from Cancun.
I'd recommend joining this Xcaret Park day tour from Cancun which includes roundtrip transportation, a snorkeling activity and a tour of a Mayan archaeological site.
In the rest of this article, I'll be revealing the exact locations where you can see monkeys near to Cancun.
Are There Monkeys in Cancun, Mexico?
Today there are very few monkeys in Cancun but there's large populations of wild monkeys near to Cancun and in the surrounding areas.
The center of Cancun is filled with tourists, hotels and businesses so most of the wildlife has moved out of this area to the outskirts of town.
There are still plenty of places where you can see wild monkeys though that you can easily visit on a day trip from Cancun.
Where To See Monkeys In Cancun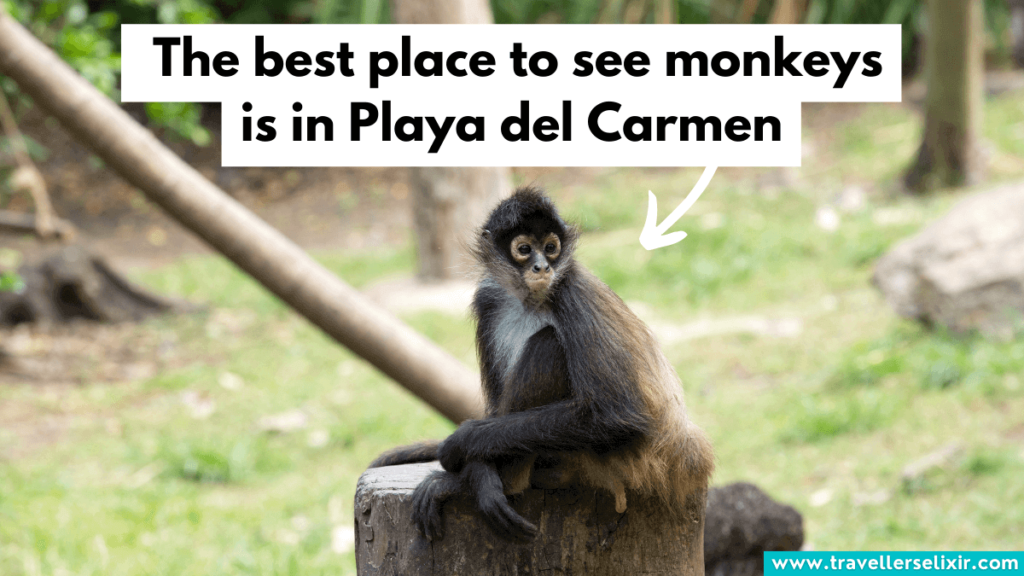 Monkeys thrive in lush tropical rainforests and wetlands so this is where you'll find them.
They don't just hang around in the street so you need to know where to go to have a chance of seeing them.
Below I've listed the best locations near to Cancun where you have a super high chance of seeing monkeys.
I've also included handy links to the best-rated tours. These are all provided by reputable companies and have excellent reviews so you can put your mind at ease.
Monkeys in Playa del Carmen
I found that the best place to see monkeys near Cancun is in Playa del Carmen which is a coastal resort town in Mexico known for its palm-lined beaches and coral reefs.
From Cancun, it takes just over an hour to get there so it makes for a perfect day trip which is exactly what I did.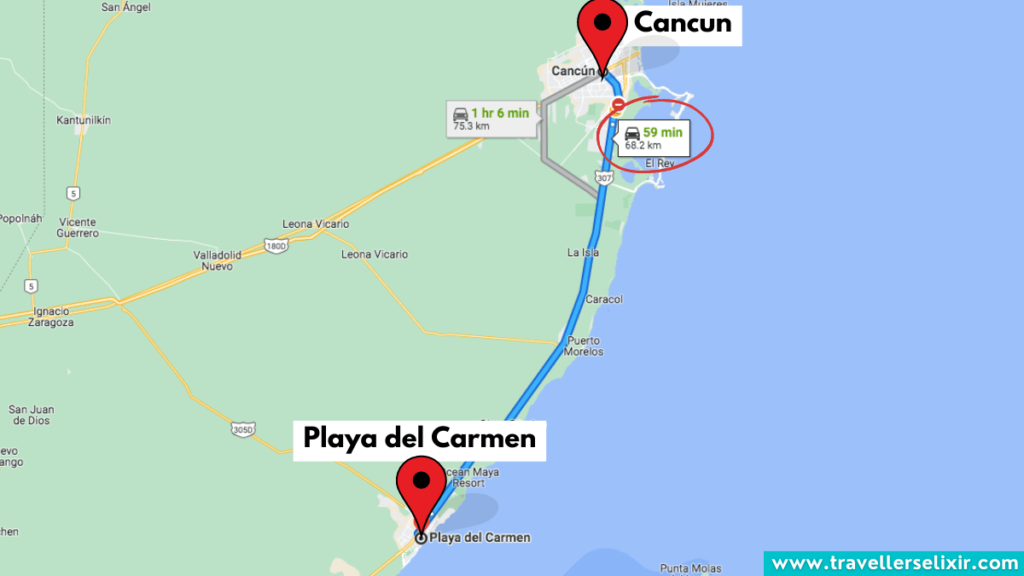 For an almost guaranteed chance of seeing monkeys, head over to Xcaret Park in Playa del Carmen which is a nature and Mayan civilization archeology park.
If you're staying in Cancun, I'd recommend joining this day tour to Xcaret which includes roundtrip transportation to and from Xcaret.
This is the tour that I did and I thought it was fantastic! I saw so many monkeys and learned a ton about the area.
On the tour, you'll get the chance to see monkeys, swim in a lagoon, snorkel with a range of wildlife, explore Mayan ruins and enjoy an evening show of Mayan music. 
My favorite part was definitely swimming in the lagoon, it was just so serene!
Did you know that you can also swim with turtles in Cancun? Yep, it's actually pretty easy if you know where to go (I list the exact locations in my post).
Sian Ka'an Biosphere
The Sian Ka'an Biosphere is located a couple of hours south of Cancun.
The Sian Ka'an Biosphere covers 2,000 square miles and features tropical forests, lagoons, mangroves, beaches, palm savannahs and wetlands (a.k.a an ideal monkey habitat).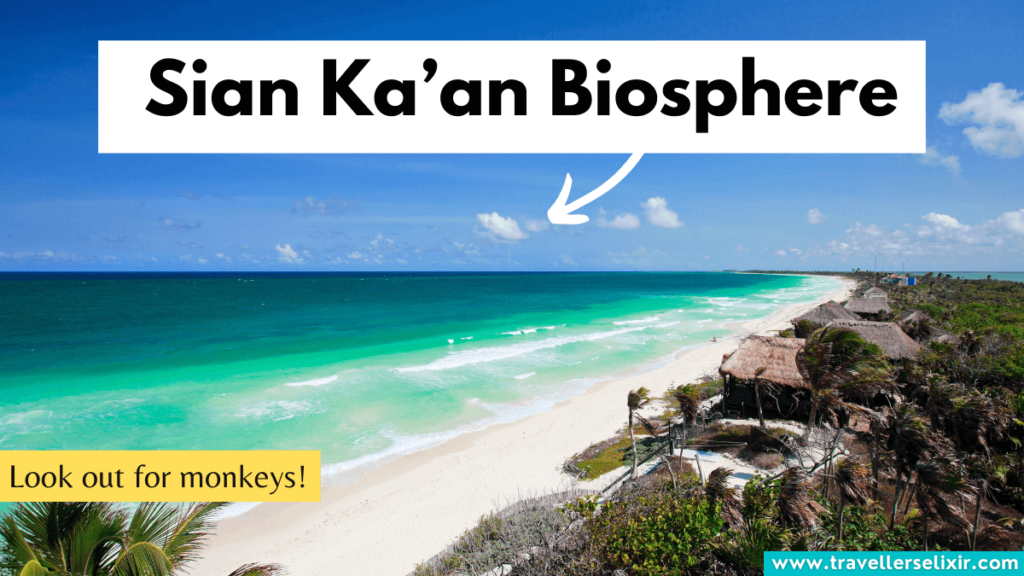 Among the many different species of animals that call this region home, you will find both spider and howler monkeys here.
As this area is huge, I'd recommend booking a guided tour like this one as this gives you the best possible chance of spotting monkeys.
Your experienced tour guide will know where to find monkeys without fail so it's definitely the best option if you REALLY want to see monkeys.
I did manage to spot several monkeys when I visited the Sian Ka'an Biosphere. I was also completely in awe of the scenery here, it was genuinely mindblowingly beautiful.
Punta Laguna Monkey Reserve
The non-profit Punta Laguna Monkey Reserve is located less than 2 hours south of Cancun.
This area, which forms part of a 5000-hectare nature reserve, is famous for being a haven for both spider and howler monkeys.
Located literally in the middle of a jungle, you definitely won't have a hard time spotting monkeys here.
Most people hike through the forest watching the monkeys playing, eating and living in their natural habitat.
If you want to see as many monkeys as possible, you can get a guide who will know where to find the monkeys without fail. If not, you can explore on your own and you'll likely still find a few.
I highly recommend this day trip to Punta Laguna as it also includes a stop at the nearby ancient city of Coba.
It also includes transport to and from Cancun (you just need to select Cancun as your pick-up location when you book).
There's tons of fun activities that you can take part in here including a guided tour of the monkey reserve, canoeing across a lagoon, visiting an archaeological site, riding a zipline and more.
There is also a nearby Mayan village which gives you the chance to see an indigenous way of living. Here you can tour the thatched-roof houses and watch locals cook over open fires.
The monkey reserve is run by the Mayan community so by visiting, you are actually supporting the local community which is great to know.
Check out this cute spider monkey spotted at Punta Laguna in the video below:
Iberostar Tucan
For something a little bit different, you can book a stay at the 5-star beachfront Iberostar Tucan hotel in Playa del Carmen.
This hotel has a resident population of wild howler monkeys that roam the resort. 
I'm not gonna lie, I did book just one night at this hotel just to meet the monkeys and I definitely don't regret it.
I constantly saw monkeys and other wildlife walking around the resort all day long and we even had a monkey visitor on our balcony!
Check out what you can expect from a stay at Iberostar Tucan hotel in the video below:
Dr. Alfredo Barrera Marin Botanical Garden
The Dr. Alfredo Barrera Marin Botanical Garden is just 30 minutes from Cancun.
These gardens feature a large forest with extensive walking trails. You can often spot spider monkeys here as well as many different bird species.
This is actually the largest botanical garden in Mexico and covers 65 hectares which is plenty of space for monkeys to roam around.
Monkey Sanctuaries
Another place where you can see monkeys near Cancun is at a monkey sanctuary.
Before visiting a monkey sanctuary, make sure you research the company as there are some 'sanctuaries' in Mexico that are far from ethical.
As a general rule, if the sanctuary offers services where you can touch the monkeys or take photos with them, it's not a good one as this can be extremely traumatic for the monkeys.
Additionally, try to find non-profit sanctuaries where all the funds go straight to caring for the monkeys.
The Jungle Place
One of the best sanctuaries is The Jungle Place which is about 1 hour 30 minutes from Cancun.
They provide food, shelter, medical care and love to spider monkeys that have been victims of illegal pet trade, habitat destruction and more.
They take care of monkeys that can no longer survive in the wild, giving them a good home with other monkeys.
They are a non-profit organization. 100% of donations go towards caring for the monkeys.
Tips for Seeing Monkeys in Cancun
First time spotting monkeys?
To ensure both you and the monkeys remain safe, there's a few key things to bear in mind when seeing them in Cancun.
Keep your distance. It is best to watch wild monkeys from a distance whenever possible so you don't disturb them.
Don't feed the monkeys. The monkeys don't need help finding food and this can actually be detrimental to their health.
Try to be quiet. Monkeys are much more sensitive to sound than we are so try to be as quiet as possible.
Try not to get in their way. If you block a monkey's path they may think you're a predator and become scared. Try to observe from the side and not get in their way.
These key tips protect both you and the monkeys.
---
And that's it!
Thanks for reading this post on where to see monkeys in Cancun.
Although you will have to travel a little bit out of the city to see monkeys in their natural habitat, it's well worth it.
Why not use these awesome Cancun Instagram captions when you post photos from your stay in Cancun?
Related Posts: