The beauty of the coral reefs, the vibrant colors of the fish and the crystal-clear waters make it an ideal activity for nature lovers and adventure seekers alike.
And what better way to capture those breathtaking moments than with an Instagram post?
To help you share your snorkeling experience with your friends and followers, I've compiled a list of the best snorkeling Instagram captions that will make your post stand out.
P.S. Follow me on Instagram (@travellerselixir) and tag me in your photo for a share on my story!
Best Snorkeling Instagram Captions
Funny Snorkeling Captions & Snorkeling Puns
Seas the day
All you need is some vitamin sea
I'll always be ocean-minded
Be shore of yourself
Sea life's beauty
I'm done adulting. Let's be mermaids
If you need me, call me on my shell phone
Shell yeah!
I'm an aquaholic
Shell-abrate good times
Where there's a will, there's a wave
I'm sea-rious about snorkeling and having a blast
I can sea clearly now
Happy as a clam
Long time, no sea
I can't kelp but feel like a fish out of water sometimes
Well this is going swimmingly
You are mer-mazing
Make a fish!
If Hogwarts was in the ocean, they would play squidditch!
Did you hear about my prom-ocean?
Let's sea what's out there!
This is getting out of sand
The water is cold, algae in after you
The water is crystal clear – sea for yourself!
I'm feeling a little crabby, I need to go snorkeling and clear my mind
So-fish-ticated
Oh buoy, the water is cold
Fishing you a happy summer
This is a fanta-sea
I'm not trout of ideas when it comes to snorkeling puns
Sea ya later
The sea is truly fin-tastic
Wow, this is one shell of a place
Up Next: Mexico Instagram Captions
Short Snorkeling Captions
Let the sea set you free
Look beneath the surface
Under the sea
Life is better when you're underwater
Eat. Sleep. Snorkel.
Fish out of water
I'd rather be snorkeling
Into the blue
Go with the flow
Mermaid vibes
Under the sea, we're as happy as can be
Just dive in
Find your flow
Stay salty
Sun, sand and snorkeling
Every seashell has a story
Ocean therapy
Saltwater cures all wounds
Ocean air, salty hair
The ocean is my playground
You May Also Like: The Maldives Instagram Captions
Cute Snorkeling Captions For Instagram
Not all classrooms have four walls
I'm not addicted to snorkeling, I'm just committed to my underwater lifestyle
Life looks better underwater
The ocean is calling and I must go…snorkeling
The ocean is everything I want to be. Beautiful, mysterious, wild, and free
I am an underwater explorer
Snorkeling: the ultimate way to channel your inner mermaid
Who needs a therapist when you have a snorkel?
In a past life I was a fish
Come dive into the deep blue with me
I'm not a fish but I feel at home underwater
You had me at lets go snorkeling
The ocean has my heart
Snorkeling is always a good idea
Happiness comes in waves!
Why walk on the beach when you can snorkel in the ocean?
Thalassophile – a person who loves the sea or ocean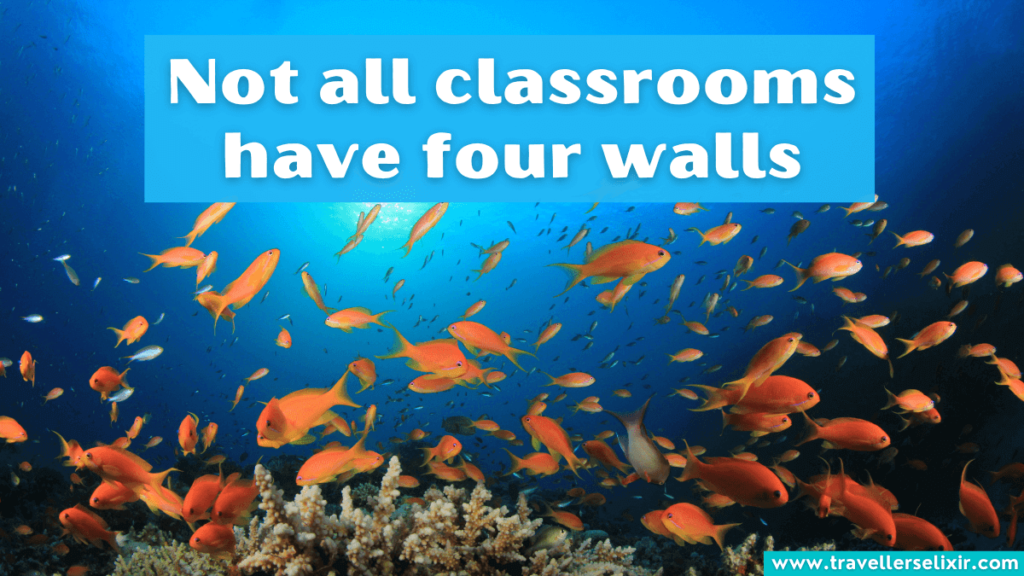 If you can't find me, I'm probably snorkeling somewhere in the ocean
Snorkeling: the closest I'll ever get to being a mermaid
I got saltwater running through my veins
I want to snorkel in all the best places on earth
I am happiest when floating in the sea
The ocean is where I belong
There is a different world underwater
Snorkeling is the best medicine
Up Next: Hawaii Instagram Captions
Inspirational & Beautiful Snorkeling Captions
Let the currents guide your heart
The world's finest wilderness lies beneath the waves
There's something magical about the way the sunlight dances on the ocean floor
The ocean is full of wonders and I'm just a curious snorkeler exploring them all
The ocean is a canvas and I am painting my own masterpiece with every snorkel
Sink beneath the surface and you will be free
I dive because I'd rather look back at life and say, 'I can't believe I did that' instead of 'if only I had'
The ocean is a reminder that we are all small in the grand scheme of things but our experiences can be infinite
The beauty of snorkeling is that it allows us to connect with nature in a way that words cannot express
The ocean is a reminder that life is full of beauty and adventure
The ocean is a place where the heart can find peace and tranquility
Once the sea has touched your soul, life on land will never be the same
The ocean is a place where we can connect with nature, and with ourselves, in a way that is truly magical
The world above the water may be chaotic but the world below is pure bliss
I lost my heart to the ocean and with it a piece of my soul
There's nothing quite like the feeling of weightlessness and freedom while snorkeling
May you always have a shell in your pocket and sand in your toes
The ocean is my playground and snorkeling is my favorite game
Beneath the surface lies a world full of magic and mystery
The ocean is a treasure trove of experiences, waiting to be discovered by those who are brave enough to dive in
You May Also Like: Palm Tree Instagram Captions
Snorkeling Quotes For Instagram Captions
"Everyone loves to fly, and flying underwater is even better than flying in air because there are things around you." – Graham Young
"Diving into the ocean is like entering a whole new world full of colors, textures and creatures that never cease to amaze." – Traveller's Elixir
"You could start now, and spend another forty years learning about the sea without running out of new things to know." – Peter Benchley
"There's something deeply spiritual about snorkeling, like you're connecting with something greater than yourself." – Traveller's Elixir
"The sea, once it casts its spell, holds one in its net of wonder forever." – Jacques Cousteau
"Every time I slip into the ocean, it's like going home." – Sylvia Earle
"The ocean is a place where we can feel small and insignificant, yet also find a sense of belonging and wonder." – Traveller's Elixir
"Be alone with the sea for it is there you will find answers to questions you didn't realize exist." – Khang Kijarro Nguyen
"The best way to observe a fish is to become a fish." – Jacque Cousteau
"The beauty of snorkeling is that it allows us to explore a world that is both familiar and completely foreign at the same time." – Traveller's Elixir
"Being out there in the ocean, God's creation, it's like a gift he has given us to enjoy." – Bethany Hamilton
"The ocean has always been a salve to my soul." – Jimmy Buffett
"Snorkeling is not just about seeing the ocean, it's about feeling it, experiencing it and being a part of it." – Traveller's Elixir
"Every time you dive, you hope you'll see something new – some new species. Sometimes the ocean gives you a gift, sometimes it doesn't." – James Cameron
"The ocean is a place where time seems to stand still, and every moment is a gift to be cherished." – Traveller's Elixir
"When you're underwater with goggles on, a couple of your senses are taken away, and it becomes this purely visual thing. It's just you and yourself." – Mark Foster
"Man cannot discover new oceans unless he has the courage to lose sight of the shore." – Andre Gide
"Snorkeling is a reminder that life is full of surprises, and that sometimes the most beautiful things can be found in the most unexpected places." – Traveller's Elixir
"The sea should be enjoyed, the animals in it. When you see a shark underwater, you should say, 'how lucky I am to see this beautiful animal in his environment!'" – Eugenie Clark
"Snorkeling is like a dance, where you move in harmony with the ocean, following its rhythm and flow." – Traveller's Elixir
"The waves of the sea help me get back to me." – Jill Davis
"The ocean is a reflection of the soul, with its endless depths, turbulent waters and hidden treasures waiting to be discovered." – Traveller's Elixir
"Being able to breathe underwater would be sweet." – Cameron Bright
"Most photos are worth a thousand words. Underwater ones are worth at least a million." – Stephen Frink
"Snorkeling is like meditation, where the mind and body are fully present in the moment, immersed in the beauty of the ocean." – Traveller's Elixir
"Either you decide to stay in the shallow end of the pool or you go out in the ocean." – Christopher Reeve
"When you snorkel, you become a part of the ocean, and the ocean becomes a part of you." – Traveller's Elixir
"If I were reincarnated, I wouldn't mind coming back as an undiscovered seahorse." – Jessica Marie
"There's a whole world waiting to be discovered beneath the waves and snorkeling is the key to unlocking its secrets." – Traveller's Elixir
"To me the sea is a continual miracle; the fishes that swim – the rocks – the motion of the waves – the ships with men in them, what stranger miracles are there?" – Walt Whitman
"Perhaps I am the turtle, able to live simply anywhere, even underwater for short periods, with my home on my back." – Kurt Vonnegut
"The ocean is a place where we can find solitude and connection, all at the same time." – Traveller's Elixir
Up Next: Australia Instagram Captions
Snorkeling Hashtags For Instagram Likes
#snorkeling
#snorkelaroundtheworld
#snorkeled
#snorkelingtrip
#snorkelingadventure
#snorkelingtime
#snorkeltime
#underthesea
#underwaterlife
#divinglife
#divingtrip
#divemaster
#instafish
#oceanlife
#instadive
#reeflife
#underwatershots
#scubalife
#oceanlover
You May Also Like: Bahamas Instagram Captions
---
I hope that my list of the best snorkeling Instagram captions has given you some inspiration for your next underwater adventure.
Whether you're exploring a local reef or diving in a far-off destination, remember to capture the magic of the underwater world and share it with everyone.
And don't forget to follow me on Instagram (@travellerselixir) and tag me in your photo!
Related Posts: