With its turquoise waters, lush greenery and breathtaking landscapes, Hawaii is an Instagrammer's dream come true.
But with so much natural beauty around you, it can be hard to find just the right words to capture it all.
That's why I've put together a list of the best Hawaii Instagram captions that will make your followers feel like they're right there with you on this tropical paradise.
P.S. Follow me on Instagram (@travellerselixir) and tag me in your photo for a share!
Best Hawaii Instagram Captions
These captions work for anywhere you're visiting in Hawaii including Maui, Oahu, Honolulu, Big Island, Kauai and more.
Cute Hawaii Captions For Instagram
You had me at aloha
Flowers in my hair, Hawaii in the air
Alexa, take me to Hawaii
Hawaii is always a good idea
A bad day in Hawaii is better than a good day anywhere else
You can't buy happiness but you can go to Hawaii, and that's pretty much the same thing
Hawaii is the land of everyday rainbows
If there's a heaven on earth, it's in Hawaii
Life is short but memories from Hawaii last a lifetime
Life is better in flip flops
In Hawaii, even the sunsets are doing the hula
Dear Hawaii, I can't get over you
The only thing better than the sunsets here are the mai tais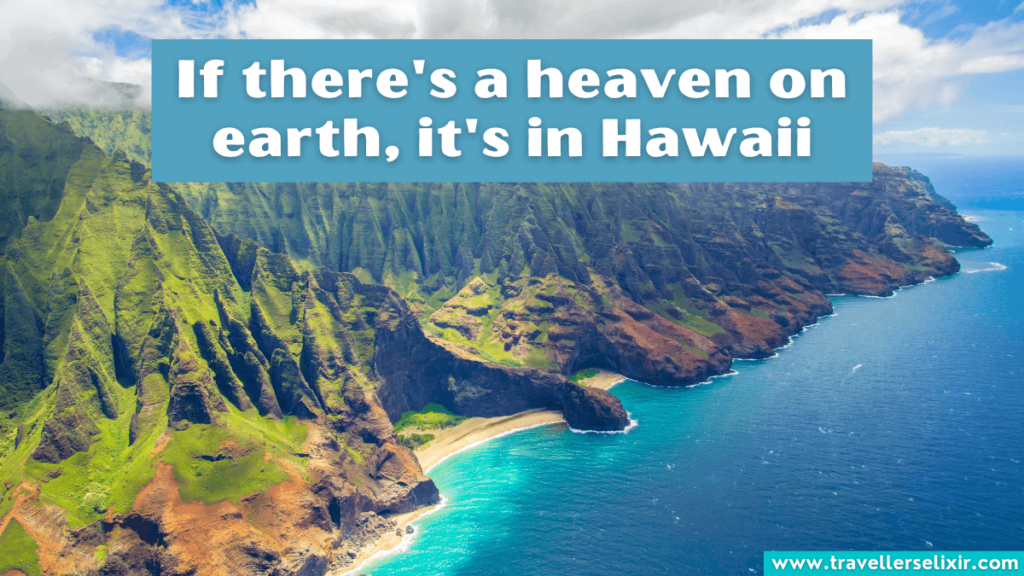 Salt in the air, sand in my hair
This place is so beautiful it's making me want to break out in a hula dance
Livin' the good Hawaii life
Sun, sand and aloha. Hawaii, you've got it all
There's no problem so big that a trip to Hawaii can't solve
Headed to Hawaii, be back never
A pineapple a day keeps the worries away
I came for the beaches but I stayed for the poke bowls
Life is a journey and Hawaii is the ultimate destination
I didn't choose the aloha life, the aloha life chose me
I'm pretty sure the sand here is made of powdered sunshine
In Hawaii, the only rush hour is the one that leads to the beach at sunset
Flip flop 'til you drop
Aloha from the land of sunshine and coconuts!
The best way to experience Hawaii is with a coconut in one hand and a snorkel in the other
I'm about to eat so much poke that I'll need to be rolled out of here
The grass is always greener underneath a coconut tree
I thought I was in paradise but then I saw the prices for a pineapple
Just trying to blend in with the palm trees…I think I'm doing pretty well
I'm pretty sure my soulmate is a Hawaiian sunset
Hawaii has me feeling like I'm living in a postcard
The only thing that could make Hawaii better is if they served shave ice for breakfast
They say money can't buy happiness but have you tried buying a plane ticket to Hawaii?
I don't need therapy, I just need to go to Hawaii
I'm pretty sure 'aloha' means 'I don't want to leave' in Hawaiian
I came to Hawaii to escape reality but reality is so much better here
Keep calm and…I can't keep calm, I'm going to Hawaii!
I'm not saying Hawaii is perfect but I haven't found a single reason to leave yet
Up Next: Maui Instagram Captions
Funny Hawaii Captions & Hawaii Puns
Anytime is mai tai time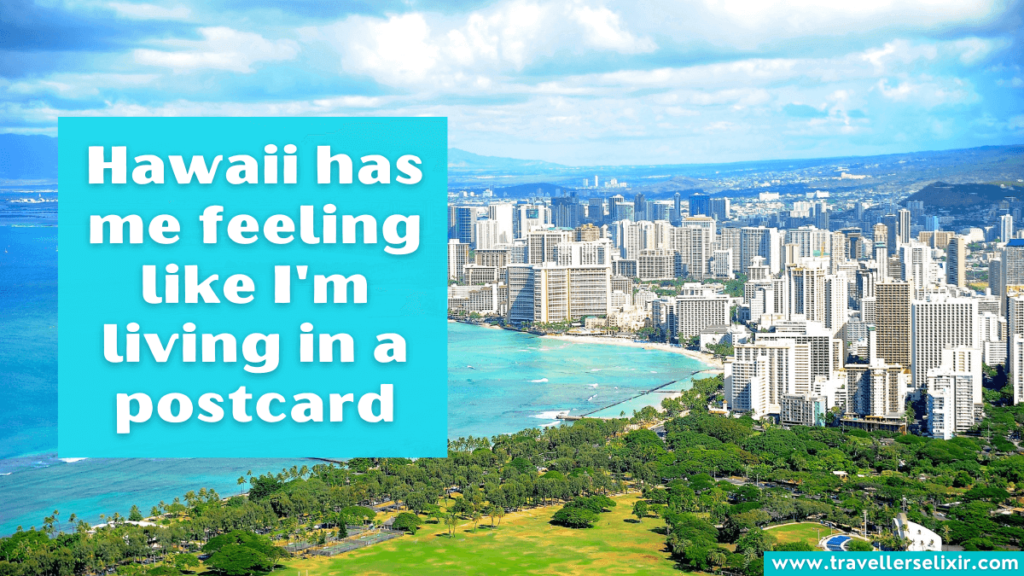 It's a shore thing I'm not coming home
Here today, gone to Maui
Where in Hawaii do you want to go? Can you be more Pacific?
Oahu doin'?
Aloha, is it me you're looking for?
Keep palm and carry on
Hawaii, I want to Maui you!
Mai tais are mai kinda thing
I'm never haupia than when I'm in Hawaii!
You are the pineapple of my eye
Don't worry. Beach happy.
Everything is so lei-d back in Hawaii
Feeling fin-tastic!
Shell we dance all night?
Aloha beaches!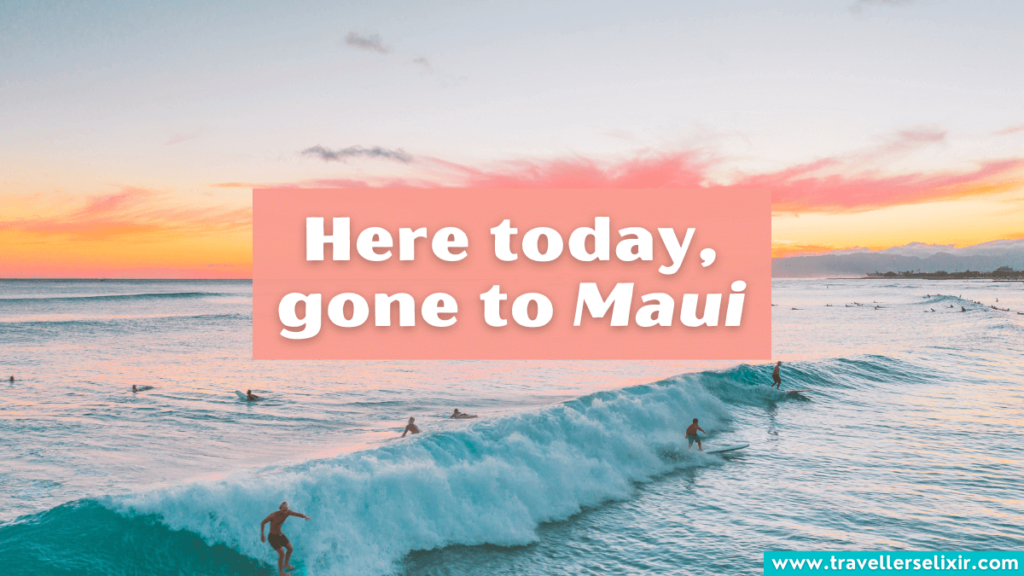 Shell yeah, Hawaii is amazing!
I lava Hawaii
In Hawaii, the volcanos are always int-erupting
I lava good sunset in Hawaii
Seas the day!
Waikiki, do you love me?
That's just Hawaii roll
Can you Kauai my bag for me?
It's hard not to get crater-ed away in Hawaii
I need vitamin sea
And it ended in a mai tai
If you need to reach me, call me on my shell phone
Life's a beach, enjoy the waves
Just Maui'd
You May Also Like: Maldives Instagram Captions
Short Hawaii Captions
Aloha state of mind
Leis, alohas, and Hawaii days
Find me under the palms
Living on island time
Surf's up, aloha down
Woke up in Kauai
Hawaiian dreams
When in doubt, just hula it out
I left my heart in Hawaii
Salty but sweet
Making waves in Hawaii
Heavenly Hawaii
Aloha state of mind
Sandy toes. Sunkissed nose.
Island days, island ways
Meet me in Hawaii
I'd rather be in Hawaii
Surf days and Hawaiian leis
'Imi ola – seek life
Life is better in Hawaii
Up Next: Caribbean Instagram Captions
Inspirational & Beautiful Hawaii Captions
Hawaii is calling, and I must go
I didn't know it was possible to be homesick for a place I've only been to once
There's just something about Hawaii that makes you feel like you're exactly where you're meant to be
The more I travel, the more I realize that sometimes the most beautiful places are the ones that take your breath away without even trying. Hawaii, you've got my heart
I never knew how much I needed a vacation until I found myself doing the hula in a grass skirt on the beach
I never thought I'd become a morning person until I saw the sunrise over the mountains in Hawaii
I hope to carry the aloha spirit with me always
Hawaii is like a love story – you'll never forget the first time you fell in love with it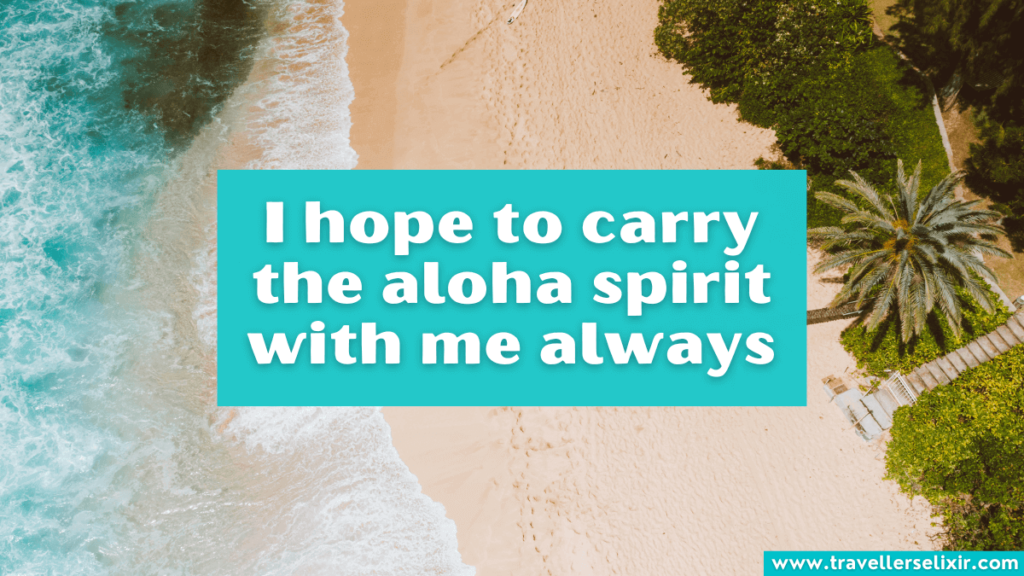 Hawaii taught me that the best things in life are the simplest: a good book, the warm sun and the sound of the ocean
Be the aloha you wish to see in the world
The best things in life are the people we love, the places we've been and the memories we've made along the way. Hawaii, you've given me all three
The tans will fade but the memories will last forever
Hawaii: where palm trees and ocean waves make everything better
When life gets too hectic, I close my eyes and remember the feeling of the sun on my skin and the sound of the waves crashing on the shore. Hawaii, you heal my soul
Island days, island ways, surf, sun & sun rays
Hawaii taught me that sometimes the best adventures are the ones that take you off the beaten path and into the unknown
In Hawaii, the water is bluer than the sky, the sand is softer than a cloud and the shave ice is sweeter than a kiss
I never met a sunset I didn't like but Hawaii sunsets are a whole different level
Dear Hawaii, thank you for making me feel tiny, humble, inspired, and salty… all at once
A hui hou – until we meet again
I thought I knew what paradise was until I stepped foot on the beaches of Hawaii
Hawaii is not just a place, it's a feeling. A feeling of warmth, of joy, of gratitude. Thank you, Hawaii, for reminding me to appreciate the little things in life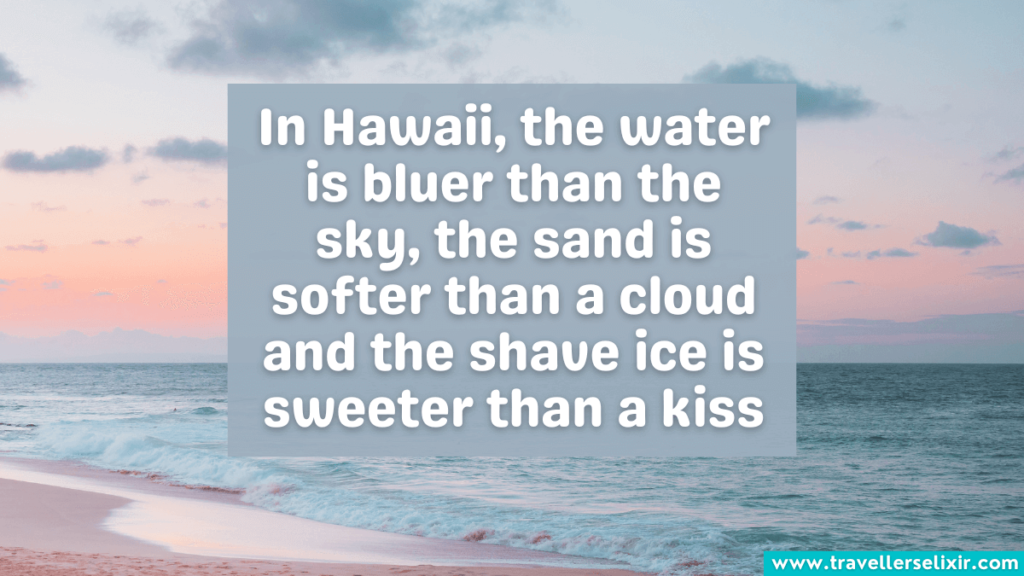 You May Also Like: Mexico Instagram Captions
Hawaii Quotes For Instagram Captions
"May there always be tradewinds behind you, rainbows above you, and aloha all around you." – Kauai Blessing
"In Hawaii, the sun sets on one day and rises on another but the beauty of the islands never fades." – Traveller's Elixir
"May there always be warmth in your hale, fish in your net, and aloha in your heart." – Hawaiian Blessing
"Don't let your dreams be dreams." – Jack Johnson
"Hawaii is a place where the land and sea meet in perfect harmony, creating a symphony of beauty that soothes the soul and inspires the heart." – Traveller's Elixir
"Hawaii is not a state of mind, but a state of grace." – Paul Theroux
"The loveliest fleet of islands that lies anchored in any ocean." – Mark Twain
"Hawaii is a paradise born of fire." – Rand McNally
"Hawaii is not just a place, it's a feeling of serenity and peace that washes over you with each wave that crashes against the shore." – Traveller's Elixir
"I believe Hawaii is the most precious jewel in the world." – Don Ho
"Coming to Hawaii is like going from black and white to color." – John Richard Stephens
"The only good thing about leaving Hawaii is that you really appreciate it when you return." – John Richard Stephens
"Hawaii is a place where the colors of the rainbow dance across the sky and the beauty of nature never ceases to amaze." – Traveller's Elixir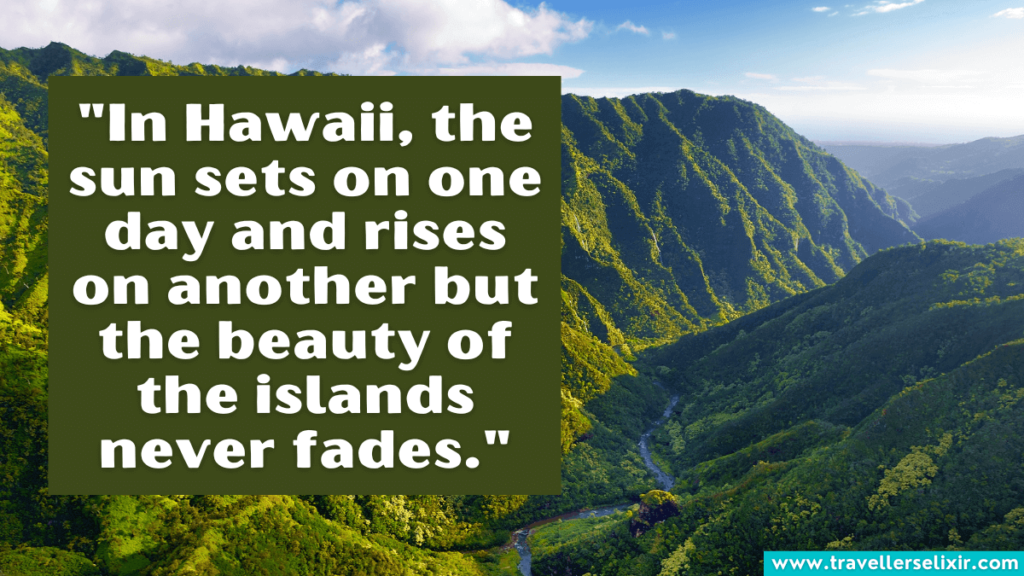 "The hula is the heartbeat of the Hawaiian people." – King David Kalakaua
"You haven't been to paradise if you haven't been to Hawaii." – Bruno Mars
"Hawaii is paradise. It sounds cheesy to say it, but there's music in the air there." – Bruno Mars
"The rhythm of Hawaii is not just in the music, it's in the way the land and sea move in perfect sync, creating a dance that leaves you spellbound." – Traveller's Elixir
"Hawaii is still the single most frequent fantasy destination, not because of political stability or conveniences, but because Hawaii seduces the imagination. It's the perfect postcard – no props, no fillers." – Robert Wintner
"Hawaii is the only place I know where they lay flowers on you while you are alive." – Will Rogers
"Beating the drums for Hawaii is not hard to do – the place just grows on you." – James MacArthur
"Hawaii is a place where the warmth of the sun is matched only by the warmth of the people, creating a feeling of love and acceptance that stays with you long after you've left." – Traveller's Elixir
"Hawaii is the island of big dreams for both islanders and guests. Those dreams born in paradise can indeed come true." – Sharon Linnea
"For me, the magic of Hawaii comes from the stillness, the sea, the stars." – Joanne Harris
"Hawaii is the only place in the 50 states where you can see the stars of the entire northern and southern hemispheres." – John Richard Stephens
"No one has family in Hawaii. Everyone is family in Hawaii." – Richie Norton
"In Hawaii, the sky is not the limit, it's just the beginning of a journey that takes you to the depths of the sea and the heart of the land." – Traveller's Elixir
"Hawaii is a paradise – and I can never cease proclaiming it. But I must append one word of qualification: Hawaii is a paradise for the well-to-do." – Jack London
"Nature is where it all begins for the Hawaiians. In fact, they call themselves keiki o ka 'aina, the "children of the land." – M J Harden
"For me personally, snorkeling in a cove in Hawaii, floating along, and looking at all the animals and the colors – I mean, that's pretty peaceful." – Stephen Hillenburg
"Hawaii is a place where the soul can find refuge, where the mind can find clarity and where the heart can find joy in the simple things in life." – Traveller's Elixir
"You don't have to live in Hawaii – or even be Hawaiian – to embrace the aloha spirit." – Mark Ellman
"Whether a visitor or kama'aina (resident), the beauty of the Hawaiian islands inspires the heart and mind." – Unknown
Up Next: Puerto Rico Instagram Captions
Hawaii Hashtags For Instagram Likes
#hawaii
#hawaiilife
#hawaiifoodie
#hawaiistagram
#hawaiilove
#hawaiitrip
#hawaiivacation
#hawaiiliving
#hawaiiphotography
#hawaiitravel
#hawaiibeaches
#hawaiiinstagram
#hawaiigram
#hawaiiadventures
#hawaiisunset
#hawaiihikes
#hawaiibestphotos
#hawaiibound
#hawaiibeach
#hawaiibeauty
You May Also Like:
---
Mahalo for joining me on this journey to find the perfect Hawaii Instagram captions!
I hope that these creative and fun captions will help you share your love for Hawaii with your followers in a unique and authentic way.
And don't forget to follow me on Instagram (@travellerselixir) and tag me in your photo so I can share it!
Related Posts: