G'day, mate! If you're planning a trip to the land down under then you'll already know that Australia is full of stunning beaches, breathtaking landscapes and amazing wildlife.
But capturing the perfect Instagram photo to show off your travels can be a challenge without the right caption. That's where I come in!
I've rounded up the best Australia Instagram captions that will be sure to make your followers double-tap.
So whether you're exploring the Outback, surfing in Byron Bay or just enjoying a good ol' Aussie BBQ, I've got you covered.
Best Australia Instagram Captions
These captions work for any place you're visiting in Australia including Sydney, Melbourne, Brisbane, Adelaide, Perth, Canberra and more.
Cute Australia Captions For Instagram
Living for adventure in Australia
My new best friend is a kangaroo
I left my heart down under
Catch me hanging with the kangaroos and the koalas
Life is better with sandy toes
Sunsets and sweet views of Sydney
I never knew a place could be so wild and so welcoming at the same time. Australia, you have my heart
I followed my heart and it led me to Australia
Once upon a time in Australia…
You had me at 'G'day Mate!'
Australia has stolen my heart and my passport
Australia, you're like a warm hug in the form of a continent
Here for the views and koalas
You can't buy happiness but you can buy a ticket to Australia and that's kind of the same thing
Did someone say kangaroo?
I came to Australia for the beaches but I'm staying for the Tim Tams
Up Next: Melbourne Instagram Captions
Funny Australia Captions
Just landed in Australia and already got attacked by a kangaroo. I thought they were supposed to be friendly?
I don't always take selfies, but when I do, I make sure there's a kangaroo in the background
I thought I was prepared for Australia but nothing could have prepared me for the size of these spiders
I've seen more snakes in Australia than I have people. Is that normal?
The only thing more Aussie than a meat pie is having it with a side of Vegemite on toast
Trying to surf in Australia is like trying to ride a wild bull. I'm pretty sure I spent more time underwater than on my board
I'm not saying Australians are obsessed with BBQs but I'm pretty sure their national anthem is just a list of different types of meat
It's true what they say about Australia: everything is upside down. The toilets, the seasons and apparently even the accents
I'm not saying Australia is hot but I've never been so close to spontaneously combusting
When they say 'no worries' in Australia, they really mean 'get ready for an adventure'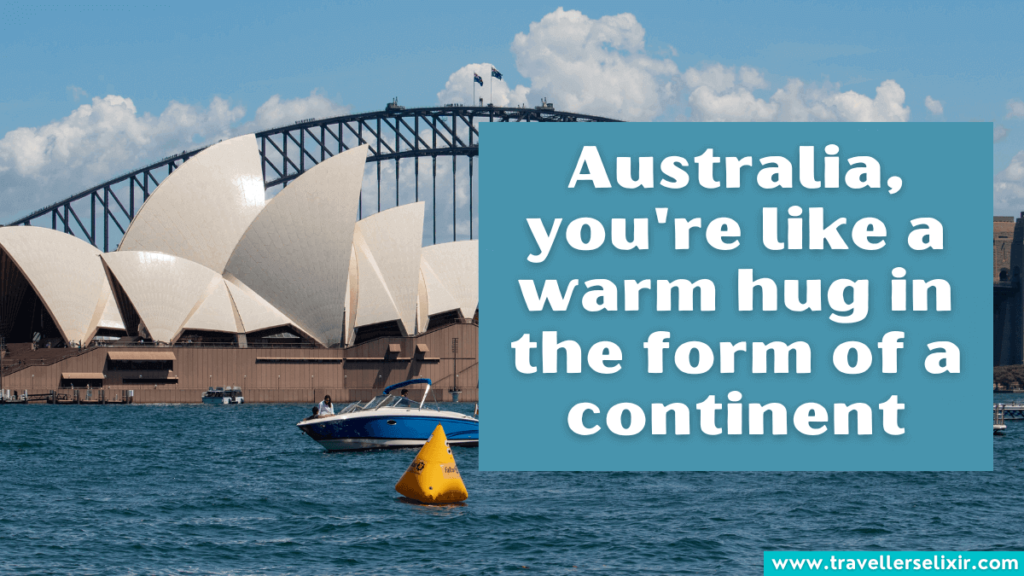 The only thing more impressive than the size of Australia is the number of different ways they can cook shrimp on the barbie
Just when I thought Australia couldn't get any cooler, I saw a koala riding a kangaroo
In Australia, everything tries to kill you…except for the beer. The beer is always friendly
I've seen enough spiders in Australia to last me a lifetime. I'm going back to civilization where the biggest threat is a squirrel stealing your picnic
I've never felt more like a tourist than when I tried to speak Australian slang. 'Fair dinkum', what does that even mean?
I'm pretty sure Australians invented the phrase 'no worries' just to make us all feel better about the dangerous wildlife
I tried to go for a run in Australia but I think I burnt more calories from swatting away bugs than from actual exercise
You May Also Like: Perth Instagram Captions
Short Australia Captions
See you later, mate!
Big cities and blue waves
Blissful moments in Australia
Wild at heart
Aussie vibes
Life is better down under
Meanwhile, in Australia…
Adventures down under
Embracing the Aussie spirit
Sun, sand and surf
And so the adventure begins
A land like no other
Outback hair, don't care
Australia, I'll be back
Exploring Oz
Up Next: Snorkeling Captions For Instagram
Funny Australia Puns
Spending koala-ty time together
What a Perth-fect day!
I Cairns believe I'm in Australia!
Don't worry. I'm Koalafied.
I Canberra to be away from you
You say it's your Perth-day
My Australia puns are koala-ty
I love Australia. I'm just wondering wallaby back?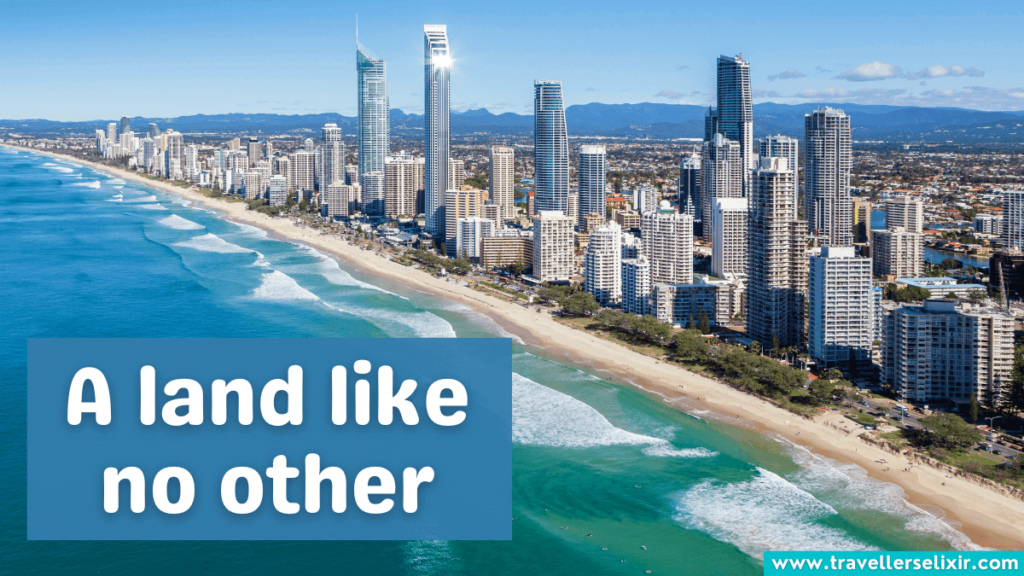 For Dar-win
Ding, ding, ding-o
Don't worry, be hoppy
You're the Brisbane of my existence
Feelin' hoppy when we're together
We're Perth-fect for each other!
I thought I Vegemite like this place
Up Next: Best Airplane Captions For Instagram
Inspirational & Beautiful Australia Captions
There's something beautiful about exploring unknown places
They say you leave a piece of your heart wherever you go. I think I left mine in Australia
Australia, you've shown me what it means to truly live and enjoy life
I don't know how to explain it but there's something about Australia that just feels like home
Always chasing the wanderlust
Australia, you've given me some of the best memories of my life. I can't wait to come back for more
Australia will always be on my mind
I never knew a country could have so much personality, but Australia, you're full of surprises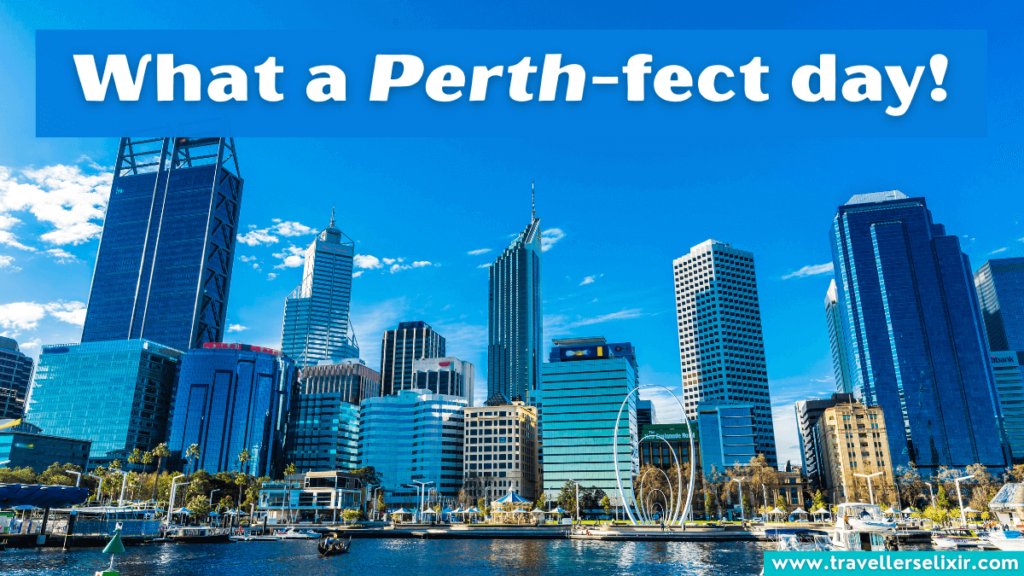 From the beaches to the bush, Australia has it all. I'm so grateful to have experienced this incredible country
Be the girl who decided to go for it
From the Great Barrier Reef to Uluru, every part of Australia is unique and beautiful in its own way
I've been to a lot of amazing places but Australia, you're definitely at the top of my list
We travel not to escape life but for life not to escape us
I may have left Australia but a part of me will always belong to this incredible country
I came to Australia as a visitor but now I feel like a part of the family. Thank you for welcoming me with open arms
I never thought a place could make me feel so happy and so alive. Australia, you have my heart
Watching the sun go down on an Australian beach has to be the closest thing to heaven on Earth
I've seen a lot of sunsets in my life but there's something extra special about the ones in Australia
I'm not sure if it's the beaches, the wildlife or the people but something about Australia just feels magical
You Might Also Like: Safari Instagram Captions
Australia Quotes For Instagram Captions
"Australia is about as far away as you can get. I like that." – Andre Benjamin
"Australia, where the sun is warm, the people are friendly and the beauty is eternal." – Traveller's Elixir
"People who say, 'there's nothing to fear from spiders' have clearly never been to Australia." – Cate Blanchett
"Australia is a place where nature wears her finest dress and invites you to dance." – Traveller's Elixir
"When I have a bad day, I dream about opening up a gelato stand on the streets of Sydney, Australia. Doesn't everyone have a random escape fantasy?" – Nancy Lublin
"In Australia, you don't just see the beauty, you feel it in your bones and in your soul." – Traveller's Elixir
"I think Melbourne is by far and away the most interesting place in Australia, and I thought if I ever wrote a novel or crime novel of any kind, I had to set it here." – Peter Temple
"Australia is not just a country, it's a feeling of awe and wonder that will stay with you forever." – Traveller's Elixir
"Australia is just so full of surprises." – Bill Bryson
"The magic of Australia is not just in its landscapes but in the way it touches your heart and soul." – Traveller's Elixir
"Even the Australians don't know how beautiful their own country is." – Brian Cox
"Australia is the land where dreams are made of, where the wilderness calls and adventures await." – Traveller's Elixir
"Alone of all the races on earth, they seem to be free from the 'grass is greener on the other side of the fence' syndrome, and roundly proclaim that Australia is, in fact, the other side of that fence." – Douglas Adams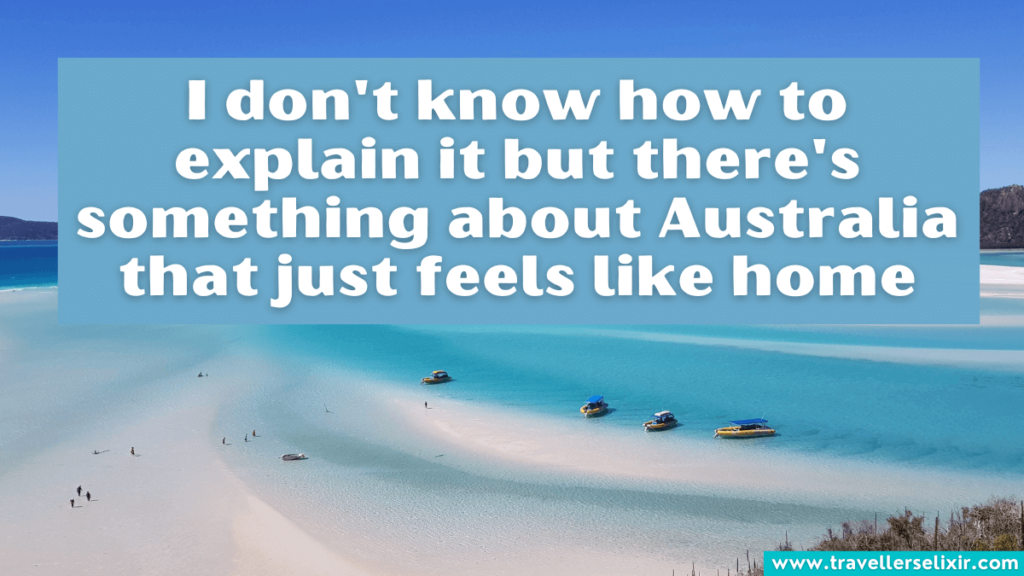 "The beauty of Australia lies not just in its natural wonders but in the way it connects people to the land." – Traveller's Elixir
"It's the colours, the light, the space. It's really very deep in my soul… In the Australian bush and inland deserts, there is a sense of being the first person in a place." – Suzanne Cory
"In Australia, you can find serenity in the vastness of the outback and joy in the simplicity of beach life." – Traveller's Elixir
"I think Australia has to be a country which has the 'Welcome' sign out." – Paul Keating
"Australia is a place where you can lose yourself in the beauty of the world and find yourself in the process." – Traveller's Elixir
"Don't worry about the world ending today; it's already tomorrow in Australia." – Charles M. Schulz
"Australia is a land of contrasts, where rugged landscapes meet stunning beaches and ancient culture meets modern innovation." – Traveller's Elixir
"Australians have a free spirit and an ability to think outside the box, and that is why I like Australia so much." – Brian Schmidt
"In Australia, the sky is bluer, the stars shine brighter and the sunsets are more breathtaking than anywhere else in the world." – Traveller's Elixir
"Leaving Australia was the hardest thing I have ever done." – Barry Gibb
"Australia is not just a place to visit, it's a place to fall in love with." – Traveller's Elixir
"After going to Australia, it's hard to go anywhere after that. I want to move there. I'm obsessed with it." – Nina Dobrev
"Australia is a living masterpiece, where the natural world is the canvas and the beauty is never-ending." – Traveller's Elixir
"Australia, to the rest of the world, is just far away, and Australia in the Thirties was the faraway of the faraway." – Baz Luhrmann
"I think Australia is pretty much living the last day on Earth in a lot of ways." – Nathan Phillips
"Australia is where the land meets the sea, where the heart meets the soul and where the adventure meets the journey." – Traveller's Elixir
"A continuing narrative throughout Australia's history that says it is better to build up than to tear down." – Kevin Rudd
"Once people come to Australia, they join the team." – Tony Abbott
"There's an ease that I have living in Australia. The best things about Sydney are free: the sunshine's free, and the harbour's free, and the beach is free." – Russell Crowe
"In Australia, you can find beauty in the smallest details and wonder in the grandest landscapes." – Traveller's Elixir
"Summer in Adelaide: the nourishing and destructive golds, the soft fruit and the fire." – Kerryn Goldsworthy
Up Next: Sunny Day Captions For Instagram
Australia Hashtags For Instagram Likes
#australia
#australiagram
#seeaustralia
#australiatravel
#australiatrip
#australia_shotz
#exploreaustralia
#australia_oz
#travelaustralia
#australialife
#visitaustralia
#exploringaustralia
#takemetoaustralia
#wildlifeofaustralia
#discoveraustralia
#australialovesyou
#outbackaustralia
#madeinaustralia
You May Also Like: Best Road Trip Instagram Captions
---
I hope you found my list of the best Australia Instagram captions helpful and inspiring for your next trip down under.
From the iconic landmarks to the stunning beaches, Australia has a lot to offer and these captions will help you share your experience with your followers in a fun and creative way.
You can also follow me on Instagram (@travellerselixir) and tag me in your photo for a share on my story!
Related Posts: