As you stroll along the Swan River or explore the charming streets of Fremantle, you'll discover countless moments begging to be captured and shared with the world.
But what's a stunning photo without an equally captivating caption?
Fear not, because I've got you covered! I've come up with the best Perth Instagram captions that will add a touch of wit, charm and local flair to your posts.
Best Perth Instagram Captions
Cute Perth Captions For Instagram
Today's forecast: 100% chance of surfing and sunshine
Perth is about as far away as you can get. I like that
All she does is surf, surf, surf
Life is better down under
You can leave Perth but it will never leave you
Exploring Perth like a boss: one bite of Vegemite toast at a time
Perth vibes: sunshine, smiles and a healthy obsession with avo toast
The ocean is salty but I'm pretty sweet at surfing
Perth: where flip-flops are the official footwear
I came, I saw, I got sand in places I didn't know existed. Thanks Perth!
They say 'west is best' and after visiting Perth, I couldn't agree more
Perth, you had me at 'g'day mate' and sealed the deal with your breathtaking landscapes
If life gives you lemons, make a refreshing glass of West Australian lemonade in Perth
Time to put some shrimp on the barbie…
Perth: where 'down under' takes on a whole new meaning
Sand between my toes, bliss in my soul
Up Next: Australia Captions For Instagram
Funny Perth Captions & Perth Puns
Having a Perth-fect day!
Wow this place really does have a lot of Perth-onality
I'm such a Perth-fectionist!
Don't take it Perth-onally…
Life is just Perth-fect here
You're the swan that I want
Eliza on you!
Did I mention it's my Perth-day?
Perth's up!
Surf-ice to say, I love surfing in Perth
Ready for some koala-ty time in Perth
Soul surfer
Sea you on the next wave
Getting my dose of vitamin sea
Beach please! Perth is shore to steal your heart
Seas the day
Ready to swan-der through the streets of Perth
You May Also Like: Melbourne Captions For Instagram
Short Perth Captions
The Sunset Coast
A little place called Perth
Endless summer
From Perth, with love
Surf's up!
Sun, sand, and surf
Daydreaming in Perth
Big city and blue waves
Don't worry. Get sandy
P.S. I love Perth
Sun, Sand, Perth
Tangled hair, don't care
G'day mate
Beach bliss
Catch waves, not feelings
Paradise found in Perth
Quokka love
Postcard from Perth
Up Next: Bali Captions For Instagram
Beautiful & Inspirational Perth Captions
Our memories of Perth will linger on, long after our footprints in the sand are gone
Somewhere between living and dreaming, there's Perth
Lost in the beauty of Perth but found a piece of my soul
Found my happy place in Perth
Lost in the charm of Perth's streets, where every turn is a delightful surprise
Perth, a place where dreams danced with reality, and every moment felt like a gentle whisper of serendipity
Perth, you awakened my sense of wonder and filled my days with pure bliss
Not leaving anything behind in Perth but my heart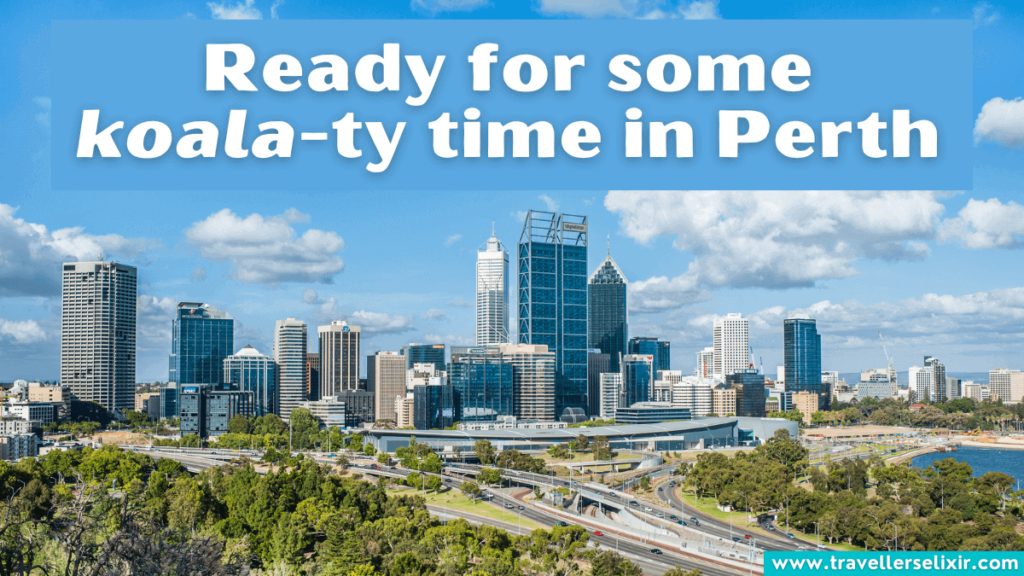 Leave a little saltwater wherever you go
This city stole my heart in the sweetest way
Perth stole my heart and sprinkled it with sunshine
Perth, you painted my world with vibrant colors and filled my heart with everlasting joy
Home is where the heart is and the heart is in Perth
All my troubles wash away in the water
Perth, a place where time stood still, and each passing moment felt like a precious gift
Leaving footprints in the sand but taking memories of Perth with me wherever I go
You May Also Like: Airplane Instagram Captions
Perth Quotes For Instagram Captions
"I love Perth. It is my home, and no matter where I am in the world, Perth is where my heart is." – Kerry Stokes
"Perth, where golden sunsets kiss the horizon and my soul finds its serenity." – Traveller's Elixir
"Don't worry about the world ending today; it's already tomorrow in Australia." – Charles M. Schulz
"In Perth's vibrant tapestry of culture and nature, I found my inspiration, my muse, my ultimate escape." – Traveller's Elixir
"There's a sunrise and a sunset every single day and they're absolutely free. Don't miss so many of them." – Jo Walton
"In the heart of Perth, nature weaves its masterpiece, painting the city with hues of beauty and wonder." – Traveller's Elixir
"Leaving Australia was the hardest thing I have ever done." – Barry Gibb
"Lost in the embrace of Perth's coastal grace, I found a piece of paradise to call my own." – Traveller's Elixir
"The world only exists in your eyes. You can make it as big or small as you want." – F. Scott Fitzgerald
"Perth's landscapes unfold like a love story, captivating hearts with every step and whispering secrets of everlasting beauty." – Traveller's Elixir
"The ocean makes me feel really small and it makes me put my whole life into perspective." – Beyoncé
"Amidst the gentle breeze and swaying palm trees, Perth welcomes you with open arms, inviting you to discover its captivating essence." – Traveller's Elixir
"There is nothing more musical than a sunset." – Claude Debussy
"Perth, where time stands still, and the beauty of the moment takes center stage. A city that makes your heart skip a beat." – Traveller's Elixir
"In the arms of Perth's breathtaking scenery, I discovered the true meaning of wanderlust – the unquenchable thirst for life's extraordinary experiences." – Traveller's Elixir
Up Next: Sunset Captions For Instagram
Perth Hashtags For Instagram Likes
#perth
#perthlife
#perthisok
#perthfood
#pertheats
#perthtodo
#perthcity
#perthfoodie
#perthgram
#perthblogger
#perthgrub
#perthfoodies
#perthwa
#perthhappenings
#perthnow
#perthaustralia
#pertharchitecture
#perthstyle
#perthvibes
#igersperth
You May Also Like: Best Road Trip Captions For Instagram
---
And there you have it – my collection of the best Perth Instagram captions that will elevate your social media game and make your posts stand out from the crowd.
Whether you're a local showcasing the hidden gems of your city or a visitor capturing the essence of Perth's beauty, these captions will add that extra sparkle to your photos.
Related Posts: