Get your cameras ready and prepare to embark on a virtual journey through the captivating streets of Melbourne.
As you wander through its laneways and soak up the eclectic culture, you can't help but feel inspired to share your Melbourne adventure with the world.
I've come up with the best Melbourne Instagram captions that are designed to capture the essence of this cosmopolitan city whilst adding a touch of wit and charm.
Best Melbourne Instagram Captions
Cute Melbourne Captions For Instagram
Living for adventure in Melbourne
I followed my heart, and it led me to Melbourne
Big cities and blue waves
Nothing but blue skies and heart eyes
Lost in Melbourne's laneways
Melbourne, you had me at 'G'day'
I fell in love. His/her name is Melbourne
People never forget two things: their first love and their first day in Melbourne
I left my heart down under
Tomorrow is a good day, I know because I'm in a time zone ahead of you
Follow your heart, even if it takes you all the way to Melbourne
If Melbourne were a person, it would be the cool, quirky friend who always knows the best hidden spots in town
Melbourne: where we measure time in coffee breaks
Melbourne, you've taken me from 'tourist' to 'honorary Aussie' in just a few days
Home is where the heart is and the heart is in Melbourne
If exploring Melbourne's laneways was an Olympic event, I'd be a gold medalist in getting lost
Melbourne: the land of secret bars and hidden speakeasies. Shhh, don't tell the tourists!
Just a wanderer in Melbourne, chasing street art and my next caffeine fix
If Melbourne were a superhero, its power would be the ability to make you fall in love at first sight
Melbourne, you've got me saying 'G'day' with a smile every day
Up Next: Australia Instagram Captions
Funny Melbourne Captions & Melbourne Puns
I was Melbourne for this!
Baby, I was Melbourne this way
Don't worry. I'm Koalafied
The Melbourne Identity
Getting a latte love from Melbourne
Yarra-ving a laugh
Beach you to it!
I'll be sea-ing you real soon Melbourne
Melbourne, you've bean good to me
I'm just a-mazed by Melbourne's laneways!
Melbourne has tram-endous transportation
The coffee in Melbourne is just brew-tiful
You May Also Like: Perth Captions For Instagram
Short Melbourne Captions
G'day Melbourne
Take me back to Melbourne
Melbourne magic
Coffee-fueled adventures
Cityscape dreams
Wanderlust & city dust
Melbourne love affair
Daydreaming in Melbourne
Melbourne madness
See you later, mate
Melbourne, my muse
Melbourne, I'm yours!
Coffee and wanderlust
Melbourne at dusk
Laneway wanderer
Up Next: Bali Captions For Instagram
Beautiful & Inspirational Melbourne Captions
Lost in the magic of Melbourne's streets, finding pieces of my heart with every step
In Melbourne, I discovered that home isn't always a place – it can be a feeling
Melbourne, you whispered secrets to my soul and painted dreams on my heart
Amongst Melbourne's bustling crowds and vibrant energy, I found a piece of myself that had been missing
Melbourne's charm lies not just in its stunning architecture and captivating laneways but in the way it makes you feel alive and inspired with every breath
Melbourne, you've etched yourself in my soul. Until we meet again
Melbourne, you taught me that the greatest adventures are often found in the most unexpected places
Exploring Melbourne felt like diving into a storybook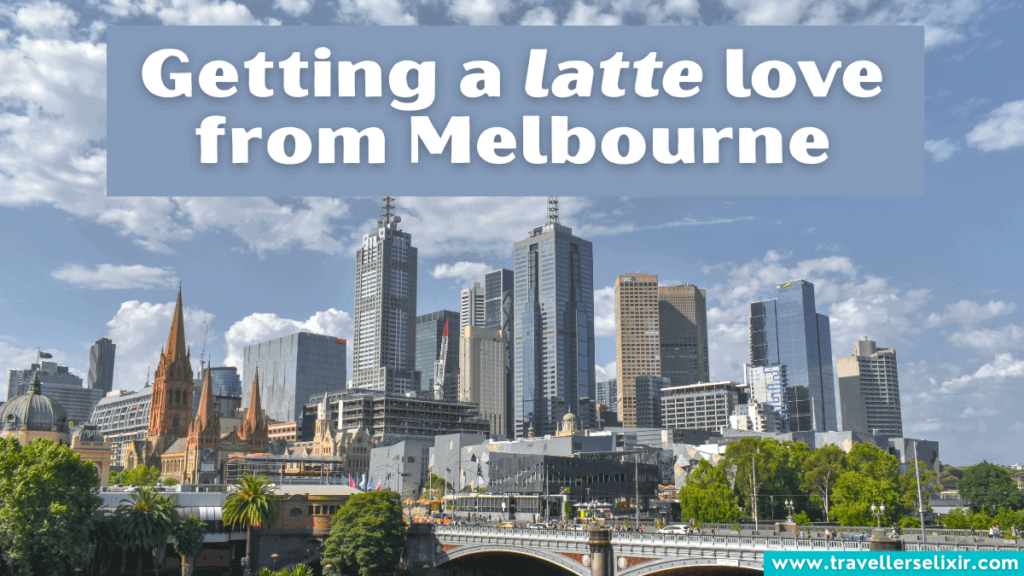 Melbourne, you're not just a city – you're a symphony of cultures, flavors and dreams
Melbourne, where dreams become a reality and possibilities are as endless as the horizon
Melbourne, you reminded me that life is about savoring every moment, cherishing every encounter and embracing the joy of simply being
In the heart of Melbourne, I found a symphony of laughter, love and shared experiences
Up Next: Best Sun Instagram Captions
Melbourne Quotes For Instagram Captions
"Melbourne is the kind of town that really makes you consider the question 'Is there life after death?'" – Bette Midler
"Melbourne whispers tales of wanderlust, inviting you to dance with its vibrant spirit." – Traveller's Elixir
"I think Melbourne is by far and away the most interesting place in Australia, and I thought if I ever wrote a novel of any kind, I had to set it here." – Peter Temple
"Wherever you go, go with all your heart." – Confucius
"In Melbourne's embrace, I discovered that adventure begins where the comfort zone ends." – Traveller's Elixir
"On Melbourne summer mornings the green trams go rolling in stately progress down tunnels thick with leaves: the bright air carries along the avenue their patient chime, the chattering of their wheels." – Helen Garner
"Lost in Melbourne's mosaic of cultures, I found a piece of myself." – Traveller's Elixir
"So far, my trip in Australia has been absolutely lovely – wonderful country, wonderful people…and then there's Melbourne." – Lauren Southern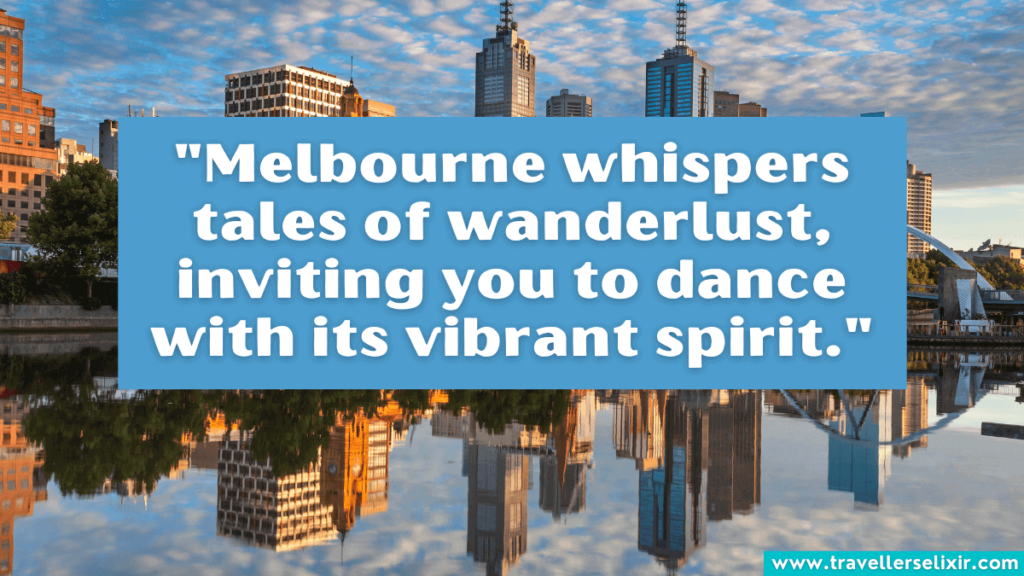 "Melbourne, where time stands still amidst the kaleidoscope of art and life." – Traveller's Elixir
"Melbourne, where I grew up, is one of the street art capitals of the world. Something about discovering freshly painted walls always fills me with optimism; it's autonomous and democratic, and reminds me that maybe people are paying attention after all." – Penelope Mitchell
"Exploring Melbourne's nooks and crannies, I found beauty in the unexpected and it filled my soul with wonder." – Traveller's Elixir
"I just love the culture of Melbourne." – Yvonne Strahovski
"Melbourne is my type of city, much more so than Sydney." – Morris Gleitzman
"I have visited Australia several times, and I always try to make a point of going to Melbourne because it's almost my favorite city there, Melbourne and Sydney." – Jackie Collins
"Melbourne's charm weaves a tapestry of memories, forever etched in my heart." – Traveller's Elixir
"The great thing about coming to Melbourne is that people talk about Sydney being the food capital but Melbourne is a lot more; it has that residential feel, a feeling of homeliness. When you go to restaurants, it's known as a creative, artistic city. That's what you get with the food." – Ainsley Harriott
"I love Melbourne and South Yarra's perfect for high tea." – Adriano Zumbo
"Exploring Melbourne's streets, I found beauty in the details and inspiration in every step." – Traveller's Elixir
You May Also Like: Best Airplane Captions For Instagram
Melbourne Hashtags For Instagram Likes
#melbourne
#melbournefoodie
#melbournefood
#melbourneeats
#melbournelife
#melbournecity
#melbourneiloveyou
#melbournearchitecture
#melbournecoffee
#melbournebrunch
#melbournestreetart
#melbournestyle
#melbourneblogger
#melbourneart
#melbournemade
#melbournesights
#melbournephotography
#melbourne_insta
#melbourne_photoblog
Up Next: Best Rooftop Captions For Instagram
---
With these Melbourne Instagram captions, you're now equipped to amplify the magic of your experiences and share the allure of this enchanting city with your online community.
From the iconic landmarks to the hidden gems, Melbourne offers a never-ending array of photogenic moments just waiting to be captured and immortalized on your feed.
Related Posts: