Do you want to capture the perfect moment when the sun dips below the horizon but struggle to find the right words to accompany your stunning photos?
Look no further! I've compiled a list of the best sunset Instagram captions that will take your posts from bland to grand.
Whether you're looking for something poetic, funny or just downright cool, I've got you covered.
P.S. Follow me on Instagram (@travellerselixir) and tag me in your photo so I can share it!
Best Sunset Instagram Captions
Funny Sunset Captions & Sunset Puns
Orange you glad we saw this sunset?
The sun is setting and so are my worries!
I'm solar-powered but only during sunsets
It's sun-derful to watch a sunset with friends
A sunset a day keeps the doctor away!
I think my heart is going to sunburst!
Wow, this sunset really is wonder-sol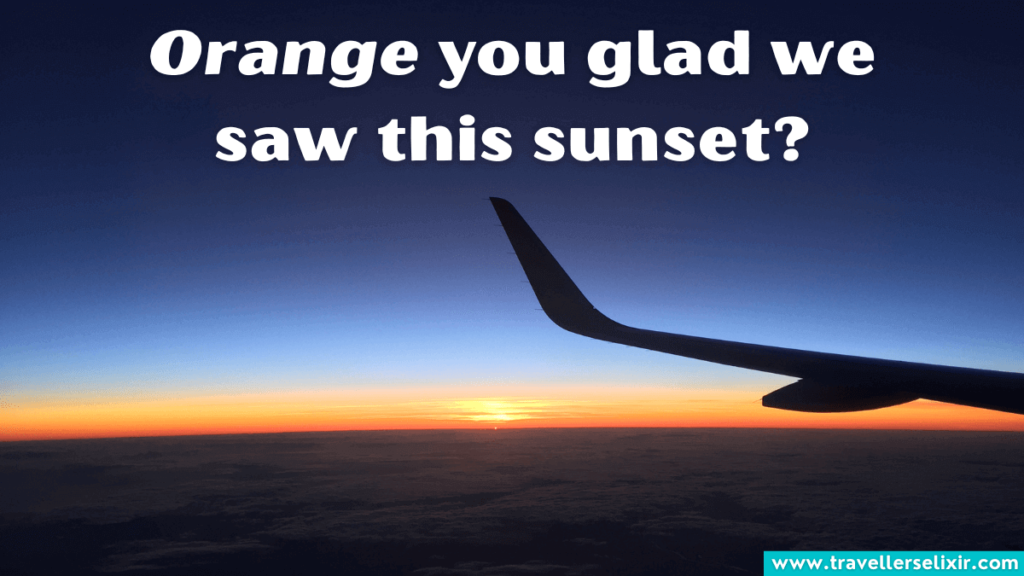 Sunsets are like a work of heart
Here comes the sunset
Race to the sunset? I bet I'll beach you there
You rays me up
Sol mates!
Stop glare-ing at me, I'm trying to watch the sunset!
Sun of a beach, that's a nice sunset!
Imma set you finish but…
See ya later sun, it'll be dark without ya
I pink this sunset is beautiful
Girls just wanna have…sun?
I'm golden on for dear life!
I'm sunbeam-ing with delight at this sunset
Wow that's really out of shine
Next Up: Road Trip Instagram Captions
Cute Sunset Captions
Don't be afraid to let your light shine, even during a sunset!
That moment when the sun dips below the horizon and you're left starry-eyed
You can never watch too many sunsets
Sunsets are one thing in life that won't wait
I've never met a sunset I didn't like
Everything is fine where there is sunshine
My life feels brighter because of this sunset…literally
You can't watch a sunset and then not dream
Many things in life can wait, but the sunset won't
One thing's for sure. I need more sunsets in my life
Sunset, palm trees and ocean breeze
Happiness is… the sun setting over a beach
A sunset that good doesn't need a filter
Watch more sunsets than Netflix
Golden hour is my happy hour
Sunset. That's my favorite color
You May Also Like: Instagram Captions For Sunny Days
Short Sunset Captions
Sunset state of mind
Born to chase sunsets
Love like a sunset
Pink haze, perfect days
Grateful for sunsets
Sand, sea and sunsets
Ok Mother Nature, you win
Here I am, collecting memories
Forever chasing sunsets
Even the sun sets in paradise
All you need is love and sunsets
3…2…1…sunset!
The sun is saying goodnight
Cherish every sunset
Ride off into your sunset
Fifty shades of pink
Puesta de sol
That's my kind of light show
Cotton candy sunsets
It's the simple things
We all see the same sunset
Next Up: Hiking Instagram Captions
Beautiful & Inspirational Captions About Sunsets
All I ever wanted was to dream another sunset with you
She could still see the sunset, even on those darkest days
Sunset is the opening music of the night
Sunsets exist somewhere between heaven and earth
Sunset is nature's goodnight kiss
I want to spend the rest of my sunsets with you
A promise of a new tomorrow
Something beautiful is on the horizon
I dream in the colors of the sunset
Dreams are made of sand and sunsets
Let's go somewhere where the sun kisses the ocean
Sunsets are proof that endings can be beautiful too
The sun goes down, the moon comes up and life goes on
The only kinds of sunsets that I don't like are the ones that I missed
I live for sunsets with you
You May Also Like: Waterfall Captions For Instagram
Beautiful Sunset Quotes
"A sunset is like a symphony of light, a masterpiece that leaves us in awe and wonder, grateful to be alive to witness its magic." – Traveller's Elixir
"Sunsets are proof that no matter what happens, every day can end beautifully" – Kristen Butler
"The sun may set, but its warm embrace lingers on, painting the sky with a canvas of colors that reminds us of the beauty of life." – Traveller's Elixir
"A sunset is the sun's fiery kiss to the night" – Crystal Woods
"Every sunset brings the promise of a new dawn" – Ralph Waldo Emerson
"Never go too long without watching a sunset" – Atticus
"Watching the sunset is like witnessing a miracle, a fleeting moment of beauty that reminds us to slow down and appreciate the simple things in life." – Traveller's Elixir
"Don't forget, beautiful sunsets need cloudy skies" – Paulo Coelho
"The sunsets you see will always be better than the ones you don't" – Karen Joy Fowler
"Are you dreaming? Stop dreaming, come and watch the sunset, it is better than all the dreams!" – Mehmet Murat Ildan
"Meet me where the sun touches the sea" – Jennifer Donnelly
"Every sunset is also a sunrise, it just depends on where you're standing" – Karl Schmidtt
"As the sun sets, it casts a spell of serenity over the world, a moment of stillness before the night awakens." – Traveller's Elixir
"There's a sunrise and a sunset every single day, and they're absolutely free. Don't miss so many of them" – Jo Walton
"The sun loved the moon so much that he died every night just to let her breath." – Anonymous
"The sunset is a daily reminder that endings can be beautiful, that even the darkest of days can end with a burst of color and hope." – Traveller's Elixir
"All I ever wanted was to dream another sunset with you" – Mayday Parade
"Every one of a hundred thousand cities around the world had its own special sunset and it was worth going there, just once, if only to see the sun go down" – Ryu Murakami
"The sunset whispers to me of promises yet to be fulfilled, of dreams yet to be realized, of hope yet to be born." – Traveller's Elixir
"Her heart was made of liquid sunsets" – Virginia Woolf
"There's too many things I haven't done yet. There's too many sunsets I haven't seen" – Sara Bareilles
"The sunset is nature's way of reminding us that even the most beautiful things in life are fleeting, and that we should cherish every moment while we can." – Traveller's Elixir
"When the sun whispers goodbye in soft gold, it hugs the Earth as one beautiful soul" – Angie Weiland-Crosby
"Watching the sunset is like a meditation, a moment of mindfulness where we connect with the beauty of the present moment and let go of the worries of the day." – Traveller's Elixir
Up Next: Rooftop Instagram Captions
Sunset Hashtags For Instagram Likes
#sunsetlovers
#sunsetphotography
#sunsetlover
#sunsets
#sunsetpainting
#sunsetmadness
#sunsetbeach
#sunsetsky
#sunsetgram
#sunsetcaptures
#sunset_pics
#sunsetshots
#sunsetcolors
#sunsetshimmer
#sunsetphoto
#sunsetchaser
#sunsetlove
#sunsetvibes
---
As the sun sets on this list of the best sunset Instagram captions, I hope you've found some inspiration to add a little extra magic to your posts.
From heartfelt quotes about sunset to witty sunset puns, there's no shortage of ways to capture the beauty of these fleeting moments.
If you liked this post then you may also like these super fun sunrise Instagram captions too!
And don't forget to follow me on Instagram (@travellerselixir) and tag me in your photo for a share!