There's something truly special about watching the world wake up as the sky transforms from darkness to a warm golden glow.
But let's face it, finding the perfect caption to accompany your sunrise picture can be a challenge.
That's why I've compiled a list of the best sunrise Instagram captions that will perfectly capture the beauty and serenity of this daily miracle.
P.S. Follow me on Instagram (@travellerselixir) and tag me in your photo for a share on my story!
Best Sunrise Instagram Captions
Cute Sunrise Captions For Instagram
My favorite color is sunrise
I will always be that girl who gets excited when the sky turns pretty colors
May the sun shine not on you, but within you
Sometimes it's worth not pushing that snooze button
My favorite combo: sunrise and coffee
Sunrise: proof the best things in life are free
I got a pocket full of sunshine
Let there be light!
Sunrise, coffee, adventure
Here comes the sun doo doo doo doo
Sunrise is one of the most beautiful times of the day
My alarm clock and the sunrise have an ongoing battle for my attention
Watch more sunrises than Netflix
So glad I got up early for this!
Wake up for the sunrise. Stay out for the moon
When the sunrise is so good, you forget about how little sleep you got
What a splendid pleasure it is to say good morning to the morning sun
This sunrise is like a cup of coffee for my eyes
I'm not a morning person but the sunrise seems to think otherwise
Rise and shine, it's time to take on the world!
The sky was looking cute, so as a good friend, I snapped a pic of it
Sunrise: because who needs a snooze button when you have something this beautiful to wake up to?
I never thought I'd say this, but the sunrise almost makes me want to be a morning person. Almost
I'm just here for the sunrise and the promise of a nap later
Sunrise or sunset? Honestly I can't tell anymore, I'm too tired
There's nothing quite like a sunrise to light up your day
This sunrise is a real ray of sunshine, literally
Sunrise, the perfect excuse to wear sunglasses at an unreasonable hour
The sunrise is like a vitamin D supplement except it's free and comes with a great view
Sunrise on my mind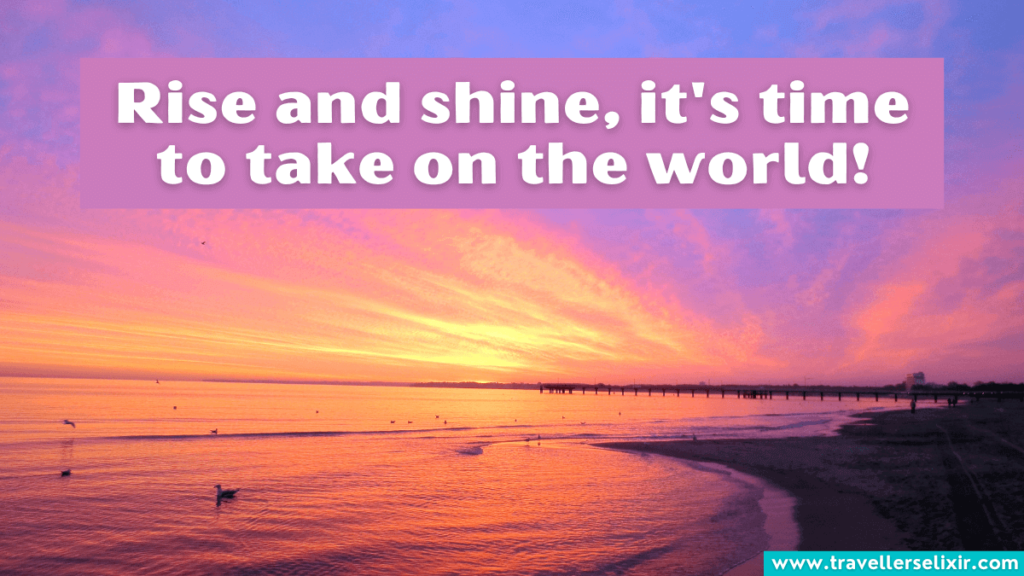 Sunrises are the best medicine
Sunrise: because sometimes the best things in life are worth waking up early for
A sunrise a day keeps the doctor away, at least, that's what I'm hoping for
I don't always wake up early, but when I do, it's to catch the sunrise
Up Next: Best Sunset Instagram Captions
Funny Sunrise Captions & Sunrise Puns
The sun and I decided to rise to the occasion
Orange you glad you woke up early for this sunrise?
Rise and shine? More like rise and whine until I see the sunrise
The sun is my sol mate
This sunrise has really brightened my day
Ray to go!
I'm always light
Couldn't figure out when sunrise was supposed to be this morning, luckily it finally dawned on me
Suns out, buns out!
A sunrise is always the sol-ution
Hey sun, I'd be in the dark without you
I woke up early and I'm feeling shine
Suns out, puns out
I ray-se you a sunrise!
Sol what?
So I had the bright idea to come and watch sunrise!
Solar-brate good times, come on!
Sun's up, puns out
Wow sun, you're so hot!
Baby you light up my world like nobody else
Come on sun, the world doesn't revolve around you! Oh wait…
You May Also Like: Sun Instagram Captions
Short Sunrise Captions
Rise and shine!
Dawn's first light
Good morning sunshine
New day, new beginning
Professional daydreamer
Nature's alarm clock
Early morning bliss
Painted skies
The calm before the day
Sky on fire
Early bird vibes
Another chance to shine
Morning magic
Waking up with the sun
Chasing the sunrise
Wake up with the world
Colors of the dawn
Soak up the sun
Let the day begin
First light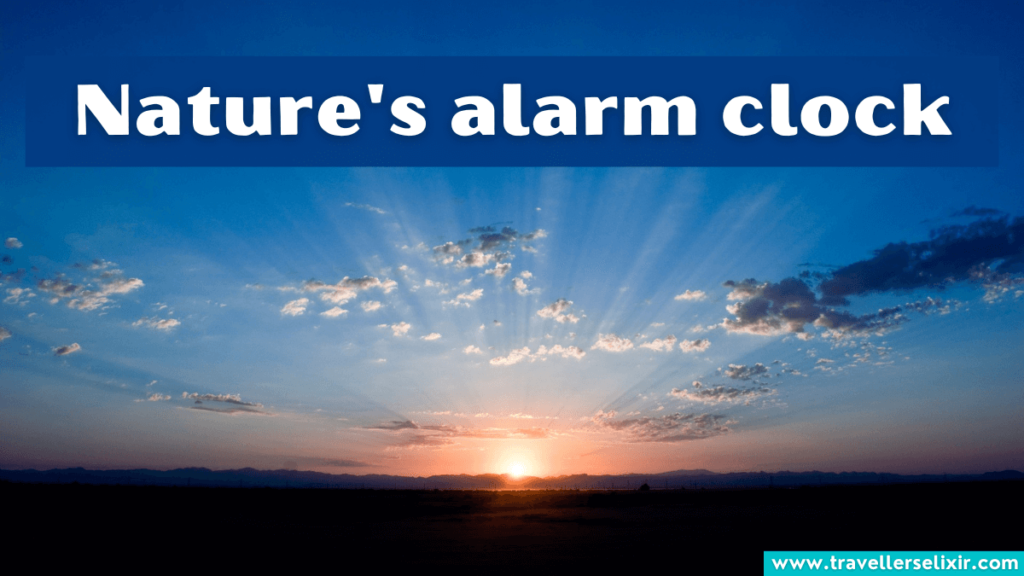 Start of something beautiful
Sunrise, coffee, repeat
Sunkissed
Get your shine on
Up Next: Mountain Instagram Captions
Inspirational & Beautiful Sunrise Captions
Even the darkest night will end and the sun will rise
The sunrise is like a daily reminder that life is full of beauty and wonder, if only we take the time to look for it
Watching the sunrise reminds me that every day is a new beginning
At sunrise, every soul is born again
There's nothing like starting the day with a breathtaking sunrise
Another day is breaking, bright sunshine upon waking. I rise to greet the morning light, more memories in the making
There's a sunrise and a sunset every single day and they're absolutely free
Sunrise reminds us that while there are clouds in life, the beauty is in the way the light shines through them
The sunrise is nature's way of telling me that it's time to stop watching Netflix and go outside
Every sunset is also a sunrise, it all depends on where you stand
Every sunrise is a gift. Embrace it and make the most of it
Sunrise: the daily reminder that we're blessed with a new day and endless possibilities
Cherish the times you can watch the sunrise, there's only so many in a lifetime
The sunrise reminds us that every day is a new beginning, full of endless possibilities
Someday, you will find the one who will watch every sunrise with you until the sunset of your life
The key is to enjoy every sunset, and look forward to every sunrise
Serenity in its finest form
Come sit with me, and we can watch the sun stretch in the sky as our city wakes
Life is getting up an hour early to live an hour more
The sunrise is a reminder that there is always light to be found even in the darkest of times
She's always preferred sunrises over sunsets… she likes beginnings
Sunrise is the first miracle of the day
May the sunrise bring you peace and fill your soul with possibility
Today is the beginning of whatever you want
For one minute, walk outside, stand there in silence, look up at the sky and contemplate how amazing life is
Something beautiful is on the horizon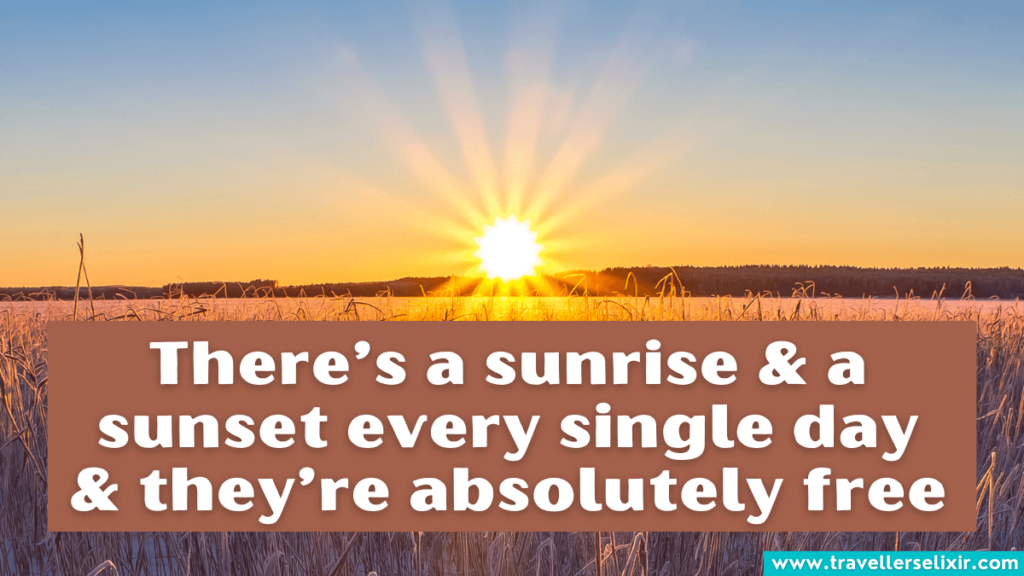 Up Next: Hiking Instagram Captions
Sunrise Quotes For Instagram Captions
"Another sunrise, another new beginning." – Jonathan Lockwood Huie
"A sunrise is like a gift from the universe, a gentle reminder that the world is full of wonder and magic." – Traveller's Elixir
"There was never a night or a problem that could defeat sunrise or hope." – Bernard Williams
"We need to be reminded sometimes that a sunrise lasts but a few minutes but its beauty can burn in our hearts eternally." – R. A. Salvatore
"The beauty of the sunrise is like a symphony of light and color, an orchestra of nature's finest moments." – Traveller's Elixir
"It's almost impossible to watch a sunrise and not dream." – Bernard Williams
"Let the beauty of sunrise keep your heart warm." – Lailah Gifty Akita
"I wake up before the sun rises because I like to watch it rise. By observing nature, I can feel a life force. I look outside my window to the sky and tell myself that this is going to be the best day of my life." – Tao Porchon-Lynch
"Every sunrise is an invitation to brighten someone's day." – Jhiess Krieg
"The sunrise is like a painting come to life, with each brushstroke of color creating a masterpiece in the sky." – Traveller's Elixir
"Nothing can dim the light which shines from within." – Maya Angelou
"Opportunities are like sunrises. If you wait too long, you miss them." – William Arthur Ward
"The secret to a good morning is to watch the sunrise with an open heart." – Anthony T. Hincks
"A sunrise is a moment of pure magic, a reminder that even the most ordinary things can be transformed into something extraordinary." – Traveller's Elixir
"There was never a night or a problem that could defeat sunrise or hope." – Bernard Williams
"We can only appreciate the miracle of a sunrise if we have waited in the darkness." – Sapna Reddy
"A night can never defeat the sunrise." – Sumit Sharma
"The beauty of the sunrise is like a secret whispered from the universe, a precious and intimate moment that we are lucky to witness." – Traveller's Elixir
"What I know for sure is that every sunrise is like a new page, a chance to right ourselves and receive each day in all its glory. Each day is a wonder." – Oprah Winfrey
"At sunrise, the blue sky paints herself with gold colors and joyfully dances to the music of a morning breeze." – Debasish Mridha
"There's never one sunrise the same or one sunset the same." – Carlos Santana
"Each time I see a beautiful sunset or sunrise, I have to pinch myself because I can't believe that I'm awake and not dreaming." – Anthony T. Hincks
"Every sunrise is a poem written on the earth with words of light, warmth, and love." – Debasish Mridha
"Next time a sunrise steals your breath or a meadow of flowers leaves you speechless, remain that way." – Max Lucado
"To stand by the beds at sunrise and see the flowers awake is a heavenly delight." – Celia Thaxter
"A faint blush below the horizon, as the first kiss from the Sun wakes the Earth from its slumber." – Meeta Ahluwalia
"Sunrise looks spectacular in the nature; sunrise looks spectacular in the photos; sunrise looks spectacular in our dreams; sunrise looks spectacular in the paintings, because it really is spectacular!" – Mehmet Murat Ildan
"In the twilight of the morning, all life silently waits for the sunrise. Sun must rise for the darkness to sink!" – Mehmet Murat Ildan
"Everyday a million miracles begin at sunrise." – Eric Jerome Dickey
"Everyone should experience a sunrise at least once a day." – Phil Dunphy
"Even if you cover the whole world with darkness, you can never stop the sun from rising." – Debasish Mridha
"I wanted everybody to see a sunrise and be knocked out by the miracle of it, the world being created every morning." – Mordicai Gerstein
"The sunrise, of course, doesn't care if we watch it or not. It will keep on being beautiful, even if no one bothers to look at it." – Gena Amole
"The sky takes on shades of orange during sunrise and sunset, the colour that gives you hope that the sun will set only to rise again." – Ram Charan
"Sunrise paints the sky with pinks and the sunset with peaches." – Vera Nazarian
"There's a sunrise and a sunset every single day, and they're absolutely free. Don't miss so many of them." – Jo Walton
"May every sunrise hold more promise and every sunset hold more peace." – Umair Siddiqui
"Nature unfolds her treasure at the first ray of sunrise." – Kishore Bansal
"Each day is born with a sunrise." – Suzy Kassem
"If the sunset and sunrise are for sale, I will buy it even if it's expensive." – El Fuego
"Every now and then I sit and watch the sunrise to remind myself how it's done peacefully, steadily, warmly, and in beautiful color." – Richelle E. Goodrich
"Saw the sunrise. A lovely apricot sky with flames in it and then solemn pink. Heavens, how beautiful…I feel so full of love today after having seen the sunrise." – Katherine Mansfield
"With a bound, the sun of a molten fiery red came above the horizon, and immediately thousands of little birds sang out for joy, and a soft chorus of mysterious, glad murmurs came forth from the earth." – Elizabeth Gaskell
"There's always a sunrise and always a sunset and it's up to you to choose to be there for it." – Cheryl Strayed
"Climb up on some hill at sunrise. Everybody needs perspective once in a while, and you'll find it there." – Robb Sagendorph
"My love, we can close our eyes but we cannot stop the sunrise." – Kamand Kojouri
"Listen to the sunrise. See it's pretty hue. When you see it, think of me and I'll think of you." – Oksana Rus
You May Also Like: Airplane Instagram Captions
Sunrise Hashtags For Instagram Likes
#sunrisephotography
#naturelovers
#sunriseoftheday
#sunrise_and_sunsets
#sunrise_sunsets_aroundworld
#sunshine
#skylovers
#sunriselover
#sunrise_shotz
#sunrise_pics
#sunrisemind
#dawn
#travelphotography
#goodmorning
#sunrisers
#orangesky
#sunriseview
#landscapes
#skyphotography
#sunrisesky
Up Next: Road Trip Captions For Instagram
---
Whether you're a seasoned Instagrammer or just looking to share the beauty of the sunrise with your friends, I hope my list of captions has inspired you.
From inspirational quotes to playful puns, there's something for everyone to choose from.
And don't forget to follow me on Instagram (@travellerselixir) and tag me in your photo for a share.
Related Posts: