A great Instagram caption can add depth and meaning to a simple photograph and can capture the essence of the moment in just a few words.
In this post, I've compiled a list of the best mountain Instagram captions that will elevate your photos and help you express the beauty and wonder of the mountains.
Whether you're a seasoned mountaineer or just enjoy a good hike, these captions are sure to inspire you to explore the great outdoors and share your experiences with the world.
P.S. Don't forget to follow me on Instagram (@travellerslixir) and tag me in your photo for a share!
Best Mountain Instagram Captions
Best Mountain Puns
To summit up for you, I climbed a mountain
Time in the mountains is always snow much fun
I climbed a mountain, I'm the cl-Everest
I thought climbing a mountain would be a peak experience but it was really just a rocky road
Wow, climbing really Alps to clear your mind
There's snow place like the mountains
See this mountain? Let's go climate!
Slow down – don't you Everest?
Actions peak louder than words
Enjoying life in the snow lane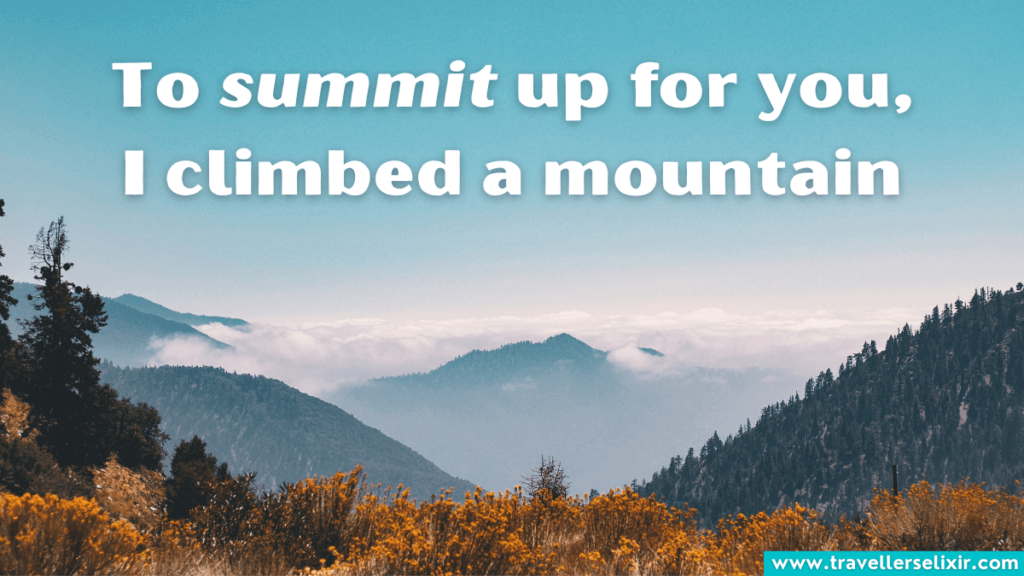 The s'more pictures, the merrier
Mountains are all the range
What a view, I've lost my terrain of thought
That view has really peaked my interest
Up Next: Hiking Instagram Captions
Funny Mountain Instagram Captions
Why don't mountains get cold in winter? They wear snow caps!
It's just a mountain, get over it
I saw a mountain and it made me want to break out into a rendition of 'The Hills Are Alive' from The Sound of Music
I saw a mountain and decided to climb it. Three hours later, I realized I probably should have packed a snack
Who needs a gym membership when you can just climb a mountain?
I'm just a small human standing in front of a big mountain, asking it to move
The only way is up! Unless you're climbing down a mountain, in which case, the only way is down
Climbing a mountain: the perfect excuse for having a bad hair day
Seeing a mountain is like finding a $20 bill in your pocket. It just makes your day
The mountain looked hard at first, but I got over it
Mountains are just earth's way of flexing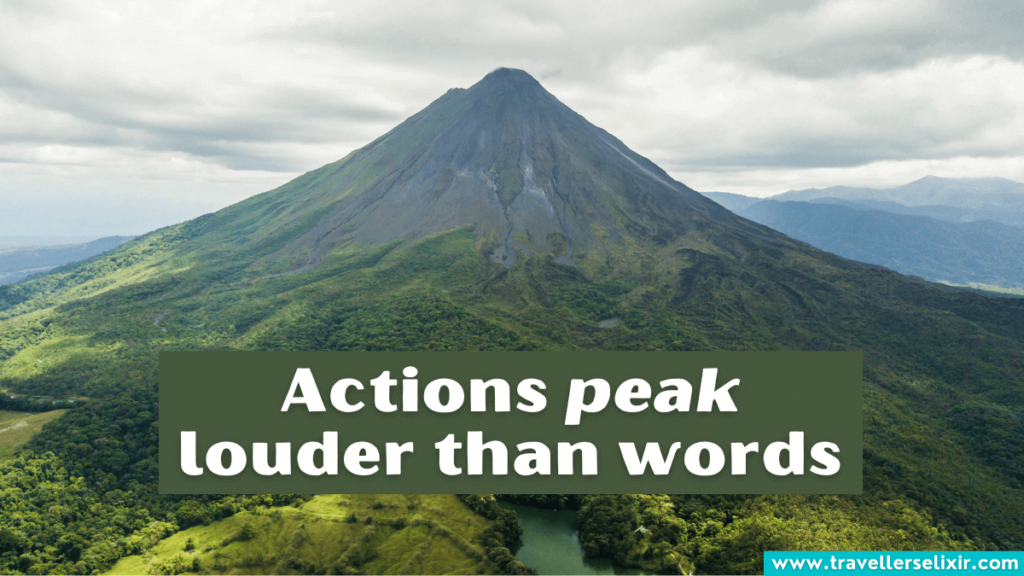 Climbing mountains and taking selfies because who needs oxygen?
Climbing a mountain is like getting a tattoo: it's painful but you feel pretty badass afterwards
Seeing a mountain is like seeing an ex: you remember all the good times but forget about the painful climb to the top
Nothing beats the view from a mountaintop, except for maybe pizza
I like my mountains like I like my coffee, tall and strong
I don't always climb mountains, but when I do, I make sure to Instagram it
You May Also Like: Glacier Instagram Captions
Short Mountain Captions
Adventure awaits
On top of the mountains
Nature's skyscrapers
Summit seeker
The sky's the limit
Chasing views and summits
Majestic peaks
Fresh air, don't care
The world is quiet here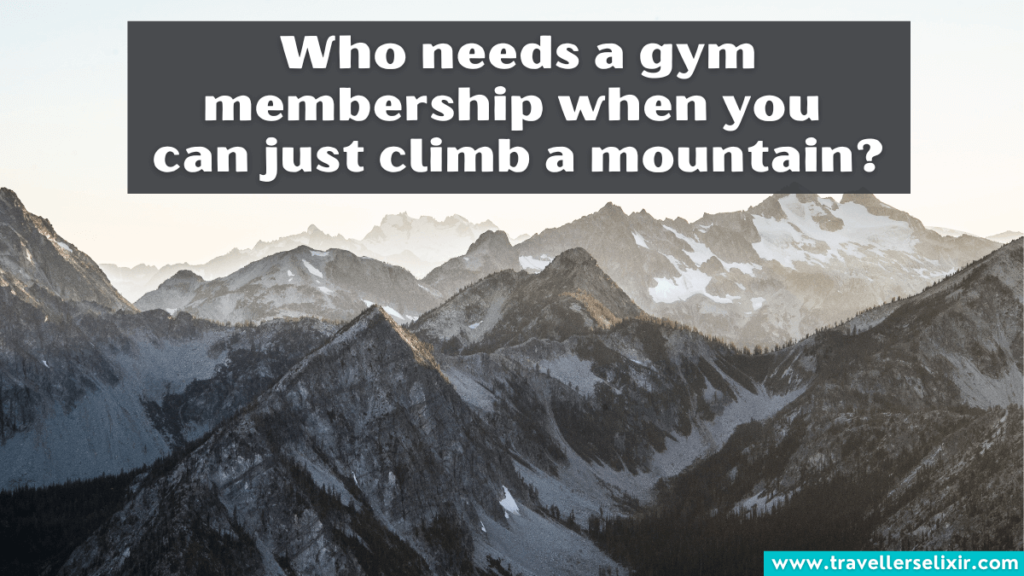 Mountain breeze and tall trees
Mountain high
Elevate your perspective
Adjust your altitude
And so the adventure begins
Mountain therapy
Take me to the mountains
Mountain magic
Coffee. Mountains. Adventure.
Nature's masterpiece
Hike, hike, baby
On top of it all
Up Next: Waterfall Instagram Captions
Cute Mountain Captions For Instagram
The mountains are calling and I must go
She will move mountains
Climbing my way to bigger and better things
When life gives you mountains, climb them
I'd pick the mountains over the beach any day
Climbing a mountain may be tough but so am I
If it involves mountains, breakfast food, coffee or campfires, I'm in
Seeing a mountain is like seeing a giant sandcastle made by mother nature
I'm feeling on top of the world
I came, I saw, I conquered…a really big hill
Climbing mountains: because sometimes you just need to get high
The higher we climb, the better the view
Climbing a mountain is a bit like life: it's all about the journey, not just the destination
The mountains are my happy place
Life's a mountain, not a beach
What's the best way to climb a mountain? Step by step, rock by rock and a whole lot of cursing
Never miss a moment in the mountains
On a date with mountains…
I saw a mountain and realized that nature has been 'peaking' for millions of years
I am just a mountain girl at heart
Life should have more mountains and less stress
Finding peace and solitude on the mountaintop
Everything is better in the mountains
My favorite thing is going where I've never been
Seeing a mountain is like seeing a painting come to life, except better because you can actually climb it
It feels good to be lost in the right direction
I am never lost in the mountains, it's where I find myself
Love this super adventurous journey for me
Up, up, and away in the mountains for a weekend
Do more of what makes you happy
I saw a mountain and it made me feel like a tiny ant trying to climb a skyscraper
Never miss a moment in the mountains
Seeing a mountain is like seeing a giant obstacle course for humans
You May Also Like: Sunrise Instagram Captions
Inspirational & Beautiful Mountain Captions
Go where you feel most alive
The beauty of a mountain is like a painting come to life, a masterpiece crafted by nature herself
There is no mountain that you can't climb
Seeing a mountain reminds us of how small we are in this vast world and how much beauty there is to be explored
The view from the top of a mountain is worth every step it takes to get there
I saw a mountain and it was love at first sight. I mean, who can resist that rugged, natural beauty?
Sometimes you just need to change your altitude
The only thing more impressive than seeing a mountain is seeing it disappear into the clouds
Life begins at the end of your comfort zone
The sight of a mountain is enough to take your breath away and fill your soul with wonder
There's nothing quite as awe-inspiring as seeing a majestic mountain towering above you
The only way to conquer a mountain is to take it one step at a time, just like in life
Climbing a mountain is a metaphor for overcoming any obstacle in life. Keep climbing and never give up
You are not in the mountains, the mountains are in you
There's something about the sight of a mountain that can make us feel alive and connected to nature
The best view comes after the hardest climb
Climbing a mountain teaches us to push beyond our limits and embrace challenges
I saw a mountain and realized that nature is the original artist
On the top of mountains & beneath the stars
Happiness can be found in the mountains
I saw a mountain and realized that sometimes the best things in life are the ones that make you feel small
Life is short, go to the mountains and never look back
Memories made in the mountains stay in our hearts forever
I love places that make you realize how tiny you and your problems are
Be like a mountain, aim to touch the sky but stay rooted to the ground
There's no better place to recharge than in the embrace of mother nature
The sun shines brightest from the peaks of mountains
Up Next: Smoky Mountain Instagram Captions
Mountain Quotes For Instagram Captions
"In the mountains there are only two grades: You can either do it, or you can't." – Rusty Baille
"Mountains teach that not everything in this world can be rationally explained." – Aleksander Lwow
"Mountains are the earth's monuments, standing tall and steadfast through time." – Traveller's Elixir
"You keep putting one foot in front of the other, and then one day you look back and you've climbed a mountain." – Tom Hiddleston
"This mountain, the arched back of the earth risen before us, it made me feel humble, like a beggar, just lucky to be here at all, even briefly." – Bridget Asher
"Every mountain has a story to tell, etched into its rocky terrain and whispered through the winds." – Traveller's Elixir
"Thousands of tired, nerve-shaken, over-civilized people are beginning to find out going to the mountains is going home; that wilderness is a necessity." – John Muir
"Every mountain top is within reach if you just keep climbing." – Barry Finlay
"Climbing a mountain is a physical challenge but conquering its peak is a mental triumph." – Traveller's Elixir
"What are men to rocks and mountains?" – Jane Austen
"Nothing lives long, only the earth and mountains." – Dee Brown
"There is a certain magic to the mountains, an allure that calls to our souls and reminds us of our place in the universe." – Traveller's Elixir
"Today is your day! Your mountain is waiting, so… get on your way!" – Dr. Seuss
"The climb speaks to our character, but the view, I think, to our souls." – Lori Lansens
"The beauty of a mountain is not just in its physical grandeur, but in the sense of accomplishment and wonder it instills within us." – Traveller's Elixir
"Always be thankful for the little things… even the smallest mountains can hide the most breathtaking views!" – Nyki Mack
"I love to sit on a mountain top and gaze. I don't think of anything but the people I care about and the view." – Julian Lennon
"A mountain is a symbol of resilience and strength, standing firm against the elements and inspiring us to do the same." – Traveller's Elixir
"May your trails be crooked, winding, lonesome, dangerous, leading to the most amazing view. May your mountains rise into and above the clouds." – Edward Abbey
"It is not the mountain we conquer but ourselves." – Sir Edmund Hillary
"From the base to the summit, a mountain is a journey of self-discovery and growth, a path that leads us to new heights." – Traveller's Elixir
"Life sucks a lot less when you add mountain air, a campfire and some peace and quiet." – Brooke Hampton
"May your dreams be larger than mountains and may you have the courage to scale their summits." – Harley King
"Mountains are not just obstacles to overcome, but gateways to a world of adventure and possibility." – Traveller's Elixir
"I like the mountains because they make me feel small,' Jeff says. 'They help me sort out what's important in life." – Mark Obmascik
"It's always further than it looks. It's always taller than it looks. And it's always harder than it looks." – The three rules of mountaineering
"In the mountains, we find peace, solitude, and a connection to nature that fills our hearts with joy and wonder." – Traveller's Elixir
"Mountains know secrets we need to learn. That it might take time, it might be hard, but if you just hold on long enough, you will find the strength to rise up." – Tyler Knott
"Earth and sky, woods and fields, lakes and rivers, the mountain and the sea, are excellent schoolmasters, and teach some of us more that what we could learn from books." – John Lubbock
"A mountain is a canvas, painted by the sun and the sky, and every brushstroke is a reminder of the majesty and mystery of the world around us." – Traveller's Elixir
"The experienced mountain climber is not intimidated by a mountain – he is inspired by it. The persistent winner is not discouraged by a problem – he is challenged by it. Mountains are created to be conquered; adversities are designed to be defeated; problems are sent to be solved." – William Arthur Ward
"Keep close to nature's heart… and break clear away, once in a while, and climb a mountain or spend a week in the woods. Wash your spirit clean." – John Muir
"There's a world out there, and you've got to look at both sides of the mountain in your lifetime." – Bill Janklow
"When preparing to climb a mountain – pack a light heart." – Dan May
"Once Everest was determined to be the highest summit on earth, it was only a matter of time before people decided that Everest needed to be climbed." – Jon Krakauer
"Everyone wants to live on top of the mountain, but all the happiness and growth occurs while you're climbing it." – Andy Rooney
"Mountains are earth's undecaying monuments." – Nathaniel Hawthorne
"I learn something every time I go into the mountains." – Michael Kennedy
You May Also Like: Hot Springs Captions For Instagram
Mountain Hashtags For Instagram Likes
#mountainlife
#mountains
#mountainlovers
#mountainview
#mountainlove
#mountainesia
#mountaingirls
#mountainlover
#mountainphotography
#mountainstories
#mountainclimbing
#mountainviews
#mountainadventures
#mountainscapes
#mountaingirl
#mountaineering
#mountainworld
#mountainvibes
#mountainhiking
#mountainaddict
Up Next: Gatlinburg Instagram Captions
---
I hope that these mountain Instagram captions have sparked your creativity and helped you express the beauty and majesty of the mountains in your own way.
Whether you're seeking inspiration for your next adventure, or simply looking to share your love of the outdoors with your followers, these captions are sure to inspire you to get out and explore the world around you.
And don't forget to follow me on Instagram (@travellerselixir) and tag me in your photo!
Related Posts: