With stunning natural beauty and incredible attractions, Gatlinburg provides an endless array of opportunities to snap a great photo.
But sometimes, coming up with the perfect caption can be a bit of a challenge. Don't worry though, I've got you covered!
In this post, I'll be sharing the best Gatlinburg Instagram captions that are sure to elevate your vacation photos and make your followers green with envy.
P.S. Follow me on IG (@travellerselixir) and tag me in your photo for a share!
Best Gatlinburg, Tennessee Instagram Captions
Cute Gatlinburg Captions For Instagram
It's impossible to not love the Smokies
The mountains are calling and I must go
Dear Gatlinburg, I will never get over you
I'd pick the mountains over the beach any day
Never miss a moment in the mountains
I came for the mountains but stayed for the moonshine
I left my heart in Gatlinburg
On a date with mountains…
Off to Gatlinburg I go, to lose my mind and find my soul
Finding my inner lumberjack in Gatlinburg
I am never lost in the mountains, its where I find myself
I'd hike a mile for a donut from the Donut Friar
I belong in the Smoky Mountains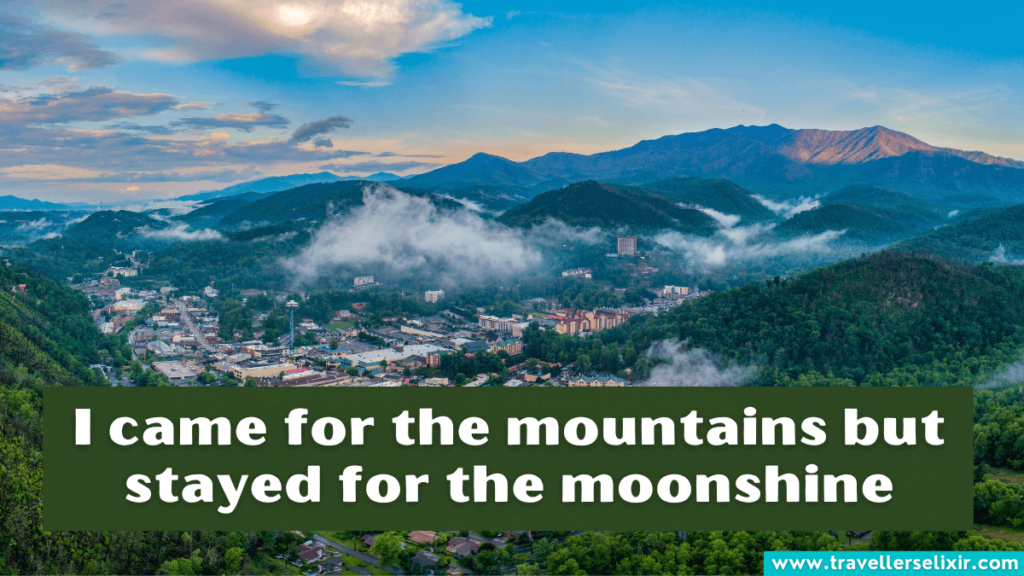 Who else wants to shut off their phone, drive to the Smokies, forget everything, and just breathe in the fresh mountain air?
Feeling on top of the world on the Gatlinburg SkyBridge
No one told me the Smoky Mountains were actually just a giant sauna
Gatlinburg: where the air is fresh and the pancakes are stacked
Up Next: Nashville Instagram Captions
Funny Gatlinburg Captions & Gatlinburg Puns
It's just a mountain, get over it
Time in Gatlinburg is always snow much fun
The Smoky Mountains are all the range
There's no such thing as too much moonshine in Gatlinburg
Wow Gatlinburg, you're the only Ten-I-See
I didn't know I needed a life-sized replica of the Titanic until I came to Gatlinburg
What a view, I've lost my terrain of thought
I'm pretty sure I just saw Dolly Parton at the Pancake Pantry
In Gatlinburg, you can have your moonshine and drink it too
You May Also Like: Smoky Mountain Instagram Captions
Short Gatlinburg Captions
Gatlinburg, I'm yours!
Inhale nature, exhale stress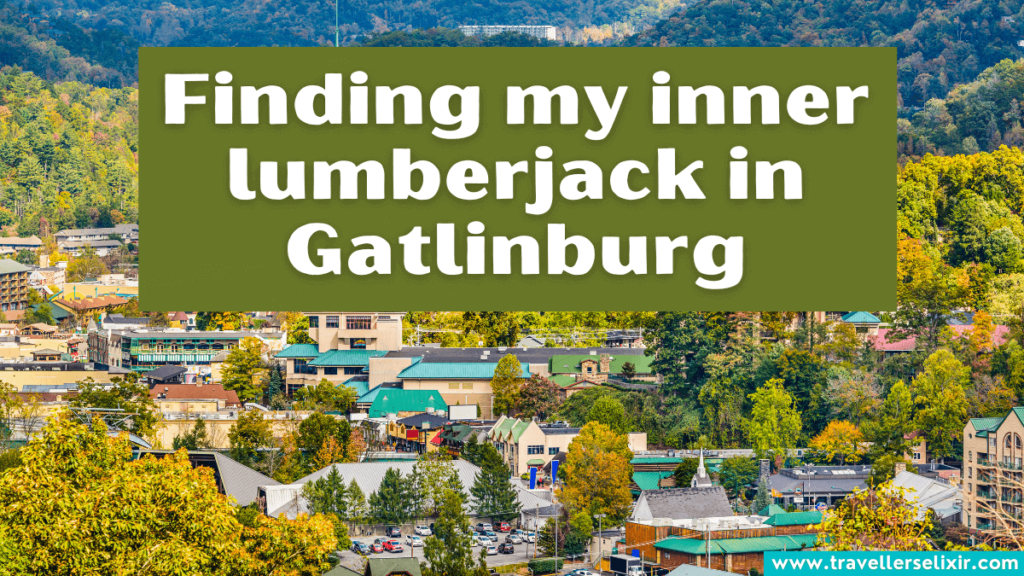 Always take the scenic route
Gatlinburg getaway
Wild and free
Nature's playground
Daydreaming in Gatlinburg
Small town charm
On top of the mountains
Falling hard for Gatlinburg
Sweet Smokies
Cozy mountain vibes
The sky's the limit
Gatlinburg, you look great
Smoky serenity
Mountain magic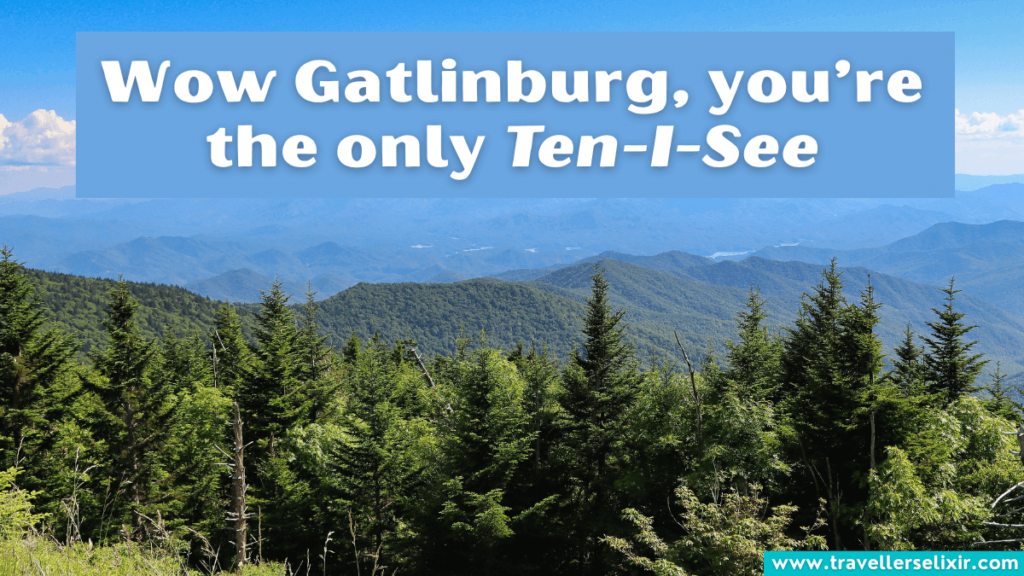 Up Next: Memphis Instagram Captions
Gatlinburg Quotes For Instagram Captions
"Visiting Gatlinburg is like stepping into a postcard, where the beauty of the mountains takes your breath away." – Traveller's Elixir
"The Smoky Mountains are a rare jewel…why not have a place where you can still see the stars? There is value to keeping things primitive." – James Dawson
"In Gatlinburg, the mountains are your guide and nature is your sanctuary." – Traveller's Elixir
"I love nature, I love the landscape, because it is so sincere. It never cheats me. It never jests. It is cheerfully, musically earnest. I lie and rely on the Earth." – Henry David Thoreau
"In Gatlinburg, you're not just surrounded by mountains but by a sense of wonder and adventure." – Traveller's Elixir
"The farther one gets into the wilderness, the greater is the attraction of its lonely freedom." – President T. Roosevelt
"Gatlinburg is where the mountains meet the soul, inviting you to reconnect with nature and yourself." – Traveller's Elixir
"Mountains teach that not everything in this world can be rationally explained." – Aleksander Lwow
"In Gatlinburg, the mountains aren't just a backdrop but an invitation to explore, dream and discover." – Traveller's Elixir
"Nothing lives long, only the Earth and mountains." – Dee Brown
"The magic of Gatlinburg lies in its ability to slow down time, allowing you to fully embrace the present moment." – Traveller's Elixir
"You're off to great places! Today is your day! Your mountain is waiting, so…get on your way." – Dr. Seuss
"Visiting Gatlinburg is like stepping into a natural cathedral where the mountains stand tall and inspire awe." – Traveller's Elixir
"May your trails be crooked, winding, lonesome, dangerous, leading to the most amazing view. May your mountains rise into and above the clouds." – Edward Abbey
"Gatlinburg reminds us that we're all a part of something much bigger than ourselves, and that nature is the ultimate healer." – Traveller's Elixir
You May Also Like: Virginia Instagram Captions
---
I hope you've found inspiration for your next Gatlinburg adventure through these Instagram captions!
Whether you're taking in the stunning views of the Great Smoky Mountains or exploring the charming downtown area, I encourage you to snap some photos and get creative with your captions.
With so many unique experiences waiting for you in Gatlinburg, there's no shortage of opportunities to capture and share your memories with the world.
Related Posts: