Welcome to Music City where the honky-tonks are lively, the hot chicken is spicy and the photo opportunities are endless.
I've compiled a list of the best Nashville Instagram captions to help you up your social media game.
From puns to quotes, I've got you covered. So grab your phone and get ready to snap some incredible shots that will have all your followers saying "yeehaw!" in no time.
P.S. Follow me on IG (@travellerselixir) and tag me in your photo for a share on my story!
Best Nashville Instagram Captions
Cute Nashville Captions For Instagram
Now all I need is cowboy boots and a guitar
Nashville looks so good on you
A bad day in Nashville is better than a good day anywhere else
I love you all the way to Nashville and back
Finding my country roots in Nashville
I came for the hot chicken but stayed for the honky tonk
Nashville skies & honky tonk nights
It's a Nashville thing, you wouldn't understand
Nashville is a little bit country, a little bit rock and roll and a whole lot of fun
Dear Nashville, you're my absolute favorite
Got my boots and my beer, what else could I need?
You can leave Nashville but it will never leave you
I'm pretty sure the only exercise I'm getting in Nashville is dancing at the honky tonks
Just a girl who loves Nashville
If you can't two-step, you might as well go home
Money can't buy you happiness but it can buy you a ticket to Nashville
Here for the views and honky tonk bars
I've never been good at math but I'm pretty sure hot chicken + honky-tonk = the perfect night out in Nashville
Nashville has turned me into a hot chicken addict
From now on sweet dreams are made of country music and sight-seeing in Nashville
Got my cowboy boots on and ready to go
I'm pretty sure Nashville has a direct line to my heart (and stomach)
Cue the country songs and disco lights
When in doubt, just add cowboy boots
I don't always wear cowboy boots, but when I do, I make sure I'm in Nashville
Up Next: Smoky Mountain Captions For Instagram
Short Nashville Captions
Welcome to the honky tonk
Country music is good for the soul
I'm in a Southern state of mind
Meet me down in Nashville
I'd rather be in Nashville
A city of music and magic
Wanderlust and city dust
Boots, booze and country tunes
Honky tonk central
Be more like Dolly
Fuelled by coffee and country music
Can't stop, won't stop loving Nashville
She's whiskey in a teacup
NashVegas!
Music City, USA
YeeHaw!
Meanwhile, in Nashville…
Once upon a time in Nashville
Falling hard for Nashville
Finding my rhythm in Nashville
You May Also Like: Memphis Instagram Captions
Inspirational & Beautiful Nashville Captions
Peace, love, and the land of country music
Chasing my dreams all the way to Nashville
Cowboy boots, country roots and Nashville nights
I never knew a city could have so much soul until I visited Nashville
Nashville has a way of making you feel alive
Nashville stole my heart with its music, food and southern charm
I followed my heart, and it led me to Nashville
Life without music? I just can't…
Take time to do what makes your soul happy
In a city of bright lights and endless music, I found my happy place
Finding beauty in every corner of the Music City
Nashville, you may be a city but you have the heart of a small town
Dear Nashville, I will never get over you
Thank you Nashville for making me feel so alive
Nashville, thank you for the memories that will last a lifetime
Exploring Nashville has been a dream come true
People never forget two things: their first love and their first day in Nashville
I can finally tick 'visit Nashville' off my bucket list
Off to Nashville I go, to lose my mind and find my soul
Up Next: Gatlinburg Captions For Instagram
Funny Nashville Captions & Nashville Puns
Get your honky tonk on
Nashville is the only city where it's acceptable to wear cowboy boots with a sundress
Beggin' your Parton…
Nashville is like a little slice of heaven, except with more honky tonks and hot chicken
Honky tonkin'
Wow Nashville, you're the only Ten-I-See
I don't always go to Nashville, but when I do, I two-step my way through the city
I can't believe I used to think Nashville was just a TV show…
I can't decide what was hotter in Nashville, the weather or the hot chicken
The only thing better than Tennessee is…elevennessee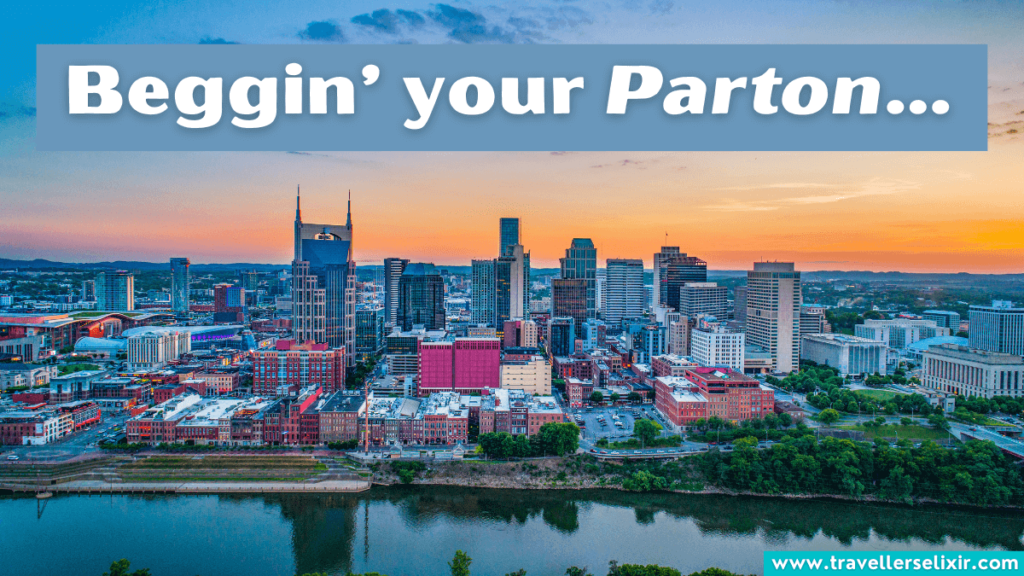 In Nashville, it's not about the destination, it's about the journey to the next honky tonk
This is the most brew-tiful place I've ever been
Trying to decide between hot chicken or live music is like trying to choose a favorite child
Nashville is the only place where it's acceptable to yell 'yeehaw' and nobody bats an eye
You May Also Like: Alabama Captions For Instagram
Nashville Quotes For Instagram Captions
"Nashville has always felt perfect." – Jack White
"It's a holy city for music." – Hugh Laurie
"In Nashville, the music is a heartbeat that you can feel everywhere you go." – Traveller's Elixir
"I love Nashville. It seems like everywhere you walk, there's great music coming out of every wall." – Imelda May
"I belonged to Nashville before I belonged to anyone." – Brandi Carlile
"Nashville has a way of making you feel like you're exactly where you're supposed to be." – Traveller's Elixir
"Music is life. That's why our hearts have beats." – Cecily Morgan
"Visiting Nashville is like stepping into a storybook filled with music, magic and southern charm." – Traveller's Elixir
"Nashville feels like a big little town to me." – Ricky Schroder
"Since I was a kid I just wanted to be in Nashville." – Keith Urban
"Music gives a soul to the universe." – Plato
"Everybody now thinks that Nashville is the coolest city in America." – Dave Grohl
"In Nashville, the bright lights and neon signs create a city that never sleeps." – Traveller's Elixir
"My favorite place in the whole world is Nashville because it's my home, it's music city. It's like, everybody there is so artistic and so creative and nice! Everybody's really friendly." – Taylor Swift
"Nashville, man. That's the place to be." – Willie Geist
"My absolute favorite meal in Nashville is sweet-potato pancakes at Pancake Pantry" – Taylor Swift
"Nashville is where the past, present and future of music collide to create a symphony of soulful sound." – Traveller's Elixir
"One of the magical things about Nashville is just how many incredibly talented people are here and the way they support each other." – Callie Khouri
"Nashville is wicked. It's like a proper music community, but it's also quintessentially American. You bump into people there with cowboy hats that spit in jars and call you 'boy.' I just love that." – Ed Sheeran
"There's something about Nashville that makes you feel alive and free to be whoever you want to be." – Traveller's Elixir
"Nashville is one of the greatest places for the best songwriters in the world. It's been fantastic to live there and to raise our family there. It's a great town." – Faith Hill
"There is such a cool vibe in Nashville. It has the excitement of a big city, but also has this amazing small-town feel. The Southern charm, and hospitality, and some great shopping never hurts. As fun as music city is during the day, the real magic happens at night… the lights, the energy, the music, how could you not love this town?" – Hayden Panettiere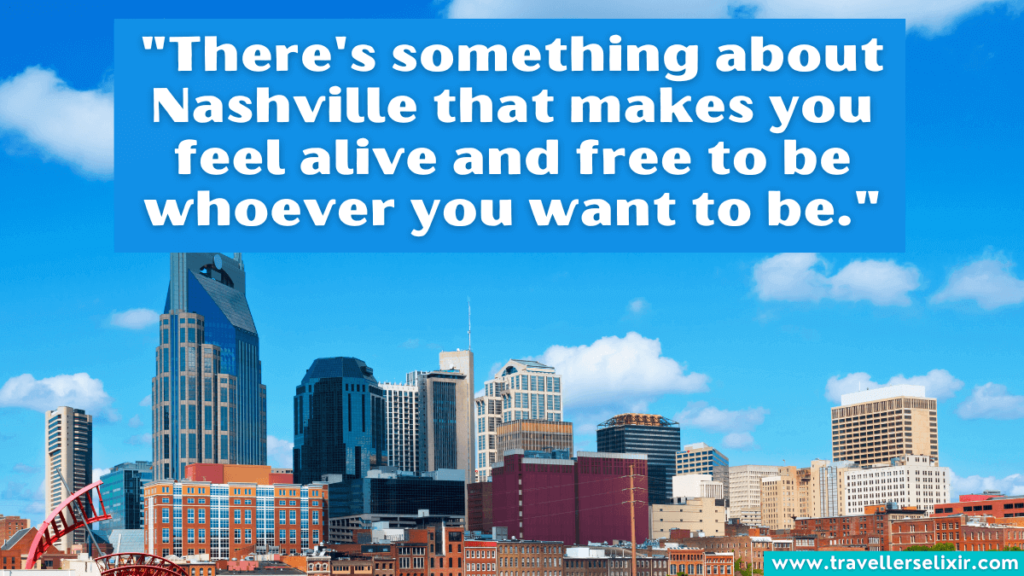 "Nashville is more than just a city, it's a state of mind and a feeling in your soul." – Traveller's Elixir
"Nashville is the place where I first realized how impossible it is to look at someone and know what is inside them, what special something they possess." – Callie Khouri
"Let your dreams stay big, your worries stay small." – Rascal Flatts, 'My Wish'
"To me, songwriting is the backbone of Nashville. Looks can go, fads can go, but a good song lasts forever." – Alan Jackson
"It's the warmest, loveliest community I've ever set foot in. For me, it's the perfect place to live. It's the best part of America." – Nicole Kidman
"Nashville is such a fantastic city, with this great creative music energy. Then there's that Southern hospitality, you can't beat that." – Sam Palladio
"I admire this town a lot. They take care of their own. There's not a lot of places in the world, much less America, that do that. It's just a great place." – Justin Timberlake
"Nashville is the city that welcomes you with open arms and leaves you with memories that will last a lifetime." – Traveller's Elixir
"From the moment I stepped foot in music city I have had a love affair with the people and burgeoning culinary scene." – Maneet Chauhan
"I love Nashville. I've been here so many times… oh man, I would stay here for a year if I could. It's just so much fun." – Jimmy Fallon
"There's an energy about Nashville that I love and I miss and it's so awesome right now. It has a new energy that's so cool." – Trisha Yearwood
"Visiting Nashville is like falling in love, it's a feeling that you can't describe, but you know it's real." – Traveller's Elixir
Up Next: St Louis & Gateway Arch Instagram Captions
Nashville Hashtags For Instagram Likes
#nashville
#nashvilletn
#nashvilletennessee
#nashvilleeats
#nashvillegram
#nashvillephotographer
#nashvillefood
#nashvillemusic
#nashvillelife
#nashvillescene
#nashvilleblogger
#nashvillefoodie
#nashvillestyle
#nashvillestrong
#nashville_tn
#nashvillelove
#nashvillephotography
#nashvillenights
#nashvillehotchicken
#nashvillebound
You May Also Like: Charleston Captions For Instagram
---
I hope this list of Nashville Instagram captions has inspired you to get out there and explore all that Music City has to offer.
Whether you're strolling down Lower Broadway or checking out the art scene in East Nashville, don't forget to snap a photo and share your experience with the world.
Related Posts: