Charleston is a city that is practically begging to be photographed.
From its colorful pastel buildings and cobblestone streets to its stunning beaches and iconic landmarks, this Southern gem is a treasure trove of Instagram-worthy sights.
I've spent hours compiling this list of the best Charleston Instagram captions that are sure to make your followers double-tap and leave them longing for a trip to this charming city.
P.S. Follow me on IG (@travellerselixir) and tag me in your photo for a share!
Best Charleston Instagram Captions
Cute Charleston Captions For Instagram
I've got a crush on Charleston
I followed my heart and it led me to Charleston
When the cutest house on the block matches your outfit
There's a first for everything and today I'm trying she-crab soup!
I don't always visit Charleston, but when I do, I make sure to eat my weight in shrimp and grits
I came, I saw, I ate all the shrimp and grits
It's not all sunshine and rainbows but a good amount of it actually is
I came to Charleston for the history but stayed for the biscuits
If you need me, I'll be under the palm trees
When life gives you she crab soup, slurp it up!
Walking through Charleston is like walking through a dream
I never knew I needed a pineapple fountain in my life until I visited Charleston
Traded my iced coffee for a cup of sweet tea
Charleston, where even the ghosts have Southern accents
We go together like chicken and waffles
It's time to put on my bow-tie and hit the Charleston dance floor!
Palmettos, peaches and Atlantic beaches
Just when I thought I couldn't eat any more biscuits, Charleston proved me wrong
I never knew I needed a porch swing until I visited Charleston
Up Next: Atlanta Instagram Captions
Inspirational & Beautiful Charleston Captions
It's a lovely day to explore the South
Let's stay in South Carolina a little bit longer
Charleston, you were everything I hoped for and more
Can't wait to come back for more sweet tea and soulful charm
Palm trees & a low country breeze
Charleston stole my heart with its Southern charm and pastel-colored houses
Dreams are made of sand and sun
Exploring Charleston, one cobblestone at a time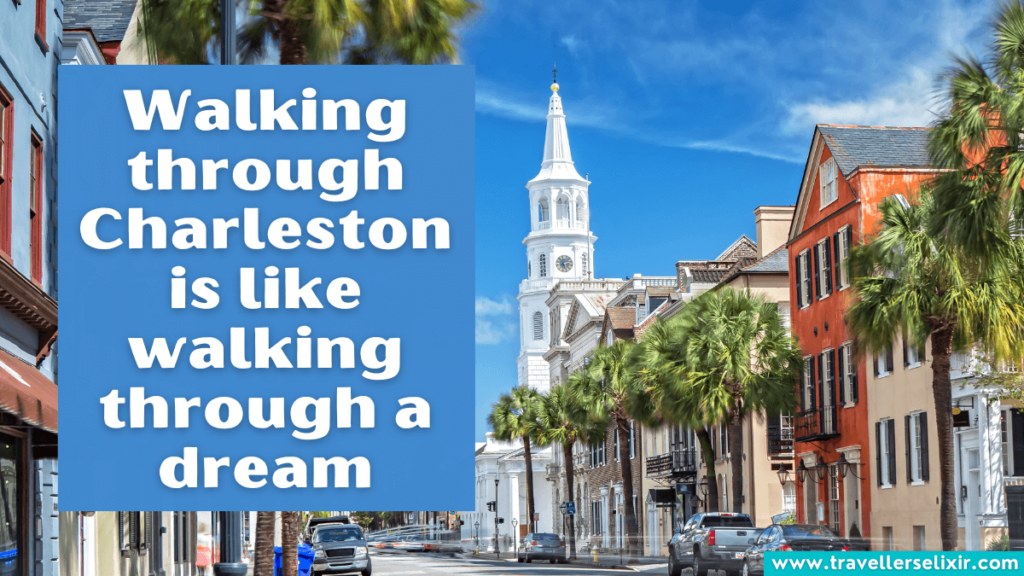 Follow your heart, even if it takes you all the way to South Carolina
South Carolina, you have my heart
Charleston reminded me to slow down & savor the moment
Dear, Charleston. You look beautiful today
There's something magical about Charleston that makes you feel like anything is possible
I could wander the streets of Charleston forever
You May Also Like: New Orleans Instagram Captions
Short Charleston Captions
But first, chicken and waffles
Follow every rainbow
My favorite color is rainbow
Soaking up the charm in Charleston
Colorful Charleston
Crushing on Charleston
Sweet dreams & sweet tea
Pastel paradise
Charleston is always a good idea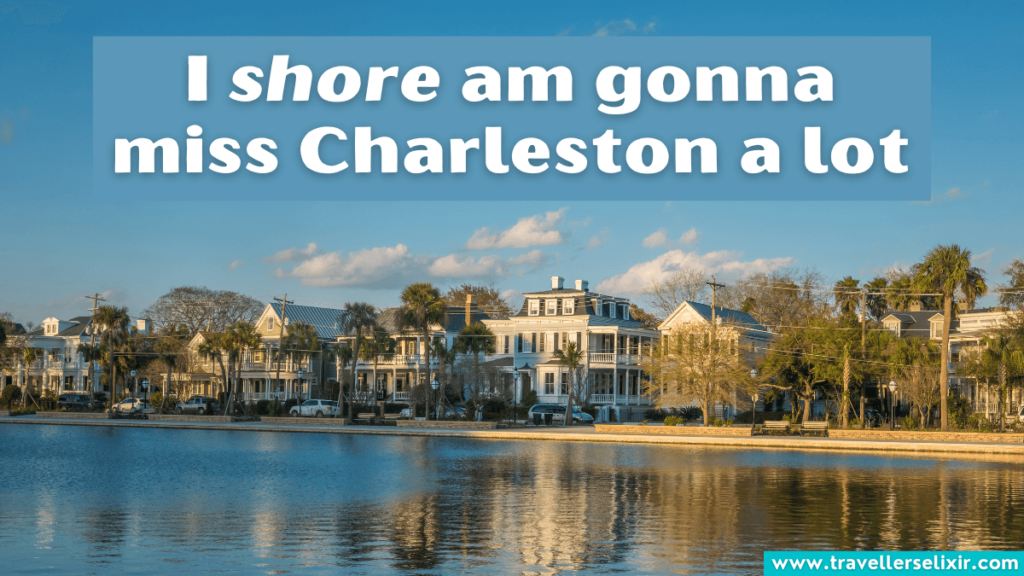 Chase rainbows
Somewhere over the rainbow
Serenity by the seaside
Charleston, I'm yours!
Take me to Charleston
A true Southern gem
Meanwhile, in Charleston…
Southern charm at every turn
You May Also Like: Texas Instagram Captions
Funny Charleston Captions & Charleston Puns
I'm having a folly time in Charleston
I feel waffle about leaving Charleston
She crab soup, the soup-reme ruler of Charleston cuisine
I love Charleston a waffle lot!
Con-grits!
Wow this she-crab soup tastes clawsome!
I shore am gonna miss Charleston a lot
Having a crab-ulous day in Charleston
Just had my first taste of she crab soup and I'm shell-shocked!
I really am feeling grit about this place
I can't be-leaf I'm in Charleston!
I'm shrimp-ly in love with Charleston's cuisine
She crab soup is my new soup-erhero!
Keep palm and carry on
Beach right back
Shell-abrating life
Charleston – you're shrimp-ly the best!
Trying she crab soup in Charleston was a soup-erb decision
Don't worry, beach happy
Up Next: Virginia Instagram Captions
Charleston Quotes For Instagram Captions
"Charleston is more than just a city, it's a feeling. It's the warmth of the sun on your skin, the sound of the ocean in the distance and the welcoming spirit of Southern hospitality." – Traveller's Elixir
"Charleston is a city that celebrates the simple pleasures of life, from good food and good company to the joy of a leisurely stroll down a picturesque street." – Traveller's Elixir
"Charleston is one of the best built, handsomest, and most agreeable cities that I have ever seen." – Marquis de Lafayette
"Charleston is a canvas painted with a palette of pastel colors, where every street and every building is a work of art." – Traveller's Elixir
"I'm going back to dignity and grace. I'm going back to Charleston, where I belong." – Rhett Butler, 'Gone With The Wind'
"Charleston is a city that beckons to the soul, a place where the warm sun and gentle sea breeze remind you to slow down and savor every moment." – Traveller's Elixir
"Visiting Charleston is like taking a step back in time to a simpler, more elegant era, where the pace of life is slower and the beauty of the world is savored." – Traveller's Elixir
"Come quickly, have found heaven." – Artist Alfred Hutty
"Charleston is a place where history, art and culture come together in a symphony of sights, sounds and sensations that will leave you breathless." – Traveller's Elixir
"Charleston is a city that whispers stories of the past, while simultaneously painting a picture of a bright and vibrant future." – Traveller's Elixir
"Charleston has something for everyone, rain or shine." – Thomas Gibson
"Charleston is a city that wraps you in a warm embrace, making you feel at home no matter where you come from." – Traveller's Elixir
"Charleston is a city where every street tells a story and every building holds a secret, waiting to be discovered." – Traveller's Elixir
"There is no city on Earth quite like Charleston…it held me in its enchanter's power, the wordless articulation of its singularity, its withheld and magical beauty. Wandering through its streets can be dreamlike and otherworldly, its alleyways and shortcuts both fragrant and mysterious, yet as haunted as time turned in on itself." – Pat Conroy
"Charleston is a city that captivates the senses, from the taste of the food to the sound of the music and the sight of the stunning scenery." – Traveller's Elixir
"I don't think you ever think of a big city as sweet or community, but there are cities that I think of as charming and particular and interesting cities. I live in one now, Charleston." – Anne Rivers Siddons
"Charleston is a city that leaves an indelible mark on your heart and soul, drawing you back time and time again to experience its timeless charm and grace." – Traveller's Elixir
"If South Carolina isn't the essence of Southern hospitality, I don't know what is." – Espn Gameday
"Charleston is a city that embraces the present while honoring the past, creating a perfect balance between old and new." – Traveller's Elixir
Up Next: Memphis Instagram Captions
Charleston Hashtags For Instagram Likes
#charleston
#charlestonsc
#charlstonlife
#charlestonliving
#charlestoneats
#charlestonfood
#charlestondaily
#charlestonblogger
#charlestoncharm
#charlestonsouthcarolina
#charlestonharbor
#explorecharleston
#charlestonfoodie
#charlestonstyle
#charlestonphotography
#charlestonpictures
#charlestonforlife
#charlestonscene
#charleston_daily
You May Also Like: Alabama Instagram Captions
---
And that's a wrap on my list of the best Charleston Instagram captions!
I hope these captions have inspired you to capture the essence of Charleston and share it with the world.
Whether you're a local or a visitor, there's always something new to discover in this historic city.
Related Posts: