Howdy y'all! If you're planning a trip to the Lone Star State or you're a proud Texan looking to spice up your Instagram game then you're in the right place.
As a seasoned traveler and lover of all things Texas, I've come up with the best Texas Instagram captions that will have your followers saying "yeehaw!"
From cowboy boots and big hair to BBQ and two-stepping, this list has got you covered.
P.S. Follow me over on IG (@travellerselixir) and tag me in your photo for a share!
Best Texas Instagram Captions
These captions work for any place you're visiting in Texas including Dallas, Houston, Austin, San Antonio, El Paso, Fort Worth, Waco and more.
Funny Texas Captions
Sorry, I can't hear you over the sound of my boots clicking on this hardwood floor
I'm pretty sure it's illegal to leave Texas without trying a brisket
My heart belongs to Texas but my waistline belongs to Whataburger
In Texas, we don't say 'howdy', we say 'howdy y'all'. It's more inclusive
If you can't handle me in my cowboy hat, you don't deserve me at my Sunday rodeo
You can take the girl out of Texas but you can't take the y'all out of her vocabulary
Life is too short for bad BBQ and weak margaritas – luckily, we don't have that problem in Texas
Life is too short to wear boring boots
I may not have been raised in Texas but I got here as soon as I realized the BBQ was better
I'm not arguing, I'm just explaining why I'm right – a true Texan
Don't mess with Texas or my hair. Both are bigger and better here
Life is like a rodeo – sometimes you ride the bull and sometimes the bull rides you
The only thing hotter than a Texas summer is my love for queso
When in Texas, you gotta go to the rodeo – it's like a Wild West Disneyland
In Texas, the rodeo is like a party – only with more hay and less disco balls
In Texas, the only thing more abundant than cowboys is the love for Whataburger
In Texas, we don't just have BBQ, we have a religion
I'm so Texan, I bleed Dr Pepper and queso
I thought I knew how to two-step until I tried it at the rodeo – let's just say, I'll stick to the Macarena
I went to the rodeo and all I got was this lousy lasso burn
You May Also Like: San Antonio Instagram Captions
Cute Texas Captions For Instagram
A bad day in Texas is better than a good day anywhere else
You know you're in Texas when the rodeo is the biggest event of the year
There's Texas…and then there's everything else
Ain't no place like Texas, that's for darn sure
This ain't my first rodeo…
Everything is bigger in Texas, including the hair and the heart
Greetings from the Lone Star State
Here for the views and Tex-Mex
Enjoying life one sweet tea at a time
Everything is bigger in Texas including my love for BBQ
Southern charm and cowboy boots, that's how we do it in Texas
Sorry for what I said when I wasn't at the rodeo
Did somebody say barbeque?
Texas, you may be big but your heart is even bigger
Life is better with a little bit of Texas in it
How can you complain in a place like Texas?
You don't have to be a cowboy to have a wild west attitude
You can't buy happiness but you can buy a trip to Houston
Two-step? More like 12 steps to the bar for another Lone Star
Don't mess with Texas… or my BBQ. It's serious business
Tex-Mex, sunshine & BBQs, what more can a girl need?
Taking life one brisket at a time
What happens on the ranch, stays on the ranch
Texas, where the tea is sweet and the people are sweeter
Texas, you've got me roped in and hooked like a big ol' bass
In Texas, they say 'howdy' instead of 'hello' – and I gotta say, I'm a fan
Home is where the Tex-Mex is
Texas stole my heart – and I'm okay with that
I don't always wear cowboy boots, but when I do, it's because I'm in Texas
There's just something about Texas that makes my soul happy
Up Next: Six Flags Instagram Captions
Short Texas Captions
It's a Texas thing
All roads lead to Texas
Howdy-doodle-doo
Home sweet Texas
Living that Texas life
Summer nights & Texas skies
Lone Star State pride
Yeehaw!
Texas forever
Texas is my happy place
I'm in Texas y'all
I love you to Texas and back
Don't mess with Texas
Greetings from Austin
Where the tea is sweet
Big state, big heart
Take me back to Texas
Bigger and better
Meet me at the rodeo
Hatters gonna hat
Texas pride, worldwide
Typical cowboy stuff
Austin, you have my heart
Texas dreamin'
Houston, we have a problem
MTV, Welcome to my ranch
Up Next: Colorado Instagram Captions
Funny Texas Puns
This state is Texa-llent
I'm not horsing around, these cowboy boots are the real deal
Dallas-t thing I want right now is to leave Texas
Wow, it's definitely Fort-Worth spending a few days here!
Help, I'm L-Austin Texas!
I'm wide a-Waco
El Paso the Pecan Pie, will ya?
C'mon, quit foal-ing around!
I'm feeling a little Tex-asperated today
This rodeo is un-bull-ievable!
To neigh or not to neigh…that is the equestrian
The sky's the brisket
Dallas my love has come along
I'm not sick, I'm just a little horse
This brisket is simply ham-azing!
I queso you could say I love Texas
'Cause if you like it, then you shoulda put a bluebonnet
Texas is adora-bull
Girls just wanna have sun
Would you risk it for a brisket?
Queso, is it me you're looking for?
You May Also Like: Arizona Instagram Captions
Inspirational & Beautiful Texas Captions
No matter how far I wander, Houston stays with me
Texas: the land of barbecues, bluebonnets and big adventures
My boots are made for walking and my heart is made for Texas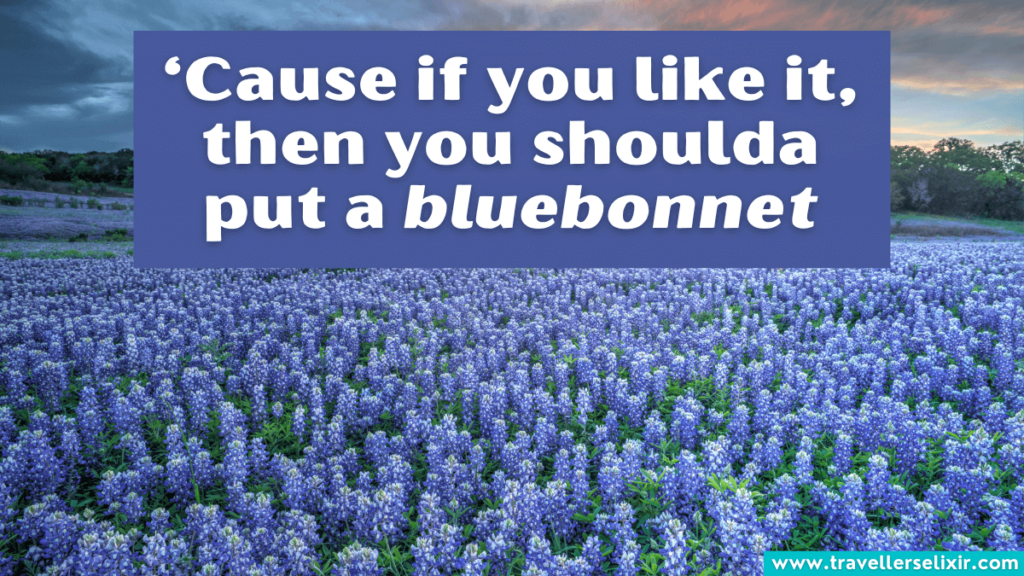 I may not be from Texas but it sure feels like home when I'm here
She's as free as the bluebonnets in the summer
No matter where I go, I always leave my heart in Texas
Where the cowboys roam and the wildflowers grow
Wherever you go becomes a part of you somehow
There's something special about the warm Texas sun and even warmer Texan hospitality
The stars at night are big and bright deep in the heart of Texas
Visiting Texas is like taking a journey through history, culture and beauty all at once
Relationship status: In love with sunsets and this state
Texas, where the bluebonnets bloom and the stars shine bright
I never knew how much I needed a Texan sunset until I saw one with my own eyes
In Texas, I found a piece of myself I didn't even know was missing
The people of Texas have a way of making you feel right at home, no matter where you're from
If you can't go to heaven, Austin is the next best thing
The road goes on forever and the party never ends
Visiting Texas was like a dream come true – filled with charm, laughter and endless amounts of queso
Texas, thank you for showing me that true beauty lies not just in the landscapes but in the people who call it home
I never knew a place could steal my heart so quickly – until I visited Texas
Life may take me elsewhere but my heart will always be in Texas
No matter where I go, Texas will always be my first love
Up Next: Mexico Instagram Captions
Texas Quotes For Instagram Captions
"Texas is a state of adventure, where the road less traveled often leads to the most incredible destinations." – Traveller's Elixir
"Now I love the USA, and the other states, ah, they're ok, Texas is the place I wanna be." – Ray Wylie Hubbard
"Texas is not just a state, it's a feeling. A feeling of pride, of independence and of unbreakable spirit." – Traveller's Elixir
"The sky in Texas is the most amazing sky in the whole world. I think you can see more sky in Texas than you can see anywhere else in the world." – Idina Menzel
"That's right, you're not from Texas. But Texas wants you anyways." – Lyle Lovett
"Texas may be known for its big cities but it's the small towns that hold the heart of the Lone Star State." – Traveller's Elixir
"I think Texans have more fun than the rest of the world." – Tommy Tune
"Texas is the finest portion of the globe that has blessed my vision." – Sam Houston
"You can take the girl out of Texas, but you can't take the Texas out of the girl." – Janine Turner
"In Texas, we practically come out of the womb in jeans." – Kelly Clarkson
"I've traveled all over the world, but I don't think there is any place better than Texas." – Red Adair
"In Texas, we don't just embrace diversity, we celebrate it. That's what makes us so strong." – Traveller's Elixir
"Of all the places I've ever been, Austin is the only place that has felt like home." – Martha Kelly
"Texas is a place where dreams can come true, where the sky is endless and the opportunities are boundless." – Traveller's Elixir
"I didn't drive eleven hours across the state of Texas to watch my cholesterol." – Robb Walsh
"From the Alamo to the Rio Grande, from the plains to the desert, Texas is a state of endless wonder and inspiration." – Traveller's Elixir
"I'd rather be a fencepost in Texas, than the king of Tennessee." – Chris Wall
"Texas is a place where hospitality is not just a custom, it's a way of life." – Traveller's Elixir
"I guess deep in my heart, I'll always be a Texas girl." – Spongebob Squarepants
"Texas is a state of mind, where the frontier spirit lives on and anything is possible." – Traveller's Elixir
"Texans ignore 'better,' long ago forgot the useless word 'good.' Everything in Texas is 'best'" – Edward Smith
"In Texas, it's always hot, dry, sunny, not a cloud in the sky." – Piper Perabo
"The spirit of Texas is alive and well, a flame that burns bright in the hearts of its people and illuminates the world." – Traveller's Elixir
"No place like Texas would I ever roam. No place like Texas, my home, sweet home." – Willie Nelson
"I like Texas and Texans. In Texas, everything is bigger." – Robert Kiyosaki
"From the Gulf Coast to the Panhandle, from the Hill Country to the Piney Woods, Texas is a land of contrasts and beauty." – Traveller's Elixir
"To me, it's really the heart of Texas. You don't know the Lone Star State until you've experienced Gruene Hall." – Miranda Lambert
"Obviously, people in Texas have big hearts." – Katie Couric
"Only Texas could turn defeat into a legend – and a song, and a tourist attraction, and a major motion picture." – Rosemary Kent
"In Texas, we don't just talk big, we back it up with action. That's what makes us a force to be reckoned with." – Traveller's Elixir
"In Texas, we don't just have friends, we have family. That's what makes this state so special." – Traveller's Elixir
"Don't mess with Texas." – Texas Department of Transportation
"You don't just move into Texas. It moves into you." – Manny Fernandez
"People don't live in Austin to work, they work to live there." – Robert Rodriguez
"Texas is neither southern nor western. Texas is Texas." – William Blakely
"The stars at night may be big and bright but it's the people of Texas that truly shine." – Traveller's Elixir
"There's no better place than Texas to start over." – John Connelly
"Texas is a state of mind. Texas is an obsession. Above all, Texas is a nation in every sense of the word." – John Steinbeck
"There's a freedom you begin to feel the closer you get to Austin, Texas." – Willie Nelson
"Big Bend National Park is intensely wild and extraordinarily beautiful – tucked away at the end of a couple of roads in southwest Texas." – Stefanie Payne
"Texas is not just a place, it's an experience. A tapestry of cultures, landscapes and stories woven together into a vibrant tapestry." – Traveller's Elixir
Up Next: Alabama Instagram Captions
Texas Hashtags For Instagram Likes
#texas
#everythingisbiggerintexas
#texastodo
#texasgirl
#texaslife
#texasforever
#texasblogger
#texascountry
#austintexas
#texasstyle
#texasgirls
#texasfoodie
#texasmade
#texastravel
#dallastexas
#texasblues
#texasliving
#texasphotography
#texasroadtrip
#texashair
You May Also Like: Wyoming Instagram Captions
---
And there you have it folks, those are the best Texas Instagram captions that the internet has ever seen.
Whether you're snapping pics at the Alamo, taking in the breathtaking views of Big Bend National Park or enjoying a juicy brisket, these Texas Instagram captions are sure to elevate your posts to the next level.
So go ahead and show off your Lone Star State pride and let these captions do the talking.
Related Posts: