Looking for the perfect caption to accompany your awesome Six Flags adventure photos?
Whether you're zooming through loops on heart-pounding roller coasters or posing with your favorite cartoon characters, Six Flags is an experience like no other.
I've curated a list of the best Six Flags Instagram captions that will make your followers double-tap with envy.
P.S. Follow me over on IG (@travellerselixir) and tag me in your photo for a share!
Best Six Flags Instagram Captions
Cute Six Flags Captions For Instagram
I wonder if Six Flags misses me too
Hold on tight, it's gonna be a wild ride!
What goes up must come down
Coaster crew, assemble! Time to defy gravity!
Is it too much if I get off the Batwing and immediately get back in line?
Could someone go back and get my stomach please?
My face says terror, my heart says 'again!'
Stop being so afraid and start living instead
Rollin' with the punches and coastin' with a smile
Screaming my way through life like I'm on a never-ending roller coaster
Would it be weird if I wore my Wonder Woman costume on the Lasso of Truth ride?
I think Six Flags looks pretty good on me
When life throws loops at you, just scream and enjoy the ride
Hold on tight, folks! It's about to get wild and whirly!
My only goal in life is to make it to every Six Flags park!
Shipwreck Falls is still my favorite and no one can tell me otherwise!
Can I just move into Six Flags and ride the rides every single day?
Prepared to have my memory erased on the Mind Eraser!
Doing this sweet thing called visiting Six Flags
Warning: excessive excitement and smiles ahead
The Voodoo Drop sure has cast a spell on me because I'm going on it again!
Sipping a whiskey in the saloon, too bad I forgot my cowgirl hat at home
I see nothing in space as promising as the view from Kingda Ka
It's bad manners to keep Six Flags waiting
Smiling through every twist, turn and upside-down moment!
I look just like the girl next door…if you happen to live next door to Six Flags
How did I get off alive? The world may never know
Channeling my inner superhero while defying gravity
Follow your heart, even if it takes you all the way to Six Flags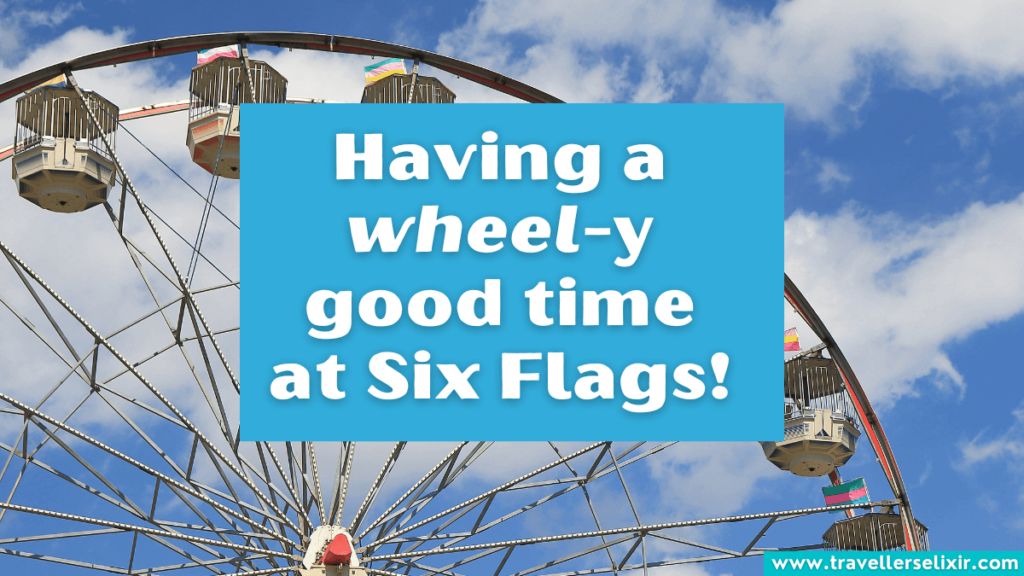 Roller coasters are like math you can ride
Six Flags is always a good idea!
Today's forecast: 100% chance of roller coasters
Up Next: Universal Studios Instagram Captions
Funny Six Flags Captions & Six Flags Puns
The Cyclone is a whirlwind of fun!
Coastin' the coasters
Wow what an emotional roller coaster
That's just how I roll
How was the roller coaster? It had it's up and downs
Having a wheel-y good time at Six Flags!
Wow that ride was so fast, I think I speed my pants!
The Batman ride was fangtastic!
I'm on a roll(er coaster)!
Kingda Ka was Kingda high I guess…
Wheel-y can't get enough of Six Flags!
You May Also Like: Disney World Captions For Instagram
Short Six Flags Captions
Faster, faster, faster
Heart racing, smiles blazing
Heading to the Speedway!
Coaster hair, don't care
Coaster conqueror
Look Mom, no hands
Stop the Earth from spinning, I want to get off!
Race you to the ticket booth
Upside-down bliss
Laughing through loops
Crash test dummies
Don't look down
Up and down, around and around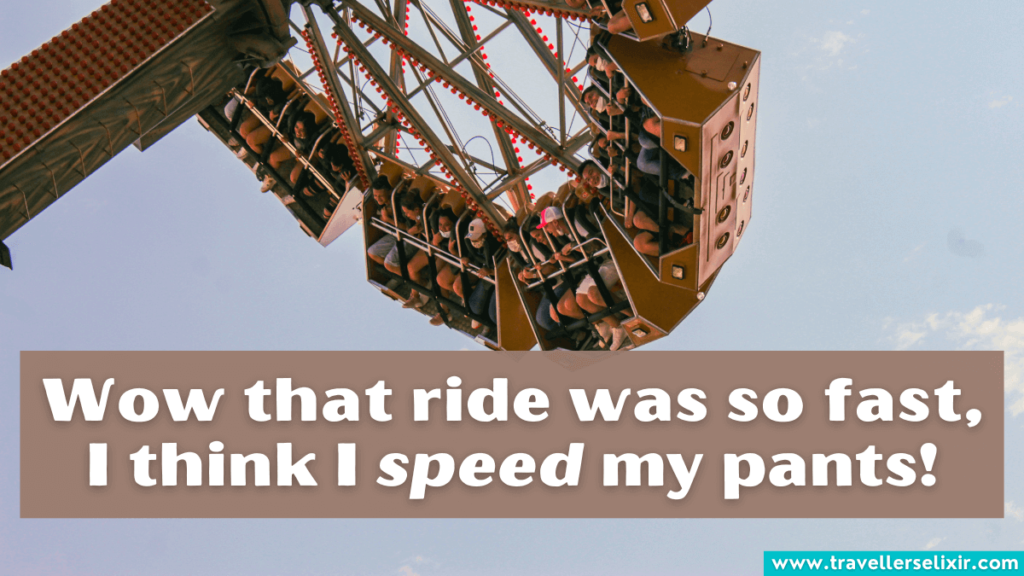 Coaster enthusiasts unite
Get set to get wet
Up, up and away we go
AGAIN! AGAIN!
Coaster Fanatics
Wait for the drop
Hang on tight
Up Next: SeaWorld Captions For Instagram
Six Flags Quotes For Instagram Captions
"I'm on a roller coaster that only goes up, my friend!" – The Fault in Our Stars by John Green
"Going to Six Flags is not just about seeking thrills – it's about unleashing your inner child and reconnecting with the pure joy of uninhibited laughter." – Traveller's Elixir
"I think the thing to do is enjoy the ride while you're on it." – Johnny Depp
"At Six Flags, every scream carries the weight of liberation, as we break free from the mundane and embrace the extraordinary moments that make us feel truly alive." – Traveller's Elixir
"Life is a roller coaster. There are ups, there are downs, there are hills, there are valleys, peaks and so on." – Martin Landau
"Life is like a roller coaster ride at Six Flags. Embrace the twists, turns and ups and downs, for they make the journey exhilarating and worthwhile." – Traveller's Elixir
"Life is like a roller coaster, live it, be happy, enjoy life." – Avril Lavigne
"My mind is like a theme park, because it's fun and there's lots of cool stuff and you can take rides." – Martellus Bennett
"Six Flags is a realm where laughter echoes through the air and hearts race with unfiltered excitement. It's a place where memories are made and dreams take flight." – Traveller's Elixir
"My two best friends, they love amusement parks. They are such roller-coaster daredevils, and they drag me on every single roller coaster they can find. Some of my favorite experiences have been when they've taken me to Disneyland or Six Flags or Universal." – Katherine McNamara
"Six Flags is a symphony of screams, laughter and pure joy. It's a reminder that life's most memorable moments are often found in the pursuit of daring experiences." – Traveller's Elixir
"Life is like a roller coaster. Sometimes you close your eyes and hold on in sheer terror and other times, you just have to raise your hands up in the air and enjoy the ride." – Unknown
"Going to Six Flags is like stepping into a parallel universe, where gravity becomes a playful companion and ordinary rules no longer apply. Embrace the magic and let the adventure unfold!" – Traveller's Elixir
You May Also Like: Texas Captions For Instagram
Six Flags Hashtags For Instagram Likes
#sixflags
#sixflagsmagicmountain
#sixflagsmexico
#sixflagsgreatadventure
#sixflagsgreatamerica
#sixflagsovergeorgia
#sixflagsovertexas
#sixflagsnewengland
#sixflagsdiscoverykingdom
#sixflagsamerica
#sixflagsstlouis
#rollercoaster
#rollercoasterenthusiast
#rollercoasters
#rollercoasterphotography
#rollercoasterride
#rollercoastersofinstagram
#themepark
#themeparklife
#themeparkphotography
You May Also Like: Coachella Captions For Instagram
---
And there you have it, folks! I hope you've enjoyed my handpicked selection of Six Flags Instagram captions.
Remember the key to a great caption is to capture the exhilaration and pure joy of your Six Flags experience.
Let your followers feel the adrenaline rush as they scroll through your epic Six Flags photos.
Related Posts: