If you're visiting Disney World then you're bound to have hundreds of stunning photos that you'll want to post to Instagram.
Nothing goes better with a beautiful photo than a cute caption. To save you the trouble of thinking up a caption yourself, I've put together this list of the best Disney World Instagram captions.
Just copy and paste the Disney World caption straight into Instagram.
These captions work for any place you're visiting in Disney World, including Magic Kingdom, Epcot, Animal Kingdom, Hollywood Studios and more.
Best Disney World Instagram Captions
Cute Disney World Captions For Instagram
Be right back, just polishing my tiara
Just a small-town girl, living in a Disney World
It's not easy being a princess…but hey, if the slipper fits!
Cinderella is proof is that new shoes really do change your life
Everything tastes better when it's shaped like Mickey Mouse
You like my ears? Gee thanks, just bought 'em
Get in the elephant, loser, we're going flying
Does this ice cream go with my ears?
I didn't even have to trade my voice to Ursula for a ticket here!
Wow, this place is supercalifragilisticexpialidocious
Living that Hakuna Matata kind of life
Polka dots never go out of style!
I'm either at Disneyland, or I'm missing Disneyland
Blasting off into the cosmos on Space Mountain
There's nothing I'd rather bippity-boppity-do
I piloted the Millenium Falcon today. What did you do?
Joining the resistance in Galaxy's Edge
The mountains are calling. (Splash, Thunder, and Space to be exact)
My oh my, what a wonderful day!
Snacking around the world at Epcot
If you're visiting Disney World Florida then you might also need some Universal Studios Instagram captions.
Short Disney World Captions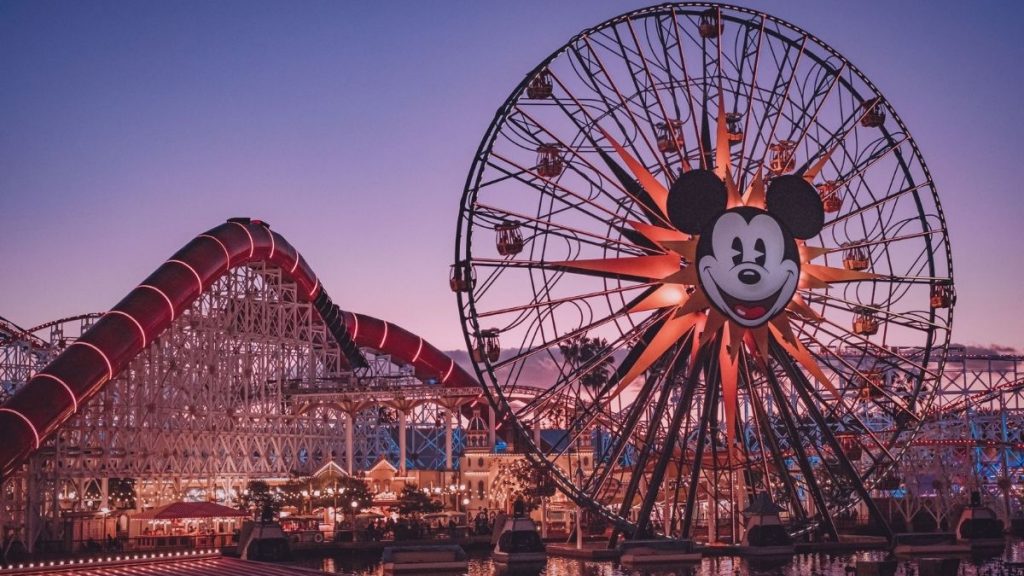 Life is better at Disney
Every princess needs a castle
It's a small world after all
Wanderlust and fairy dust
Find me on Main Street anytime
I'm always ready for a fairytale
You had me at Disney
Did anyone find a glass slipper?
Looking for my Prince Charming
Yo-ho! Yo-ho! A Disney life for me
I like my food Mickey-shaped
Smiling ear to ear
Just add pixie dust
Do you believe in magic?
Disney World mode: activated
It's a Princess thing
I'm done adulting, let's go to Disney
Follow me to Magic Kingdom
Race you down Main Street!
Oh Mickey, you so fine
In a galaxy far, far away…
Never too old for fairytales
For more fun captions, check out these awesome Orlando Instagram captions & quotes.
Funny Disney World Captions & Disney World Puns
Talk Wookie to me
Chillin' like a (Disney) villain
Don't mind if I bippity-boppity-do
I'm always flying because I can never Neverland
I'll be buzzed all lightyear
If you're walking too slow, I'll tell you to Mufasa
Dinglehopper hair, don't care
Hello, is it Smee you're looking for?
Keep it Poppins
Should I tell Ariel dinglehoppers aren't a thing, or should I fork-get about it?
Just like Olaf, I'm having a snow ball
I've been Walting for so long to go back to Disney!
Cinderella's Castle is fairy beautiful!
Stop! You're making me Disney!
Mufasa! I want to go on another ride
Is this life or is this Fantasia?
Take another beast of my heart
Nothing Elsa matters but Disney
Wow, Disney World is a maleficent place!
I'm Stitching to get started
It's a whole different Belle game
Inspirational & Beautiful Disney World Captions
There's nothing more magical than this
It truly is the happiest place on Earth
Living happily ever after at Disney
Leave a little magic wherever you go
You're never too old to wish upon a star
And she lived happily ever after
Who says we have to grow up?
See what a little wishing can do?
Some girls were just born with Disney in their veins
Disney World Quotes For Instagram Captions
"It all started with a mouse." – Walt Disney
"Dream, Believe, Dare, Do" – Walt Disney's Motto
"I want adventure in the great wide somewhere." – Belle, Beauty and the Beast
"BEST. DAY. EVER!" – Rapunzel, Tangled
"Go, live your dream." – Ruffian, Tangled
"I look at you, and I'm home." – Dory, Finding Nemo
"Who says that my dreams have to stay just my dreams?" – Ariel, The Little Mermaid
"Reach for the sky." – Buzz Lightyear, Toy Story
"Some people are worth melting for." – Olaf, Frozen
"Don't just fly, soar." – Dumbo
"They say if you dream a thing more than once, it's sure to come true." – Sleeping Beauty
"Adults are only kids grown up anyway" – Walt Disney
"Second star to the right and straight on 'til morning." – Peter Pan
"You're braver than you believe, and stronger than you seem, and smarter than you think." – Winnie the Pooh
"Adventure is out there!" – Ellie, Up
"The most fantastic, magical things can happen, and it all starts with a wish." – Jiminy Cricket, Pinocchio
"There are many worlds, but they share the same sky – one sky, one destiny." – Kairi, Kingdom Hearts II
"Let me share this whole new world with you." – Aladdin and Jasmine
"All our dreams can come true, if we have the courage to pursue them." – Walt Disney
"Laughter is timeless, imagination has no age, dreams are forever." – Walt Disney
"A dream is a wish your heart makes." – Cinderella
"Guys, I want a castle." – Flynn Rider, Tangled
"The force is strong with this one." – Darth Vader, Star Wars
"To infinity and beyond!" – Buzz Lightyear, Toy Story
"The things that make me different are the things that make me ME." – Piglet
"Happiness is the richest thing we will ever own." – Duck Tales
"All you need is faith, trust, and a little pixie dust." – Peter Pan
"I'm so glad I left my tower!" – Rapunzel, Tangled
"Happiness is a state of mind. It's just according to the way you look at things." – Walt Disney
"Put your faith in what you most believe in." – Tarzan
"The flower that blooms in adversity is the most rare and beautiful of all." – Mulan
"Unbelievable sights, indescribable feeling" – Aladdin
"You're never too old to be young" – Snow White and the Seven Dwarves
"That's the real trouble with the world, too many people grow up." – Walt Disney
"Have faith in your dreams and someday your rainbow will come shining through." – Cinderella
"Here you leave today and enter the world of yesterday, tomorrow, and fantasy." – Walt Disney
---
Hopefully this list gave you plenty of ideas for cute Disney World Instagram captions.
There's a caption here for any photo, from puns to beautiful quotes.
Feel free to copy and paste these Instagram captions for your Disney World photos.
Related Posts: