Welcome to the Sunshine State where palm trees sway, the beaches are pristine and the sun shines bright.
Let's be real, a photo is only as good as the caption. Whether you're looking for something clever, sassy or heartfelt, I've got you covered.
Get ready to impress your followers with my top picks for the best Florida Instagram captions.
P.S. Follow me on Instagram (@travellerselixir) and tag me in your photo for a share!
Best Florida Instagram Captions
These captions work for any place you're visiting in Florida including Miami, Orlando, Key West, Jacksonville and more.
Cute Florida Captions For Instagram
Living life in the sunshine state
See you later alligator, I'm off to Florida!
Sun, sand, waves, and Mickey Mouse. I'm home
Taking a break from reality and soaking up the Florida sunshine
You know you're in Florida when the palm trees are taller than the buildings
Key West called and they have a beach waiting for you
A bad day in Florida is still better than a good day anywhere else
The only thing better than a Florida vacation is planning the next one
Some call it Florida, I call it heaven
When life gives you lemons, hand them back and ask for Florida oranges
The happiest place on earth? Florida, without a doubt
I left my heart in Florida
Florida, where summer lasts 6 months, twice a year
Florida, you stole my heart and replaced it with a seashell
In Florida even the seagulls have attitude
My love for you is like a Florida sunset
There is a name for people who dislike winter…Floridians
I came to Florida for the sunshine but I stayed for the Cuban sandwiches
Got Miami on my mind
I'm all about the palm trees and the 80 degrees
Florida: where the sun is always shining and the mosquitoes are always biting
I followed my heart and it brought me all the way to Florida
Florida, where even the alligators are more photogenic than me
In Florida, we salt Margaritas not sidewalks
Dear Florida, I think about you all the time
I'm in a relationship with my air conditioner
Just a small-town girl, living in a Disney World
Living happily ever after at Disney
It's not easy being a princess…but hey, if the slipper fits!
In Florida, it's not a vacation until you have sunburn and a hangover
Once upon a time in Florida
Visiting Disney World? I have a whole post on the top Disney World Captions For Instagram.
Short Florida Captions
Florida mode: activated
Chasing waves in Florida
Where summer never ends
Find me in Miami
Florida hair, don't care
Take me to Florida
Gone to Florida, be back never
Sunny side up
Meet me at the shore
Sun, sand, Florida
Every princess needs a castle
Find me in Florida
I'm a true oceanholic!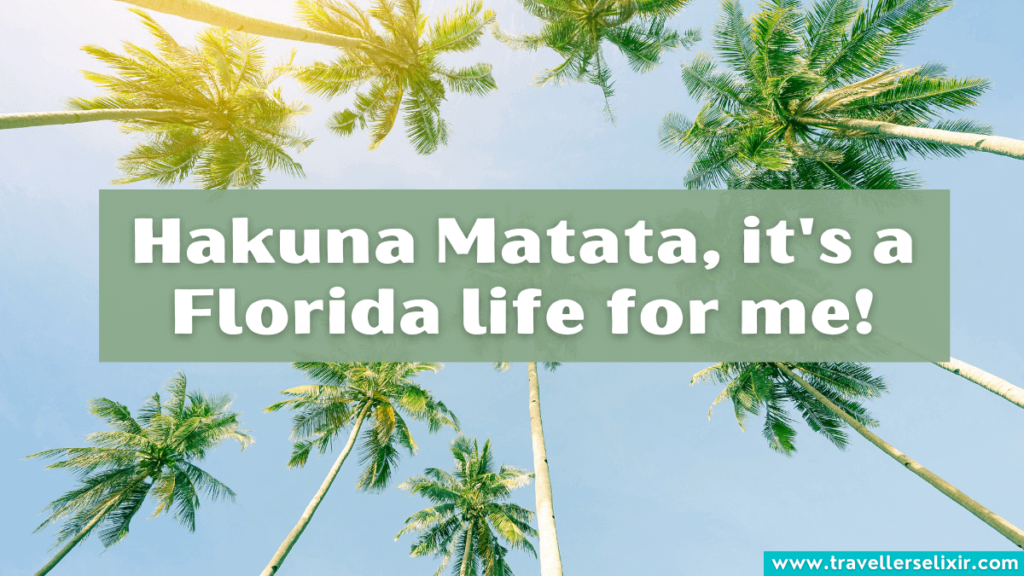 Life is better in flip flops
Sandy beaches, warm hearts
Endless summer days
The land of sunshine
Sunsets and palm trees
Home is where the beach is
Every seashell has a story
There's no place like Florida
The best days are beach days
Hakuna Matata, it's a Florida life for me!
Flip flops on
Sunshine on my mind
Find me under the palms
Ocean air, salty hair
Florida dreaming
Meanwhile, in Florida…
Got that Florida feeling
Visiting Miami whilst in Florida? Check out these awesome Miami Instagram captions for more.
Funny Florida Captions
I never knew I needed sunscreen, bug spray and an umbrella all at once until I visited Florida
If you're not sweating in Florida, are you even really there?
It got so chilly, I had to wear closed toed shoes
Florida: where flip flops are a fashion statement and mosquitoes are the state bird
Florida: where the weather forecast is always hot and humid with a chance of thunderstorms
I came to Florida for the sunshine but all I got was sunburn and loads of mosquito bites
If you're wondering why the alligators are so aggressive in Florida, it's because they have to deal with tourists all day
I didn't come to Florida to be eaten alive by mosquitos but it sure feels like they're having a feast on me
I thought I was in great shape until I tried walking around Epcot for a day
Florida is like a box of chocolates: you never know what kind of wildlife you're going to encounter
If you can survive a Florida summer, you can survive anything
I thought I packed everything for my Florida trip but I forgot to pack my patience for the traffic
Disney World is great and all but have you ever tried navigating Miami traffic?
Just when you thought Florida couldn't get any weirder, you stumble upon a mermaid convention…
If you think the humidity in Florida is bad, just wait until you step into a theme park restroom
Why do people come to Florida in the summer? It's like stepping into a sauna with no escape
You May Also Like: Alabama Captions For Instagram
Funny Florida Puns
Gimme the Keys, please
Have I Everglade you a reason not to trust me?
Easy, Breezy, Keysey
Florida, you croc my world!
Florida is a gift to hu-manatee
We shore are going to have a great time in Florida
Don't worry, beach happy
Stop being such a gator
Shake your palm palms
Sea-esta
I don't wanna be tide down
You're such a mana-tease
Shell-abrating good times in Florida
Shell yeah, I'm in Florida!
Tis the sea-sun!
All I need is a little vitamin sea
Florida is manatee-rific!
Met a crocodile and it said 'nice to eat you'
Visiting Key West? Check out these great Key West Instagram captions for more.
Inspirational & Beautiful Florida Captions
I love Florida. I love the beach. I love the sound of the waves crashing against the shore
Florida, where the horizon meets the ocean and my soul finds solace
May sunshine surround you each new day and may smiles and love never be far away
I find my happiness where the sun shines
Florida showed me that life is best lived with sand between your toes and sunshine on your face
Florida, where the palm trees sway and the worries fade away
Palm trees, ocean breeze, salty air, sun-kissed hair, that endless summer, take me there
May your days be filled with smiles, sunshine and seashells
In Florida, I found peace in the simplicity of nature and the rhythm of the ocean
In Florida, I discovered that the world is full of beauty and it's up to us to seek it out
Florida taught me to slow down, breathe deeply and appreciate the moment
I love places where it's summer in winter
Florida, where every sunset is a promise of a new tomorrow and new possibilities
I found a piece of heaven on earth that I didn't know existed
Of all the paths you take in life, make sure a few of them are sandy
Florida is more than just a destination, it's a feeling of freedom and adventure
There's nothing quite like the feeling of sand between your toes and ocean breeze in your hair
My favourite color is the ocean
My time in Florida was a reminder to always look for the magic in life even in the smallest moments
Florida, where the sunsets are a daily reminder of life's beauty and wonder
I would rather have seashells than snowflakes
Florida may be known for its beaches but it's the sunsets that stole my heart
I may have left Florida but it will forever be a part of me
I have salt in my veins and sand in my heart
In Florida, every day is a new adventure waiting to happen
Florida reminded me that sometimes the best things in life are the simplest
Up Next: Universal Studios Instagram Captions
Florida Quotes For Instagram Captions
"Florida is where the sun meets the sea and the world stands still in awe." – Traveller's Elixir
"I love Florida. I love the beach. I love the sound of the surfers against the rocks." – Emo Philips
"In Florida, the sand is a canvas and the ocean is the brush that paints the most beautiful masterpiece." – Traveller's Elixir
"It's Florida. Hair is just an extra sweater I'm forced to wear." – Emma Gonzalez
"Florida is the world's greatest amusement park." – Budd Schulberg
"Florida is a place where dreams come to life and memories are made to last a lifetime." – Traveller's Elixir
"Two things Florida can teach the other 49 states: how to make a good margarita and how to deal with the aftermath of a hurricane." – Tom Feeney
"My love for you is like a Florida sunset. Orange, coral, pink, and lavender, it exists to warm your heart through the inevitable darkness." – Jarod Kintz
"Florida is not just a state, it's a state of mind, a feeling of freedom and a love for life." – Traveller's Elixir
"The Florida skies are like no other, with cloud formations that are awesome! Even when it rains, the sun shines through the drops." – Connie Letang
"Florida is a place where time stands still and the worries of the world melt away into the ocean." – Traveller's Elixir
"I like Florida. Everything is in the '80s. The temperatures, the ages, and the IQs." – George Carlin
"It's always sunny in the Sunshine State. Except for at night." – Jarod Kintz
"Florida isn't so much a place where one goes to reinvent oneself, as it is a place where one goes if one no longer wishes to be found." – Douglas Coupland
"In Florida, the stars shine brighter and the sky is a canvas of endless dreams." – Traveller's Elixir
"Florida is different things to different people. To some, Florida is a paradise. It has warm water, sun-drenched beaches, mysterious swamps, and stunning coral reefs." – Perry Chang
"For a lot of people in different times in their life, Florida represents a new start." – Larry Reimer
"Florida is a place where the beauty of nature and the excitement of the city blend seamlessly, from the Everglades to Miami Beach." – Traveller's Elixir
"Sometimes I think I've figured out some order in the universe, but then I find myself in Florida" – Susan Orlean
"I go to Florida sometimes for vacation. I actually really like Florida. It's a weird place, it's surreal. It's so close, but you feel like you're in another world or on an island." – Jemima Kirke
"Miami is one of these places where diversity is in our blood, where, you know, if you want to go have a Nicaraguan breakfast, a Cuban lunch, and an American dinner, you do." – Ana Navarro
"It doesn't matter how much I think I know about Florida, it still flips me on the head every time. It's just an absurd, electric place, and the stories that can come out of that place just never stop." – Matt Passmore
"I want to get to Key West and away from it all." – Ernest Hemingway
"I live in Florida, and when people ask how close to the beach I am, I say, 'Twelve minutes or twelve hours. Depends on which beach you want to go to." – Jarod Kintz
"Florida is a place for innovation, for prosperity, for pioneering." – Hendrith Vanlon Smith, Jr.
"Miami is one of these great places that is a really sensual, physically beautiful place." – Michael Mann
"I live in Florida and people are crazy here. And I say that lovingly." – Amy Seimetz
"Florida is a strange place: hot, beautiful, ugly. I love it here, and how nothing makes sense but still, somehow, there is a rhythm." – Roxane Gay
"My parents didn't want to move to Florida, but they turned 60 and that's just the law." – Jerry Seinfeld
"Florida is a golden word…The very name Florida carried the message of warmth and ease and comfort. It was irresistible." – John Steinbeck
"I am a Florida guy. I don't do cold." – J. R. Ramirez
"Anytime I get down to Miami, it's a wonderful thing." – Bill Goldberg
"Florida was also very hot and full of mosquitoes and strange creatures such as alligators." – Teresa Wimmer
"Florida is where the sun-kissed beaches, endless blue skies and crystal-clear waters invite you to stay forever." – Traveller's Elixir
"Remember that Florida is a land of weirdos and bizarre happenings, and conduct yourselves accordingly." – Jeff Zentner
"Almost everything strange washes up near Miami." – Rick Riordan
Heading down to Orlando? Check out my post on the best Orlando Instagram captions.
Florida Hashtags For Instagram Likes
#floridalife
#floridaliving
#floridagirl
#floridabeaches
#floridasunset
#floridalifestyle
#floridasky
#floridasunsets
#floridatravel
#visitflorida
#floridavacation
#roamflorida
#floridafun
#florida_greatshots
#floridasun
#floridanature
#floridaphotography
#floridagators
#floridafoodie
#floridavibes
Up Next: SeaWorld Instagram Captions
---
And that's a wrap on my list of the best Florida Instagram captions!
Whether you're lounging on the beach, exploring theme parks or enjoying the vibrant nightlife, there's always a perfect caption to accompany your photo.
Related Posts: