Whether you're exploring Walt Disney World or embarking on a thrilling adventure at Universal, one thing is for sure: you'll want to capture every memorable moment.
And what better way to make your Instagram posts shine than with the perfect Orlando-inspired captions?
From whimsical quotes to playful puns, I've rounded up the best Orlando Instagram captions that will add a sprinkle of pixie dust to your feed and leave your followers longing for more.
Best Orlando, Florida Instagram Captions
Cute Orlando Captions For Instagram
Orlando is my therapy
Living happily ever after at Disney
Gone to Orlando, be back never
There's nothing more magical than this
Orlando gives me butterflies
Today's forecast: 100% chance of roller coasters
Be right back, just polishing my tiara
Just a small-town girl, living in a Disney World
A photo dump featuring Minnie Mouse ears, ice cream and smiles
Meet you at the princess castle
Left my heart in Orlando, better go back and get it
Driving down I4 like I'm on the Tomorrowland Speedway
I really, really like Orlando
My oh my, what a wonderful day!
I wonder if Orlando misses me too
I solemnly swear I am up to no good
…and she lived happily ever after
Follow your heart even if it takes you all the way to Orlando
Taking life one theme park at a time
Making some new flippered friends at SeaWorld
Up Next: Best Disney World Captions For Instagram
Funny Orlando Captions & Orlando Puns
I ain't gonna go if I can't wear my flip flops
Cinderella is proof is that new shoes really do change your life
I'm in a relationship with my air conditioner
You're one in a minion
It ain't ogre till it's ogre
Keep it Poppins
Stop! You're making me Disney!
Welcome to my sea-world
It's a whole different Belle game in Orlando
They say Universal studios is ogre-rated but I'm not sure
I'll be buzzed all lightyear
SeaWorld is fintastic!
Cinderella's Castle is fairy beautiful!
If lost, can be found with the penguins at SeaWorld
You May Also Like: Best Universal Studios Captions For Instagram
Short Orlando Captions
Some call it Orlando, I call it heaven
I'm done adulting, let's go to Disney
Every princess needs a castle
If lost, return to Orlando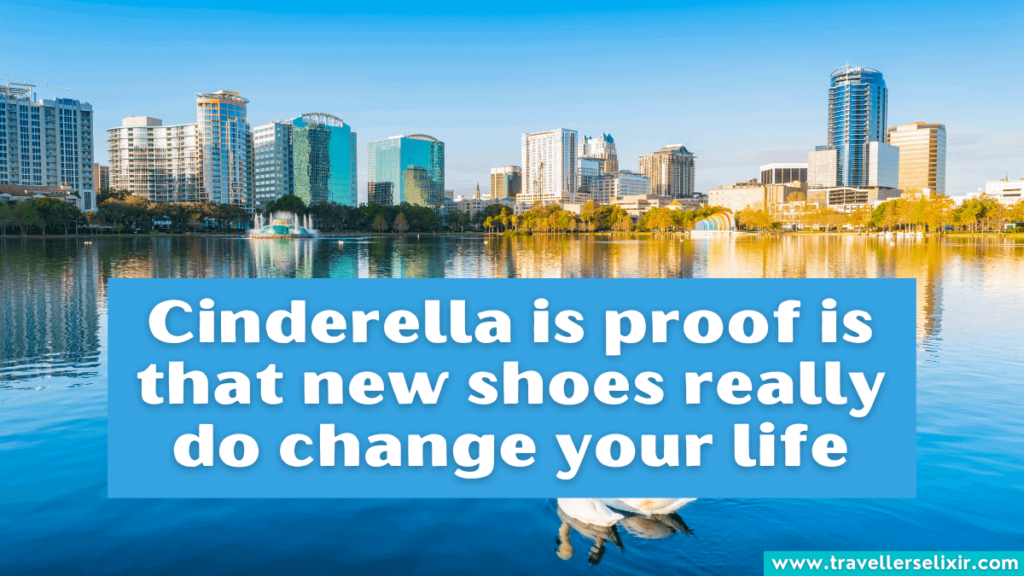 Orlando? That's not a place, it's a dream
Sunsets and palm trees
Daydreaming in Orlando
From Orlando with love
Once upon a time in Orlando
Did anyone find a glass slipper?
Orlando, I'm yours!
Did somebody say Epcot?
Up Next: Best Florida Captions For Instagram
Orlando Quotes For Instagram Captions
"Walt Disney World is nearly 30,000 acres or 48 square miles. That is more than 80 times the size of Monaco. Grace Kelly would have been queen of a larger and wealthier kingdom if she'd married Uncle Walt instead of Prince Rainier." – Eve Zibart
"Second star to the right and straight on 'til morning." – Peter Pan, Peter Pan
"For those who dream, life can be an epic adventure." – Marilyn Churchill
"To Florida – its dreamers, its builders, its mavericks, and its scoundrels." – Beatriz Williams
"Florida is the world's greatest amusement park." – Budd Schulberg
"They welcomed me here in Orlando and wanted me to just be me." – Gilbert Arenas
"I represent Orlando, Florida, the world's number one vacation destination." – Ric Keller
"Some people are worth melting for." – Olaf, Frozen
"You'll be on your way up! You'll be seeing great sights! You'll join the high fliers who soar to high heights." – Dr Seuss
You May Also Like: Best SeaWorld Captions For Instagram
---
Whether you've experienced the enchantment of the theme parks or explored vibrant neighborhoods, let your followers join in on the fun with these delightful captions.
From inspiring quotes to clever wordplay, these Orlando Instagram captions will capture the essence of your journey and transport your audience to the land of dreams.
Related Posts: