From mesmerizing dolphin leaps to exhilarating roller coasters that make your heart race, SeaWorld offers a treasure trove of Instagram-worthy snapshots.
But hey, let's face it: finding the perfect caption to match those incredible photos can sometimes feel like navigating through a labyrinth of sea creatures.
Fear not! I've got you covered with this epic list of the best SeaWorld Instagram captions.
P.S. Follow me on IG (@travellerselixir) and tag me in your photo for a share!!
Best SeaWorld Instagram Captions
Cute SeaWorld Captions For Instagram
Making some new flippered friends
Quitting everything to become a dolphin
Something's fishy here
Guys, I think I'm an aquaholic
Dolphins are the ultimate professionals at making humans squeal with joy
Penguins – hate to see them go, love to watch them waddle
Petting animals is good for the soul
I'd let a penguin photobomb my pics any day
The one where I go to SeaWorld
Do I really have to leave this place?
When the world gets too loud, find solace in the gentle whispers of the ocean
My heart flutters like a butterflyfish every time I visit SeaWorld
Never met a sea lion I didn't like
I love that dolphins always seem to have a permanent 'smiling without trying' thing going on
Fish are friends not food
Feeling like a mermaid who just found her pod of friends at SeaWorld
If lost, can be found with the penguins
In a sea of smiles and sunshine, SeaWorld stole my heart
In the presence of dolphins, my heart feels lighter than the ocean breeze
SeaWorld taught me that happiness can be found in the tiniest moments, like watching a seahorse dance
Just a mermaid at heart, surrounded by magical creatures at SeaWorld
Note to self: work on my dolphin impression. Apparently, mine needs more finesse
Trying to take a group photo with the penguins: 'Guys, can we all just look in the same direction for once?'
A day spent with dolphins is a day well spent
Swimming into the weekend like…
Up Next: Universal Studios Captions For Instagram
Funny SeaWorld Captions & SeaWorld Puns
Welcome to my (sea) world
Under the sea (world)
Just had a whale of a time at SeaWorld!
Catch me by the sea (world)
Feeling jelly-ous of this jellyfish's mesmerizing dance moves
SeaWorld, you're turtle-y awesome
Seal-abrating my day at SeaWorld with a big grin and a bucketful of fishy memories
Seaing the sights
Just (sea) lion around
Sea you later, reality! I'm still otter-ly captivated by the adorable antics of these furry little creatures
Otterly adorable
Seek to sea more
Dolphinately coming back to SeaWorld soon
Seal-ed with a kiss
Sea you next time!
SeaWorld is fintastic!
Getting a dose of vitamin sea (world)
I can sea clearly now
You May Also Like: Disney World Captions For Instagram
Short SeaWorld Captions
Making waves
Be kind to animals
P.S. I love SeaWorld
Sea magic
Sea vibes and good times
Marine wonders
Where the wild things are
Where magic meets the sea
Ocean bliss
Okay, but first SeaWorld
Underwater paradise
Cue the dolphins and water rides
Diving into adventure at SeaWorld!
Up Next: San Diego Captions For Instagram
SeaWorld Quotes For Instagram Captions
"Darling it's better down where it's wetter, take it from me." – Sebastian, 'Under the Sea'
"In the graceful dance of dolphins, we witness the pure joy that comes from embracing the rhythm of life's currents." – Traveller's Elixir
"If there is magic on this planet, it's contained in water." – Lorene Eisley
"At SeaWorld, time stands still as the ocean whispers its timeless secrets and the heart dances with the rhythm of the tides." – Traveller's Elixir
"The sea, once it casts its spell, holds one in its net of wonder forever." – Jacques Cousteau
"Sea creatures are nature's storytellers, whispering tales of wonder and mystery, reminding us that the ocean holds secrets beyond our imagination." – Traveller's Elixir
"I'd like to be under the sea in an octopus's garden in the shade." – The Beatles, 'Octopus's Garden'
"Animals are such agreeable friends. They ask no questions, they pass no criticisms." – George Eliot
"The playful antics of seals and sea lions awaken the child within us, inviting us to embrace lightheartedness and embrace the joy of simple pleasures." – Traveller's Elixir
"Try to be like the turtle – at ease in its own shell." – Bill Copeland
"At SeaWorld, time melts away and the boundaries between land and sea dissolve, allowing us to become one with the majesty of the underwater realm." – Traveller's Elixir
"Fish will never be afraid of living in the ocean, no matter how deep it is." – Matshona Dhliwayo
"Through the gates of SeaWorld, I entered a sanctuary where dreams and reality intertwine, leaving an indelible mark on my soul." – Traveller's Elixir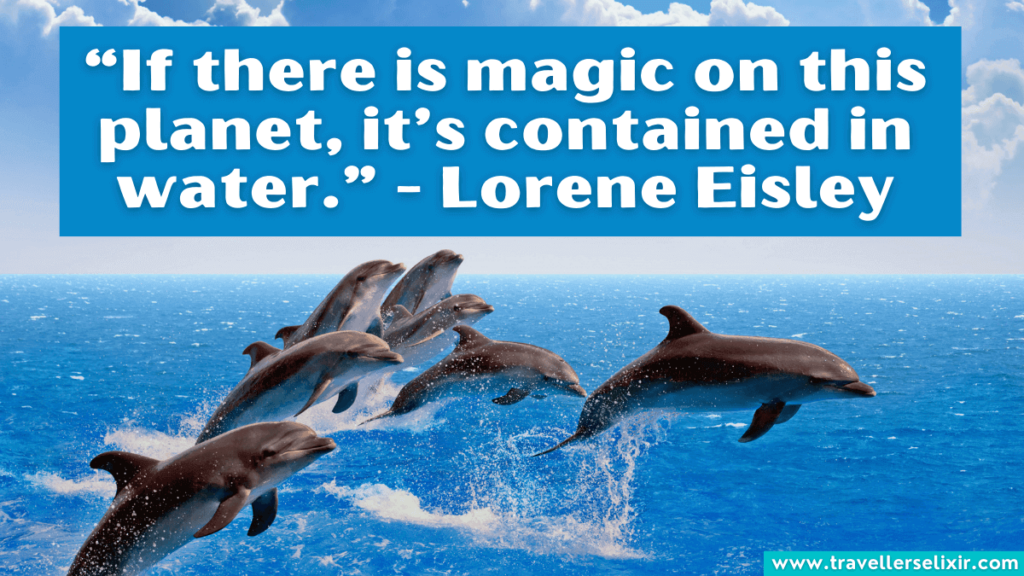 "I'm on a roller coaster that only goes up, my friend!" – The Fault in Our Stars by John Green
"If a penguin can find a soul mate, I'm sure I can, too." – Rebekah Crane, 'Playing Nice'
"I need the sea because it teaches me." – Pablo Neruda
"No good fish goes anywhere without a porpoise." – Lewis Carroll
"SeaWorld's allure lies not only in its captivating marine life but also in its ability to awaken the dormant childlike wonder within our hearts." – Traveller's Elixir
Up Next: Orlando Captions For Instagram
SeaWorld Hashtags For Instagram Likes
#seaworld
#seaworldsandiego
#seaworldsanantonio
#seaworldaus
#seaworldorlando
#seaworldparks
#underseaworld
#dolphins
#dolphinpose
#dolphinlover
#turtlelove
#turtlelover
#turtlegram
#penguinlove
#penguinlife
#penguinlover
#sealife
#sealteam
#sealover
#seaturtle
Up Next: San Antonio Captions For Instagram
---
I hope you've found the perfect words to complement your stunning photos and share the magic of this aquatic wonderland with your followers.
Whether you're seeking inspiration for a playful caption highlighting the antics of a sea lion or a thoughtful quote that captures the awe-inspiring beauty of marine life, I hope you've found it here!
Related Posts: