If you're visiting SeaWorld then you're bound to have hundreds of stunning photos that you'll want to post to Instagram.
Nothing goes better with a beautiful photo than a cute caption.
To save you the trouble of thinking up a caption yourself, I've put together this list of the best SeaWorld Instagram captions.
Just copy and paste the SeaWorld caption straight into Instagram.
Best SeaWorld Instagram Captions
Cute SeaWorld Captions For Instagram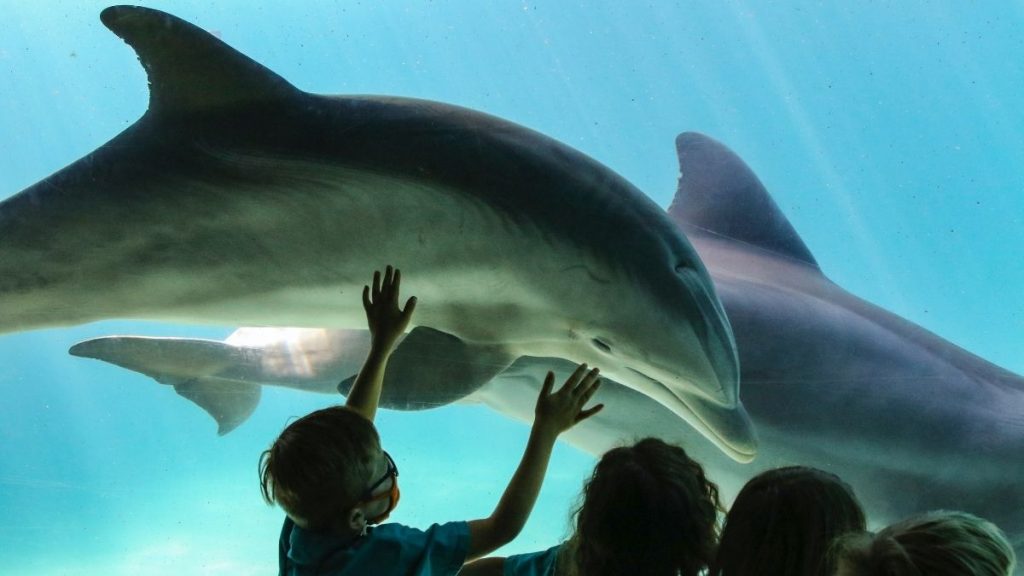 Making some new flippered friends
Quitting everything to become a dolphin
Something's fishy here
Guys, I think I'm an aquaholic
Penguins – hate to see them go, love to watch them waddle
Petting animals is good for the soul
I'd let a penguin photobomb my pics any day
The one where I go to SeaWorld
Do I really have to leave this place?
Never met a sea lion I didn't like
Fish are friends not food
If lost, can be found with the penguins
Funny SeaWorld Captions & SeaWorld Puns
Welcome to my (sea) world
Under the sea (world)
Catch me by the sea (world)
SeaWorld, you're turtle-y awesome
Seaing the sights
Just (sea) lion around
Otterly adorable
Seek to sea more
Dolphinately coming back to SeaWorld soon
Seal-ed with a kiss
Sea you next time!
SeaWorld is fintastic!
Getting a dose of vitamin sea (world)
I can sea clearly now
Short SeaWorld Captions
Making waves
Be kind to animals
P.S. I love SeaWorld
Where the wild things are
Okay, but first SeaWorld
Cue the dolphins and water rides
SeaWorld Quotes For Instagram Captions
"Darling it's better down where it's wetter, take it from me." – Sebastian, 'Under the Sea'
"If there is magic on this planet, it's contained in water." – Lorene Eisley
"The sea, once it casts its spell, holds one in its net of wonder forever." – Jacques Cousteau
"I'd like to be under the sea in an octopus's garden in the shade." – The Beatles, 'Octopus's Garden'
"Animals are such agreeable friends. They ask no questions, they pass no criticisms." – George Eliot
"Try to be like the turtle – at ease in its own shell." – Bill Copeland
"Fish will never be afraid of living in the ocean, no matter how deep it is." – Matshona Dhliwayo
"I'm on a roller coaster that only goes up, my friend!" – The Fault in Our Stars by John Green
"If a penguin can find a soul mate, I'm sure I can, too." – Rebekah Crane, 'Playing Nice'
"I need the sea because it teaches me." – Pablo Neruda
"No good fish goes anywhere without a porpoise." – Lewis Carroll
---
Hopefully this list gave you plenty of ideas for cute SeaWorld Instagram captions.
There's a caption here for any photo, from puns to beautiful quotes.
Feel free to copy and paste these Instagram captions for your SeaWorld photos.
Related Posts: