From its rich history to mouthwatering cuisine and stunning sights, this city is an Instagrammer's paradise.
Whether you're standing in awe of the historic Alamo or savoring delicious tacos, one thing is certain: San Antonio offers endless opportunities for that perfect Instagram shot.
I've spent hours coming up with a list of the best San Antonio Instagram captions that will make your followers double-tap with delight.
P.S. Follow me on Instagram (@travellerselixir) and tag me in your photo! I'd love to see it.
Best San Antonio Instagram Captions
Cute San Antonio Captions For Instagram
Once upon a time in San Antonio
You had me at tacos
Some call it San Antonio, I call it heaven
Did somebody say BBQ?
If you can't go to heaven, San Antonio is the next best thing
Strolling down the River Walk never gets old
I think it's a Tex-Mex kinda day
Smell the river and feel the sky, let your soul and spirit fly
History, Tex-Mex and BBQ, could this city get any better?
The one where I go to San Antonio
A Tex-Mex life for me
Never coming home, staying in San Antonio
Enjoying life one taco at a time
I wanna watch the sunset in San Antonio with you
Up Next: Texas Captions For Instagram
Funny San Antonio Captions & San Antonio Puns
Let's San Antoni-GO!
Ready for a San Antoni-bros weekend?
Wow, San Antonio is Texa-llent
This trip has been amazing, but it's time to Alamo home
I love the River Walk in San Antonio but it's too mainstream
Life is good on the River Walk – full stream ahead!
Let's taco 'bout it
Tex-mex-as
Just chili-in in San Antonio
That's nacho problem
You May Also Like: Arizona Captions For Instagram
Short San Antonio Captions
Meet me in San Antonio
If lost, return to Texas
Here for the food
Viva San Antonio!
P.S. I love San Antonio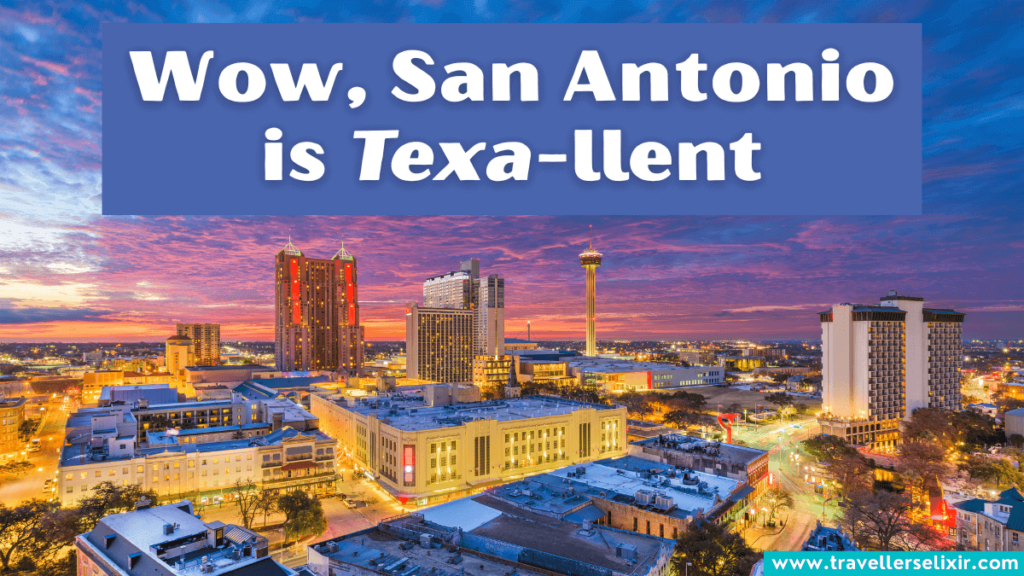 Let's explore the Alamo
Tacos and Texas sunsets
I really, really like San Antonio
Don't mess with Texas
Moving to San Antonio
Art, tacos and fiesta in the heart of Texas
Alamo vibes
Up Next: Denver Captions For Instagram
San Antonio Quotes For Instagram Captions
"I'll take you down to San Antonio. We'll see the River Walk and the Alamo and maybe the zoo, just wanna be with you." – Josh Abbott Band
"Lost in the charm of San Antonio's streets, I discovered a world where dreams come to life." – Traveller's Elixir
"I like Texas and Texans. In Texas, everything is bigger. When Texans win, they win big. And when they lose, it's spectacular. If you really want to learn the attitude of how to handle risk, losing, and failure, go to San Antonio and visit the Alamo." – Robert Kiyosaki
"Half of San Antonio's population is of Mexican descent, the other half just eats that way." – Mike Greenberg
"San Antonio, where every step is a dance and every moment is a fiesta." – Traveller's Elixir
"I feel like I've made some good memories in San Antonio. I feel like I'm in a really good family in San Antonio." – LaMarcus Aldridge
"Cry me a river." – Justin Timberlake
"I think Texans have more fun than the rest of the world." – Tommy Tune
"San Antonio itself does feel like home." – Danny Green
"In the footsteps of legends, I walked through the storied halls of the Alamo, forever touched by its spirit." – Traveller's Elixir
"I came to San Antonio without knowing anything about the city." – Manu Ginobili
"I didn't drive eleven hours across the state of Texas to watch my cholesterol." – Robb Walsh
"Amidst the colorful murals and warm smiles, San Antonio whispered stories of love and adventure into my heart." – Traveller's Elixir
"San Antonio stole my heart and threw away the key." – Traveller's Elixir
You May Also Like: Phoenix Captions For Instagram
San Antonio Hashtags For Instagram Likes
#sanantonio
#sanantoniotexas
#sanantoniotx
#sanantonioriverwalk
#sanantoniofood
#sanantoniofoodie
#sanantonioeats
#sanantonioblogger
#sanantoniophotography
#sanantonioliving
#sanantonioart
#sanantoniofoodies
#sanantonionightlife
#everythingisbiggerintexas
#texaslife
#texasforever
#texasblogger
#texasstyle
#texasroadtrip
#texastravel
Up Next: Nashville Captions For Instagram
---
As you wrap up your San Antonio adventure, don't forget to sprinkle a touch of magic onto your Instagram feed with these captivating captions.
Whether you're strolling through the colorful Market Square or getting lost in the artistry of the vibrant local murals, San Antonio has something for everyone.
Related Posts: