Arizona is a photographer's paradise, filled with stunning natural wonders and vibrant urban landscapes that are just begging to be captured and shared on Instagram.
But with so many awe-inspiring sights to choose from, finding the perfect caption to accompany your photos can be a daunting task.
That's why I've rounded up the best Arizona Instagram captions to help you showcase the beauty of this state in style.
P.S. Follow me on IG (@travellerselixir) and tag me in your photo for a share on my story!
Best Arizona Instagram Captions
These captions work for any place you're visiting in Arizona including Phoenix, Tucson, Horseshoe Bend, Scottsdale, Sedona and more.
Arizona Puns
It's Friday night and I'm Phoenix fine
Why not fry Arizona for your next vacation
Arizona, Yuma favorite state
Stop Mesa'n around!
Any boredom you might have will evaporate in the heat
I hope you Havasu-per time at Havasu Falls
I can't wait to meteor you, Arizona
Dam it, Arizona, you're too pretty!
Arizona? More like Arid-zona
Arizona: serving you just deserts
Is it Tucson to make a joke about Arizona?
Arizona is out-sand-ing
Arizona, I'll never desert you
Pretty fly for a cacti
Arizona prickles my fancy
I came, I saw, I cacti-ed
Been there, dune that
Horseshoe bend was just gorge-ous
I'm red-y to explore Arizona!
Horseshoe bend is absolutely view-tiful
I'll never desert you Arizona
Girls just wanna have sun!
Canyon believe it?
Aloe there, I'm in Arizona!
What's up succa?
These views are beautiful as far as the eye canyon see
Up Next: Grand Canyon Instagram Captions
Funny Arizona Captions
Just another day in the desert trying not to become a crispy critter
I went to Arizona and all I got was this lousy sunburn
The only thing hotter than the Arizona sun is me in these boots
I don't always hike, but when I do, it's to find the nearest air-conditioned bar
Arizona, where even the rocks are hot enough to fry an egg
The Grand Canyon may be one of the seven wonders of the world but have you tried the tacos in Tucson?
I swear hiking in Arizona is like walking on the surface of the sun
I'm in a love-hate relationship with Arizona. I love the views, hate the cactus needles
I don't always take selfies, but when I do, it's in front of a giant cactus in Arizona
In Arizona, there are two seasons: hot and hotter
I left my heart in Arizona…and my sweat glands too
Arizona, where the saguaro cacti are the real OGs of the desert
I thought I was hot stuff until I visited Arizona in the summer
If you're not sweating in Arizona, are you really even there?
In Arizona, we don't need saunas – we just step outside
I didn't know what a haboob was until I came to Arizona, now I can't stop saying it
I asked an Arizona local for directions and they said 'just follow the cacti.' Thanks, that's super helpful
I never knew what true heat was until I visited Arizona. It's like walking on the sun but with more cactus
The only thing more plentiful in Arizona than cacti are the 'watch for snakes' signs
I think I left a piece of my soul in Arizona…or maybe it was just melted into the pavement
You May Also Like: Sedona Instagram Captions
Short Arizona Captions
Feelin' hot, hot, hot!
Arizona hair, don't care
Desert dreams
Grand Canyon vibes
Hotter than hot
Cactus cutie
Red rockin' it
Desert magic
Wild West feels
Sedona serenity
Phoenix rising
Desert days and Arizona nights
Arizona is my therapy
Sand, sun and Arizona fun
Yes, but it's a dry heat!
Just another day in paradise
Wanderlust and desert dust
Canyon calling
Arizona, I'm yours!
Close to nature
Adventure is out there
I was born to explore
I left my heart in Arizona
Meanwhile, in Arizona…
Meet me in Arizona
Brb, catching a flight to Phoenix
Up Next: Phoenix Instagram Captions
Cute Arizona Captions For Instagram
If you can't stand the heat, get out of Arizona
Arizona, you're hotter than the desert sun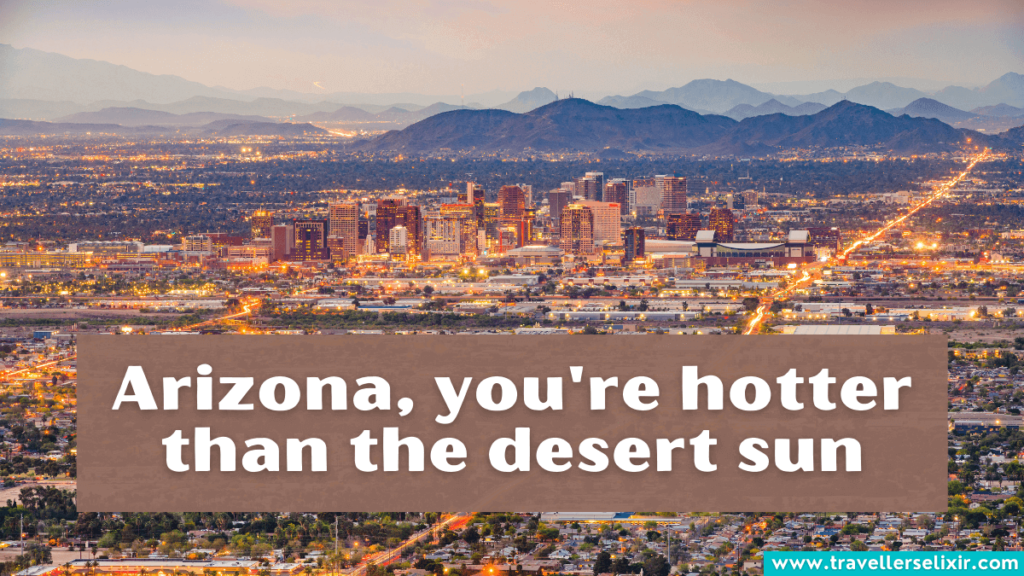 Arizona, where the rocks are red and the drinks are strong
In Arizona, you'll find everything from A to Z
Just another day in paradise, sweating my face off
Arizona, where the desert meets the sky
I've never met a saguaro cactus I didn't like
In Arizona we salt margaritas, not sidewalks
In Arizona, there are two types of weather: hot and a little less hot
I think I'll just park myself down next to this cactus and call it a day
Of all the paths you take in life, make sure some of them are sandy
Exploring the Wild West in Arizona
I'm not saying I'm addicted to Arizona sunsets but I do have a thing for dramatic endings
What's life but one grand adventure?
Finding my inner adventurer in Arizona
Soaking up the sun and desert vibes in Scottsdale
In Arizona, even the tumbleweeds are hot
Life is short but the Grand Canyon is long AF
I'm not saying it's hot in Arizona but two hobbits just showed up and asked where they should throw the ring
My favorite part of winter is watching it from Phoenix
Being this hot has never been so cool
Welcome to Arizona, where the heat is sick of the heat
Arizona, where the desert blooms with life
Never met a desert sunset I didn't like
In Arizona, the beauty of the desert is only the beginning
Once upon a time in Arizona
Follow your heart, even if it takes you all the way to Arizona
Enjoying life one cactus at a time
You May Also Like: Best Desert Instagram Captions
Inspirational & Beautiful Arizona Captions
The sun never stops shining in Arizona
If a flower can flourish in Arizona, you can flourish anywhere
Take only memories. Leave only footprints
Peace, love and desert dust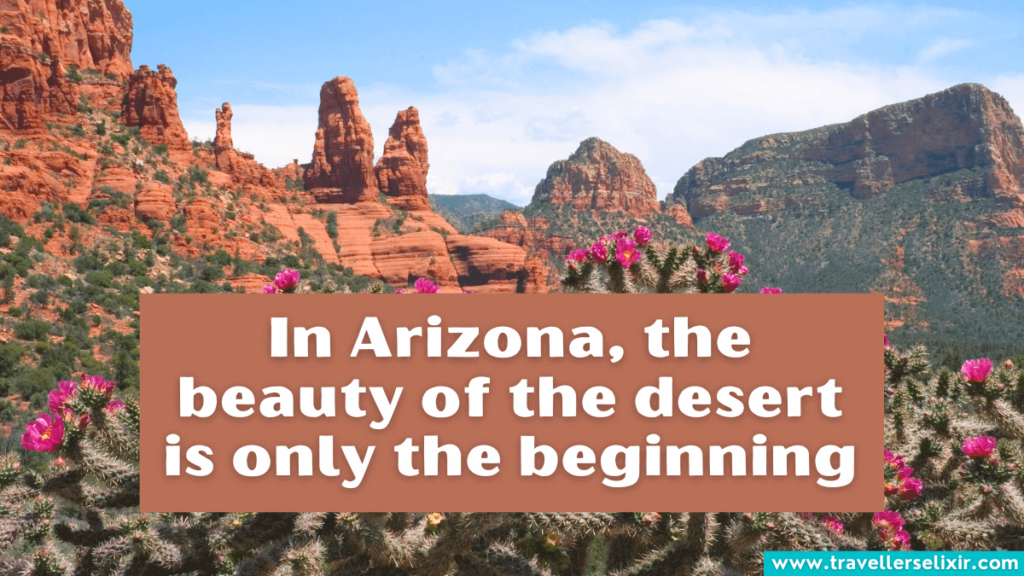 Arizona, you taught me that life's adventures are waiting for us outside of our comfort zones
It's almost impossible to watch a sunset and not dream of Arizona
Every dreamer deserves to get away every once in a while
Windows down, wind through my hair, desert dust in my shoes
Somehow, the stars are just better out here
I never knew the desert could be so magical until I visited Arizona
The desert works constantly to forbid it, and still the cactus blooms
Arizona, you showed me that beauty comes in all shapes, sizes and shades of red
Thank you Arizona for making me feel so alive
I'm not the same since seeing the sunset in Arizona
Sometimes you find yourself in the middle of nowhere. Sometimes, in the middle of nowhere, you find yourself
Up Next: Las Vegas Instagram Captions
Short Quotes About Arizona
"Arizona is gorgeous. The sunshine in Arizona is gorgeous red." – Cecilia Bartoli
"Nowhere on this planet is the desert as fascinating as it is in Arizona." – Joseph Stacey
"Arizona changes its state motto to 'wow, it's hot'." – Greg Proops
"If there's one thing Arizona is best in the nation at, it's water." – Doug Ducey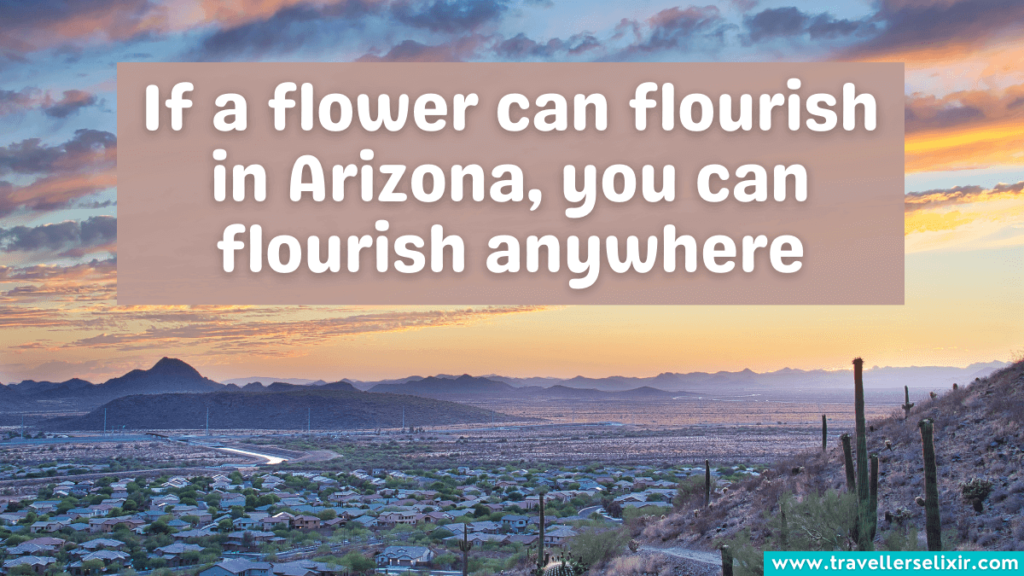 "The people of Arizona, they've been very warm and welcoming." – Tyrann Mathieu
"In Arizona, there's mountains behind my house." – Brian Urlacher
"In Arizona, you can hike among cactus as tall as office buildings." – Mike Coopsen
"Oh my gorgeous Arizona, here's to getting caught with you." – 'Waiting for My Sun to Shine' by The Maine
"Open your ears and listen. Listen to the message that Sedona has for you." – Ilchi Lee
"The Arizona desert takes hold of a man's mind and shakes it." – David W. Toll
"My favorite color? The seam of a desert horizon." – Eileen R. Tabios
"Even the plants in Arizona wanted to hurt you." – Janette Rallison
"One must maintain a little bit of summer, even in the middle of winter." – Henry David Thoreau
"The great desert of Arizona quivering in the heat of the southern sun." – Mark Daniels
"Of all the paths you take in life, make sure a few of them are dirt." – John Muir
"In the empire of the desert, water is the king and shadow is the queen." – Mehmet Murat Ildan
"You know you're an Arizona native when a rainy day puts you in a good mood." – Marshall Trimble
"Almost everyone in the world knows something about Arizona, and some of it is even true." – Jim Turner
"It was a scary moment. I'd gotten used to living in Arizona; it was home." – Daniel Anaya
"Arizona – I've only spent a few days there, but it's inspired me the most. It's so peaceful." – Benjamin Clementine
"If you need a dream, or if you need to rediscover a dream you've lost, come here to Sedona." – Ilchi Lee
You May Also Like: San Antonio Instagram Captions
Arizona Quotes For Instagram Captions
"In the land of the desert sun, where cacti stand tall and the mountains rise high, Arizona is a place of beauty and wonder that takes your breath away." – Traveller's Elixir
"My idea of heaven is being in Arizona, stuck up a mountain – somewhere where there are no phones." – Gavin Esler
"Arizona is a land of contrasts, where the fiery red rocks of Sedona meet the cool blue waters of Lake Powell, and the barren desert landscapes give way to lush forests and wildflower meadows." – Traveller's Elixir
"Arizona is a place where nature shows off its finest work, where the Grand Canyon's majestic beauty leaves you in awe and the starry skies of Flagstaff take your breath away." – Traveller's Elixir
"In Arizona, shade trees are your best friends and occasionally the basis of small civil wars over parking." – Terri Guillemets
"Let's pack up and catch us a slow train, and go back to Phoenix to a far brighter day." – Waylon Jennings
"No matter where in the world I'm coming back from, in Sedona I always feel a sense of safety and peace, as if I've returned to the home of my soul, into the arms of Mother Earth the red land that always welcomes me with open arms." – Ilchi Lee
"Arizona is a land of dreams, where the vastness of the desert opens up infinite possibilities and the beauty of the mountains and canyons leave you in awe and wonder." – Traveller's Elixir
"Then the wind blew cool through the pinyons on the rim. There was a sweet tang of cedar and sage on the air and that indefinable fragrance peculiar to the canyon country of Arizona." – Zane Grey
"Why didn't I know about Sedona before? Why did no one tell me? It's breathtaking. It's … indescribable." – Sophie Kinsella
"Arizona is a place of natural wonder, where the rugged landscapes and wild beauty of the desert and mountains have inspired generations of travelers and explorers to seek out new adventures and discover the mysteries of the land." – Traveller's Elixir
"The Arizona desert to us is starkly beautiful at all times, but when touched by the magic of spring it becomes a land of enchantment. The weirdly beautiful cacti that dominate the landscape strangely resembles the vegetation of a past era, millions of years ago." – Raymond Carlson
"Arizona is a magnificent state. With something for everyone. I realize that no poem, song, picture, or words could ever do justice to Arizona." – Rick Harris
"She was actually learning to love Arizona. The beauty and color and solitude, the vastness of it had called to something deep in her." – Zane Grey
"And me – I was glowing as brightly as the warm Arizona evening. Pink clouds were striped across the twilight sky. It was a country to fall in love with." – David Gerrold
"Arizona is a land of enchantment, where the ancient and the modern coexist in a way that is both harmonious and captivating." – Traveller's Elixir
"Arcadia is one of the most beautiful neighborhoods in all of Arizona, and I love living here." – Peter Sperling
"Arizona is a state of beauty, where the ever-changing light and shadows, the vibrant colors and textures and the majestic vistas and panoramas create a visual feast that is both mesmerizing and unforgettable." – Traveller's Elixir
"Among all the geographic areas of the United States, the Southwest in general and Arizona, in particular, is blessed with a panoramic beauty that almost defies description." – Marshall Trimble
"For all the toll the desert takes of a man it gives compensations, deep breaths, deep sleep, and the communion of the stars." – Mary Austin
Up Next: Utah Instagram Captions
Arizona Hashtags For Instagram Likes
#arizona
#arizonahiking
#arizonahighways
#arizonacollective
#arizonalife
#arizonaliving
#arizonasky
#arizonaphotography
#arizonatrail
#arizona🌵
#thingstodoinarizona
#arizonasunset
#arizonaisgorgeous
#arizonaadventures
#arizonadesert
#arizona_landscapes
#explorearizona
#visitarizona
#arizonasbest
#arizonablogger
You May Also Like: Salt Lake City Instagram Captions
---
Whether you're a native Arizonan or just passing through, I hope these Arizona Instagram captions have inspired you to share the beauty of this state with the world.
From the iconic red rocks of Sedona to the bustling streets of Phoenix, Arizona has something for everyone to discover and enjoy.
Related Posts: