Welcome to Utah, the land of red rocks, stunning national parks and endless adventure!
If you're planning a trip to this breathtaking state, you'll definitely want to capture every moment with the perfect Instagram post.
Whether you're hiking through Zion National Park or skiing down the slopes of Park City, I've got you covered with the best Utah Instagram captions.
P.S. Follow me on IG (@travellerselixir) and tag me in your photo for a share on my story!
Best Utah Instagram Captions
These captions work for any place you're visiting in Utah including Salt Lake City, Provo, Bryce Canyon National Park, Zion National Park, Arches National Park, Moab and more.
Funny Utah Captions & Utah Puns
Are Utah-lking to me?
If Utah-lk the talk, you better walk the walk
This state is be-Utah-ful
Have I told you that U-tah best?
If you haven't been to Utah yet, Bryce yourself – it's beautiful
Bryce to meet you, Utah
Bryce, Bryce, baby
Canyon believe these lands?
Arches you glad you're in Utah?
There's no de-Zion, Utah is heaven on Earth
I don't have to Provo my love for Utah to you!
I'd be Zion if I said I didn't love Utah
Moab money, Moab problems
Don't take Utah for granite, it's amazing!
Salt Lake Pretty
Don't get salt-y when I tell you Utah is the best state!
I'm Utah-ly in love with this place
Let's ski-daddle to Park City for some snowy fun
Don't be salt-y, come visit Utah's salty lake!
Utah rocks!
Have you seen the mountains in Utah? They're really massif!
The scenery in Utah leaves me sand-struck!
I don't say this Ogden but Utah is the best
If you're not in Utah, you're missing out on some red-iculous scenery
Up Next: Salt Lake City Instagram Captions
Cute Utah Captions For Instagram
Let's hunker down in nature for a while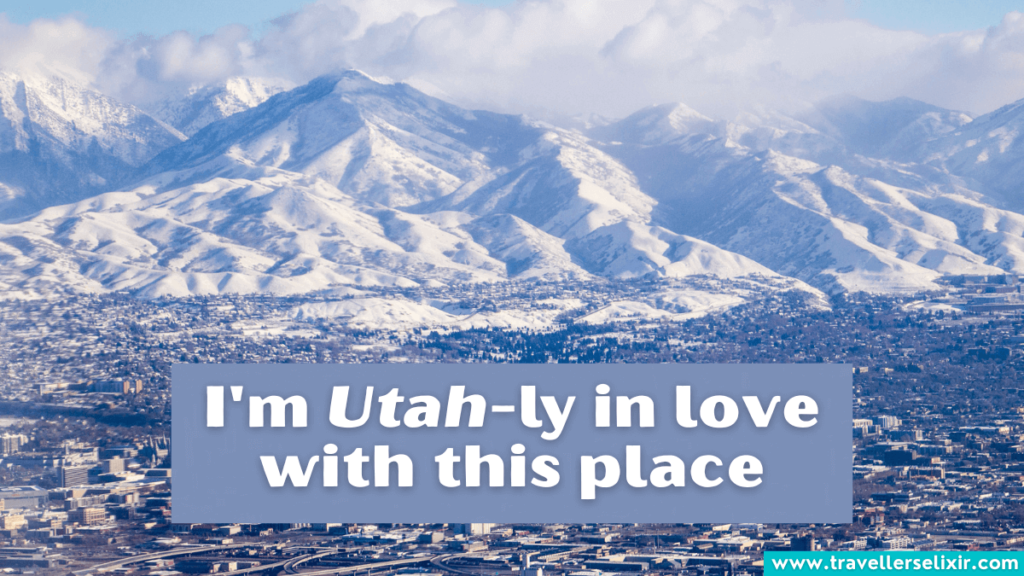 Chasing sunsets and running away from bugs
Utah: making me feel small since [insert year of your visit]
In Utah, you can ski, hike and eat fry sauce all in one day
A hike a day keeps the bad vibes away
I think I'll just park myself near this rock and call it a day
You don't need a compass to find your way to Utah – just follow the red rock formations!
Can we explore Utah every day? Thanks!
If you haven't visited Utah, you haven't really lived (sorry, not sorry)
Who knew paradise was made of red rocks?
You don't need a genie in Utah to feel like you've entered a whole new world
The world is a beautiful place but Utah takes the cake
Who needs a gym membership when you can hike Utah's mountains for free?
I followed my heart all the way to Salt Lake City
Utah: where the mountains are high, the valleys are low and the fry sauce flows like a river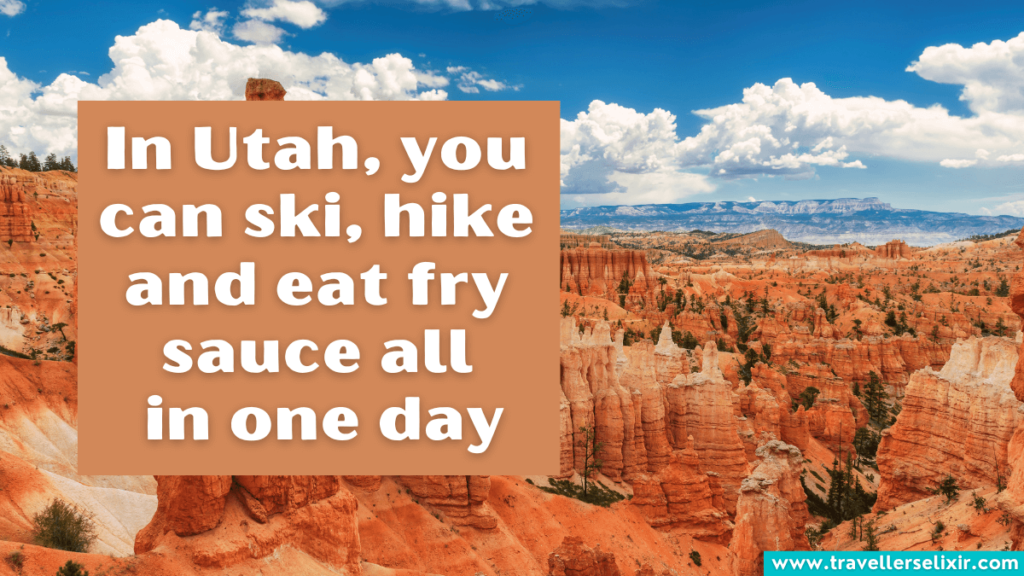 Channeling my inner Leslie Knope and falling in love with national parks
My sneakers aren't white anymore, but the scuffs were so worth the views
Messy buns and sweaty shirts, but incredibly full hearts
I came to Utah seeking adventure but found so much more
I fell in love with Salt Lake City
I thought I knew what 'epic' meant until I came to Utah
Visiting Utah is like falling in love with nature all over again
Salt Lake City is always a good idea!
Dear Utah, I think about you all the time
I came to Utah for the scenery but I stayed for the fry sauce
You May Also Like: Bryce Canyon National Park Instagram Captions
Inspirational & Beautiful Utah Captions
As long as you listen, these mountains will speak
Long live the planet and the magic it makes
Utah is proof that Mother Nature is the ultimate artist
I never knew a place like Utah could exist outside of dreams
Utah, where the mountains whisper their secrets and the rivers sing their songs
Visiting Utah is like hitting the pause button on life
I swear you can see every star in the universe here
In Utah, I found a piece of heaven on earth
Some places leave you speechless. This was one of them
I came to Utah for the sights but stayed for the soul-soothing peace
In Utah, every moment is a new opportunity to fall in love with life
Add Utah to your bucket list. I promise you won't regret it
Utah, where every step is a reminder of how small we are in this big world
Utah, where the beauty of nature is always in full bloom
Once in a while, give up your WiFi and grab your backpack
I'll always hold a special place in my heart for the beauty and magic of Utah
I didn't know what true awe felt like until I visited Utah
Life's greatest adventure? Definitely Utah
Live your life by a compass not a clock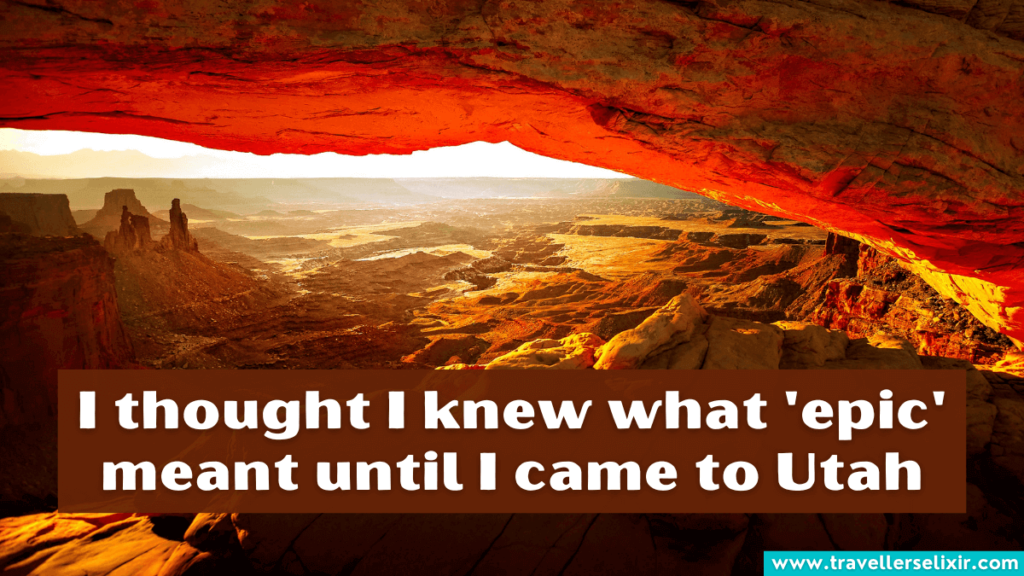 When life gives you mountains, put on your boots and hike
Thanks Utah, for reminding me how to appreciate the simple things in life
Utah, where every moment feels like a dream and every memory lasts a lifetime
Up Next: Arches National Park Instagram Captions
Short Utah Captions
Chasing waterfalls in Utah
Every mountain high, every valley low
Feeling good-natured
Love you, Utah. Mean it
Utah, I'm yours!
Utah vibes only
Took a trip to the wild west
Small girl, big rocks
Zion National Park or Mars? Lmk
Red rock wonderland
Home is where the mountains are
If I get lost, don't come find me
Ski, hike, explore
Elevated adventures
Taking the road less traveled
Desert dust and wanderlust
Simply stunnin'
Starry skies and fireflies
On a date with Utah
Endless horizons
Meanwhile, in Utah…
Up Next: Zion National Park Instagram Captions
Utah Quotes For Instagram Captions
"In Utah, there are no bad things in the water there. It's just smooth, really beautiful." – Steve Guttenberg
"Utah's beauty is like a symphony, with every note of nature playing in perfect harmony." – Traveller's Elixir
"I love Salt Lake City. It's beautiful with all the great outdoors around you." – Peter Sagal
"Utah's mountains, valleys and deserts are the canvas on which nature paints its masterpiece." – Traveller's Elixir
"In Utah, nature speaks to us in a language only the soul can understand." – Traveller's Elixir
"Once I came to Salt Lake City, I didn't want to go anywhere else. It was home sweet home for me." – John Stockton
"Utah's breathtaking vistas remind us that the world is a wonderland of natural beauty waiting to be explored." – Traveller's Elixir
"Keep close to nature's heart…and break clear away, once in a while, and climb a mountain or spend a week in the woods. Wash your spirit clean." – John Muir
"Utah's beauty is like a fingerprint, unique and incomparable, a true wonder of the world." – Traveller's Elixir
"Utah is amazing, it's incredible because it's so big. There are so many places to drive. There are curves, straight bits, it's like road runner country, frankly." – Edd China
"In Utah, nature invites us to slow down, breathe deep and connect with the beauty that surrounds us." – Traveller's Elixir
"It's fascinating to go somewhere where you're away from everything. There are no houses, no buildings, no roads, no people, and for a little less extreme hunting, any place in the West – Colorado, Utah, Montana – that's just beautiful country." – Shawn Michaels
"Moab is seriously one of the most beautiful places I have ever been." – Isabelle Fuhrman
"I enjoyed my time in Utah. It was a different area to what I was used to. The people there were very nice and it was a great organization and city. I have only good things to say about Utah." – John Starks
"Zion National Park is a place where history deepens one's appreciation for beauty of the canyon. Visitors marvel at the pioneering spirit of those who created an oasis in arid desert." – Tiffany Taylor
"Utah's natural wonders are a reminder that even in the chaos of the world, there is still serenity and beauty to be found." – Traveller's Elixir
"There is nothing so American as our National Parks. The fundamental idea behind the parks is that the country belongs to the people, that it is in process of making for the enrichment of the lives of all of us." – Franklin D. Roosevelt
"Mother Nature is a master sculptor and in no place is that more evident than at Arches National Park." – Stefanie Payne
"In Utah, we learn that nature is not a place to visit but a home to cherish and protect." – Traveller's Elixir
"Life isn't about finding yourself. Life is about creating yourself." – George Bernard Shaw
"There was nowhere to go but everywhere, so just keep on rolling under the stars." – Jack Kerouac
"I like this place and could willingly waste my time in it." – William Shakespeare
You May Also Like: Colorado Instagram Captions
Utah Hashtags For Instagram Likes
#utahgram
#utahisrad
#utahunique
#utahrocks
#utahphotography
#utahtravels
#utahcounty
#utahlife
#utahmountains
#utahhiking
#utahadventures
#utahblogger
#utahisbeautiful
#utahsunset
#visitutah
#utahfoodie
#utahvalley
#utahoutdoors
Up Next: Grand Canyon Instagram Captions
---
Thanks for reading my roundup of the best Utah Instagram captions!
I hope that these captions will inspire you to get out and explore all the amazing things that Utah has to offer and that they'll help you capture those unforgettable moments on social media.
From the stunning natural landscapes to the vibrant city scenes, Utah has something for everyone.
Related Posts: