This majestic sanctuary, nestled in the heart of Utah, is a photographer's paradise that offers awe-inspiring landscapes, towering red cliffs and pristine wilderness.
As you explore this extraordinary national park, capturing those picture-perfect moments is a must.
I've spent hours coming up with the best Zion National Park Instagram captions that will add that extra spark to your posts.
P.S. Follow me on IG (@travellerselixir) and tag me in your photo! I'd love to see it.
Best Zion National Park Instagram Captions
Cute Zion National Park Captions For Instagram
Some call it Zion National Park, I call it heaven
Tip: always hike with someone in worse shape than you
Ok Mother Nature, I see you
If I had a penny for every time I gasped at a view today, I'd be rich
Part of me thinks we're not on planet Earth anymore…
Channeling my inner mountain goat at Zion
Today's forecast: 100% chance of big rocks
Chasing sunsets and running away from bugs
I think I'll just park myself near this rock and call it a day
It's the lack of Internet connection and beautiful landscapes for me
A photo dump featuring lots of red rock
I came, I saw, I conquered Angel's Landing at Zion National Park
Someone told me to take a hike, so I did
If you don't take at least one photo pretending to hold up a massive rock at Zion National Park, did you even visit?
Warning: excessive amounts of jaw-dropping beauty ahead
Messy buns and sweaty shirts, but incredibly full hearts
Just me, the wilderness and a selfie stick
The only thing more impressive than Zion's beauty is my ability to trip over absolutely nothing while admiring it
Discovering my inner zen at Zion National Park
Hiking through Zion like a boss
Finding my wild side at Zion National Park
Zion National Park: where my hiking skills go from 'wow, impressive!' to 'wait, I'm lost…'
Up Next: Hiking Captions For Instagram
Funny Zion National Park Captions & Zion National Park Puns
I'm Zion over these views
Canyon believe I'm at Zion National Park
Zion National Park, have I told you that U-tah best?
Tree-t yourself!
May the forest be with you
Zion's trails made me realize I'm fir sure in need of some tree-mendous leg day workouts!
Zion National Park is be-Utah-ful
There's no de-Zion, this park is heaven on Earth
Zion National Park or Mars? Lmk
Zion National Park: where I became a professional tree hugger and an amateur trail tripper
You better Watchman, Zion sunsets are epic
Zion hikes: the perfect way to trail and error my way to epic views
Zion National Park's beauty is rock solid
Zion got me feeling like a rock-star after conquering those epic trails
This place rocks!
Zion hikes: where I put the 'fun' in 'fundamental lack of coordination'
Wow this place is ama-Zion
Hiking in Zion: the only time I can say 'rock on' and mean it literally!
You May Also Like: Utah Captions For Instagram
Short Zion National Park Captions
Let's take the scenic route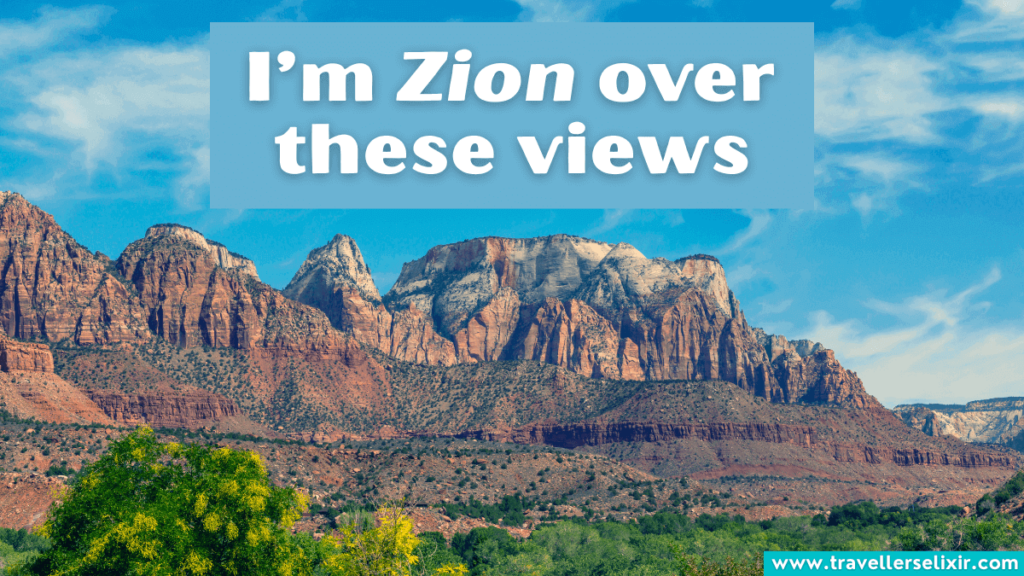 Zen in Zion
Small girl, big rocks
Lost in wonder
Mesmerized by these colors
Take a hike
Desert dust and wanderlust
Canyon dreams
Wild and free
Serene wilderness
Pure magic
Love you, Zion National Park. Mean it
The adventure never stops, and neither will I
Red rocks & sweaty socks
Nature's symphony
Lost in the wonderland of Zion
Into the wild
Up Next: Arches National Park Instagram Captions
Inspirational & Beautiful Zion National Park Captions
Live your life by a compass not a clock
Long live the planet and the magic it makes
Embracing the power of nature's embrace at Zion National Park. Here, I find solace and strength
I left my heart in Zion National Park
Every step in Zion National Park is a reminder that life's greatest adventures often lead us to the most extraordinary places
Zion stole my heart, one breathtaking view at a time
Just a speck in the vastness of Zion, reminding me that life is about embracing the grand and finding my own place in the wild
Trying to find my way back to civilization after getting lost in the majestic beauty of Zion
Once in a while, give up your WiFi and grab your backpack
Zion's beauty touches my spirit, reminding me to embrace every moment and find joy in the simplest of things
Not leaving anything behind in Zion National Park but my heart
My sneakers aren't white anymore, but the scuffs were so worth the views
Escape with me to Zion National Park
Some places leave you speechless. This was one of them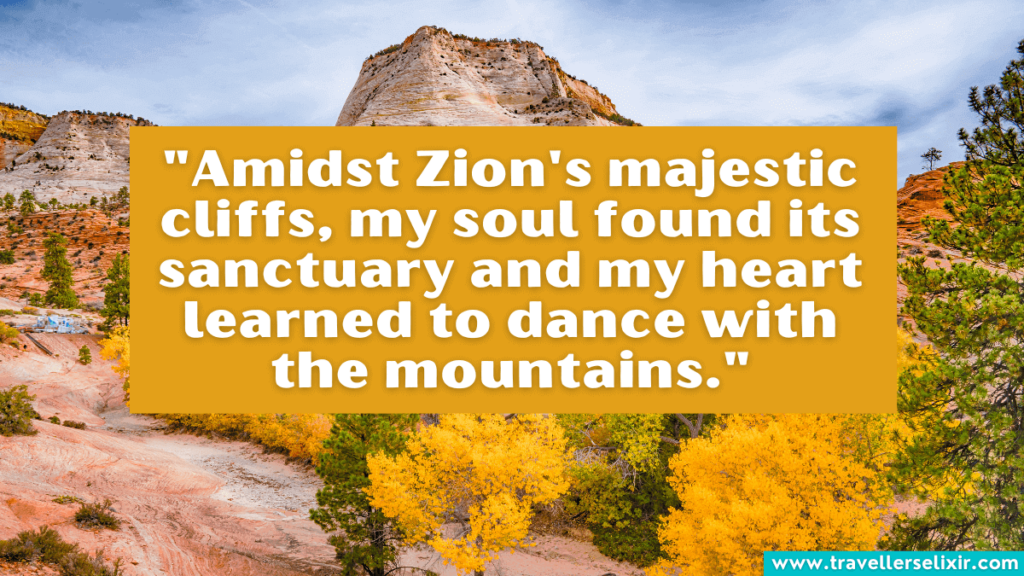 Zion National Park: a place where nature's masterpieces inspire my soul and fill my heart with gratitude
Take a second to look around, you might just fall in love
Zion's majestic landscapes and serene trails ignite my sense of wonder, allowing me to reconnect with my truest self
Taking the road less traveled
Of all the paths you take in life, make sure a few of them are dirt
Exploring Zion, where the wildflowers dance and the mountains whisper stories of resilience and beauty
You May Also Like: Bryce Canyon Instagram Captions
Zion National Park Quotes For Instagram Captions
"Amidst Zion's majestic cliffs, my soul found its sanctuary and my heart learned to dance with the mountains." – Traveller's Elixir
"The real meditation is how you live your life." – Jon Kabat-Zinn
"In Zion's embrace, I discovered that nature's beauty is not just to be witnessed but to be felt with every fiber of my being." – Traveller's Elixir
"Your mountain is waiting…so get on your way." – Dr. Seuss
"There is nothing so American as our National Parks." – Franklin D. Roosevelt
"Should you shield the canyons from the windstorms, you would never see the beauty of their carvings." – Elisabeth Kubler-Ross
"In the embrace of Zion's grandeur, I discovered the beauty that exists within and all around me." – Traveller's Elixir
"Lovely days don't come to you, you should walk to them." – Rumi
"Zion's symphony of colors, from the fiery red cliffs to the serene blue skies, painted a symphony of awe in my heart." – Traveller's Elixir
"There is a love of wild nature in everybody." – John Muir
"Zion National Park: where nature's canvas reveals strokes of magic and every step unravels a new masterpiece." – Traveller's Elixir
"Job's fill your pockets but adventures fill your soul." – Jaime Lyn Beatty
"I encourage everybody to hop on Google and type in 'national park' in whatever state they live in and see the beauty that lies in their own backyard. It's that simple." – Jordan Fisher
"Roaming the trails of Zion, I felt the whispers of ancient wisdom carried by the winds, connecting me to something greater." – Traveller's Elixir
"A national park is not a playground. it's a sanctuary for nature and for humans who will accept nature on nature's own terms." – Michael Frome
You May Also Like: Salt Lake City Captions For Instagram
Zion National Park Hashtags For Instagram Likes
#zionnationalpark
#zionnationalparkutah
#zion
#zionnps
#zionpark
#zioncanyon
#zionsnationalpark
#zionutah
#zionnp
#hikemore
#hikelife
#hikeutah
#hikevibes
#hikeyourownhike
#hikemoreworryless
Up Next: Grand Canyon Captions For Instagram
---
I hope this list of Instagram captions has inspired you to share the beauty and wonder of this natural marvel with the world.
Remember that behind every photograph lies a story waiting to be told and the right caption can elevate your images to new heights.
Related Posts: