You'll know that hiking isn't just a physical activity – it's a spiritual journey that takes you to new heights, both literally and figuratively.
And what better way to capture those unforgettable moments than with a stunning Instagram photo and a witty caption to match?
From punny one-liners to inspiring quotes, I've got you covered with the best hiking Instagram captions to make your followers green with envy and itching to hit the trails.
P.S. Follow me on Instagram (@travellerselixir) and tag me in your photo for a share!
Best Hiking Instagram Captions
Funny Hiking Captions & Hiking Puns
It's a hill. Get over it
Wood you believe that I'm actually on a hike right now?
I wood never leaf a hiker behind
May the forest be with you
On a tree-mendous hike
Think outside. No box required.
Don't leaf me hanging
Hiking puns are hill-arious
If you think you've peaked, find a new mountain
You don't like the outdoors? Unbe-leaf-able
Are you oak-ay? Yes, I'm pine. Why wood-n't I be?
I'm so excited about hiking that I almost wet my plants
Leaf-ing all my worries behind
Maybe she's born with it. Maybe it's maple leaves
Last bud not least, it's time to take a hike
I like to hike with a buddy. It's a bear necessity
Getting to the top of the hill was such a re-leaf
The view up here is breathtaking, and I know it's all downhill from here
Let's put the petal to the metal
The hill looked hard at first, but I got over it
You grow, girl
Actions peak louder than words
Up Next: Mountain Instagram Captions
Cute Hiking Captions For Instagram
Over the mountains and through the woods
The mountains are calling and I must go… mostly because my phone has no service and I need to check my emails
All I need is a mountain breeze & tall trees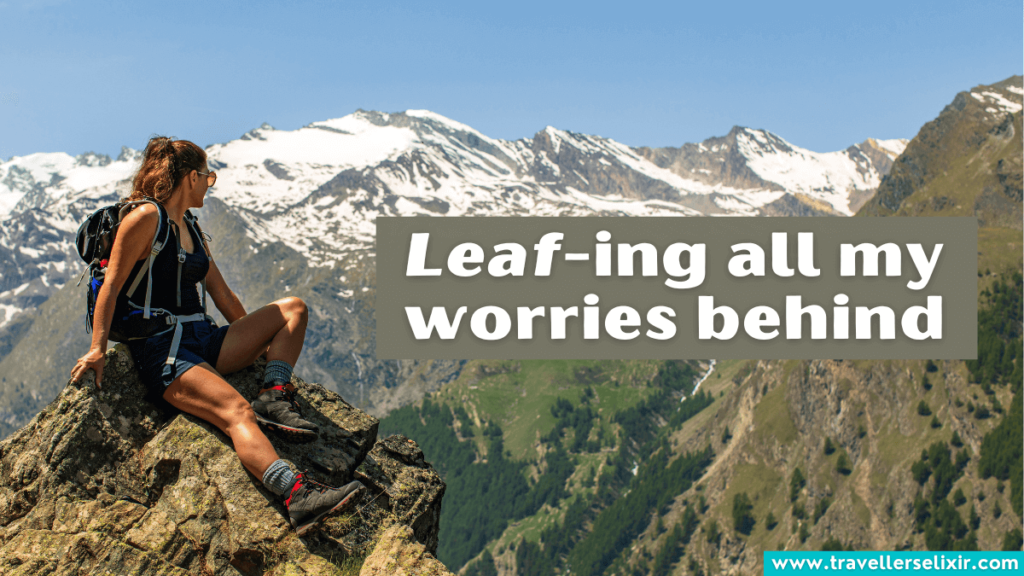 Hiking is just walking where it's okay to pee outside
Ladies and gentlemen, Mother Earth
Hiking: because sometimes the best therapy is a long walk in the woods
I have a love-hate relationship with hiking. I love it when I'm doing it but hate it when I'm not
Who knew getting lost could be so fun?
Dear mountains, I think about you all the time
Hiking: the only time where getting lost is not only acceptable, but encouraged
Let's wander where the WiFi is weak
The best things in life are the people we love, the places we've been, and the trails we've hiked
Life is better in hiking boots
I don't always hike but when I do, it's because the views are worth the blisters
Hiking is the answer. Who cares what the question is?
I'm not lost. I'm exploring
Hiking and happiness go hand in hand
Heading for the hills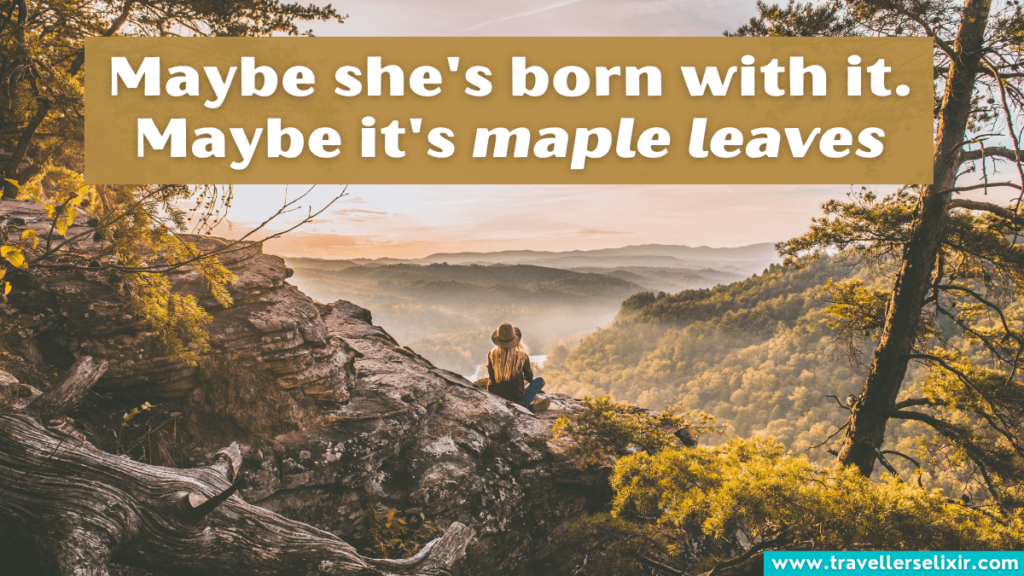 Dear mountains, thank you for making me feel so alive
Hiking is just my excuse to wear cute workout clothes and take selfies in nature
Why go to the gym when you can go on a hike and call it leg day?
Hittin' the trail and ready for an adventure
Joining the hiking club
Wild is my favorite color
I just want to explore everything
Too much fresh air is not a thing
Hi, I'll be late to class. I'm on top of a mountain
All good things are wild and free
We have nothing to lose and a world to see
When life gives you mountains, put on your boots and hike
There is always an adventure waiting in the woods
I'd rather be hiking in the rain than sitting inside at a desk on a sunny day
Life's a climb but the view is great
I like long walks…uphill, with a backpack and preferably with a view
I never feel more alive than when I'm out in nature, trying not to trip over tree roots
Fresh air and muddy boots make everything better
Not all who wander are lost
Hiking: cheaper than therapy and you get a better workout
Thinking about the pumpkin latte I'll get after this
Always take the scenic route
Someone told me to 'take a hike,' so I did
The only thing better than reaching the summit is the feeling of taking off your hiking boots at the end of the day
These boots were made for hikin'
Hiking: when you want to escape reality but also get your steps in for the day
The view at the top is worth the sweat and tears… and the occasional blister
You May Also Like: Waterfall Instagram Captions
Inspirational & Beautiful Hiking Caption
Sky above, earth below, peace within
To walk in nature is to witness a thousand miracles
The best view comes after the hardest climb
Of all the paths you take in life, make sure a few of them are dirt
In every hike, there is a lesson to be learned. Whether it's about yourself, nature or the world around you, keep your heart and mind open to the journey
The journey of a thousand miles begins with a single step
Every hike is a chance to escape the chaos of the world and find peace in the stillness of nature
A walk in nature walks the soul back home
You need special shoes for hiking and a special soul as well
Hiking is the perfect way to disconnect from the virtual world and reconnect with the beauty and wonder of the natural world
Hiking is not a race, it's a journey. Take your time, enjoy the scenery and let the trail guide you to where you need to be
An early morning walk is a blessing for the whole day
When everything feels like an uphill battle, just think of the view from the top
I took a walk in the woods and came out taller than the trees
There is no WiFi in the forest but you'll make a better connection
Look deep into nature and you will understand everything better
The mountains are a metaphor for life: they can be daunting and challenging but the view from the top is always worth the climb
You can visit the same trail twice but you'll never take the same hike twice
No matter how rough it gets, just keep on moving
Nature is the ultimate playground so go explore it one step at a time
If you think you've peaked, find a new mountain
No mountain remains a mystery when you take steps to conquer it
Do more things that make you forget to check your phone
The trail leads not merely north and south, but up to the body, mind and soul of man
Let the mountains inspire you to climb higher in every aspect of your life
Life begins at the end of your comfort zone
Up Next: Hot Springs Instagram Captions
Short Hiking Captions
Sky above, earth below
Nature therapy
Hiking hair, don't care
I like to hike, do you?
Take memories, leave footprints
Go take a hike
Natural high
Wake up. Hike. Sleep. Repeat.
Trail time
Hiking is in my soul
Step by step
Wilderness wonder
Pack lighter, go further
Hike more, worry less
Wonder. Wander. Repeat.
Fresh air feels
Go wild for a while
Adventure awaits
Hiked it, liked it
Mountains are my medicine
Wander often, wonder always
The mountains are calling
Let's be adventurers
My heart was made to hike
The world is ours to explore
You May Also Like: Yellowstone Instagram Captions
Hiking Quotes For Instagram Captions
"The journey of a thousand miles begins with a single step." – Lao Tzu
"The journey of a thousand miles begins with a single step and the journey of a hike begins with a single trailhead." – Traveller's Elixir
"The earth has its music for those who will listen." – George Santayana
"Life is either a daring adventure or nothing at all." – Helen Keller
"Hiking is not just about reaching the summit but about the countless moments of wonder and awe that happen along the way." – Traveller's Elixir
"And into the forest I go, to lose my mind and find my soul." – John Muir
"In every walk with nature one receives far more than he seeks." – John Muir
"There is something magical about hiking in the great outdoors that can heal the soul and inspire the heart." – Traveller's Elixir
"Hiking and happiness go hand in hand or foot in boot." – Diane Spicer
"Out here with the wild things; this is where I belong." – Brooke Hampton
"A hike is a chance to escape the mundane and immerse yourself in the extraordinary." – Traveller's Elixir
"Just put one foot in front of the other." – Austin Peck
"Only those who risk going too far can possibly find out how far they can go." – T.S. Eliot
"Hiking teaches us to persevere through the steep inclines and rocky paths of life, and appreciate the breathtaking views along the way." – Traveller's Elixir
"The world reveals itself to those who travel on foot." – Werner Herzog
"Travellers, there is no path, paths are made by walking." – Antonio Machado
"Hiking is a way to connect with nature, and in turn, connect with ourselves." – Traveller's Elixir
"Because in the end, you won't remember the time you spent working in an office or mowing the lawn. Climb that goddamn mountain." – Jack Kerouac
"The mountains whisper for me to wander; my soul hikes to the call." – Angie Weiland Crosby
"A hike can challenge both the body and mind, but the rewards of accomplishment and inner peace are priceless." – Traveller's Elixir
"Everyone wants to live on top of the mountain, but all the happiness and growth occurs while you are climbing it." – Andy Rooney
"Although I deeply love oceans, deserts, and other wild landscapes, it is only mountains that beckon me with that sort of painful magnetic pull to walk deeper and deeper into their beauty." – Victoria Erickson
"The best way to appreciate the grandeur of the mountains is to step away from civilization and immerse yourself in their majesty." – Traveller's Elixir
"You are not in the mountains. The mountains are in you." – John Muir
"Those who dwell among the beauties and mysteries of the earth are never alone or weary of life." – Rachel Carson
"May your search through nature lead you to yourself." – Shikoba
"Everything worthwhile is uphill. Everything." – John Maxwell
"Hiking reminds us that sometimes the greatest treasures in life are hidden off the beaten path." – Traveller's Elixir
"It's not the mountain we conquer, but ourselves." – Sir Edmund Hillary
"Everywhere is within walking distance if you have the time." – Steven Wright
"Leave the road, take the trails." – Pythagore
"I love walking in the woods, along the trails, by the beaches. I love being part of nature. I love walking alone. It is therapy. One needs to be alone, to recharge one's batteries." – Grace Kelly
"Some beautiful paths can't be discovered without getting lost." – Erol Ozan
"I took a walk in the woods and came out taller than trees." – Henry David Thoreau
"Look deep into nature and you will understand everything better." – Albert Einstein
"I found far more answers in the woods than I ever did in the city." – Mary Davis
"I am happy out here. Messy hair, muddy boots, and wild water on my skin. Out here, this is where I belong!" – Brooke Hampton
Up Next: Yosemite Instagram Captions
Hiking Hashtags For Instagram Likes
#hikingadventures
#hikingculture
#hikingtrails
#hikinglife
#hikingtrail
#hikingtheglobe
#hikingadventure
#hikingday
#hikingaddict
#hikinglove
#hikingviews
#hikingvibes
#hikingtime
#hikinglovers
#hikingfun
#hikingtherapy
#hikemore
#hikevibes
#hikelife
#hikeon
You May Also Like: Bryce Canyon Instagram Captions
---
As your hike comes to an end, so does our journey through the best hiking Instagram captions.
I hope that my selection of captions has inspired you to share your hiking adventures with the world and to motivate others to hit the trails.
And don't forget to follow me on Instagram (@travellerselixir) and tag me in your photo for a share.
Related Posts: