Whether you're looking for a caption that perfectly captures the beauty of a waterfall or you're simply looking to inject some humor into your post, these captions are ideal.
I've gathered the best waterfall Instagram captions that will not only make your Instagram post stand out but will also leave your followers in awe.
From inspirational quotes to puns, I've got you covered. So get ready to take your Instagram game to the next level with these captivating waterfall captions!
P.S. Follow me on Instagram (@travellerselixir) and tag me in your photo for a share on my story.
Best Waterfall Instagram Captions
Funny Waterfall Captions & Waterfall Puns
Water you looking at?
Water-falling in love with this place
I am gushing with joy at this view!
Water you waiting for? Let's chase some waterfalls!
Watery waiting for? Jump in!
Some people say I'm an aqua-holic
Water you up to? Nothing much, just chasing this waterfall
I will definitely mist this view later
I'm walking in a water wonderland
I've never mist a chance to see a waterfall
I fell in love with the waterfall pretty rapid-ly
This waterfall isn't a hidden gem, it's main-stream
I'm over waterfalls. They're too main-stream
Just go with the flow…like a waterfall
Falling in love
Live-streaming. Literally
Please don't gush me into the water!
Feeling misty-fied by this waterfall
Falling for the falls
Pleased to make your aqua-taince
Sometimes you just gotta let nature take the 'fall'
Let's make some pour decisions!
Forget diamonds, waterfalls are a girl's best friend
This waterfall is so gush-ious
Water way to spend the day!
I know it's just a pipe stream…
You will be mist
Hiking to a waterfall is like unwrapping a present – you never know what you're going to get but it's always worth the effort
Straight from the force's mouth
Up Next: Hiking Instagram Captions
Cute Waterfall Captions For Instagram
Waterfalls are nature's waterslides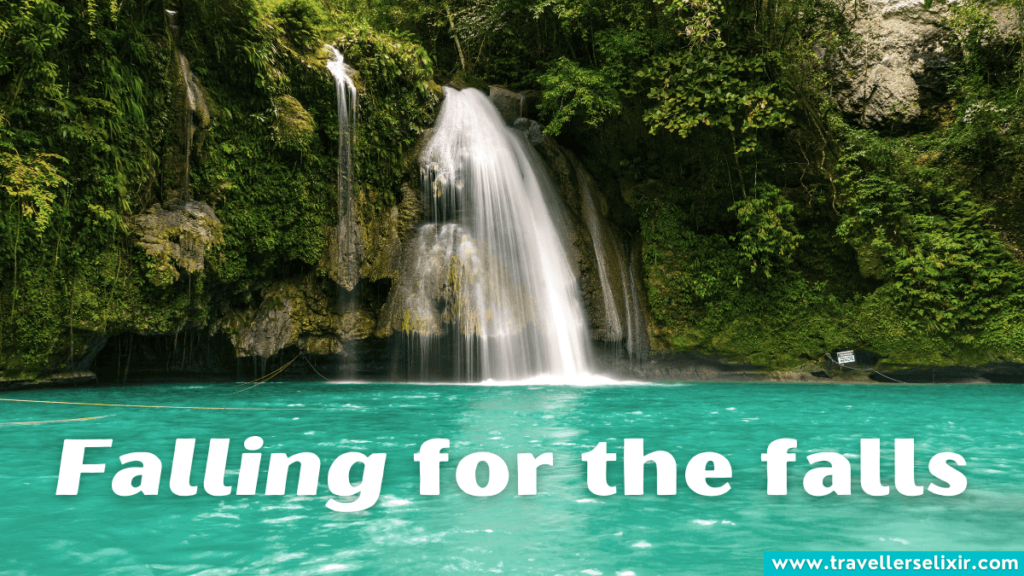 I'm falling for this waterfall harder than the water falling on the rocks
I am like a waterfall – wild and free
This waterfall has got me feeling some type of way – mostly wet and happy
Watching a waterfall is like falling in love, you can't help but feel completely captivated.
The force is definitely strong with this waterfall
I'm just a waterfall groupie, following the flow wherever it takes me
Not every paradise is tropical
There is a waterfall in every dream
Don't go chasing waterfalls, unless they're as beautiful as this one
Keep close to nature's heart
I came for the waterfall but I stayed for the misty selfies
Happiness comes in rushes
When life gets rough, find yourself a waterfall and go with the flow
When in doubt, chase waterfalls and make memories
You can catch me by the waterfall
I didn't choose the waterfall life, the waterfall life chose me
Ladies and gentlemen, Mother Nature
When life gives you waterfalls, take a moment to just stand there and look at them
I find myself in the water
To explore is to live
I'm not a morning person but I'll wake up early to see a beautiful waterfall any day
I think I just found my new favorite sound – the rush of this waterfall!
The waterfall winks at every passerby
There's no problem that can't be solved by a good waterfall soak
Happiness is finding a beautiful waterfall on your travels
There's something about a waterfall that just makes me want to jump in and join the party
I chased the waterfall
There is nothing more magical than a waterfall
This waterfall is making me feel like a kid again, full of wonder and amazement
I never knew falling could be so beautiful until I saw this waterfall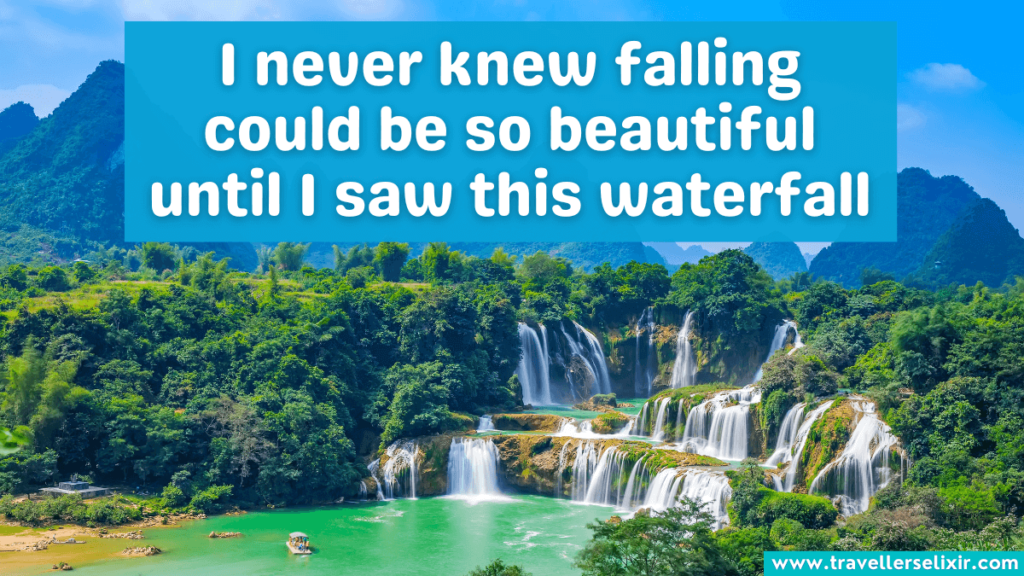 Waterfalls: where the only thing that's falling other than the water is your jaw
Sorry, I can't come to work today. I'm busy chasing waterfalls!
Waterfalls are my medicine
Tripping on skies, sipping on waterfalls
Some people collect souvenirs, I collect memories
If life gives you lemons, trade them for a waterfall and go chase some adventure
What finding paradise looks like
Dreams are made of trails and waterfalls
Waterfalls: where sound and beauty collide
Nature's own version of a waterpark – the waterfall
I'm not saying this waterfall is better than coffee but it definitely wakes me up
I'm pretty sure this waterfall is actually magic
Why buy a sound machine when you can just listen to a waterfall?
If you can't find me, I'll be lost in the beauty of this waterfall
I'd rather be chasing waterfalls than my responsibilities any day
Who needs a fairytale when you can have a real-life waterfall like this?
Chasing waterfalls: because life is too short to stay on the beaten path
Waterfalls may be a natural wonder but they're also an Instagrammer's dream
You May Also Like: Niagara Falls Instagram Captions
Short Waterfall Captions
Go with the flow
Water wonderland
Chasing waterfalls
Beauty in motion
Meditative flow
Paradise found
Wild, beautiful and free
Nature's shower
I came, I saw, I conquered the waterfall
Heaven on earth
A beautiful distraction
Powerful force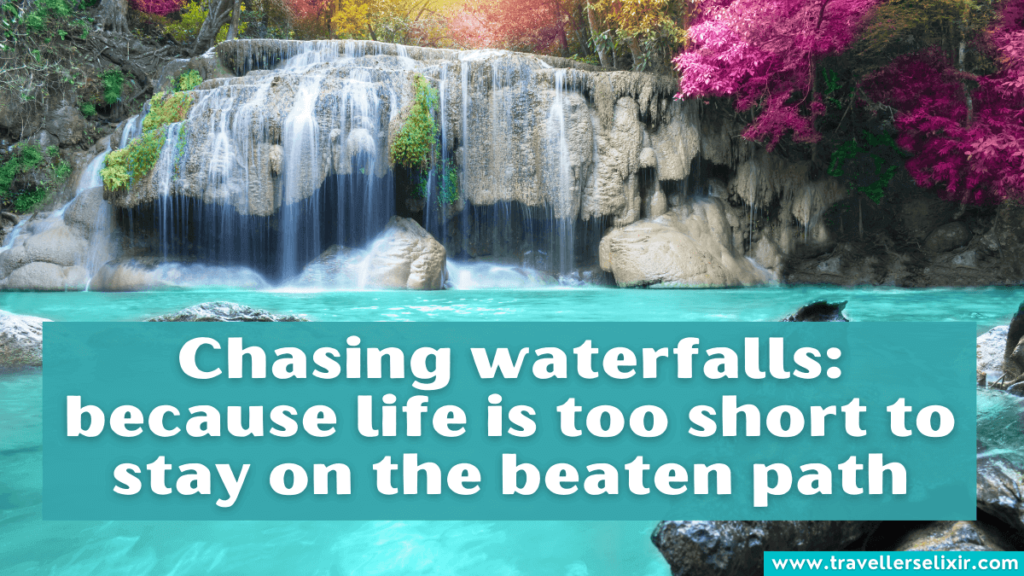 Good to the last drop
My happy place
Mother Nature's art
Nature's symphony
Waterfall wonders
My definition of beautiful
Timeless beauty
Up Next: Iceland Instagram Captions
Inspirational & Beautiful Waterfall Captions
There's no time to be bored in a world as beautiful as this
A waterfall may be just a moment in time but the memories it creates will last a lifetime
Let this waterfall wash over me
Let the beauty of this waterfall remind you that life is always moving forward
Nature never goes out of style
Get lost in nature and you will find yourself
Seeing this waterfall reminds me that there is so much beauty in the world just waiting to be discovered
There's something magical about standing in the mist of a waterfall, it's like being in a fairytale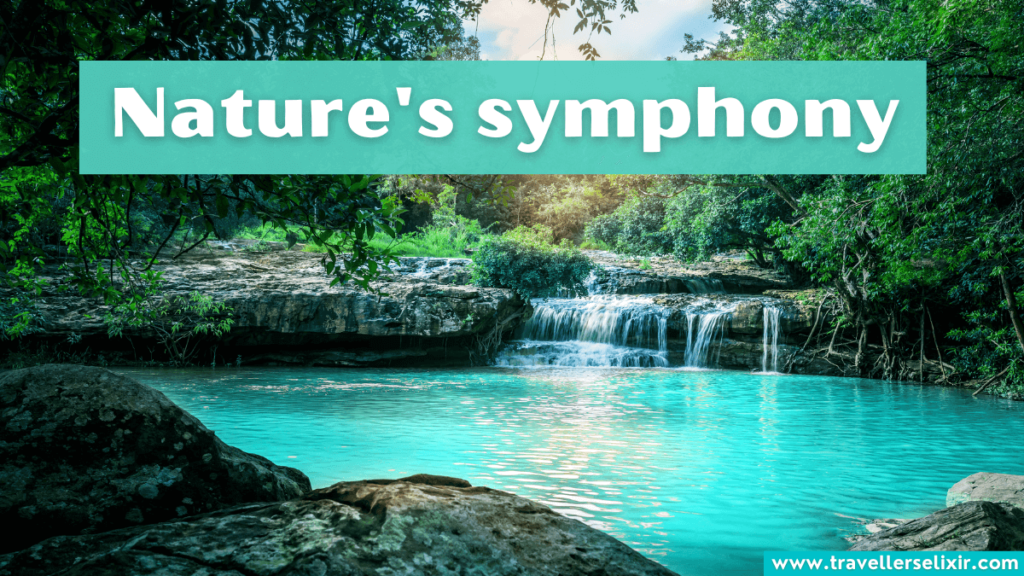 Life is like a waterfall – in the end, we're all one
The power and majesty of this waterfall is a reminder of the strength we all have within us
A strong person and a waterfall always carve their own path
Just like this waterfall, we all have the power to create something beautiful and powerful
We start in different places, but in the end, we all meet at the waterfall
The sound of a waterfall is like music to my ears, it soothes my soul and invigorates my spirit
Watching this waterfall is like watching a dance between nature and gravity
I love places that make you realize how tiny you and your problems are
Seeing this waterfall has given me a new appreciation for the power of nature and the beauty that surrounds us every day
Difficult roads often lead to beautiful destinations
This waterfall is a reminder that life is always in motion, always flowing forward and that we should never take a moment for granted
In one drop of water are found all the secrets of all the oceans
Nature is the art of God
There's something magical about standing in the presence of a waterfall – it's like all your worries just melt away
Great things are over every fall and around every bend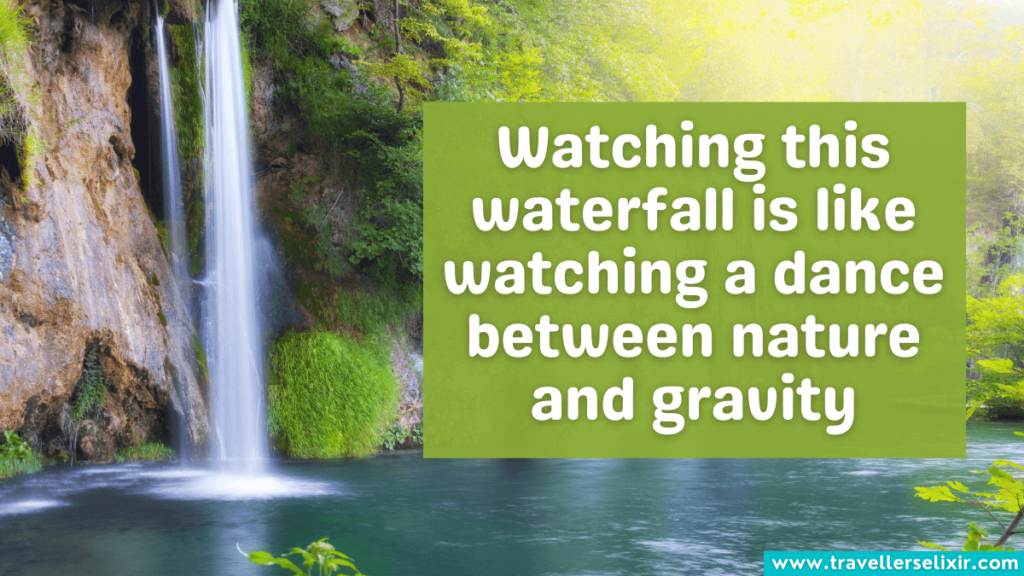 Sitting here pondering the meaning of life
Like a waterfall, life doesn't flow backward
You May Also Like: Yosemite Instagram Captions
Waterfall Quotes For Instagram Captions
"As long as I live, I'll hear waterfalls and birds and winds sing." – John Muir
"There's a peace and tranquility that comes with being in the presence of a waterfall – a reminder that sometimes, all we need is a moment to slow down and appreciate the beauty of the world around us." – Traveller's Elixir
"There's hope at the bottom of the biggest waterfall." – Patrick Ness
"A waterfall is a reminder that sometimes the most beautiful things in life are the ones that cannot be tamed." – Traveller's Elixir
"There is a hidden message in every waterfall. It says, if you are flexible, falling will not hurt you!" – Mehmet Murat Ildan
"In the presence of a waterfall, one cannot help but feel small and insignificant – but also a part of something much greater than ourselves." – Traveller's Elixir
"I love the sounds and the power of pounding water, whether it is the waves or a waterfall." – Mike May
"Waterfalls are like a symphony for the senses – the sound of rushing water, the cool mist on your skin and the breathtaking sight of nature's power at work." – Traveller's Elixir
"Nature is painting for us, day after day, pictures of infinite beauty if only we have the eyes to see them." – John Ruskin
"Watching a waterfall is like witnessing the unstoppable force of nature and realizing just how much we have to learn from it." – Traveller's Elixir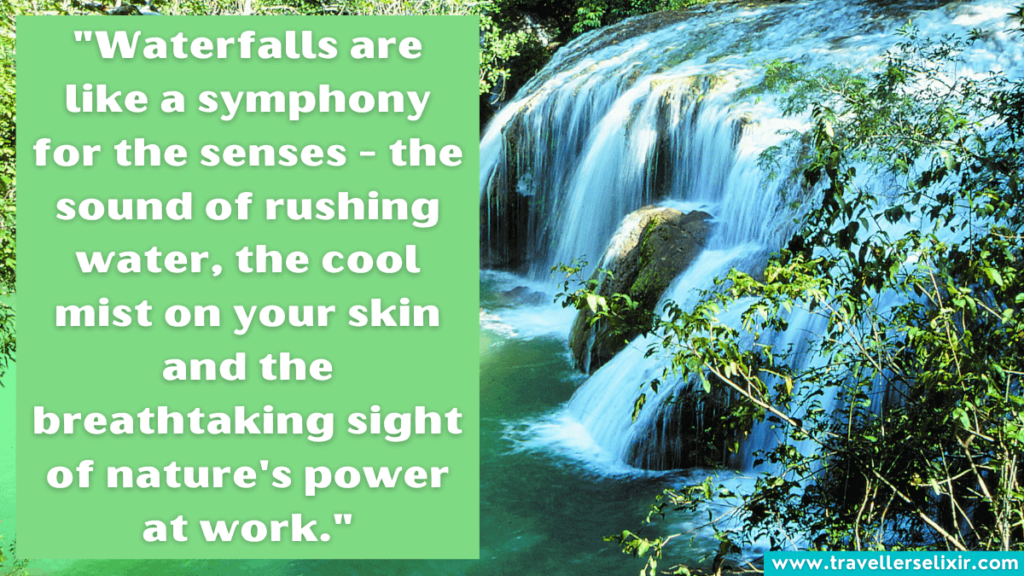 "I firmly believe that nature brings solace in all troubles." – Anne Frank
"A waterfall is a symbol of life's constant flow – always moving, always changing, always beautiful." – Traveller's Elixir
"Water is the driving force of all nature." – Leonardo da Vinci
"A waterfall is a reminder that even the most powerful forces in nature can create something beautiful and peaceful." – Traveller's Elixir
"There's no better place to find yourself than sitting by a waterfall and listening to it's music." – Roland R Kemler
"There's something magical about seeing a waterfall – it's like watching a secret part of nature reveal itself to you." – Traveller's Elixir
"Grace is finding a waterfall when you were only looking for a stream." – Vanessa Hunt
"The beauty of a waterfall is not just in its physical form but in the emotions it evokes – a sense of peace, wonder and pure joy." – Traveller's Elixir
"When the moonlight and the waterfall come together, all other things fade from the scene!" – Mehmet Murat Ildan
"When you stand in front of a waterfall, you are no longer just an observer – you become a part of the experience, connected to something much greater than yourself." – Traveller's Elixir
"I need waves. I need waterfalls. I want rushing currents." – Tahereh Mafi
"The sound of a waterfall is the sound of nature's symphony – a beautiful reminder that there is music all around us, if only we take the time to listen." – Traveller's Elixir
"There is a waterfall in every dream. Cool and crystal clear, it falls gently on the sleeper, cleansing the mind and soothing the soul." – Virginia Alison
"Seeing a waterfall is like watching a painting come to life – every drop of water is a brushstroke, every movement a new creation." – Traveller's Elixir
"Do not feel sad for your tears, as rocks never regret the waterfalls." – Munia Khan
"Waterfalls wouldn't sound so melodious if there were no rocks in their way." – Rishabh Gautam
"The sight of a waterfall is a beautiful reminder that even in the midst of change and chaos, there is always a sense of grace and beauty to be found." – Traveller's Elixir
"Water is the most perfect traveller because when it travels it becomes the path itself!" – Mehmet Murat Ildan
"When water falls, it flies." – Anthony T. Hincks
"The beauty of a waterfall is not just in the way it falls, but in the way it flows – a reminder that life is not just about the destination but the journey as well." – Traveller's Elixir
Up Next: Yellowstone Instagram Captions
Waterfall Hashtags For Instagram Likes
#waterfalls
#nature
#naturelovers
#waterfallphotography
#waterfallsfordays
#chasingwaterfalls
#waterfallsofinstagram
#falls
#waterfallwednesday
#waterfallchasing
#waterfallhunting
#waterfalling
#getoutside
#waterfallhike
#waterfalllovers
#hikingadventures
You May Also Like: Snorkeling Instagram Captions
---
I hope this collection of waterfall Instagram captions has helped you add a spark of creativity to your posts.
Remember, a great caption can elevate your post and make it stand out among the sea of images on Instagram.
So, the next time you post a picture of a stunning waterfall, be sure to use one of these captions and watch the likes and comments roll in.
Related Posts: