Iceland, the breathtaking Nordic gem, effortlessly ignites wanderlust and beckons adventurous souls from across the globe.
From steaming geothermal springs to majestic glaciers, Iceland offers a seemingly endless array of Instagrammable moments just waiting to be shared with the world.
That's why I've spent hours coming up with the very best Iceland Instagram captions to help you out!
Best Iceland Instagram Captions
These captions work for any place you're visiting in Iceland, including Reykjavik, Jökulsárlón, the Blue Lagoon, Grundarfjordur, Myrdalsjokull Glacier Park and more.
Cute Iceland Captions For Instagram
Dear Iceland, you're the coolest
Iceland is a different version of paradise
I followed my heart and it led me to Iceland
Never met a fjord I didn't like
Feeling like a frozen popsicle but the scenery makes it totally worth it
Visited Iceland and left with a newfound appreciation for wool sweaters and thermal socks
Relax and unwind, you're on Blue Lagoon time
This place looks like a real-life snow globe
Just landed in Iceland and I'm pretty sure my jaw dropped faster than the temperature!
BRB, exploring Iceland for a while
Trying to pronounce Icelandic place names like a pro
Icelandic roads: making 'getting lost' an official sport since forever
Iceland's version of 'Netflix and chill'? How about 'Northern Lights and chill'? It's the coolest show in town!
Hoping to meet a nice geysir in Iceland
In Iceland, it's always sweater weather
Enjoying the Blue Lagoon, one splash at a time
Iceland: where 'chilling out' takes on a whole new meaning
Icelandic fashion tip: layers, layers, and more layers! I'm rocking the 'polar bear chic' look
The cold never bothered me anyway
Witnessing the Northern Lights in Iceland: the closest I'll ever get to attending a celestial disco party!
Channeling my inner Viking in Iceland
I came, I saw, I got lost in Iceland's epic landscapes
Reykjavik officially has my heart
Well, would you look at the Northern Lights…
Who needs a spa day when you can soak in Iceland's natural hot springs?
Up Next: Glacier Captions For Instagram
Funny Iceland Captions & Iceland Puns
Iceland, Iceland, baby
Iceland is snow much fun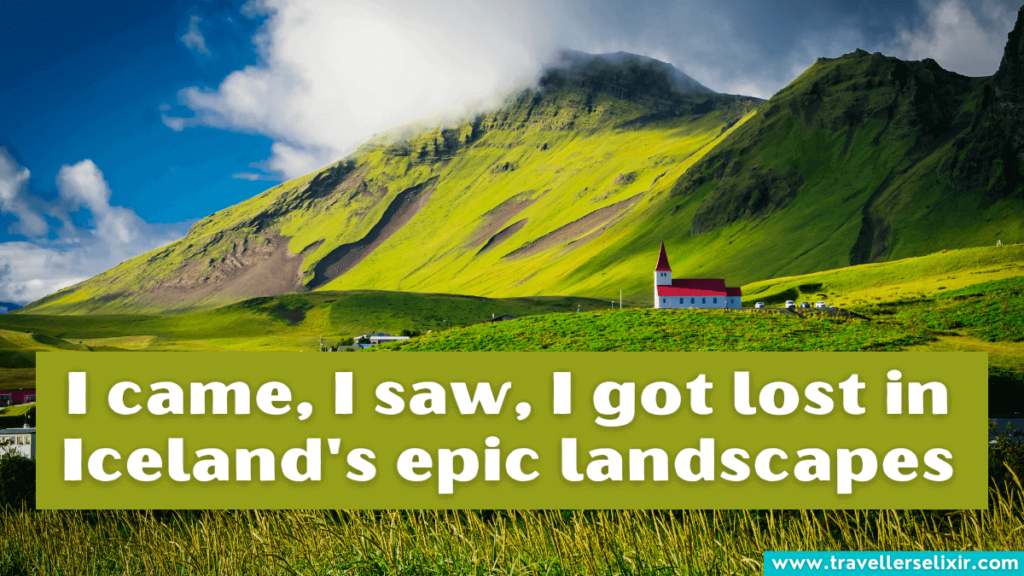 Say "freeze!"
Sugar, spice and everything Iceland
Iceland? Try NICE-land!
These lava fields are unbe-lava-ble
Icelandic adventures: It's snow or never
Love at frost sight
Iceland, I lava you!
Snow much fun!
We can a-fjord to stay here a bit longer
I only have ice for you
Don't get cold feet before walking on glaciers!
The mountain is so pretty that I Kirkjufell for it!
You geysir gonna love this!
How's your icesight?
Iceland makes a great frost impression
Iceland: Where ice things happen!
I'm over the Blue Lagoon to be in Iceland!
You May Also Like: Hot Springs Captions For Instagram
Short Iceland Captions
Hot chocolate weather
Land of fire and ice
Northern Lights & Iceland nights
A frozen fairytale
Glacial paradise
Icelandic bliss
Wanderlust & waterfalls
Smitten with Iceland
Iceland escapades
Frozen wonderland
Viking vibes in Iceland
Cold hands, warm heart
Meanwhile, in Reykjavik…
Icelandic dreamscape
Winter wonderland
Pure magic in Iceland
Wanderlust ignites
Geysers galore
Geothermal wonders
Up Next: Best Waterfall Captions For Instagram
Inspirational & Beautiful Iceland Captions
There's no time to be bored in a world as beautiful as this
Somewhere between living and dreaming, there's Iceland
In Iceland, I found my own little piece of heaven on earth
Our hands may be cold but at least our hearts are warm
Catching snowflakes on my tongue and feelings for the world
In the land of ice and fire, my heart found its truest desires
Follow your heart, even if it takes you all the way to Iceland
Some places just feel like home. Iceland is one of them
Lost in Iceland's charm and I don't want to be found
If I can't go to heaven, let me go to Iceland
Visiting Iceland felt like stepping into a fairytale, where every corner held a magical surprise
Iceland, where nature's beauty whispers sweet melodies to my soul
Exploring Iceland's enchanting landscapes, where dreams meet reality
Every step in Iceland felt like a dance with nature
On a hunt for the Northern Lights
Iceland's landscapes whispered stories that only my heart could understand
Icelandic landscapes painted my dreams in hues of wonder and awe
Exploring Iceland with wide eyes and an open heart, creating memories to last a lifetime
You May Also Like: Road Trip Captions For Instagram
Iceland Quotes For Instagram Captions
"Iceland is a nature lover's paradise." – Gabriele Handl
"In Iceland's embrace, nature's symphony unfolds and my soul finds its harmonious rhythm." – Traveller's Elixir
"The problem with driving around Iceland is that you're basically confronted by a new soul-enriching, breath-taking, life-affirming natural sight every five goddamn minutes. It's totally exhausting." – Stephen Markley
"Iceland is an island of fire and ice." – Jonathan Wilcox
"Because there are places our imaginations can never construct for us." – Stephen Markley
"Iceland is not just a sightseeing destination but a place where we come to feel things we've never felt before – what it's like to be the only person on Earth or how it feels to be outnumbered a million to one." – Andrew Evans
"Amidst Iceland's untouched beauty, I discovered the art of losing myself and finding serenity." – Traveller's Elixir
"I have fantasies of going to Iceland, never to return." – Edward Gorey
"Yes, in countless ways, Iceland is a fascinating, mysterious, contradictory land." – Roger K. Sandness
"The Earth has music for those who listen." – Shakespeare
"Iceland, one of the most exciting countries in the world." – Don Young
"Iceland is full of hot springs and rivers, which often flow down spectacular waterfalls on their way to the sea." – Jonathan Wilcox
"Through Iceland's mystical landscapes, I wandered and found the secrets whispered by ancient winds." – Traveller's Elixir
"Forests, lakes, and rivers, clouds and winds, stars and flowers, stupendous glaciers and crystal snowflakes – every form of animate or inanimate existence, leaves its impress upon the soul of man." – Orison Swett Marden
"By almost any measure, Iceland is one of the world's most unique lands." – Roger K. Sandness
"I've walked a lot in the mountains of Iceland. And as you come to a new valley, as you come to a new landscape, you have a certain view. If you stand still, the landscape doesn't necessarily tell you how big it is. It doesn't really tell you what you're looking at. The moment you start to move the mountain starts to move." – Olafur Eliasson
"I still don't know why, exactly, but I do think people can have a spiritual connection to the landscape, and I certainly did in Iceland." – Hannah Kent
"In Reykjavik, Iceland, where I was born, you are in the middle of nature surrounded by mountains and ocean. But you are still in a capital in Europe. So I have never understood why I have to choose between nature or urban." – Bjork
"The harsh terrain and sparse population have left Iceland a country of breathtaking unspoiled natural beauty." – Jonathan Wilcox
"Iceland, where time stands still and the world's wonders reveal themselves in awe-inspiring splendor." – Traveller's Elixir
"Iceland has such amazing landscapes. It's also why Iceland is considered an art of Scandinavia in only a cultural sense." – Andrew Evans
"Iceland is more than pretty views and primaeval landscapes. It is a land where horses grow long hair on their backs and where the liquorice aisle is the longest one in the shops." – Andrew Evans
"Iceland, I'm in love with that country, the people are incredible." – Kit Harington
"Iceland is home to and has been shaped by the primary forces that have moulded the entire Earth: volcanic eruptions, earthquakes, and erosion." – Roger K. Sandness
"Until recently, Iceland was known for its extraordinary landscapes made up of volcanoes, glaciers, lava fields and deep fjords and the rich heritage left by descendants of the Vikings through the sagas." – Daniel Chartier
Up Next: Stockholm, Sweden Instagram Captions
Iceland Hashtags For Instagram Likes
#iceland
#icelandtrip
#icelandroadtrip
#icelandnature
#icelandlove
#icelandadventure
#icelandtravel
#icelandphotography
#iceland🇮🇸
#icelandsecret
#visiticeland
#icelandscape
#icelandexplored
#iceland_photography
#icelandtour
#exploreiceland
#iceland_tourist
#discovericeland
#everydayiceland
#traveliceland
You May Also Like: Copenhagen, Denmark Instagram Captions
---
Now armed with these captivating Iceland Instagram captions, it's time to share your unforgettable experiences with the world!
Whether you're reminiscing about the ethereal beauty of the Blue Lagoon or the charming streets of Reykjavik, these carefully crafted captions will help you express the indescribable magic of Iceland.
Related Posts: