If you're planning a visit to the enchanting city of Copenhagen, get ready to embark on a visual journey like no other.
From picturesque cobblestone streets to colorful waterfronts, this Danish gem offers a treasure trove of Instagram-worthy moments.
I've put together this list of the best Copenhagen Instagram captions that will add that extra sparkle to your posts.
P.S. Don't forget to follow me on IG (@travellerselixir) and tag me in your post for a share!
Best Copenhagen, Denmark Instagram Captions
These captions work for anywhere you're visiting in Copenhagen including Tivoli Gardens, Nyhavn, Rosenborg Castle, The Little Mermaid and more.
Cute Copenhagen Captions For Instagram
Once upon a time in Copenhagen
Copenhagen officially has my heart
Just found out I'm the princess of Genovia
I've got a bad case of wanderlust
Meet me by the canal
I'm always ready for a fairytale
Copenhagen, you had me at 'hej'!
My goal is to run out of pages in my passport
Dear Copenhagen, you had me at 'Smørrebrød.' Trying to pronounce it made me love you even more
Feeling like a real Viking in Copenhagen
Dear Copenhagen, you're my absolute favorite
Trying to pronounce 'Nyhavn' like a local and ending up summoning a friendly seagull instead
Never met a castle I didn't like
Warning: the enchanting streets of Copenhagen have been known to cause severe cases of wanderlust and a sudden urge to quit your job and become a full-time explorer
When in Copenhagen, eat as many Danish pastries as you can without judgment
I left my heart in Copenhagen…better go back and get it
Follow your heart, even if it takes you all the way to Denmark
When in Copenhagen, Danish pastries become a breakfast, lunch and dinner option. No judgment, just crumbs
Oh darling, why don't we just stay in Copenhagen
Calories don't count in fairytale cities, right?
Castles and canals up ahead
The world is a book and those who do not travel read only one page
When they said it's the happiest place in the world, they weren't wrong
They say 'do what makes you happy' so I bought a ticket to Copenhagen
Enjoying life one colorful house at a time
Copenhagen: Where even the mermaids have better hair than me
Breaking news: I've discovered the secret to happiness – it's called smørrebrød. Thank you, Copenhagen!
Up Next: Stockholm Captions For Instagram
Funny Copenhagen Captions & Copenhagen Puns
Pretty Dope-nhagen
I love Copen-hagen out with you
(Den)marks the spot
I'm not Copen very well with the fact that I have to leave today
Note to self: Do not attempt to pronounce 'rødgrød med fløde' after three shots of akvavit. Just smile and nod
Tivoli have eyes for you
How's it Copen-hang-en?
May the norse be with you
Please, sir, can I have Smørrebrød
Feeling like a Viking conqueror after successfully crossing a Copenhagen street without getting hit by a cyclist
(Den)mark my words
Note to self: Danish language lessons required before attempting to order 'smørrebrød' without accidentally requesting a table for four. Lost in translation, again!
Enjoying a reign-y day here at the castle
Copenhagen, I've taken a real viking to you
Trying to blend in with the stylish locals in Copenhagen like…is it socially acceptable to wear a Viking helmet with a little black dress?
CopenHANGIN out
The food in Copenhagen is so so-fish-ticated
A post-castle beer is a delightful fairy-ale
When in Copenhagen, the struggle is real: Should I spend my money on souvenirs or on Danish pastries? Decisions, decisions…
You May Also Like: Prague Captions For Instagram
Short Copenhagen Captions
Disney's got nothing on this
Living out my fairytale
If lost, return to Copenhagen
Copenhagen calling
Scandi chic
Nordic enchantment
Show your colors!
I want a little bit of Copenhagen
Life's a fairytale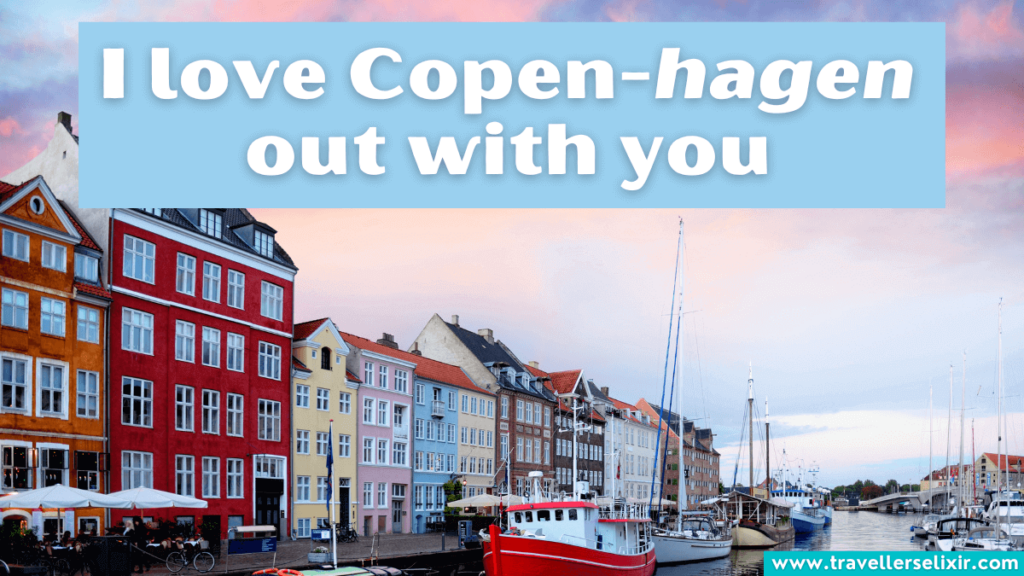 Denmark, I'm yours!
Tivoli wonders
Harbor hues
Collect moments, not things
Sometimes I dream of Denmark
Streets of hygge
Colorful Nyhavn charm
Wait, this isn't Ariel? (for the little mermaid statue)
Copenhagen gives me butterflies
Daydreaming in Copenhagen
Cobblestone dreams
City of Fairytales
I really, really like Copenhagen
Copenhagen love affair
Up Next: Iceland Captions For Instagram
Beautiful & Inspirational Copenhagen Captions
Embracing my inner Danish spirit in Copenhagen: free-spirited, confident and ready to conquer the world
Copenhagen, you're a picture-perfect dream come true. Can I press rewind and visit you again?
Experiencing 'hygge' overload in Copenhagen, where every moment feels like a warm hug
Feeling like a modern-day Viking princess exploring Copenhagen's wonders
Copenhagen, you showed me the beauty of embracing 'hygge' – the coziness, the warmth and the simple joys
Exploring Copenhagen awakened my wanderlust soul and filled it with a sense of awe
Living my fairytale dreams in Copenhagen's enchanting embrace
Copenhagen stole my heart and made it beat to a Danish rhythm
Exploring Copenhagen feels like stepping into a living postcard
Copenhagen, you're a gentle reminder that sometimes the best journeys are the ones that lead us back to ourselves
Exploring Copenhagen's castles and feeling like a character in my own royal fairy tale
Leaving a piece of my heart in Copenhagen
In Copenhagen, I learned to slow down, savor each moment and embrace the beauty of the present
Copenhagen's allure lies in its ability to make you feel at home, even when you're far away
Copenhagen is a city that captures the essence of Scandinavian beauty and Danish warmth
Found my happy place in the charming streets of Copenhagen
You May Also Like: Zurich Captions For Instagram
Copenhagen Quotes For Instagram Captions
"If Americans want to live the American dream, they should go to Denmark." – Richard G. Wilkinson
"Copenhagen, a symphony of old-world charm and modern marvels, where every step echoes with the whispers of a timeless tale." – Traveller's Elixir
"Denmark is like a secret little place with its own special language." – Helena Christensen
"In Copenhagen, you'll find beautiful buildings, delicious food, and friendly people who make you feel right at home." – Traveller's Elixir
"If Copenhagen were a person, that person would be generous, beautiful, elderly, but with a flair." – Connie Nielsen
"In Copenhagen's embrace, I found a sanctuary of beauty where the soul finds solace and the heart discovers its true home." – Traveller's Elixir
"I would go back to Copenhagen in a heartbeat." – Tony Visconti
"In the heart of Copenhagen, time dances to its own rhythm, leaving footprints of wonder on the cobblestone streets." – Traveller's Elixir
"We travel, some of us forever, to seek other places, other lives, other souls." – Anais Nin
"Exploring Copenhagen is like stepping into a fairytale, with beautiful canals and charming bridges at every turn." – Traveller's Elixir
"Denmark is like a big family of people." – Susanne Bier
"Copenhagen, a haven where castles guard secrets, canals whisper tales and the spirit of the city dances with pure delight." – Traveller's Elixir
"For years, whenever I'd been travelling and came back to Copenhagen, I'd think: 'People are so stylish.' And it's not any one class. It's everyday life." – Susanne Bier
"In Copenhagen, you can experience the joy of biking everywhere, feeling the wind in your hair as you explore the city's wonders." – Traveller's Elixir
"Traveling – it leaves you speechless, then turns you into a storyteller." – Ibn Battuta
"Copenhagen, a sanctuary of hygge, where time slows down and moments are savored like the warm glow of candlelight on a winter's eve." – Traveller's Elixir
"Copenhagen, where the winds whisper tales of the sea, and the salty air carries the dreams of explorers who once set sail from its shores." – Traveller's Elixir
Up Next: Berlin Captions For Instagram
Copenhagen Hashtags For Instagram Likes
#copenhagen
#copenhagenlife
#copenhagenfood
#copenhagen🇩🇰
#royalcopenhagen
#copenhagenstyle
#copenhagensecrets
#copenhagenart
#copenhagencity
#copenhagenarchitecture
#copenhagendenmark
#denmarklife
#denmarkgirl
#denmarktravel
#denmark🇩🇰
#denmarkphotography
#denmarknature
#denmarkgram
#igersdenmark
You May Also Like: Amsterdam Captions For Instagram
---
And that's a wrap on our exploration of the best Copenhagen Instagram captions!
I hope you've found the perfect words to complement your stunning photos and capture the spirit of this extraordinary city.
Copenhagen's charm is truly unmatched and with these captions, you're ready to transport your followers to the heart of Denmark's capital.
Related Posts: