Nestled along the banks of the Vltava River, Prague captivates visitors with its breathtaking architecture, winding cobblestone streets and rich history.
But let's face it, finding the perfect Instagram caption can sometimes be as challenging as trying to pronounce "Pražský orloj" correctly!
That's why I've come up with the best Prague Instagram captions that will elevate your posts from ordinary to extraordinary.
P.S. Follow me over on IG (@travellerselixir) and tag me in your photo for a share.
Best Prague Instagram Captions
Cute Prague Captions For Instagram
Left my heart in Prague, better go back and get it
Prague, you've turned me into a bridge enthusiast
Cue the dreamy castles and cathedrals
Today's forecast: 100% chance of castles
Taking life one kolache at a time
If you can't go to heaven, Prague is the next best thing
Prague has me feeling like a character in a fairytale, except with more coffee breaks and less talking animals
Never met a castle I didn't like
Dear Prague, you had me at 'trdelník.' Can we make this love affair permanent?
I'm all about the castle and no hassle life
Dreamy castles up ahead
Prague's architecture is so stunning, it should come with a warning: 'Caution: May induce excessive jaw-dropping.'
And the award for the best Old Town goes to…Prague!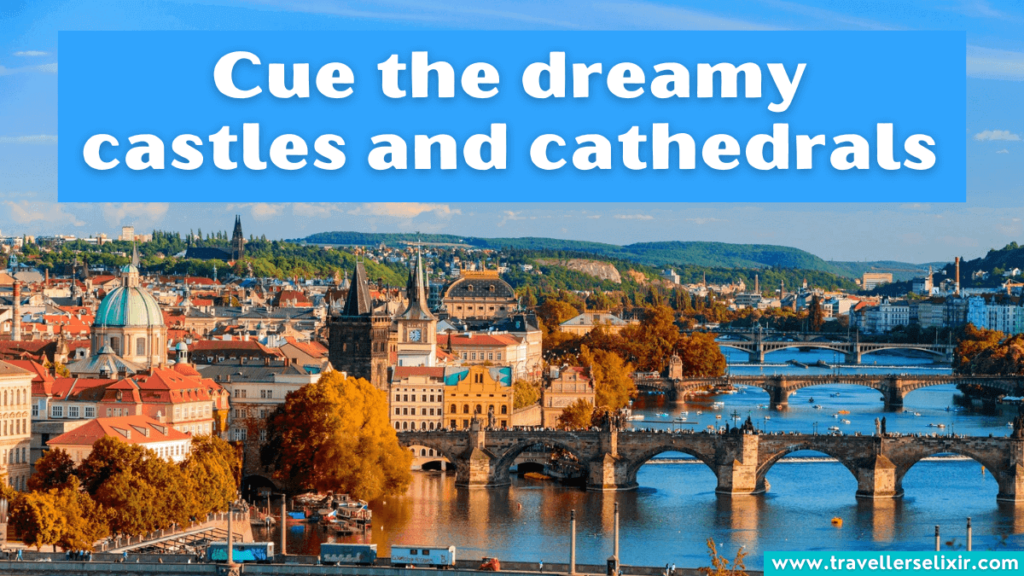 Exploring Prague's cobblestone streets like a boss. Time to give my ankles a raise!
Just a girl who loves Prague
Prague's charm is as irresistible as a box of freshly baked trdelník
Forget about the gym, I'm getting my steps in while climbing all the towers in Prague!
A trdelník a day keeps the doctor away
Prague: where I learned that eating goulash is an extreme sport
From now on sweet dreams are made of castles, cathedrals and sight-seeing in Prague
Check out my new digs
These Praha streets are magic
I think I can see Cinderella from over here
We have nothing to lose and a world to see
Prague: where the beer flows like a river and my ability to pronounce 'Na zdraví' gets better with each round
Happiness is not a state of mind, but a trip to Prague
Up Next: Porto Captions For Instagram
Funny Prague Captions & Prague Puns
Czechin' out this view
Czech mate
Just Czeching out Prague
Czeching Prague off my bucket list
No Prague-lems here
So pretty that it's hard not to Staré
Czech it out!
You should Prague-ably visit this beautiful city
Enjoying a reign-y day here at the castle
My Prague-nosis? Time in the Czech Republic is working its magic on me
I love watching the river under the Charles Bridge. It's my favorite live stream
Just Lennon against the wall
Wenceslas time you were in a place this beautiful?
Prague-crastinating on leaving this incredible city
You're a pain in my česnečka
Kolaches don't cost a lot of dough
Czech out my kingdom
You May Also Like: Stockholm Instagram Captions
Short Prague Captions
I really, really like Prague
Coffee, castles and cobblestones
Meet me at Charles Bridge
Castle dreams come true
Disney's got nothing on this
Whispered tales of Prague
Prague gives me butterflies
Falling hard for Prague
Pretty Prague
Old world charm
Sunset over the Vltava
Love at first sight
Prague magic
Living out my own fairytale
Never coming home, staying in Prague
Daydreaming in Prague
Coffee and castle vibes
I wonder if Prague misses me too
Tired feet, warm heart
Fairytale in real life
Up Next: Scotland Instagram Captions
Inspirational & Beautiful Prague Captions
Fulfilled my lifelong dream of visiting Prague
Prague stole my heart and swept me off my feet
On the search for the best castle in Prague
My sense of direction leads me one way: to Prague
From the breathtaking views to the cozy cafés, this city has stolen my heart
Lost in Prague's enchanting embrace
Every corner whispers stories of romance and adventure
This fairytale city has me feeling like a modern-day princess
Wander often, wonder always
Prague, thank you for making me feel so alive
How can you complain in a place like Prague?
Prague, you're a work of art
Lost track of time in the winding streets of Prague
Getting happily lost has never felt so magical!
Sipping hot chocolate under the watchful eyes of Prague Castle. Can I stay in this magical moment forever?
You can leave Prague, but it will never leave you
Watching the sunset over the Prague horizon never gets old
You May Also Like: Ibiza Instagram Captions
Prague Quotes For Instagram Captions
"It's easy to fall in love among the winding cobblestone streets and snow-covered castles of Prague." – Dana Newman
"Wandering through Prague's streets feels like walking through a living postcard, each corner a masterpiece waiting to be discovered." – Traveller's Elixir
"Prague does not have its name for no reason – in truth, Prague is a threshold between the life on Earth and heaven, a threshold much thinner and narrower than in any other place." – Gustav Meyrink
"In Prague's embrace, time loses its grip and dreams dance freely amidst ancient spires." – Traveller's Elixir
"The streets of Prague were a fantasia scarcely touched by the 21st century – or the 20th or 19th, for that matter. It was a city of alchemists and dreamers, its medieval cobbles once trod by golems, mystics, invading armies." – Laini Taylor
"I personally think Prague is more romantic than Paris. If you have a girlfriend, take her there." – Stephanie Sigman
"In the heart of Prague, history unfolds like a captivating story, leaving footprints on every cobblestone." – Traveller's Elixir
"The ancient splendor and beauty of Prague, a city beyond compare, left an impression on my imagination that will never fade." – Richard Wagner
"Prague is the Paris of the '90s." – Marion Ross
"The most unspoiled baroque city in Europe." – Christopher Booker
"I liked Prague. No other city has so much soul." – Jean-Pierre Melville
"Prague whispers secrets of the past, its cobblestones echoing tales of love, war and resilience." – Traveller's Elixir
"Prague never lets you go…this dear little mother has sharp claws." – Franz Kafka
"Prague, a timeless love affair between a traveler and a city, etching memories that shimmer in the heart forever." – Traveller's Elixir
"Because when you stop and look around, this life is pretty amazing." – Dr. Seuss
"Lost in Prague's labyrinthine alleys, I found not only its hidden treasures but also a piece of myself." – Traveller's Elixir
"Old Prague was a story-book city caked in grime: ancient, soot-blackened. History lived in every detail: in the deerstalker rooftops and the blue-sparking trams." – Philip Sington
"With every step, Prague reveals layers of its captivating story, inviting you to become a part of its living tapestry." – Traveller's Elixir
"I had traveled to a lot of cities in Europe before, but Prague was special. It held a mysterious attraction for me." – Arfi Lamba
"Prague is like a vertical Venice: steps everywhere." – Penelope Gilliatt
"Prague's beauty is a gentle whisper to the soul, a reminder that magic exists in the everyday moments." – Traveller's Elixir
Up Next: Ireland Captions For Instagram
Prague Hashtags For Instagram Likes
#prague
#pragueworld
#praguecastle
#praguegirl
#praguetoday
#praguecity
#praguelife
#praguefood
#praguestagram
#prague🇨🇿
#praguephoto
#praguearchitecture
#praguetrip
#pragueoldtown
#prague❤️
#prague_inst
#praguestreets
#praguelove
#praguetravel
#instaprague
You May Also Like: Budapest Captions For Instagram
---
I hope that my curated collection of Instagram captions has inspired you to share your unforgettable moments in this mesmerizing destination with the world.
From the stunning views of Charles Bridge to the Gothic beauty of Prague Castle, each snapshot you share on Instagram will transport your followers into the heart of this city.
Until next time, happy exploring and may your captions always be as captivating as the city itself!
Related Posts: