Budapest is one of the world's most beautiful cities so it's no wonder that you have a gazillion incredible photos to post to Instagram (or whatever platform you kids are using these days).
Nothing goes better with a beautiful photo than a great caption.
To help you out, I've put together this master list of the best Budapest Instagram captions including funny puns, cute captions and beautiful quotes.
Best Budapest Instagram Captions
Funny Budapest Captions & Budapest Puns
Let's start off with my favorite funny captions about Budapest. We're gonna have a pun time (bad joke?).
Could this city be any more Buda-ful?
This city is the Buda-best
Oh my goulash!
This River Cruise is very relaxing. I'm just going with the flow
Let me Liszt all the things I love about this city
Hungary for adventure
Had the pest time in Budapest
Of quartz I'm exploring the caves of Budapest
I hope I'm not pest-ering you with all my vacation photos!
I'm so Hungary, I hope there's something good to eat here!
Budapest is so river-ting!
Any Hungarian families want to adopt me?
Wow this underground cave rocks!
Oh my goth! Budapest's Parliament Building is breathtaking!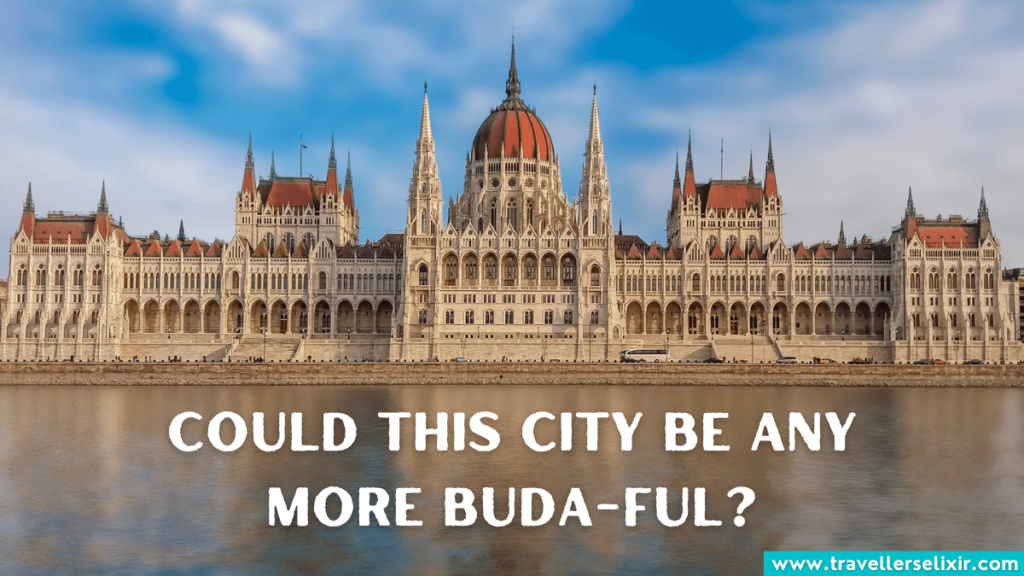 I never went hungry in Hungary
I was Hungary, so I went on a dinner cruise to check out the Buda-ful view
Don't be such a Budapest
Too Hungary to think of a good pun
Hungarians love Halloween because it's so goulash
Water you doing this summer? (for your pic at the thermal baths)
I would never take Budapest's caves for granite…
You bet you're goulash I'm in Budapest
Can you spa a few minutes?
Buda, you're a pest, get out of here!
So I caved and visited Budapest's underground caves
Currently dressed up as a Hungarian monk so I don't have to leave
Budapest calories don't count, right? RIGHT!?
Up Next: Best Prague Instagram Captions
Cute Budapest Captions For Instagram
Ok now I'm feelin' cute…
There's no time to be bored in Budapest
Money can't buy you happiness, but it can buy you a ticket to Budapest
No Mom, I haven't picked up Hungarian yet…
From now on sweet dreams are made of goulash and sight-seeing in Budapest
Budapest is making me crazy, it's just too beautiful to be allowed
Home is where the thermal bath is
Sorry I can't do a video call right now….
What happens in the thermal bath stays in the thermal bath…
I might quit my job and become a Hungarian goat farmer and move here…
Oh darling, why don't we just stay in Budapest
Can't stop, won't stop (eating goulash)
Here for the views and thermal baths
I'd cross that bridge any day of the week
Sorry for what I said when I wasn't cruising down the Danube river in Budapest
You really think I came all the way to Budapest without staying in a grand Budapest hotel…
Getting my spa on in the spa capital of the world
It's bad manners to keep the city of Budapest waiting
Got goulash on my mind
Let's go to explore magical places
Sorry no me speak English, I'm Hungarian now
Now I finally understand why they call this place the Pearl of the Danube
PSA: Update your address book – I live in Budapest now
Don't mind me, I'm just cruising down the Danube River in Budapest…
Now they know my name in Budapest
I know I said I was working from home but I'm actually in Budapest…
Who needs a boyfriend when you have Budapest
I look at this Parliament Building and wonder how something so beautiful can exist
You'll find me along the Danube River in Budapest (p.s. don't find me)
These hot thermal baths really warm me up!
Did you even come to Budapest if you didn't try sour cherry soup??
You May Also Like: Hot Springs Instagram Captions
Short Budapest Captions
Sometimes the picture just speaks for itself so you just want something short and sweet to capture your feelings.
Take me to Budapest
Budapest stole my heart
Did I just step into a dream or something?
You can find me in Budapest
Budapest is always a good idea
Lost in Budapest
Take a dip
Spa day!
Incurable wanderlust
Queen of the Danube
Postcard from Budapest
In a relationship with: Budapest
Köszönöm Budapest
What a wonderful world!
From Budapest, with love
To travel is to live
Budapest views & tinted hues
You May Also Like: Amsterdam Instagram Captions
Inspirational & Beautiful Budapest Captions
Ok, ok so I'm not usually the one to post these kinda captions but they're growing on me!
My favorite thing: Going where I've never been
How can you complain in a place like Budapest
Budapest on a sunny day is my idea of heaven
I could spend my whole life wandering the streets of Budapest and I still won't have had enough
This is the bliss we constantly search for
Budapest makes me feel small but in a good way
Travel is the only thing you buy that makes you richer
Although I have to go, my precious memories of Budapest will last a lifetime
We travel not to escape life, but for life not to escape us
I don't ever want to leave Budapest. It's like living inside a dream
Don't listen to what they say, go and see it for yourself
May everyday bring a new adventure
Thanks Budapest for welcoming me with open arms and an open heart
This city feels like home already
I can finally tick Budapest off my bucket list!
Budapest is to me what Romeo is to Juliet – a grand love affair that has to come to an end
Up Next: Rome Instagram Captions
Budapest Quotes For Instagram Captions
Maybe you don't want to say anything at all so let someone else say it.
Here's all the best quotes that have ever been said about Budapest.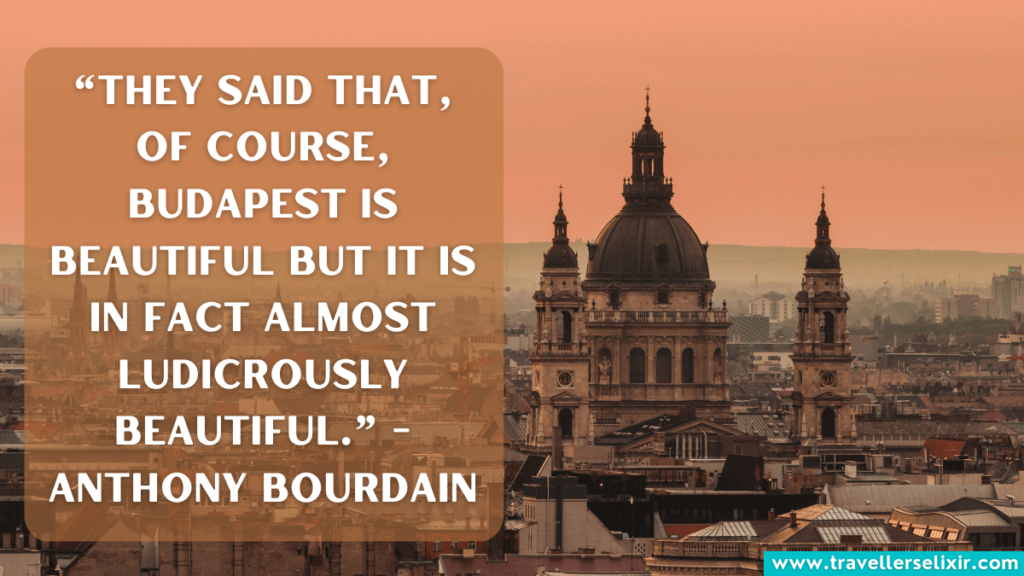 "They said that, of course, Budapest is beautiful but it is in fact almost ludicrously beautiful." – Anthony Bourdain
"My heart beats so fast in this city. Thank you, Budapest for finally making me feel alive." – Traveller's Elixir
"Straddling the Danube River, with the Buda Hills to the west and the Great Plain to the east, Budapest is a gem of a city." – Lonely Planet
"My house in Budapest, my hidden treasure chest, golden grand piano, my beautiful castillo." – George Ezra
"I'm convinced that this place came straight out of a dream! It's just so beautiful, like nothing I've seen before." – Traveller's Elixir
"But best of all I loved the Castle Hill District of Buda. I never tired of its ancient streets. Even in those days old things attracted me more than new ones." – Antal Szerb
"Budapest in late May is a city of lilacs. The sweet, languid, rather sleepy smell of lilacs wafts everywhere. And it is a city of lovers, many of them quite middle-aged. Walking with their arms around each other, embracing and kissing on park benches." – Joyce Carol Oates
"Budapest is the place you go when you just want to get lost in a beautiful dream." – Traveller's Elixir
"Budapest is a prime site for dreams." – M. John Harrison
"Budapest is magic, pure magic. It's like a sorcerer came in with a magic wand and drew up the whole thing from pixie dust and magic water." – Traveller's Elixir
"Want to go away with me? To the lakes, or to Budapest?" – A Short Film About Love
"Europe's most underrated big city, Budapest can be as challenging as it is enchanting." – Rick Steves
"I love Budapest for all the right reasons – architecture (especially art nouveau), romance (particularly the views from the bridges) and sticky apricot jam – and some of the wrong ones, too – killer pálinka (fruit brandy), rickety trolleybuses, and spending way too much time in the Turkish baths." – Steve Fallon (Lonely Planet)
"Nowhere else in the world has captured my heart in the same way that Budapest has. This city has an energy to it that I've never felt before." – Traveller's Elixir
"In Budapest, you'll find experiences like nothing else in Europe: Feel your stress ebb away as you soak in hundred-degree water, surrounded by opulent Baroque domes…and by Speedo and bikini-clad Hungarians. Ogle some of Europe's most richly decorated interiors, which echo a proud little nation's bygone glory days." – Rick Steves
"I can't tell you what Budapest means to me. It fills me with joy like no other place in the world." – Traveller's Elixir
"Budapest is the world's melting pot of architectural styles. From Roman amphitheaters and Gothic-styled cathedrals to traditional Turkish baths, Budapest has it all." – Lust for the World
"I'd go to the ends of the earth if it meant that I could stay in Budapest forever." – Traveller's Elixir
"One thing that hasn't changed through the years is the Hungarian affection for taking the waters – marinating in thermal baths. A tradition going back to the Romans, continued by the Ottomans, and something that survived through two wars and communism. And they do it in style." – Anthony Bourdain
"Budapest is famous for its thermal baths. What most people don't know about is, their famous bath parties." – Lust for the World
"If you travel and get to know the various cultures across the world, then your own country will become so clear to you that you will be able to see everything" – Ernő Polgár
"Hey Budapest, I wanna stay here forever and ever and ever. Will you let me?" – Traveller's Elixir
You May Also Like: Copenhagen Instagram Captions
---
And that's it!
If you've visited the Pearl of the Danube (aka Budapest) recently then you're one lucky ducky!
I'm jealous so please steal my Instagram captions to make me feel better.
Feel free to copy and paste these Instagram captions for all your Budapest photos (I don't mind, I promise).
Related Posts: