From the magnificent Colosseum to the romantic Trevi Fountain, Rome is a paradise for any photographer looking to capture the essence of Italy's capital.
But let's be honest, the perfect picture isn't complete without an equally perfect caption.
That's why I've compiled a list of the best Rome Instagram captions to help make your photos stand out.
Visiting Rome? I recommend this small group tour of the Vatican with an expert guide! It includes the Sistine Chapel, St Peter's Basilica and the museum.
Best Rome Instagram Captions
These captions work for any place you're visiting in Rome including the Colosseum, the Pantheon, the Roman Forum, the Trevi Fountain, Vatican City, St Peter's Basilica and more.
Funny Rome Captions & Rome Puns
Home sweet Rome
What a Rome-antic city
Caught in a bad Rome-ance
There's no place like Rome
We built this city on rock and Rome
Just Rome-ing around after dark
Honey, I'm Rome!
I'm a bit Rome-sick
Rome stole a pizza my heart
Words can't espresso how much you mean to me
You cannoli do so much on one vacation
Scoops, I did it again
The Pantheon has a tight Agrippa on my heart
I'm so glad we came to Rome toga-ther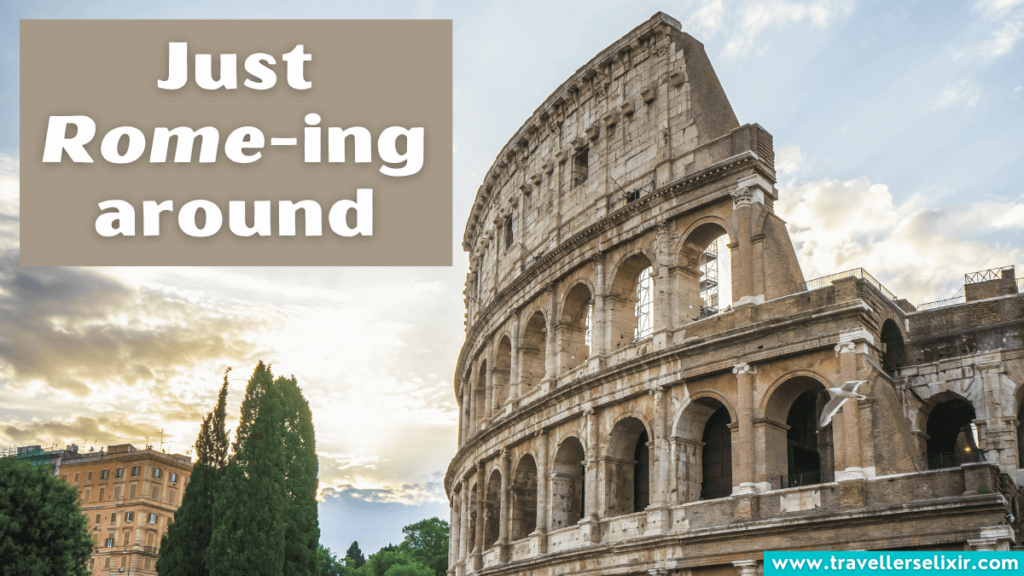 It's impossible to ruin the view of the Colosseum
Leave some Rome in your suitcase for souvenirs!
Sending you olive my love from Rome!
Arch you glad you're in Rome?
Don't call me, I'm in Rome-ing
Simply Roman-tic
Wine not?
Dress warm at the Vatican, it's a bit gold
Living on cloud wine
Up Next: Paris Instagram Captions
Cute Rome Captions For Instagram
All roads lead to gelato
I came, I saw, I ate all the pasta in Rome
My happy place is anywhere with pizza and wine
Rome is where the magic happens, and by magic, I mean gelato
Rome is always a good idea
And the best fountain award goes to…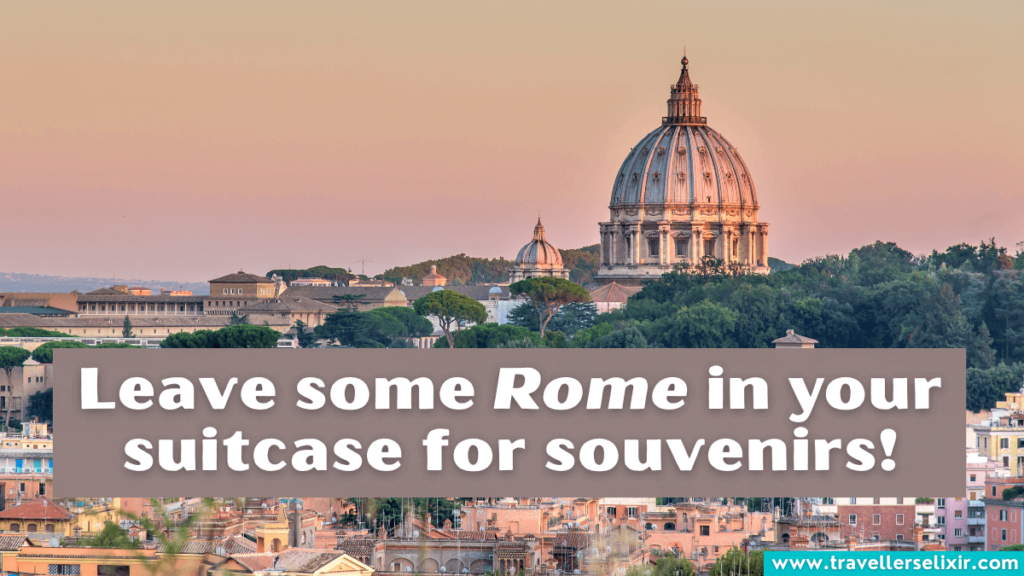 Rome calories don't count right? RIGHT!?
When in Rome, do as the Romans do: eat pasta & drink wine
I'm in love with a city on the other side of the world
Life's short. Get the double scoop of gelato
Rome stole my heart but at least it gave me some pizza in return
When the moon hits your eyes, like a big pizza pie, that's amore
Fulfilled my lifelong dream of riding a vespa
They say all roads lead to Rome but I prefer the one that leads to the gelato shop
Came to Rome for the sights, stayed for the gelato
When in Rome, do as the Romans do
Rome wasn't built in a day but I sure tried to see it all in one
Never settle for just one scoop
Rome, the city that stole my heart and filled my belly
Vino and gelato, what more could a girl ask for?
I'll send you a postcard from the Pantheon
Current status: cancelling my plane ticket and staying in Rome forever
Rome wasn't built in a day
Sometimes I dream of Italy
When in Rome, be sure to toss a coin in the Trevi Fountain…or just toss a pizza slice in your mouth
You May Also Like: Venice Instagram Captions
Short Rome Captions
When in Rome…
All roads lead to Rome
Stepping back in time
Eternal city, eternal love
I really, really like Rome
Rome, you had me at ciao
I've got a crush on Rome
Once upon a time in Rome
Eat, pasta, love
The sweet life. La dolce vita
Rome more, worry less
Roaming around Rome
Take me to Rome
Lost in Rome
Ciao bella (hello beautiful)
La vita è bella (life if beautiful)
Up Next: Best Barcelona Instagram Captions
Inspirational & Beautiful Rome Captions
There's something special about Rome, it's like falling in love for the first time
Do more things that make your passport proud
Rome may be eternal but my love for it is infinite
Meet me under the stars in Rome
Rome, you're the only city that can make me feel both lost and found at the same time
La dolce vita is real and it's in Rome
In Rome, even the ruins have a story to tell
Rome, are you shining just for me?
In Rome, every moment feels like a movie scene
The best things in life are gelato, pizza and Rome
Rome is not just a city, it's a journey through time, culture and beauty
Rome is a dream like no other
Bring your broken hearts to Italy. She'll make them fall in love again
When I stepped foot in Rome, I felt like I was walking through a living, breathing museum
Rome is built on ruins and is quite breathtaking, what makes you think you can't be too?
Up Next: Best London Instagram Captions
Rome Quotes For Instagram Captions
"Rome will exist as long as the Coliseum does; when the Coliseum falls, so will Rome; when Rome falls, so will the world." – Venerable Bede
"This is what dreams are made of." – Hilary Duff
"Yes, I have finally arrived at this capital of the world! I now see all the dreams of my youth coming to life. Only in Rome is it possible to understand Rome." – Johann Wolfgang von Goethe
"The beauty of Rome is not just in its monuments, it's in the way it makes you feel, alive and grateful to be in such a wonderful place." – Traveller's Elixir
"You may have the universe if I may have Italy." – Giuseppe Verdi
"Rome is not like any other city. It's a majestic museum, a living room to tiptoe through." – Alberto Sordi
"Rome has grown since its humble beginnings that it is now overwhelmed by its own greatness." – Livy
"If we could be reborn wherever we chose, how crowded Rome would be." – Francine Prose
"You look at passers-by in Rome and think, 'Do they know what they have here?" – Frank McCourt
"Visiting Rome is like stepping into a postcard, every view is breathtakingly beautiful." – Traveller's Elixir
"Rome is the capital of Europe, it's as simple as that." – Gino D'Acampo
"In Rome, one had simply to sit still and feel." – E.M. Forster
"The thing I love about Rome is that is has so many layers. In it, you can follow anything that interests you: town planning, architecture, churches or culture. It's a city rich in antiquity and early Christian treasures, and just endlessly fascinating. There's nowhere else like it." – Claire Tomali
"To Rome, for everything." – Miguel de Cervantes
"I am a sucker for those old traditional places, and Rome is as good as it gets, particularly when you throw in Italian food." – Roger Federer
"Rome is possibly my favourite city in the world. I have such fond memories there – most of them food-related." – Mallory Jansen
"I love Rome and the way that you can wander around and find something interesting around every street corner. You can smell the history." – Jonathan Agnew
"Rome has not seen a modern building in more than half a century. It is a city frozen in time." – Richard Meier
"Rome is a city that will capture your heart, your imagination and your taste buds all at once." – Traveller's Elixir
"A fool is one who admires other cities without visiting Rome." – Francesco Petrarca
"Oh Rome! My country! City of the soul!" – Lord Byron
"I found Rome a city of bricks and left it a city of marble." – Augustus
"Rome is one of my favourite cities in the world." – Erin Heatherton
"Italy has changed. But Rome is Rome." – Robert De Niro
"Rome is magic." – Maria Grazia Cucinotta
"Every pizza is a personal pizza if you try hard and believe in yourself." – Bill Murray
"They say Rome wasn't built in a day, but I wasn't on that particular job." – Brian Clough
"Rome, the city where memories were chiselled in marble." – Elif Shafak
"I would like to be like Rome when I am an old lady." – Elizabeth Gilbert
"I just love Rome. It really does cast a spell on you." – Alec Baldwin
"From the dome of St. Peter's one can see every notable object in Rome. He can see a panorama that is varied, extensive, beautiful to the eye, and more illustrious in history than any other in Europe." – Mark Twain
"Rome was a poem pressed into service as a city." – Anatole Broyard
"I think there are two cities in the world – New York and Rome." – Frank McCourt
"Each, in its own way, was unforgettable. It would be difficult to – Rome! By all means, Rome. I will cherish my visit here in memory as long as I live." – Audrey Hepburn
"I thought I knew everything when I came to Rome, but I soon found I had everything to learn." – Edmonia Lewis
"Methinks I will not die quite happy without having seen something of that Rome." – Sir Walter Scott
"I sometimes fancy that Rome will crowd everything else out of my heart." – Nathaniel Hawthorne
"There was once a dream that was Rome. You could only whisper it. Anything more than a whisper and it would vanish, it was so fragile." – Marcus Aurelius
"Going around Rome, you can find beauty because, quite simply, Rome is very beautiful. But the beauty of the people is sometimes harder to discover." – Paolo Sorrentino
You May Also Like: Croatia Instagram Captions
Rome Hashtags For Instagram Likes
#rome
#romeitaly
#romecity
#romefood
#rome🇮🇹
#rometravel
#rometrip
#romeitaly🇮🇹
#romeandyou
#romecityworld
#visitrome
#ancientrome
#romephotography
#romebynight
#adayinrome
#romelovers
#rometours
#rometravelers
#romeismore
#romearchitecture
Up Next: Istanbul Instagram Captions
---
And that concludes our journey through the best Rome Instagram captions!
I hope that these captions have inspired you to share your amazing experiences in Rome with your followers and helped you capture the essence of this beautiful city.
Whether you're admiring the city's stunning architecture, indulging in a bowl of pasta or simply taking a stroll through the charming streets, I encourage you to embrace every moment.
Related Posts: