With its stunning beaches, historic cities and picturesque landscapes, Croatia is a paradise for travelers.
But with so much beauty around you, it can be hard to come up with the perfect caption to accompany your photos.
That's why I've rounded up the best Croatia Instagram captions that will make your followers feel like they're with you, soaking up the Mediterranean sun.
Visiting Croatia? I recommend this Game of Thrones tour in Dubrovnik! It's super fun and really affordable.
Best Croatia Instagram Captions
Funny Croatia Captions & Croatia Puns
Be there in a Split second
Sea you soon, Croatia
Wanna Za-grab a drink?
Can't talk, gotta Split
Same Split, different day
Going to miss these views Cro-sure
Can you tell me, how Hvar is heaven?
Split happens but a trip to Croatia makes it all better
I'm somewhere Hvar, Hvar away
All my troubles seem so Hvar away…
I'm not shore if there's a more beautiful country than Croatia
Croatia, where the views are Krka-ing me up
Port of me never wants to leave Dubrovnik
Sticking to the sea-nic route in Dubrovnik!
I'm not Split-ting hairs, Croatia is amazing!
I can't fjaka-king believe how stunning Croatia is!
You May Also Like: Budapest Instagram Captions
Cute Croatia Captions For Instagram
Find me near the Mediterranean Sea
I'm on a seafood diet in Croatia, I see food and I eat it
Who needs a knight in shining armor when you can have a Dubrovnik guard in a funny hat?
'Game of Thrones' was filmed here. That's all.
Every moment feels like a fairytale in Croatia
I think I've found my heart in Croatia…or maybe it's just the rakija talking
Just got back from Croatia and all I got was this killer tan and a newfound love for rakija
Doing this sweet thing called traveling to Croatia
Dear Croatia, please stop being so beautiful. It's making it hard for me to leave
You either love Croatia or you're wrong
Croatia, you have my heart forever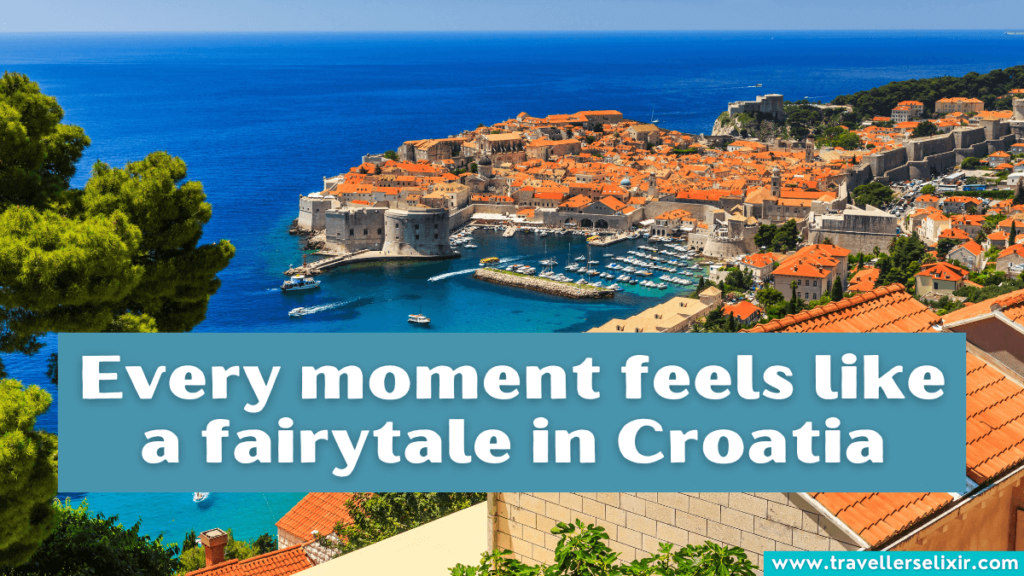 I took a trip to Croatia, now I'm never leaving
Falling in love with the colors of Croatia
Everybody needs to visit Croatia at least once in their life
Putting my passport to good use
Already dreaming of coming back to Croatia
I've never been anywhere more beautiful than Croatia
If you're looking for me, I'm probably still on the beach in Croatia, trying to figure out how to stay here forever
All you need is love and a vacation in Croatia
Croatia, where my heart, stomach and camera are all full
Croatia, where even the stray cats are more photogenic than I'll ever be
I don't always travel, but when I do, I prefer to do it in style…and by style, I mean stuffing my face with burek in Croatia
Once upon a time in Croatia…
Croatia, where the sea is bluer than your ex's eyes and the wine flows like…well, water
I came to Croatia for the scenery, stayed for the wine and left with a newfound appreciation for truffle oil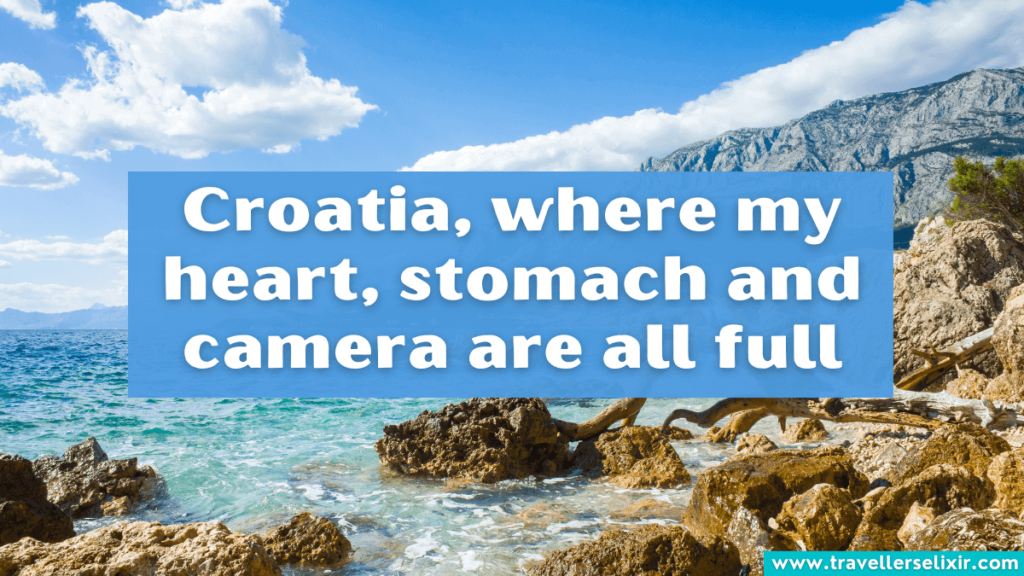 Croatia, where even the cats are living their best lives
I think I need a bigger memory card, Croatia's too photogenic
Croatia, where every day is a good hair day thanks to the sea breeze
Up Next: Prague Instagram Captions
Short Croatia Captions
Feelin' breezy and beachy
Croatia, you beauty
Roam far and wander wide
Time for a new adventure!
Always chasing Croatia's sunsets
A piece of paradise on earth
Dreaming of Croatia
Meet me in Dubrovnik
Life is better in the Adriatic
Lost in Croatia's charm
Croatia, my happy place
Croatia is calling, so I must go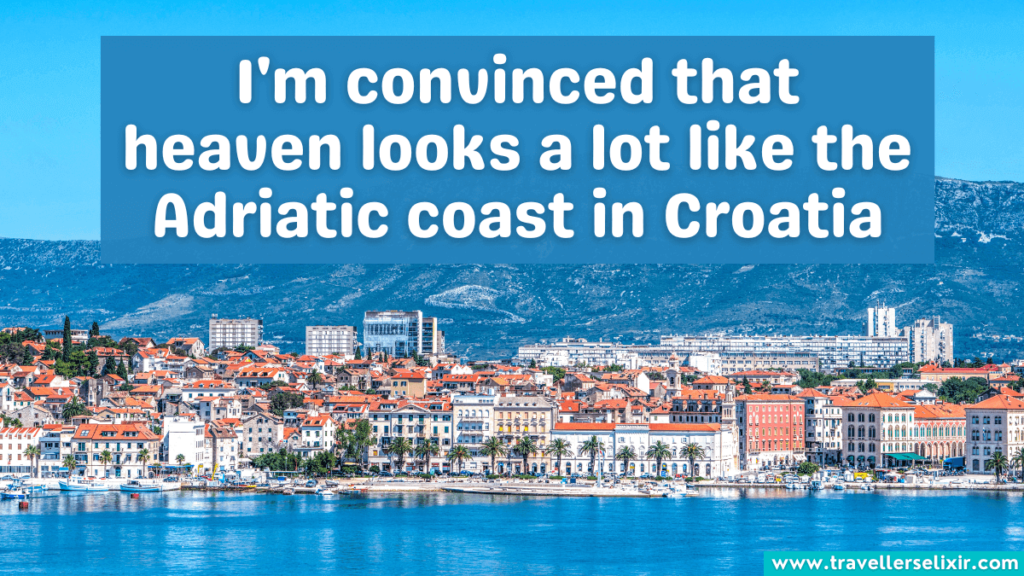 Where the sea meets the sky
Meanwhile, in Croatia…
My favorite escape
You May Also Like: Amsterdam Instagram Captions
Inspirational & Beautiful Croatia Captions
Croatia is taking my breath away
Constantly searching for views that take my breath away
Croatia is a place where you can lose yourself in the magic of the moment and find yourself in the depths of your soul
I'm convinced that heaven looks a lot like the Adriatic coast in Croatia
If only I could bring the Adriatic Sea home with me, life would be perfect
So much world, so little time
Croatia, you've stolen my heart and taken my breath away
Croatia, where every street corner is a perfect photo op and every meal is a culinary adventure
Happiness is a day spent exploring the charming streets of Croatia
Find a beautiful place and get lost
Why go to heaven when you can go to Croatia?
Croatia, where the beauty of the old world meets the modern charm of the new
I may leave Croatia but Croatia will never leave me
Forever chasing the stunning views and crystal-clear waters of Croatia
Up Next: Zurich Instagram Captions
Croatia Quotes For Instagram Captions
"Croatia is a canvas painted with the colors of the Adriatic sea and the richness of history and culture, waiting to be explored." – Traveller's Elixir
"Croatia is a land of dreams, where the sunsets are as stunning as the memories you'll make." – Traveller's Elixir
"Croatia has been glorious." – Emilia Clarke
"Visiting Croatia is like discovering a treasure trove, where every corner reveals a new and beautiful surprise." – Traveller's Elixir
"Croatia is a place where the soul can find serenity and the heart can find joy." – Traveller's Elixir
"If you want to see paradise on Earth, come to Dubrovnik." – George Bernard Shaw
"Visiting Croatia is like stepping into a postcard, with every view more breathtaking than the last." – Traveller's Elixir
"I can't explain why I'm so in love with Dubrovnik." – Fedde Le Grand
"Croatia is not just a destination, it's a journey of discovery, where you'll uncover hidden gems at every turn." – Traveller's Elixir
"Croatia's beauty is a symphony for the senses, where the salty sea air and the sound of waves are the perfect accompaniment to the stunning scenery." – Traveller's Elixir
"The city is so quiet and so mysterious at the same time. I'll keep coming back, even when I am 80 years old." – Fedde Le Grand
"Croatia is a magical land of ancient architecture, sparkling waters and warm hospitality that will leave you enchanted." – Traveller's Elixir
"Dubrovnik is the pearl of the Adriatic." – Unknown
"Croatia is a place where the past and the present coexist in perfect harmony, creating a unique and unforgettable travel experience." – Traveller's Elixir
"Croatia is a storybook land that comes to life with each step, where the pages are filled with picturesque landscapes and charming villages." – Traveller's Elixir
You May Also Like: Istanbul Instagram Captions
Croatia Hashtags For Instagram Likes
#croatia
#croatiatravel
#croatiafulloflife
#croatiatrip
#croatiafullofmagic
#croatia🇭🇷
#croatiafullofnature
#croatia_photography
#croatiapostcards
#croatialove
#visitcroatia
#croatiaphotography
#croatia_instagram
#croatia_lovers
#croatia_ig
#croatiafullofcolours
#croatiavacation
#lovecroatia
#croatiaonmymind
#beautifulcroatia
Up Next: Santorini Instagram Captions
---
And that concludes my list of the best Croatia Instagram captions!
I hope that these captions will help you capture the essence of this stunning country and make your Instagram posts stand out.
Whether you're exploring the charming coastal towns, relaxing on the beaches or indulging in the delicious local cuisine, Croatia has something for everyone.
Related Posts: