With its white-washed buildings, stunning sunsets and crystal-clear waters, it's no wonder that Santorini is a top destination for travelers from around the world.
In this post, I'll be sharing some of the best Santorini Instagram captions that will make your followers swoon and maybe even book a trip to this magical island themselves.
P.S. Follow me on Instagram (@travellerselixir), tag me in your photo and I'll share it on my story!
Best Santorini Instagram Captions
Funny Santorini Captions & Santorini Puns
So many blue-tiful views in Santorini!
Girls just wanna have sunsets
Greek-ing out over these views!
I'm souvlaki to have you in my life!
Greece is the word and Santorini is the place to be!
This island just ouzos with charm
Santorini, you've taken a Greece of my heart!
Anything you can do, I can do feta
It's in one Oia and out the other
Greek-ing out in Santorini with my favorite people!
Greece-y hair, don't care
I'm holding out for a gyro
Wow, Santorini never Greece-s to amaze me!
Feta late than never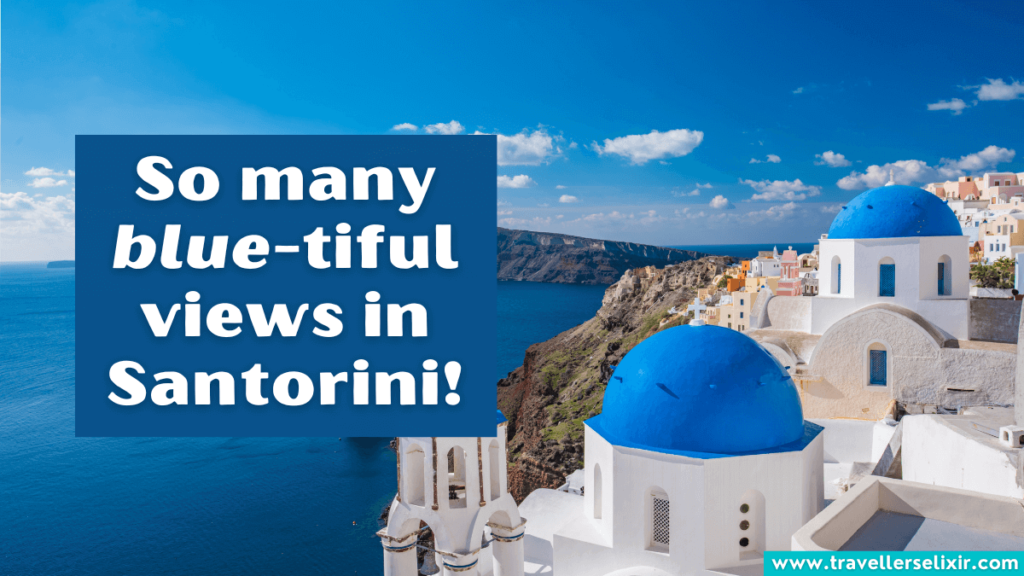 There's no time to be blue in Santorini
I'm opa to anything!
Feeling blue without Santorini in my life
You feta believe I'm in Santorini!
I sea you, Santorini!
I'm baklava-ing the beauty of Santorini!
Life doesn't get feta than this
Souvlaki-ing up the sun in Santorini
You May Also Like: Best Venice Instagram Captions
Cute Santorini Captions For Instagram
Happiness is a choice we make. I choose Santorini
Girls don't need heroes, girls need gyros
If only I could pack this view in my suitcase and take it home with me
Living the sweet life in Santorini
Santorini is calling and I must go
Heaven is a place on earth, probably Greece
Life isn't black and white in Santorini. It's blue and white!
I came for the sunsets but I stayed for the feta cheese
You can't make everyone happy, you are not baklava…
The only thing more photogenic than Santorini is my face when I see a plate of souvlaki
BRB, checking Santorini off my bucket list
I'm all about the salty air and sunkissed hair
The view is great, but have you tried the baklava?
Santorini, you stole my heart…and my wallet (worth it though)
If you need me, I'll be on the beach pretending to be a mermaid
I followed my heart and it led me to Greece
Pretending I'm in 'Mamma Mia' everywhere I go
If you don't post a Santorini sunset photo on Instagram, did you even go to Santorini?
Santorini has me feeling like a Greek goddess…until I try to climb up those steep stairs
Canceling my plane ticket home and staying in Santorini forever
Trying to figure out how to fit all of my souvlaki in my carry-on
I'm pretty sure the Greek gods vacationed in Santorini. Can't blame them really
I thought I was in shape until I hiked up to the top of Skaros Rock
I tried to take a selfie with a donkey but let's just say it didn't go as planned
I want a little bit of Santorini
I wonder is baklava thinks about me too…
Sunsets are better in Santorini
Just another day in paradise…until I accidentally ordered a plate of octopus tentacles
The donkeys here have more stamina than I do
I left my heart in Santorini…along with my beach towel and sunglasses
Up Next: Best Rooftop Instagram Captions
Short Santorini Captions
Greetings from Greece
These are the sunsets we live for
It's all Greek to me!
Island dreams
Santorini is waiting for you!
Greek island life
Lost in the Santorini bliss
Woke up in the dreamiest place
I've never met an island I didn't like
Once upon a time in Santorini
Living in a dream
Heaven on earth
Cliffside views
Sunsets and sea
Nothing but blue skies here
Meanwhile, in Santorini…
Santorini sunsets
But first, let's go to Santorini
Blissful blue hues
Blue and white paradise
Infinite beauty
You May Also Like: Croatia Instagram Captions
Inspirational & Beautiful Santorini Captions
I wish some nights lasted forever
Lost in the beauty of Santorini, found in the magic of the island
Santorini is a place that stays with you long after you leave
I would love to stay in this little slice of paradise forever
Let the colors of Santorini inspire you to be bold, to take risks and to live your life to the fullest
Santorini is proof that the world is still full of wonder and magic
Santorini, thank you for reminding me of the beauty in the world
Came for the sights, stayed for the sunsets
The sunsets of Santorini inspire me to appreciate the beauty of every ending and to look forward to the promise of a new beginning
Santorini has a way of captivating the heart and leaving a lasting impression
Sometimes you need to escape reality to find a little piece of heaven
Santorini showed me that sometimes the most beautiful things in life are the simplest
A dreamer, that's what she was
Let the beauty of Santorini remind you that there is magic in this world waiting to be discovered
Sometimes the best things in life are unplanned like my trip to Santorini
Put down the map and get wonderfully lost
If I can't go to heaven, let me go to Santorini
Santorini may be small but it holds a big place in my heart
This heart of mine was made to travel
Up Next: Ibiza Instagram Captions
Santorini Quotes For Instagram Captions
"Santorini is not just an island, it's a feeling. A feeling of wonder, enchantment and the infinite possibilities of life." – Traveller's Elixir
"It takes a lifetime for someone to discover Greece, but it only takes an instant to fall in love with her." – Henry Miller
"The beauty of Santorini is not just in the majestic views but in the way it makes you feel alive and connected to the world." – Traveller's Elixir
"I want to have an 'Eat, Pray, Love' experience where I drop off the face of the planet and move to Greece" – Jennifer Hyman
"In Santorini, the sun, sea and sky blend into a seamless canvas of beauty, inspiring us to see the world in a new light." – Traveller's Elixir
"The light of Greece opened my eyes, penetrated my pores, expanded my whole being." – Henry Miller
"Santorini is not just a destination, it's a journey of the senses, a feast for the eyes and a balm for the soul." – Traveller's Elixir
"Greece is the most magical place on Earth." – Kylie Bax
"Santorini may be a small island but it has a big heart, welcoming travelers from all over the world with open arms and endless beauty." – Traveller's Elixir
"According to some theories, the legendary Atlantis said to have sunk beneath the sea in a great cataclysm, is in actuality the Greek island of Santorini." – Laura Brooks
"In Santorini, time stands still, allowing us to appreciate the present moment and cherish the memories we make along the way." – Traveller's Elixir
"Greece was a muse. It inspired creativity in magical ways that I can't even begin to understand or explain." – Joe Bonamassa
"Santorini is a symphony of colors, sounds and flavors, inviting us to immerse ourselves in the magic of the island and all it has to offer." – Traveller's Elixir
"Greece – The feeling of being lost in time and geography with months and years hazily sparkling ahead in a prospect of un-conjecturable magic" – Patrick Leigh Fermor
"In Santorini, the air is heavy with the scent of adventure, beckoning us to explore the island's hidden treasures and make our own path." – Traveller's Elixir
"Greece is a good place to look at the moon, isn't it?" – Kari Hesthamar
"Santorini is a place where the worries of the world slip away and we are left with nothing but the present moment and the beauty of the island." – Traveller's Elixir
"And then you go to a place that stops you in your tracks and makes you wonder how you got so lucky just to be there. As our ship entered the foggy caldera and I caught my first glimpses of Santorini, I knew it would be one of those places." – Alex in Wanderland
"In Santorini, the sunsets are not just a sight to behold, they are a reminder that every day can end in beauty and wonder." – Traveller's Elixir
You May Also Like: Algarve Instagram Captions
Santorini Hashtags For Instagram Likes
#santorini
#santorinigreece
#santoriniisland
#santorinisunset
#santorini🇬🇷
#santoriniview
#santorinisecrets
#oiasantorini
#santorini💙
#santorini_lover
#santorinilove
#santorinitravel
#santorinigram
#santorini_island
#santorinigreece🇬🇷
#santorinistyle
#visitsantorini
#santorinivibes
#santoriniblue
#santoriniexperience
Up Next: Rome Captions For Instagram
---
I hope this collection of Santorini Instagram captions has given you some inspiration for your next post.
Whether you're exploring the winding streets of Oia, soaking up the sun on Perissa Beach or admiring the stunning caldera views from Fira, Santorini is a photographer's paradise.
With the right caption, you can elevate your photos to the next level and truly capture the essence of this Greek island gem.
Related Posts: