If you're looking for somewhere to see turtles in Greece then you're in the right place.
Nothing can beat that amazing feeling of seeing a turtle up close and personal in their natural habitat! Why not try it for yourself?
This post will tell you all of the best places to see turtles in Greece and includes where you can swim with turtles in Greece and where you can see baby turtles hatching!
Can You Swim With Turtles in Greece?
Greece is a popular turtle breeding ground meaning that sea turtles return every single year to lay their eggs and baby sea turtles hatch on the beaches.
During the summer, you can actually swim with turtles in Greece. The most common species of turtle present in Greece is the rare Loggerhead turtle.
These are known locally as caretta-caretta sea turtles.
The best place to swim with turtles in Greece is in Zante which even has a small islet nicknamed 'turtle island'.
I'd recommend joining a turtle spotting boat tour in Zante for the best possible chance of seeing the turtles for yourself.
Zante is one of the best places, not only in Greece, but in the whole world to see Loggerhead turtles as you're basically guaranteed a sighting.
Keep reading to find out where else you can see sea turtles in Greece including both the Greek Islands and mainland Greece.
Best Places To See Turtles In Greece
There are many places where you can swim with turtles in Greece.
Below I've listed the top spots where you'll have the best possible chance of seeing a turtle including some handy links to the most top rated sea turtle tours.
1. Zante
The best place to see turtles in Greece is in Zante, also known as Zakynthos.
Head over to Laganas Bay, which is located on the south of the island, to see the turtles for yourself.
The small islet of Marathonisi, located in Laganas Bay, is conveniently nicknamed 'turtle island' as turtles can regularly be spotted swimming around and laying eggs there during the summer.
Female loggerhead turtles come to Marathonisi every single summer to lay their eggs on the beaches.
The easiest way to see the turtles of Marathonisi is to join a turtle spotting boat tour.
You should be able to spot the turtles in the ocean or hanging out on the beaches, preparing to lay their eggs.
If you want to swim with turtles in Greece then head out into the water at Laganas Beach near Marathonisi or at Cameo Island which you can access via a footbridge from the beach.
The area to the north of Cameo Island is the best spot for seeing turtles.
You have a huge chance of coming face to face with a beautiful Loggerhead sea turtle at this beach as they frequent the area all the time.
2. Crete
Another great place where you can see turtles in Greece is in Crete.
I actually have a full guide on where to see turtles in Crete with the exact locations but here's one of my favorite spots.
Head over to Elafonissi Beach during nesting season to see the mother turtles laying their eggs and the baby turtles hatching!
It's a wonderful experience and something you shouldn't miss.
To make things super easy for you, you can join an Elafonissi Beach Full-Day Trip which will take you to the beach.
This beach is very famous, not only for its nesting turtle population, but also for its pink sand! Yep, you read that right – this beach is pink.
The pink color comes from the thousands of broken seashells which form part of the sand.
Other areas in Crete where turtle sightings are common include the beaches of Rethymno, Messara Bay and Chania.
3. Peloponnese
Peloponnese is a region located on the southern tip of Greece's mainland.
There are several locations in Peloponnese where sea turtles come to lay their eggs. These include Navarino Bay, Kyparissia Bay, Lakonikos Bay and Koroni Beach.
A super popular activity in Navarino Bay is joining a sea kayaking tour. This gives you a chance to get out onto the water and see the turtles up close!
These locations are perfect for if you're on the mainland and don't want to head over to a Greek island to see the turtles.
Each summer sea turtles come to Kyparissia Bay to lay their eggs – this is one of the best spots to see them.
Head out into the water for a closer look and the chance to swim alongside them.
The majority of turtles found in Greece are Loggerhead turtles but in Lakonikos Bay, you can often spot Green turtles too.
Lakonikos Bay is quite big and has several beaches. The best ones for turtles are Mavrovouni, Valtaki, Selinitsa, Vathi and Evrotas.
Check out the video below which shows a beautiful sea turtle, spotted at Kyparissia Bay in Greece:
Where Do Turtles Hatch in Greece?
One of the main reasons people come to Greece to see turtles is to see the baby turtles hatching from their eggs and making their run towards the ocean.
There are several different places in Greece where sea turtles regularly come to hatch.
One interesting feature of these turtles is that they always return to the same breeding grounds at the same time every year to lay their eggs so it is easy to predict where they will show up.
The top locations for hatching turtles are Zakynthos (Zante), Kyparissia, Lakonikos, Rethymno, Chania, Messenia, and Koroni.
Seeing this phenomenon for yourself is a magical experience and it's something you'll never forget.
Imagine the tiny turtles poking their way out of their eggs and imagine being part of it yourself.
The babies face more challenges than ever including:
Eggs are often crushed by beach activities.
Birds take the eggs whilst looking for a meal.
Development on the beaches damage breeding grounds.
Ocean pollution.
Some of these baby turtles struggle to make it to the ocean because of this and need extra help from volunteers.
You may occasionally find certain sections of the beaches closed off to protect the turtles as they hatch.
When Do Sea Turtles Hatch in Greece?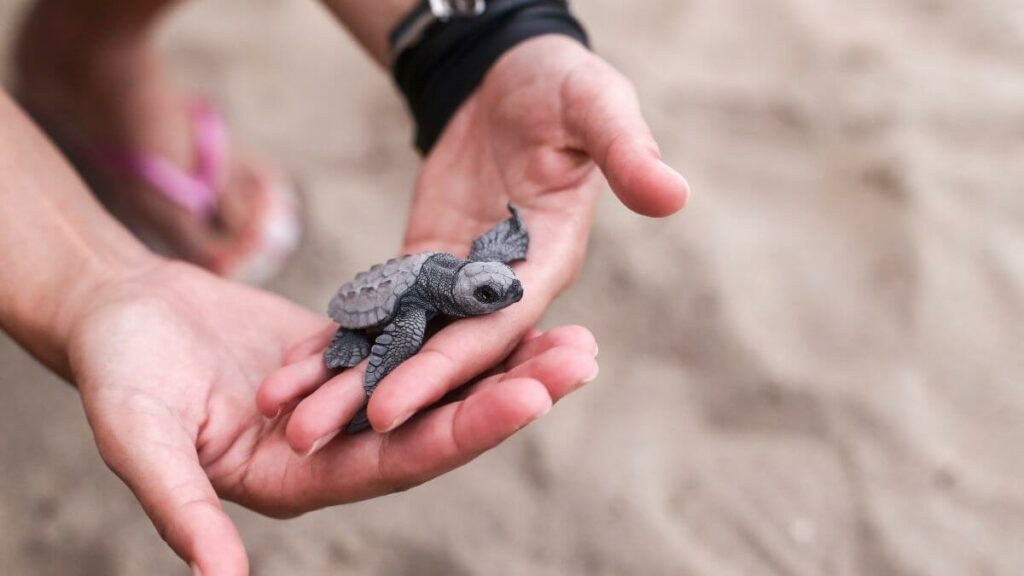 Sea turtle nesting season in Greece runs from late May through to August. This is when the mother turtles come onto the beaches to lay their eggs.
Baby sea turtles tend to hatch around 45 days after their egg has been laid and then they make their way into the ocean to begin their life.
This means that from May to August you will actually be able to see the turtles nesting.
The baby turtles start hatching from late July until October so if you're lucky you might even spot a baby sea turtle hatching from an egg!
Now that would be a sight you wouldn't forget in a hurry.
Best Time Of Year To See Turtles In Greece
The best time of year to see turtles in Greece is between May and October. This is when the turtles return to the beaches to lay their eggs and baby turtles begin to hatch.
In fact, each year thousands and thousands of sea turtles return to Greece to nest so you'll have a really good chance of spotting a turtle if you visit during these times.
Luckily, between May and October is also the best time to visit Greece as the weather is really hot.
Tips For Swimming With Turtles
First time swimming with turtles?
To ensure the turtles remain safe, there's a few key things to bear in mind when swimming with them in Greece.
Remember that all of the different turtle species are endangered so it's important that we do all we can to help their chances.
Don't be too loud. Try to be as quiet as possible when swimming up to a turtle as loud noises will scare them away.
Do not touch the turtle. Turtles are wild animals and should be respected.
Do not get too close. This might scare the turtle and they could bite you if they get really scared (don't worry this is super rare!).
Do not feed the turtles. They don't need help finding food.
Always approach a turtle from the side. This gives them a clear view of you and a clear path ahead of them if they want to swim onwards.
Don't disrupt the turtle's natural behavior. You can enjoy the turtles by watching them do their thing but try not to disturb them.
These key tips protect both you and the turtles.
Did you know you can also see turtles in the Maldives?
Fun Sea Turtle Facts
To get you prepared for your trip to Greece where you'll hopefully see some beautiful sea turtles, here's some fun turtle facts.
The correct word for a baby turtle is a 'hatchling'.
A typical Loggerhead turtle will be 90cm long and weighs around 160kg.
Sea turtles tend to build their nests for their eggs in the same location that they were born.
Mother turtles lay up to 100 eggs in each nest.
It is estimated that only 1 out of 1,000 hatchlings survives to be an adult so they need all the help they can get.
In their lifetime, female turtles lay thousands of eggs so at least a few will survive.
Loggerhead turtles mostly eat crabs, whelks, and conchs.
Sea turtles have been on Earth for more than 100 million years, even outliving the dinosaurs who became extinct 65 million years ago.
All species of sea turtles are either threatened or endangered.
Sea turtles never get to meet their babies as after laying their eggs, the mothers return to the ocean.
Male sea turtles spend their entire lives at sea.
The gender of a baby turtle is determined by the temperature of the nest – warmer temperatures tend to lead to females whereas cooler temperatures tend to lead to males.
---
Thanks for reading this post on where to see turtles in Greece.
Greece is one of the best locations in the whole world for seeing the rare Loggerhead sea turtles (or caretta-caretta turtles) up close and personal.
You may even get the chance to see baby sea turtles hatching too which is truly a once in a lifetime experience.
Related Posts: